12 Best Download Managers for Windows PC in 2021

There is no debate on the comfort of the best download manager for PC. After all, from fast downloading to allocating the bandwidth and from being able to download as many files as possible to hit the pause or resume whenever you want counts a lot. We have collected 12 best download managers for Windows to make the downloading experience easier, smarter and not to mention, faster.
Top 12 Best Download Managers For Windows 10, 8, 7 in 2021
If you are looking for the options to have a good download manager for Windows PC then you are certainly going to meet the perfect result in this list. Whether the below mentioned tools are free or paid, there is an abundance in the room which includes a variety of smart features and you ask us to name the best part about using these tools, our answer has to be the presence of most important features for download management in all of them.
Here are the best download managers that are amazingly useful:
1. JDownloader 2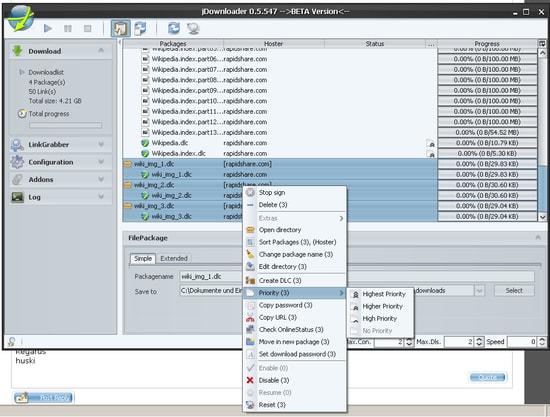 Counting on another best download manager for Windows, it is safe to say that JDownloader 2 is worth securing a place in your PC. It is free to use and will keep the irritating ads away. This download manager has the useful features that you can expect for managing the downloads. You can easily start, stop, pause and resume the downloads with this manager alongside the freedom of downloading multiple files. Apart from this, JDownloader 2 supports major hosting websites such as YouTube and features an abundance of over 300 plugins that make this download manager even more worthwhile.
Pros
It features ad-free functionality and is completely free to use. Thus, you can have a smooth access to this software.
JDownloader 2 supports major hosting sites such as YouTube, Vimeo and many more.
It features over 300 plugins.
It allows you to download and manage the multiple files together.
Cons
The user interface of this download manager may not satisfy you if you are expecting an updated and modern performance.
---
2. Internet Download Manager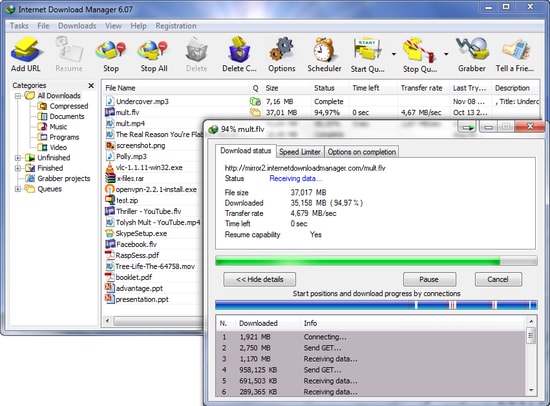 Internet Download Manager (IDM) is one of the best download managers for Windows. The features that are offered by this download manager make it a useful tool to compel the PC. It features integration with the popular browsers and allows you to download the files in the easiest way possible. It supports start and pause of files and accelerates easy downloading of multiple files. This one is powerful and smart enough to recognise the file types and download the files in a quick and safe go. The best part about using this software has to be the eradication of double endeavour where you have to restart the downloads. To cut short, it allows you to resume the downloads that can pause due to several possible glitches/crashes and makes a good download manager for Windows, offering a free trial.
Pros
Internet Download Manager offers incredible download speeds and allows you to download multiple files.
This tool supports popular video content websites.
It also supports proxy servers, FTP and HTTP protocols and many more.
Cons
The services may appear too costly to use.
---
3. Ninja Download Manager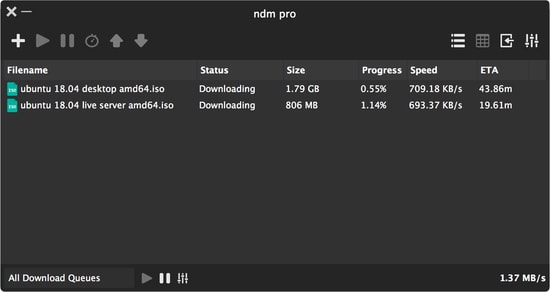 Ninja Download Manager is yet another powerful and one of the best download managers for Windows which appears to have as friendly and attractive an interface as its functionality. Also, the modernity of process and overall appearance in this software is what makes it stand out in the gathering of best download managers. Apart from featuring a beautiful interface, Ninja Download Manager provides easy start and pause on downloads, fast download speeds and multiple downloads. That is just for starters as this tool has more features that are incredibly useful such as scheduling the downloads and file preview which ensures complete download and allows you to save the time and data by stopping the download if it does not turn out to be up to the quality or desired content.
Read Also: How to Download Embedded Video from Website
Pros
Ninja Download Manager has an attractive user interface.
It allows the files to download fast and offers downloading of multiple files.
It offers you to schedule the downloads.
Cons
It does not support all of its features on minor websites.
---
4. Free Download Manager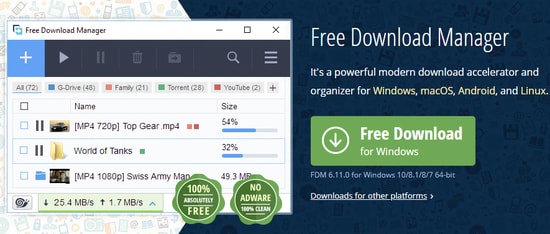 Free Download Manager or FDM is known as one of the best download managers for Windows which offers powerful features to make the best of download management. Firstly, it provides fast downloading and easy pausing and resuming of downloading files. Another relaxing feature of Free Download Manager is that it allows you to manage bandwidth to downloads which results in unbothered browsing experience. Besides, this software has an attractive and organised user interface which adds an advanced touch. The organisation of file types and the ease of downloading torrent count as its key features and make it a good download manager for Windows.
Pros
Free Download Manager features a modern user interface.
This software provides auto management of downloads.
It supports torrent downloads.
It is free to use.
Cons
It is often reported to be slow while identifying the links.
---
5. EagleGet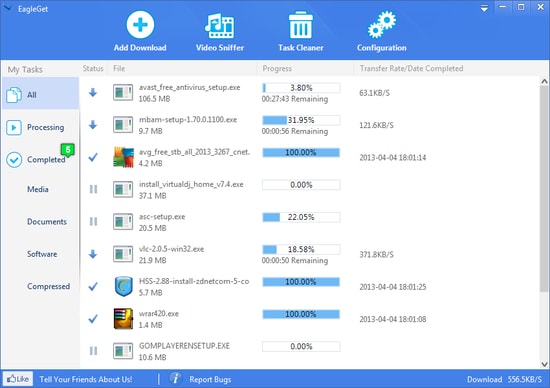 EagleGet is probably the best download manager for Windows to many and for that, you can be thankful to its dynamic nature of features. This free-to-use software supports integration with all the major browsers such as Chrome, Firefox, Internet Explorer and many more that gives you smooth browsing time. It features quick parsing of download links and again, makes a match for relaxing user experience. It features multi-threaded technology for the quickest downloads out there and supports all the features such as pausing and resuming the downloads, multiple downloads, bandwidth management and many such features that are undeniably must-have in any good download manager. If there is any feature worthy of being a USP of this software, it has to be the built-in malware checker which acts as the protector of the system from any kind of virus.
Pros
Like any other good download manager, EagleGet provides fast downloads.
It features a built-in malware checker to prevent the process from virus.
It is free to use.
Cons
As this software is free, you will come across the ads.
---
6. Xtreme Download Manager
Xtreme Download Manager is one of the most popular download managers for Windows which has reliable and useful features to count on. This software effortlessly catches the links from major video hosting platforms such as YouTube, Vimeo with a huge number of other websites and easily manages the downloads of the video files. It counts as a good download manager which smoothly handles the downloads of all types of files and features integration with popular browsers. It has a built-in scheduler for scheduling the downloads along with bandwidth allocation and it also supports proxy servers. Providing the smart and relaxing functionality, this one makes one of the best download managers for Windows out there.
Pros
It is compatible with all the major video content platforms.
You can easily schedule the downloads in this tool.
It supports the easy downloading of playlists.
Cons
The user-interface of this software appears to be outdated.
---
7. uGet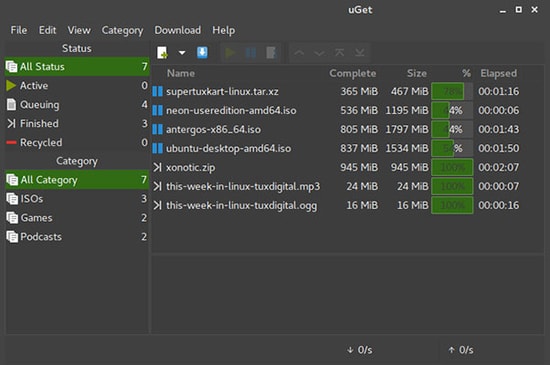 Another best download manager for Windows is uGet which is an open source and is free to use, keeping the process completely ad-free. It not only allows you the easy pause and resume on the downloading files but provides speedy and multiple downloads. It features a clean and good-looking user interface, making it one of the go-to download managers for many. This amazing software supports batch downloading and has a clipboard feature where you get the prompts asking if you wish to download the file. Apart from these cool features, this software is integrated with popular browsers such as Chrome, FireFox and many more. If there is anything which makes uGet more convincing and attractive to the eyes, it has to be the color schemes that it features along with the night mode feature. There is no reason to not try this ad-free and one of the coolest download managers.
Read Also:  Free Movies Downloading Websites Like Putlockers
Pros
It features integration with popular browsing platforms
It features dark mode and color schemes.
It supports file queuing and batch downloads.
Cons
It has a complicated installation.
---
8. Internet Download Accelerator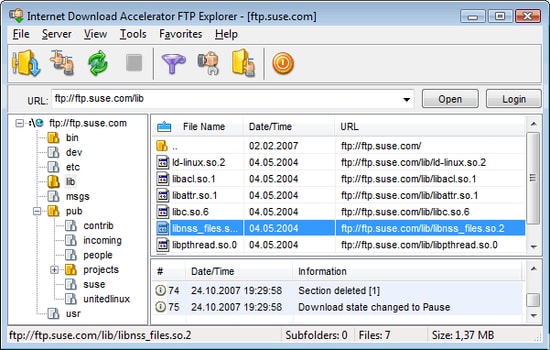 If you are not satisfied with your search for the best download manager for Windows then perhaps it is time to pick Internet Download Accelerator. It is a useful tool to use as it offers the incredible solutions to the disturbances that you come across every now and then. It allows you to enjoy steadfast download speed and offers an easy management of the files that you download. This one is a good download manager which features integration with all the popular browsing platforms and the most important feature to extract from this tool is ability to resume the broken downloads.
Pros
It is compatible with all the popular browsers.
You can easily resume the broken downloads in this software.
The downloads are easy to organise in this tool.
Cons
This download manager one does not process multi threaded downloads like other ones in the list.
---
9. Free Rapid Downloader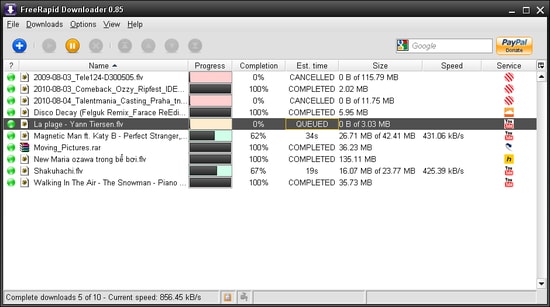 Manage the downloads with one amazing download manager for Windows – Free Rapid Downloader. It is undeniably a useful software which provides all the significant functions. It supports integration with YouTube, Facebook, and other platforms that serve file-sharing features. Besides, Free Rapid Downloader supports downloads via proxy and also supports video/photos streaming. This software also supports clipboard monitoring and it makes a good download manager for downloading the files from file-sharing platforms.
Pros
It supports integration with popular video and file-sharing websites.
This tool supports clipboard monitoring.
It allows you to stream videos and pictures.
Cons
This tool is a bit slower than the others in the list while parsing the links.
---
10. Downthemall
Next download manager software on the list is Downthemall. This is a very easy-to-use extension which offers various capabilities to your browser. The extension has complete integration with Mozilla Firefox, if you are a Firefox user then you can definitely try this. Using this download manager you can easily download images, videos, and other files easily.
Pros
Download speed is increased by 400% using Downthemall.
The software offers complete integration with Firefox.
The process to download any files through the web is very simple. All you need to do is right-click and select the download option.
You can pause and resume download at any point of time.
Cons
The software is only compatible with Chrome, Opera, and Mozilla Firefox.
---
11. GetGo Download Manager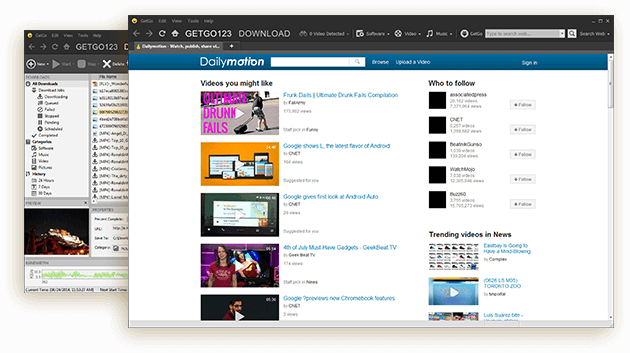 GetGo Download Manager is another great download manager on the list. This browser extension works great when it comes to downloading files. The extension is integrated with a web video downloader which makes the process of downloading easy. This extension is compatible with Mozilla Firefox and Google Chrome. Now let's take a look at its pros and cons.
Pros
The extension has a multi-threader download engine.
You can easily schedule the download as per requirements.
It offers a feature using which you can pause and resume the download irrespective of the reason.
Offers great speed for downloading
Cons
Only available for Google Chrome and Mozilla Firefox
---
12. iDownload Manager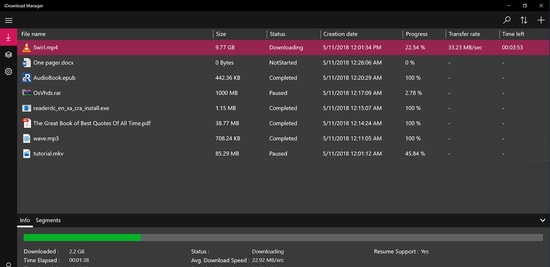 Last and definitely not the least, iDownload Manager has to be in the list of best download managers for Windows. It has a satisfaction of useful features and is just one click away to be installed on your PC. First thing first, this software allows you to get the fast download speed and lets you easily pause and resume the downloads. iDownload Manager helps you with convenient management of the downloads and provides bandwidth allocation which eliminates the hassle of organising the files in future. Besides, there is no disappointment in using a free download manager which has the most important features and costs less time in zero dime.
Pros
iDownload Manager features support for all the major browsers.
This tool welcomes batch downloading.
It allows fast download speed and supports allocations of bandwidth.
You can easily start, stop and pause the downloading files and provide an easygoing organisation of downloads.
Cons
Comparatively, the download speed of this one may fail to attract you if you have already tried your hands on other download managers.
---
Get Faster And Enhanced Downloading Experience With Top Download Managers
You can now enjoy less waiting and say goodbye to the frustrating times that come out of those automatic pauses and annoyingly slow speeds. Your Windows definitely needs a download manager (if it isn't already there) to do the work of utility and fetch you the quality of downloads from browsers. You can also download the files from YouTube, Vimeo etc. and sometimes, that is all you need. So, this list was to prevail the relief of better download management but it is never too much or too late to know your favourite download manager for Windows. Tell us freely in the comment section until we compose another perfect list of the best ones.
Jyotsana is a technical writer with a non-technical background. An eye of detail and a knack for writing helps her to write technology related content.Apart from writing, she is a coffee connoisseur and an aesthete who rejoices in poetry and music during leisure.
Subscribe to Our
Newsletter

and stay informed

Keep yourself updated with the latest technology and trends with TechPout.
Related Posts