Advantages and Disadvantages of Creative Suite
Published Date :
Nov 17, 2023

To make professional transformations to your photos and videos, a Creative Suite performs an incredible job. This CapCut creative suite comprises an online photo editor, online video editor, free templates, and watermark free downloads. In addition, there is also cloud backup to organize and manage your edited files along with the option to collaborate with your teams. Besides offering you all these components to make impressive transformations, this editor also involves some advantages and disadvantages. Before you start using it, having a look at its key advantages and disadvantages would help you have a better understanding of it. So, let's have a look at its key advantages first.
Advantages of Using CapCut Creative Suite
For any person who is using this Creative Suite for editing photos or videos, this editor brings the following advantages.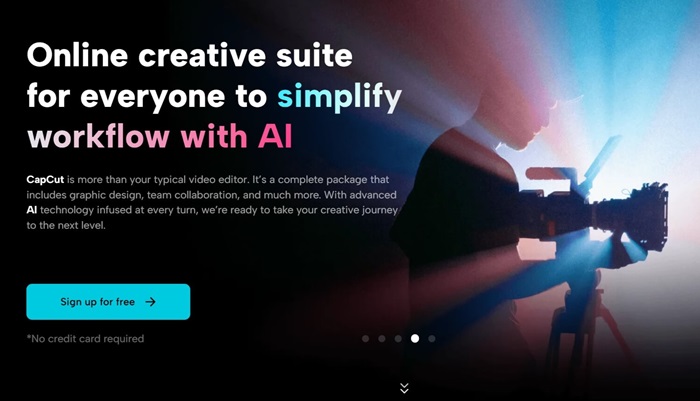 1. Video Editor Online
For specially editing your videos, it comes with an online video editor. To your surprise, it includes all types of editing tools for videos to make professional changes to your videos. For example, it allows you to change or remove the background of your video with just one click. Similarly, it also enables you to generate captions automatically for your videos. Also, you can add different filters, video effects, text effects, transitions, and other similar aspects to your videos.
Also know: Best GoPro Editing Software For Windows & Mac 
2. Photo Editor Online
Just like creating inspiring videos, this Suite also enables you to create stunning photos. With lots of free-to-use AI-based photo editing tools, you can make professional edits to your photos. For example, you can add text effects, optimize photo colors, add filters, and remove or add a new background to your photo. In addition, you can also add different shapes, stickers, and also premium and interactive frames to your photos. All these things result in creating photos that spark and shine bright and hence get more engagement.
3. Variety of Free Templates
Another advantage of using this tool is the availability of a great range of free templates. You can use these templates for personal and professional purposes without worrying about paying any fee. Feel free to browse through the inspiring collection of these free-to-use templates and make impressive transformations.
4. One-Click Results
It comes with the most impressive one-click technology to give instant editing results. Whatever you need to do on your photos and videos, there are lots of AI tools to do so. For example, you can convert
text to speech free, upscale videos/photos, optimize colors, correct colors, generate auto-captions, etc. To perform all such transformations to your videos or photos, you don't need to carry out a number of complex steps. Instead, just click on the relevant function and see the editor automatically making the changes for you.
5. Excellent File Management
It also benefits users by enabling them to excellently manage their files on this online cloud space. Here, you can also choose to create a backup for your all edited files so that you won't lose them ever.
6. Effective Team Collaboration
It also gives you the opportunity to connect with your teams and coworkers on this online editing solution. Through effective team collaboration, this Suite actually brings more productive results of transformations. The team can easily interact with each other or present their work to others for reviewing or showcasing purposes.
7. No Watermarks on Downloads
The main advantage of using this Creative Suite is that it supports watermark-free videos and photo downloads. Whatever edits you make to your photos or videos using this editor, you take all the credit. It allows you to freely download as many end results as you want and cherish them for a lifetime.
Also know: How to Remove Watermark in Word Document for Free
8. Cost Effective
BEing cost effective editor is another main advantage for its users as they don't have to bother about payments. No matter how many times you return to this editor to edit your files, it will ask you for a fee. Even the signup process is also free and doesn't even require you to share your financial details.
9. Time-Saving Technology
Finally, this Creative Suite saves plenty of your precious time that you can effectively invest somewhere else. It never requires you to spend hours and hours creating professional transformations. Instead, the presence of AI tools automates everything and thus, helps save time.
---
Disadvantages of Using Creative Suite
As compared to a lot of advantages of using this Creative Suite, it has only two disadvantages that are not even worth considering. Here are these.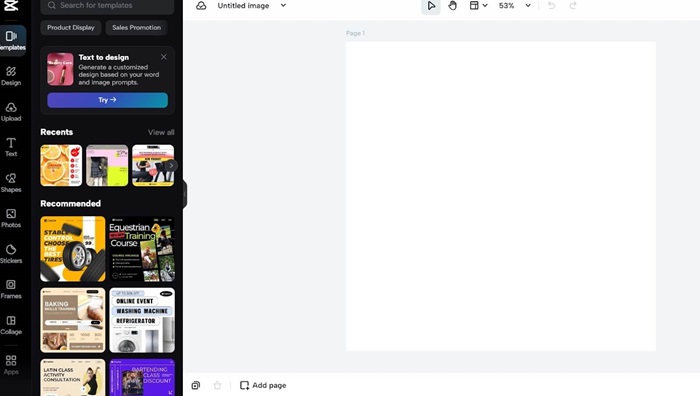 1. Requires Signup
To use this incredible editor for transforming your photos and videos, you need to create your account here. The signup process is very short and requires only a little information about you. If doesn't ask for any credit or debit card details or your bank account information. So, creating an account here is not a difficult or hard-to-follow thing.
2. Requires Internet
In addition, the other disadvantage of using this tool is that it requires you to have an Internet connection. As this is an online tool, you would fail to load it on your device in the absence of an internet connection. Similarly, you won't be able to access files from your Cloud backup if you don't have internet on your device.
---
Steps to Use CapCut Creative Suite
If you are thinking about starting to use this Creative Suite, go ahead. However, make sure to read the following steps before actually using this editor as these steps will guide you better.
Step 1: Create Account
First, create your free account on this Creative Suite by clicking on the following link (https://www.capcut.com/creative-suite). When you click on it, you will see the button "Signup for Free" Click on this button and fill in the signup form. Then, verify your account and use your registered credentials to log in to your account.
Step 2: Upload
When you're in the editor space, use the upload button to upload a video or a photo to the editor. You can also use the editor's drag-and-drop feature to upload your photo here. Besides, there are other options to import your photos here such as by using your Dropbox, Google Drive, or Cloud. The best thing is that this editor also has some highly interactive and free-to-use sample photos and videos that you can also use.
Step 3: Customize
Whatever photo or videos you choose for transformations, start customizing it after uploading it to the editor. For photos, you can use color optimization, frames, stickers, shapes, filters, etc. You can also add text effects and a new background to it. Similarly, you can add transitions to videos along with auto-captions, soundtracks, text effects, filters, etc. Just like photos, you can also edit, remove, and seven replace the background of the videos to make them look more engaging.
Step 4: Export
After making all the transformations, don't forget to save your final results to your device. For this purpose, go to the export tab and click on download.
Also know: Adobe Premiere Pro Alternative Tools for Video Editing
---
Conclusion
When we compare the advantages of CapCut Creative Suite with its disadvantages, its advantages always beat the disadvantages. With a number of exciting pros of using this incredible editor, you can make the most impressive and catchy transformations. So, feel free to try out this incredible editor now and share the results with others.
Remy is a technical writer at TechPout. Being an IT enthusiast, he inclines to write about contemporary technology and growing security for machines. One steadfast follower of Baseball, Remy is an active social worker and a gastronome.
Subscribe to Our
Newsletter

and stay informed

Keep yourself updated with the latest technology and trends with TechPout.
Related Posts