12 Best GoPro Editing Software For Windows & Mac in 2023

The GoPro editing software is a much-sorted tool for many video makers. Shooting videos is a breeze with GoPro but editing those GoPro video clips to make them appealing and shareable depends on GoPro apps for PC.
GoPro editors have the ability to stabilize shaky footage, add background music, remove fisheye effect, trim videos, denoise videos, and a lot more.
The key features that one should look for in a GoPro app for PC are:
Offering support for video stabilization.
Video trimming feature to concise a video.
Ability to support a large variety of common video formats.
Therefore, in this blog, we have rounded up 11 GoPro editing software that can help you edit videos in the most effective ways.
What Are the Best Editing Software For GoPro?
Let us now understand how to edit GoPro videos with the below-given tools.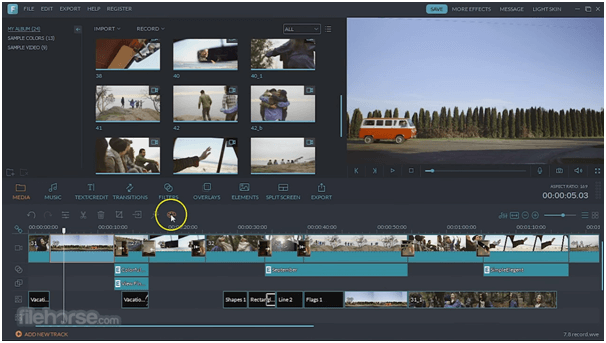 Give wings to your imagination with this best GoPro editing software that lets you customize your videos by embedding text or titles into it. You can add music to your videos and share it on social media platforms.
With this GoPro editor you can layer your video clips. Apart from 4K support to enhance details, you can fine-tune your adventures by fixing fisheye problems, stabilize a video, slow motion as well as reverse the video progression direction.
Features of Wondershare Filmora X:
The app allows you to add as many animations as you want to the video
Wondershare Filmora 9 can track the objects on your video for perfect editing'
You can fade out the audio if it is unclear
You can use the software with the help of different hotkeys and shortcuts
The app allows you to edit and add two or more videos to split-screen
You can change the speed of the videos as required

---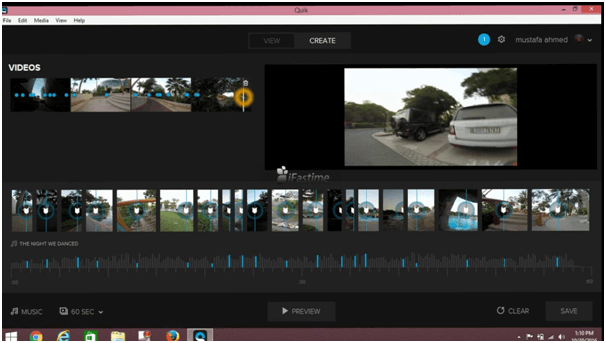 If you want to know how to edit GoPro videos on PC, then here is an app for you that makes editing video footage an awesome experience. You can enjoy your GoPro photos and videos by importing them quickly, editing GoPro videos, syncing them to music, and doing a lot more with just a few clicks.
You can add photos and time-lapse sequences to your videos, making them come alive with panning effects.
Additionally, it offers graphs and gauges, the creation of short video clips, editing bursts, and time-lapse photos. Besides this, users can backup their photos and videos on the cloud with GoPro Plus and share them on social media.
Features of GoPro Quik:
One of the best features of the app is that you can update the video directly on the cloud
The app allows you to edit the playback speed of the videos quite easily
You can also use the HiLight tags to mark important moments of the video
You can download and use the software on Windows as well as on Mac
The app provides regular updates for you to get more and more features regularly
You get to enjoy advanced features of editing with the app
Read More: Top 10 Best Video Editing Software for Windows
---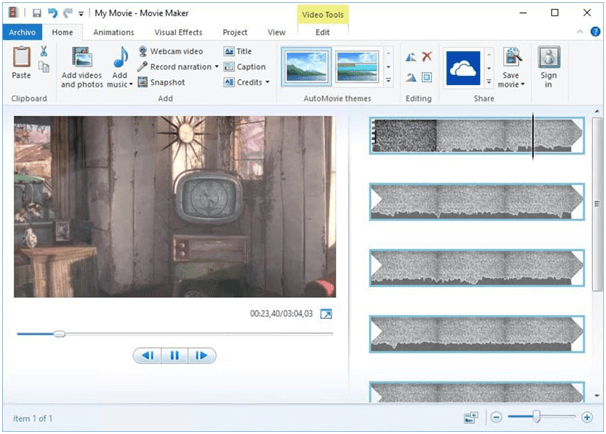 Next in line is this best free GoPro editing software that supports a huge range of video input formats. Users can import the video footage that needs to be edited and convert them into a suitable input format first in order to proceed further.
Windows Movie Maker is the GoPro video editor for beginners as it is immensely easy-to-use.
With this GoPro editing software for Windows you can add multiple effects to your videos and share them on social media platforms.
Features of Windows Movie Maker:
You can do a voice-over to the pre-recorded video in the app
There are lots of integrated soundtracks in the app
The app supports HEIC to edit and work on images
You can add titles, composer, album, and other attributes to the video as required
There are tons of transition effects in the app that can take your video up a notch
The app supports multiple input and output formats for video, audio, etc.
You can also adjust the background volume as you want
---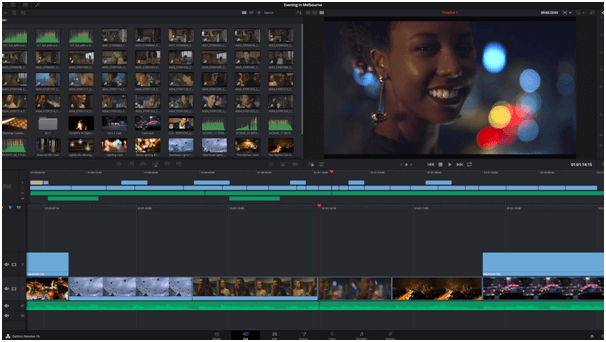 DaVinci Resolve 16 made it to our list of best GoPro editing software for Windows or Mac because of its unbeatable advanced set of features. It is in fact, claimed to be the world's only solution capable of combining professional 8K editing, color correction, with visual effects and audio synchronization perfectly.
An all-in-one GoPro editing software lets you do everything with a single click. Designed for multi-user collaboration, this tool is suited for high-end post production editing including Hollywood, TV shows and commercials.
Featuring a cut page with streamlined interface and revolutionary tools, you can trim a video with the dual timeline function, edit videos intelligently, stabilize, retime, and quickly export videos to YouTube and Vimeo.
Features 'of DaVinci Resolve 16:
One of the most advanced video editing software with highly customizable features
You can add various filters to the videos and even animate them
The app allows you to adjust the color tone of the video as per your requirements
Additionally, the tool provides an option to remove, add, or modify the background
Adjust the lighting of the video as you want and make the videos clear
The software supports a wide array of audio, image, video, and other file formats for you to edit.
The tool provides automatic solutions and ideas for your videos
---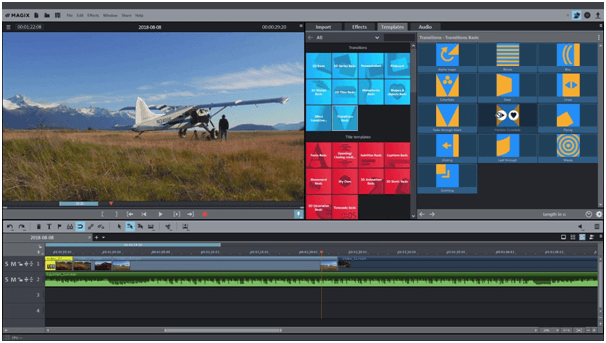 Edit GoPro videos with Magix Movie Edit Pro's 900 plus templates, 32 unique editing tracks and motion tracking feature.
This is a useful GoPro editing software for Windows offering advanced features in the premium version. It has an impressive interface to edit videos effectively. Another impressive offering is Multicam editing apart from the basic editing tools.
Features of Magix Movie Edit Pro:
In four easy steps, you can create the desired video with the app quite easily.
The app allows you to split the video as per your requirements
Magix Movie Edit Pro works in integration with your GPU for better results
The app can be used to stabilize the objects in the video for better output
Change the color of the video as you want with the help of the app.
You get to select from a list of over 650 different transition styles
With a single click, you can share the final output anywhere you want
Read More: 14 Best Video Converter Software For Windows
---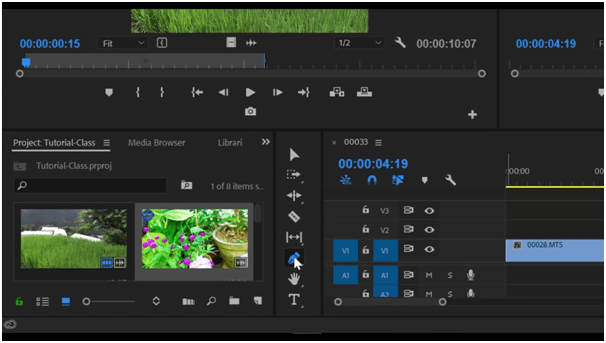 Guess what! Here is the best GoPro editing software to edit videos. Enabled with an intuitive interface and easy-to-use features, Adobe Premiere Pro is a comprehensive and powerful tool that is fast, has excellent video stabilization capability, and supports unlimited video tracks.
With this GoPro editor, you can access Adobe's cloud, Creative Cloud for storing the footage and edit footage from a cinema-level camera.
Features of Adobe Premiere Pro:
The allows you to use the free trial of the pro version to get a taste of advanced features
From a wide plethora of templates, you can select the desired one to customize the video,
The app offers drag and drop and other functionalities that make editing super easy and fun
Add as many audios you want to your video and delete them if required
The app allows you to control the volume of different audios in the video
---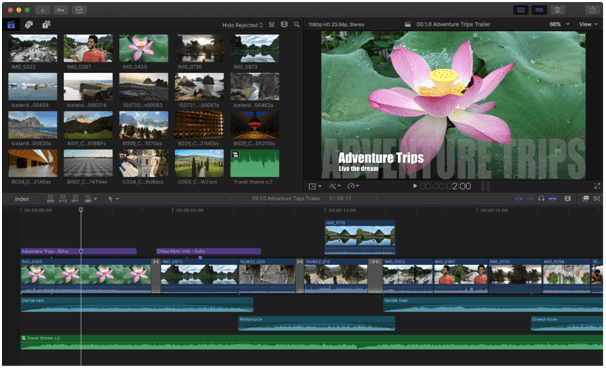 If you are a Mac user, then this GoPro Editing Software for Mac can tend to your video editing needs. It's a powerful tool that includes magnetic, trackless timeline, useful organizational tools, support for 360degree video and HDR videos, etc.
This GoPro editor is compatible with all Mac computers and is in fact, the best post production tool for advanced colour grading, audio, and motion graphics delivery.
Features of Final Cut Pro X:
One of the best video editors for mac with a special cinematic mode
The app allows you to track objects and edit the same if required
You get so many advanced features with the Final Cut Pro X that allows you to get the desired outputs very quickly
You can adjust the color of the videos as per your requirements and preferences
The app receives regular updates with better features and bug fixes
---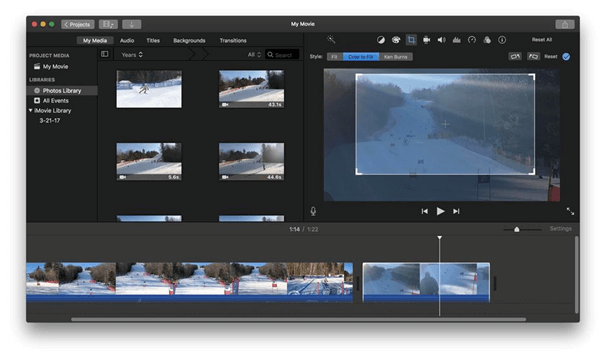 Another excellent GoPro editing software is iMovie that is a product of Apple and is available for download from the Mac App Store. This free tool for GoPro editing purpose is a must have for those who are new to video editing.
A perfect GoPro editor for Mac users, it features a well-designed interface, colour matching features, superb audio tools and a lot more advanced features.
Features of iMovie:
You can use the iMovie app in Apple iPhone, Apple iPads, as well as Macs.
The app allows you to change the focus of the video as required.
You can work on the app and use the picture in picture mode for better videos
The app allows you to use over 10 different video filters for advanced outputs
In the app, you will find customizable soundtracks
You can add background to the video very easily with iMovie
---
Blender is the best & free GoPro video editing software for PC that is capable of 3D modeling, photo-realistic rendering, game creation, animation making, sculpting, besides video editing.
It is enabled with 32 slots for videos, audio, images, etc.
Fetaures of Blender:
From video editing to rendering, from modeling to sculpting, the Blender app allows you to do a lot
You can add the desired VFX to the video quite easily
The app offers highly customizable features and filters to make the desired output
The interface of the app is quite simple and easy to follow for all kinds of users/
You can download the app and use it to add 32 different types of videos, audio, images to the slot.
With different keyframes and filters, the Blender app provides all the power in your hands.
---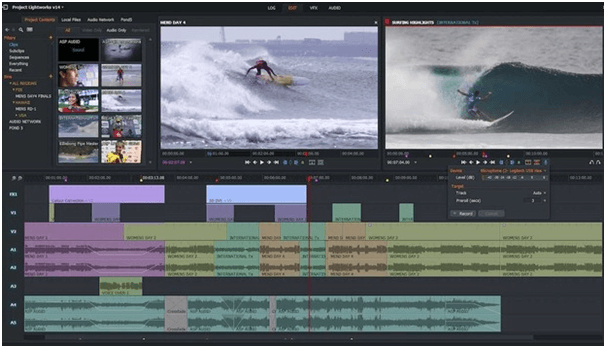 With an intuitive and easy UI, Lightworks is the best free GoPro editing software for Windows users that can edit videos apart from timeline editing capability. It can edit 4K videos too and comes with multiple editing tools as well as various export formats.
Features of Lightworks:
The app boasts an unmatched format support service for you
With a single click, you can share your video outputs with different social media platforms
You can also change the frame rate of the video to make it compatible
The app has a cross-platform base that allows you to download and use it on Windows, Linux, and Mac
While working on Lightworks, the app auto-saves the work for you for ease.
Read More: 12 Best Photo Editing Apps & Software For Mac
---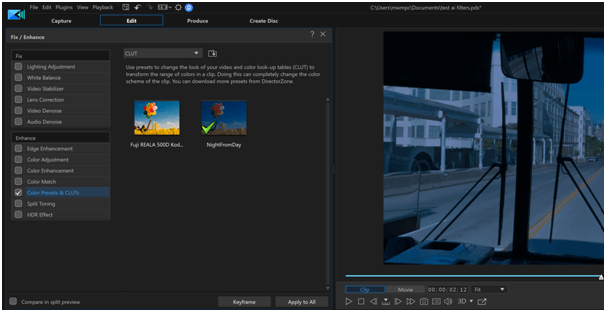 Another best free GoPro editing software is CyberLink PowerDirector. It is a comprehensive and high-quality video editing tool with a clean UI and multiple powerful tools.
It has multi-cam editing feature, 3D and 4K video editing capability, and motion tracking feature.
Features of CyberLink PowerDirector:
You can download CyberLink PowerDirector on Mac or Windows PC for video editing
The latest version of the software is compatible with Windows 11 as well
There are over 3,000 different filters, transitions, and templates for you to choose from
The app gets regular updates with bug fixes and other features
The app supports all kinds of new and old video and audio formats
As the app provides keyframing options, the videos become very smooth
The app can track the motion of the object and edit it quickly
---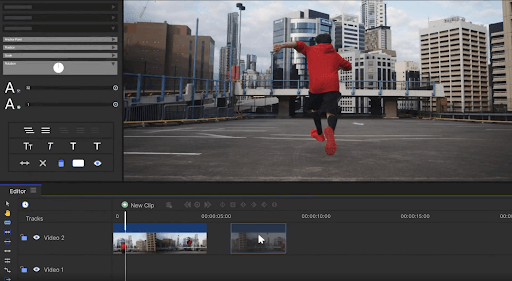 The last name on this list of the best free GoPro editing software is HitFilm from FXHome. The smart interface of the tool allows you to get the perfect output from your GoPro recordings with ease.
The tool is loaded with features like basic editing features, smart audio sync, text addition options, and more.
Features of HitFilm from FXHome:
The performance of the tool is quite amazing on all Windows devices.
You can use the drag-and-drop feature of the tool to add and remove video transitions.
The tool contains tons of features and filters for you to try on the video.
You can find a plethora of audio and video templates on the tool for a better creation.
You can even apply edits to the GoPro images with HitFilm from FXHome.
Also Read: Best Video Repair Software
---
Wrapping Up
Thus, you have now understood the features and offerings of the best GoPro editing software for Windows or Mac mentioned in this article and that has hopefully helped you zero out the GoPro editing software that can help you edit GoPro videos easily.
Snigdha is a technical content writer with expertise in the field of science & technology. Though she has a very diverse academic and professional profile yet she finds writing to be a creative form that she was unable to explore so far. When not writing, she can be found indulging in other forms of creativity like painting or travelling.
Subscribe to Our
Newsletter

and stay informed

Keep yourself updated with the latest technology and trends with TechPout.
Related Posts