11 Best Currency Converter Apps For Android & iOS 2020
Living the life of a traveler can be overwhelming at times. Cultural differences, language problems, and, most importantly, different currencies can make it highly troublesome.
Whether you are traveling for fun or business, getting accurate currency conversion is highly crucial. Thanks to technology, there are several currency converter apps in the market with which you can enjoy multiple currencies on your fingertips.
Money exchange apps offer an easy way to stay updated with the ever-changing currency rates. These apps are a blessing to frequent travelers and business people and help in comparing various local currencies.
The article below will talk about some of the best Currency Converter Apps for Android & iPhone, that you can pick for yourself. Here are some of our top picks.
Top Currency Converter Apps of 2020:
1. XE Currency Converter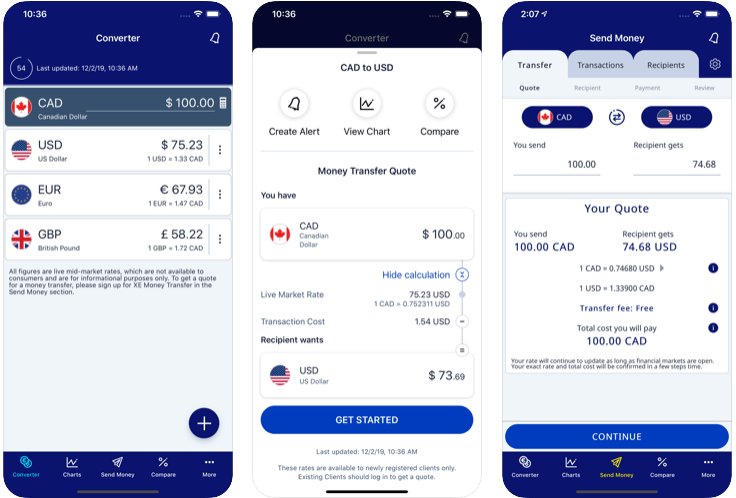 Frequent travelers and businessmen swear by this highly popular online currency converter. It is undoubtedly one of the best and the fastest conversion sites known for its accurate results and services.
The apps come in a clean and easy to use UI and can work on both Android and iOS devices. Use XE to stay updated on the ever-changing rates of precious metals and world currencies. Powered with a built-in calculator, it gives real-time rates and also works seamlessly well in an offline mode (ensure that you download the prices before going offline).
Enjoy smooth money transfer, highly competitive rates, and view rate charts with this incredible Currency Converter App. Download today for free using the below links.
2. Easy Currency Converter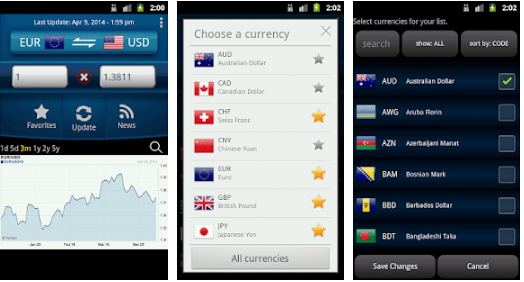 Powered with incredible features and offerings, "Easy Currency converter" definitely deserves a place on our list of Best Currency Converter Apps For Android and iOS. It allows you to convert and find the exchange rates of 180 currencies and 4 precious metals along with cryptocurrencies like Litecoin, Bitcoin, etc.
With this incredible tool, you can also create your list for fast and convenient results. It is available in multiple languages including English, Italian, German, Spanish and provides historical graphs of rate fluctuations of up to 5 years.
3. Currency Converter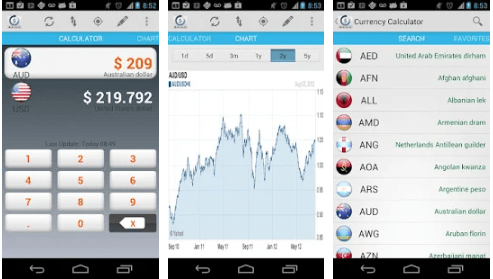 Next on our list of best Best Currency Converter Apps For Android is a Currency converter. This light yet powerful tool offers easy tracking of multiple currencies.
It is loaded with multiple features that are highly useful for people in business and traders. First, it can work seamlessly well in offline mode, and secondly, it compares market trends and displays the result in a graphical and pictorial form, which ensures easy understanding.
4. Currency Converter- Exchange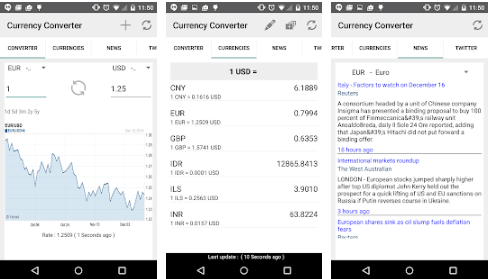 If you regularly trade in foreign currency, then Currency converter exchange can be of much help to you. This comfortable and lightweight Money Exchange App offers straight-up conversion not only in fiat currencies but also DogeCoin, Bitcoin, and much more.
It also provides you real-time fluctuations in rate as per the market movement. No matter where you are, you can use this incredible app for getting conversion rates up to three decimal places. The app is designed to store last update rates and can work in offline mode as well.
5. Exchange Rates – Currency Converter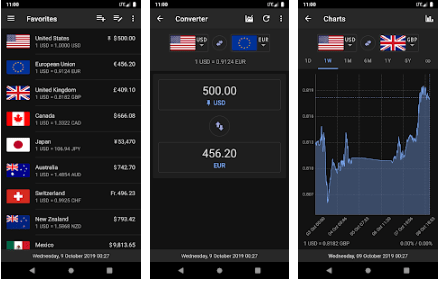 This one is quite popular for its high-end features and offerings. With this Online Currency Converter, you can calculate not only foreign currency price but also check historical data, check the fluctuations, or know about banknotes from various countries.
It's easy to use controls accompanied by a modern design are capable of providing accurate data every 60 seconds. It also works seamlessly well in offline mode.
You can get the conversion rate of almost every currency with this power-packed Money Exchange App along with popular cryptocurrencies and tradable commodities.
If you are looking for a free currency converter app, then Exchanges Rates can be a good pick.
6. All Currency Converter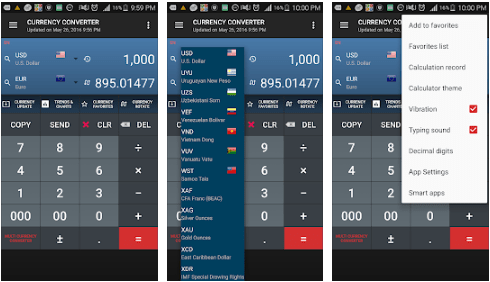 Get real-time exchange rates with this powerful app. It is one of the most accessible currency converter apps for Android, which supports up to 100 different currencies. CAD Canadian Dollar, CHF Swiss Franc, EUR Euro, HKD Hong Kong Dollar, INR Indian Rupee, MXN Mexican Peso, THB Thai Baht, etc. are few currencies supported by it.
The app is powered by a Tip calculator that can give an exchange rate list and convert multiple currencies in seconds.
It also supports batch conversion and gives details about currency trends and charts.
7. My Currency Pro – Converter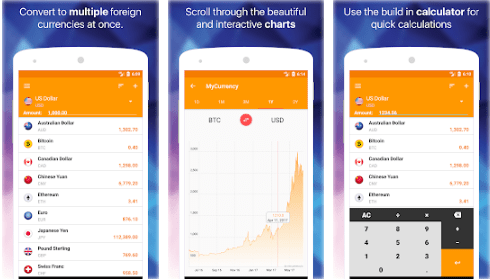 Enjoy easy conversion of up to 160+ world currencies with this handy currency converter app. It automatically updates rate fluctuations and can also handle various cryptocurrencies.
It displays multiple charts showing the rate trends and fluctuations. Enjoy world currencies on your palm with My Currency, your perfect travel partner.
8. Forex Currency Rates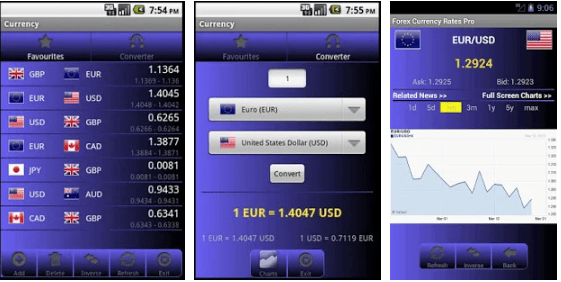 Get access to the latest currency news, enjoy easy conversion rates, with this comprehensive and Best Currency Converter Apps For Android devices. It supports significant metals along with 140+ different currencies.
It's simple navigation and working mechanism make it a perfect fit for traders and frequent travelers. Check weekly and daily rates with ease with Forex Currency rates.
9. My Currency Converter & Rates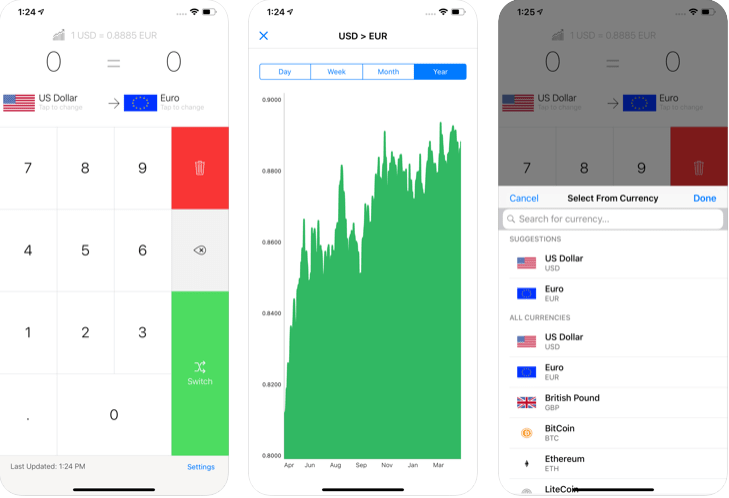 With its efficient and straightforward working, "My Currency Converter and Rates" definitely deserves a spot on our list of Best Currency Converter Apps For iOS. The app can support around 150 world currencies along with various cryptocurrencies and metals.
It is fully compatible with iOS devices and is powered with a clean yet powerful UI. The ever-fluctuating exchange rates are automatically updated on its platform.
Choose this stunning Online Currency Converter tool today and enjoy accurate results up to three decimal places.
10. Amount – Unit Converter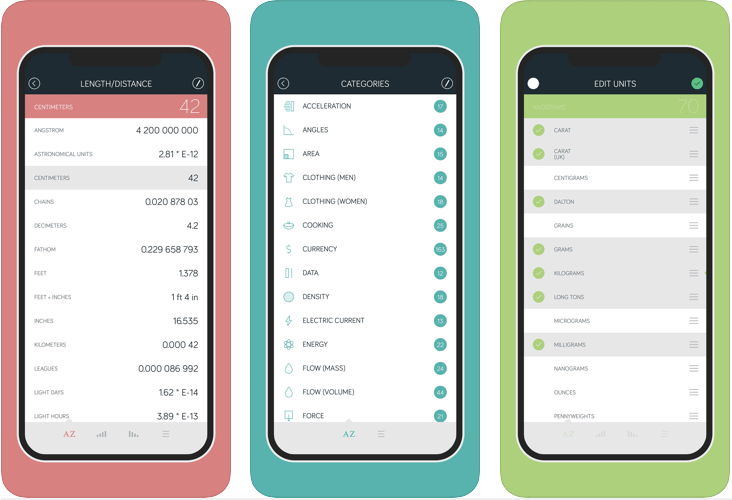 Are you looking for a lightweight, simple, and efficient currency converter app? Amount Unit Converter can be a perfect pick for you. Powered by an intelligent UI, it can convert various currencies for you within seconds.
The results are displayed in a graphic form for better understanding. It supports real-time conversion in various currencies along with multiple categories like Data, density, Force, Frequency, Angles, Area, Power, Temperature, Time, and many more.
11. Currency Converter Plus Live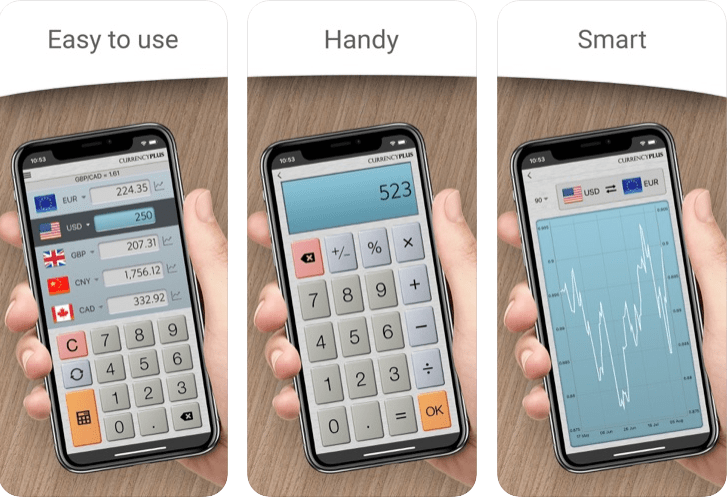 Compare various currencies while traveling, get historical rate charts, and enjoy a built-in calculator with this incredible money exchange app. It is a lightweight tool with which you can convert various currencies like Pound, Euro, Dollar, Ruble etc.
It also supports Bitcoin and can perform well in offline mode as well.
Wrapping Up
If simplicity and accuracy are your jam, then we are sure our blog will help you. Each Currency Converter Apps mentioned above has some different offerings.
These apps are super clean and allow you to check conversion rates of various currencies, check market trends and fluctuation rates.
Refer to our rundown of best currency converter apps for Android & iPhone to choose your perfect travel partner.
Image Source: Google Play & Apple App Store
Prachi Dani is a technical content writer who specializes in areas of science and technology. She is highly up to date with technological transitions and transformations. Writing is not her passion but the only thing that carries satisfaction in life. If not writing, you may find her engrossed playing action games on her treasured smartphone.
Subscribe to Our
Newsletter

and stay informed

Keep yourself updated with the latest technology and trends with TechPout.
Related Posts