12 Best Stock Trading Apps of 2023 (Android & iOS)
Published Date :
Jun 05, 2023

Try the digital way of stock marketing with stock trading apps. Stock trading has always piqued interest among investors since the time the stock exchange came into existence in the late 16th century.
However, earlier, the way of stock trading was via a middleman called stockbroker. The involvement of the stockbroker incurred hefty charges upon the investors in the form of commission payments to the broker.
With the digitalization of the stock industry, the way of stock trading has been revamped, eliminating the need to depend on the broker to conduct the stock business. The article ahead will talk about the 12 best online trading and investment apps to help you stay on top of global markets.
List of Best Stock Market Apps in 2023
Stock investment apps can differ as per the target audience. They can be designed either for beginners as well as for the banking sectors. Below is a curated list of the top stock trading apps to help you analyze market trends and make better investments.
1. Robinhood – Investment & Trading, Commission-free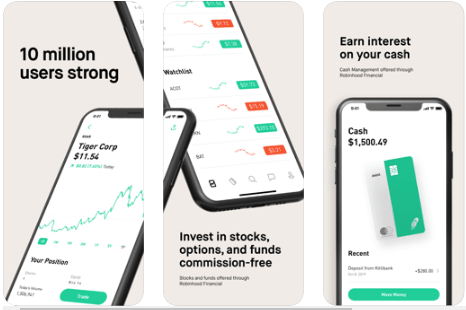 This is an ideal stock trade app as it is available free of cost to track the stocks independently. The app was launched even before the website came into effect. You don't need to pay commission to anyone if you use this app.
Key Benefits:
You can look for your stock and then input your trade details and that's all you need to do to get started with the app.
You can't deal with mutual funds or bonds on this app as it only supports stocks and ETFs (Exchange-Traded Funds).
Recently, it started supporting Bitcoins too.
With the premium version of this online trading app – Robinhood Gold account, you can unlock other trading options like margin trading and extended trading hours.
---
2. Acorns – Invest Spare Change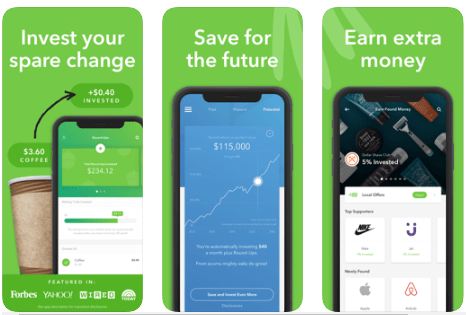 If you are just stepping into the world of the stock market and have absolutely no idea where to start, then this is the best stock trading app for beginners.
Key Benefits:
With this app, you can invest selectively in ETFs.
You can get started by linking your bank account and then, let the app analyze your expenditure and savings.
Post this; the app can automatically transfer the remainder of your sum into the Acorns account and helpfully build up your stock and bonds portfolio.
---
3. TD Ameritrade Mobile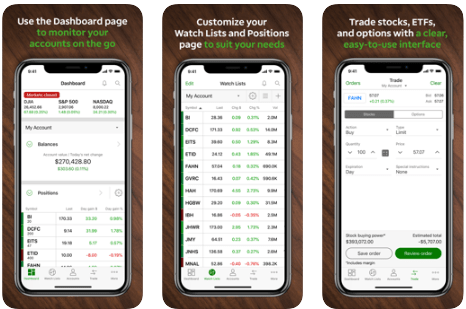 This application can be considered among the best stock market app for iPhone due to the excellent features with which it provides great user experience to the traders. This iPhone app is a product of the most prominent stock trading firm in the US.
Key Benefits:
The TD Ameritrade app is the most fundamental app of this firm.
This app can help you with charts, technical indicators, market trends, and stock analysis.
You also get to customize your dashboard, screens, etc.
You can set customized market alerts and even receive personalized advice regarding your investments.
The snap stock feature helps you acquire knowledge about a company with the help of the product barcode.
---
4. Stash: Banking & Investing App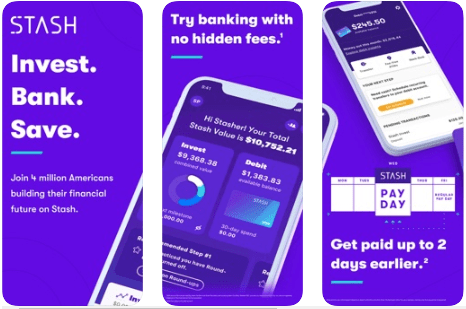 This is another best place for beginners as it lets you learn about the stock market alongside growing your stock investments with the app.
Read Also: 11 Best Currency Converter Apps For Android & iOS
Key Benefits:
You can get started by investing as little as $5. Investments are majorly into ETFs and single stocks.
There are many articles available to educate you about the stock market.
The app has an exclusive feature which is the built-in 'investment coach' to help you with the investments.
---
5. E*Trade Mobile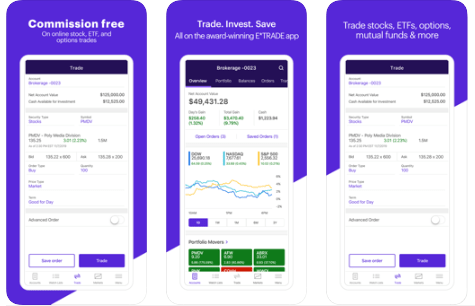 This is an excellent Android stock market app, as they have been in business long enough. They also own the OptionsHouse, which has its own trade supporting app.
Key Benefits:
Once you have installed the app on your Android or iOS device, you can then monitor the performance of your investments.
You can also utilize the app to invest in stocks, ETFs, mutual funds, and many more trade options.
---
6. Schwab Mobile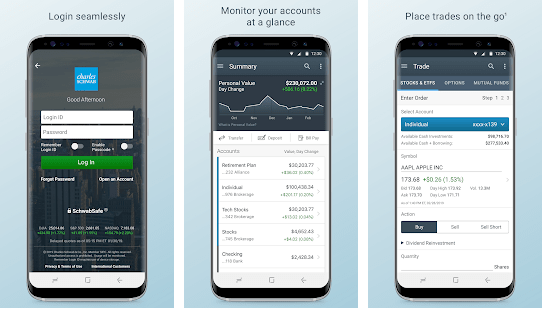 This is exclusively designed for the banking sector as the all-in-one iPhone and Android app for stock trading. If you indeed hold a Schwab account or are involved in investments with this bank, then this is the ultimate app for you.
Key Benefits:
Other than managing your investments, money transfers, and deposits, you can monitor your trade portfolio's performance.
Additionally, you can pay bills with this application. Hence, this is the app to fulfill all your banking needs.
You can also examine the international market data with the help of this app.
---
7. Fidelity Investments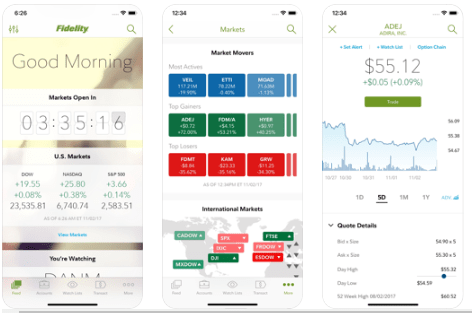 This application for stock marketing can be extremely beneficial for those who have Fidelity investments. They have gained several accolades like – Best Overall Online Brokers, Best for Beginners, Best for International Trading, and many more.
Key Benefits:
The app has extensive features like Recognia technical events and Trefis stock valuation.
The trade execution engine helps investors save more on stocks but the minimum investment should be on 500 shares or more.
---
8. Tradestation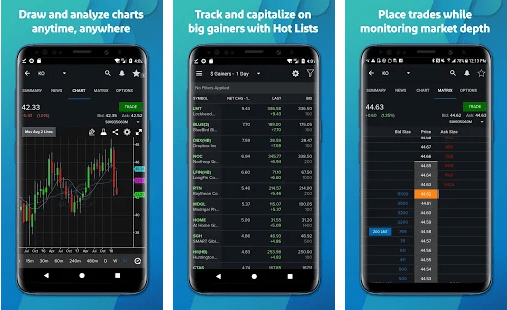 This is a preferred app for active stock trades. This app uses active traders like per share/per contract and unbundled pricing plans.
Read Also: Best Money Making Apps for Android & iOS
Key Benefits:
This app offers a flat-fee plan and TSgo plan which don't require any commissions.
The app uses sophisticated analytical tools.
---
9. IBKR Mobile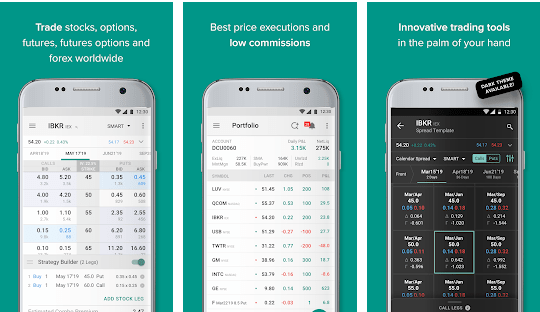 This is the best trade app for stock investments. You get advanced tools and a variety of investment plan options.
Key Benefits:
With this app, investors and traders can undertake international trade easily.
The app has low commission charges.
---
10. Tradehero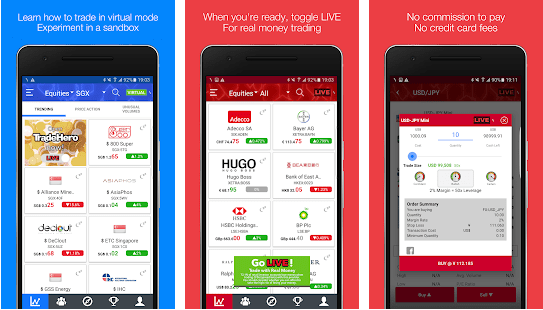 This Android stock market game app lets you trade a $1,00,000 portfolio at actual stock prices but at the same time, since there is no real-time investment, therefore you bear no financial risk.
Key Benefits:
The app can be used with a promo code.
---
11. Stockpile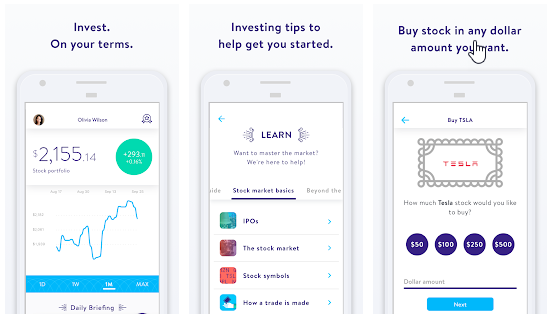 This is the best web-based stock market application for teens. You can not only undertake stock transactions with this app but also gift single shares of stock.
Key Benefits:
You can purchase fractional shares of expensive stocks of larger firms like Google, Berkshire Hathaway, etc.
---
12. Webull – Stock Market Tracking & Free Stock Trading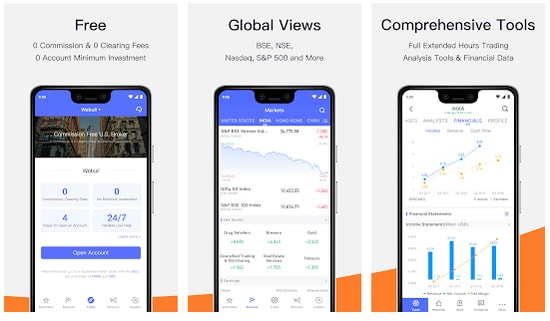 The next best mobile trading app on this list that you can use for free U.S. stock trading is called Webull. It also helps you obtain real-time information about global stock markets to make better trading and investment decisions. Let's have a look at some of its notable features.
Key Benefits:
It's a free stock trading app, with no additional or hidden charges included.
Webull provides you with in-depth stock insights of SENSEX, BSE, NIFTY, etc.
Helps you provide the latest market news with 24*7 updates on major global companies and events.
---
To Sum up: Best Stock Market Apps for Trading & Investment (2023)
These were some of the best stock trading apps you can use in 2023. Each of the above-listed stock analysis apps can help you significantly conduct your day-to-day investments in the stock market without having to depend on anyone.
From the point of beginners, you can make money by taking small baby steps in the field of trade and commerce. You can buy individual stocks and also opt to invest in low-risk mutual funds. You can also ideally invest in treasury securities. The primary stock trading apps can be of immense help, in the beginning, to understand the stock market correctly.
From the perspective of development, it is essential to focus on the target audience, the app platform, and the features to design the app accordingly.
Snigdha is a technical content writer with expertise in the field of science & technology. Though she has a very diverse academic and professional profile yet she finds writing to be a creative form that she was unable to explore so far. When not writing, she can be found indulging in other forms of creativity like painting or travelling.
Subscribe to Our
Newsletter

and stay informed

Keep yourself updated with the latest technology and trends with TechPout.
Related Posts