How To Recover Deleted Facebook Account
Published Date :
Apr 18, 2022

Have you ever considered recovering your deleted Facebook account? Are you among the users seeking an answer to the question How to recover deleted Facebook Account? You are at the right place. Facebook is no doubt an amazing social platform for interacting with your social connections, promoting and conducting business, and staying updated about the topics in which you are interested. But, users might consider deleting or deactivating their Facebook account sometimes for numerous reasons.
For instance, users may find it either too much time or attention consuming. Certain users might also have some reservations about data privacy matters. Therefore, if you have deleted your account in the past and now wish to revive your previous Facebook account, then we can assist you with it.
On a slightly different note, are you aware of the difference between deactivation and deletion of a Facebook account? Or Can you recover a deleted Facebook account? Well, the most significant difference between the two is that the former action provides more flexibility in terms of the Facebook account revivability in comparison to the later action.
Deactivation vs Deletion of Facebook Account
In the below table, the major differences have been consolidated and put forward to furnish more clarity about the difference between the two actions.
Facebook Account Deactivation
Facebook Account Deletion
This is a temporary action.
This is a more permanent action.
Your timeline information becomes invisible to your others. Nobody can search for you on Facebook.
The entire information of your Facebook timeline is permanently erased after 30 days.
However, friends, posts, images, videos, and interests are retained by Facebook, if a user chooses to reactivate their Facebook account.
Facebook retains the backup of your data up to 90 days, post which it is completely wiped off from their database.
This action will not remove your messages from others inbox.
Messages sent by you to others might still be visible to them. 
Also, the content that you have posted publicly as well as in groups, will remain on Facebook forever.
Users can still have access to Messenger.
Other apps linked with your Facebook account like Messenger are disabled.
Reactivate your deactivated FB account anytime on your own.
You can't recover a deleted FB account after a fixed period on your own.
Now that it is clear the difference between deactivation and deletion let us proceed to address our concern about how to retrieve deleted Facebook account and find the relevant solutions for it.
How To Recover Deleted Facebook Account
Earlier, Facebook used to give a grace period of only 14 days to retrieve a deleted FB account. However, now the social media giant has increased this period to 30 days, as they have noticed a lot of people trying to get back to their FB account after deleting it. Hence now users get one month to find deleted Facebook account and restore it.
If you have voluntarily deleted your Facebook, then you can use the immediately available steps to recover your disabled FB account within 30 days. Apply the below-mentioned steps to restore deleted Facebook account. However, if you have a case of a blocked account, then you can use the subsequent steps mentioned further in this article.
Read Also: How To Download Facebook Videos Online
1. Steps to Undo the Deletion Action of a Facebook Account
Refer to the listed steps below to recover deleted FB account and regain the access of your account.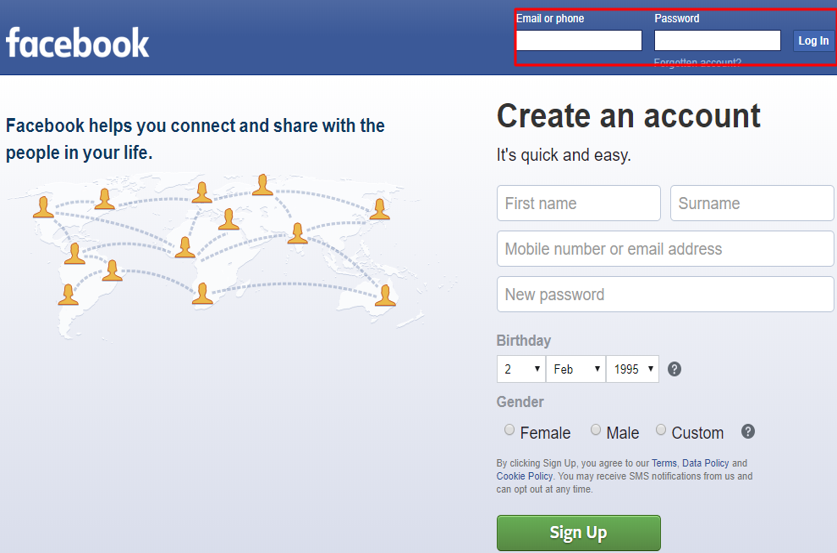 Once your deleted Facebook account is found with your previous ID and Password, you will be provided with two choices viz; "Confirm Deletion" or "Cancel Deletion."

You can choose the latter option to revoke the deletion process of your FB account and reactivate deleted Facebook account.. You can start using your FB account after a few minutes. 
In certain instances, you may be subjected to verification, which you can complete as per the requirement, like if you are presented with security questions, then you can answer them and proceed to access your account.
These were the simple steps to apply when you accidentally deleted Facebook account and want to recover it.
Read More: How to Report Someone on Facebook (Profiles, Pages, Comments, and More)
---
2. Steps to Unblock Your Facebook Account
If your account has been disabled by Facebook and you have no clue as to why it happened, then you can submit an appeal to Facebook in order to reactivate it. Wondering how to do that? Here's our guide for the same.
Note: This method is applicable only when you have you are seeing a message while trying to log in that "your account is disabled." If you are not seeing this particular message and are yet unable to login, then you might be having some other issues that you can try troubleshooting in other ways.
Go to the link belonging to "My personal Facebook account is disabled" page of the FB Help Centre from your system.
Here, you will find a form that you can fill up to request Facebook to review their activity on your account.

Upon clicking the link given in the FB help page, you will be redirected to the form in which you need to fill out some basic details like:
Your email id or mobile number which you have been using to log in to your FB account. 
Your full name.
You will also need to upload an image of your photo ID, which may include your driver's license or passport.
You can also add certain details in the "Additional info" field for the Facebook support team. This could include the possible reasons that might be responsible for the activities which led to the suspension of your account.
Post this, you can forward your appeal to Facebook by clicking on the Send button.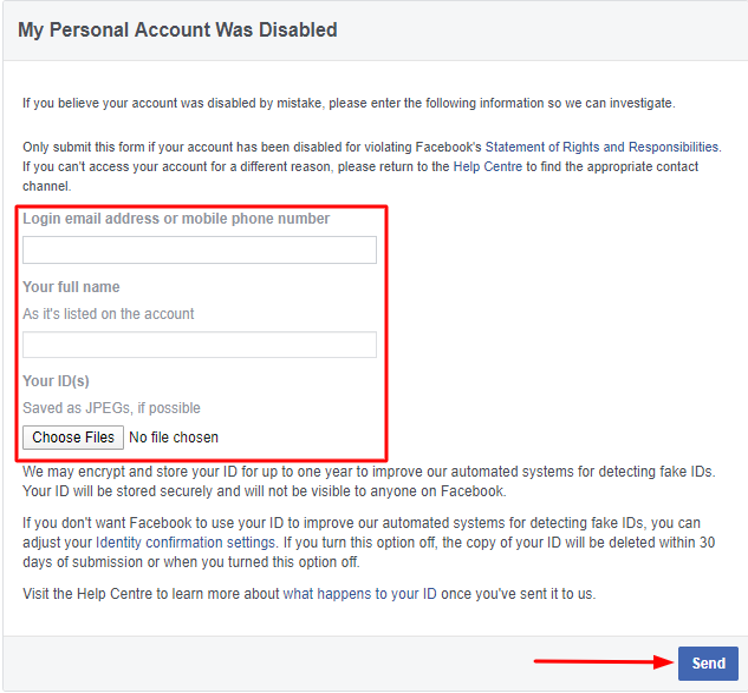 You will receive an email from Facebook, informing you about when your account will be reactivated, provided that they have decided to reactivate your FB account. 
Disclaimer: However, it is solely up to the discretion of Facebook, whether they decide to revive your blocked FB account, given that it happened due to some anomaly and not because you severely violated their terms and conditions.
Read More: Here's Everything About Secret Facebook Messenger
---
Manual FB Account Reactivation 
Did you know if you had previously chosen to deactivate your FB account, then you can reactivate it even after a few years? If you still have the mobile number that you used to utilize for login purposes then open Facebook App and enter the same number now. You will receive an OTP in the mobile number, which you can enter, and then reset your password. And, follow the instructions below to reactivate the FB account on Desktop. 
Launch Facebook in your PC's web browser. 

Input your Email address or mobile number. 

Then, type in the password. In case, if you have forgotten your FB password then you can reset it by clicking on the Forgotten Password option under it. 

Lastly, click on the Log-in option.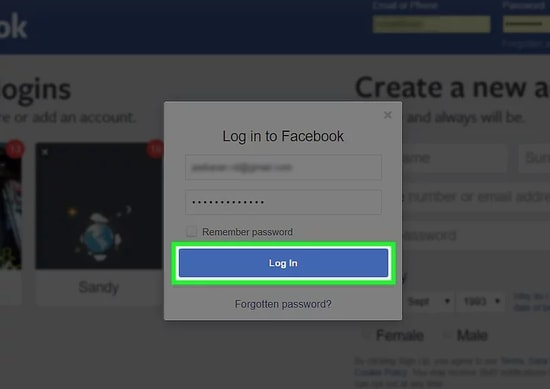 Wait for your News Feed to trigger. If your News Feed opened like usual then it means your FB account is no longer deactivated. And that's it! You are all set with your reactivated Facebook account.
---
FAQs – Recover Deleted Facebook Account
Q1. How to recover deleted Facebook account after 30 days?
The reactivation procedure of Facebook allows users to retrieve account data even after 30 days. To recover your account open the Help section of Facebook from the homepage and select the option I can't access my account. Apply the instructions displayed on your screen to retrieve access of your Facebook account.
Q2. How to recover a permanently deleted Facebook account after 90 days?
The database of your Facebook account stays in systems backup for around 90 days. Therefore, it is not possible to recover a permanently deleted Facebook account. Moreover, you will not be able to access accounts or applications linked with your Facebook account. However, users in your friend list can have access to your chats with them.
Q3. How to recover a permanently deleted Facebook account after 1 year?
No, it is not possible to recover your Facebook account that is permanently deleted for 1 year. The only option to recover it is if you have backed up all the data related to your Facebook account and have the Login credentials of your account.
---
Summing Up – Recover Facebook Account
Finally, from this post, you learned about how to recover your deleted Facebook account. You are also now aware of how to restore your FB account when it is blocked by Facebook due to some imperceptible reasons. 
It is always advisable to deactivate your FB account rather than directly going for the deletion request unless you have made up your mind very clearly. This is because reactivating a Facebook account is much easier in comparison to retrieving your deleted Facebook account.
Snigdha is a technical content writer with expertise in the field of science & technology. Though she has a very diverse academic and professional profile yet she finds writing to be a creative form that she was unable to explore so far. When not writing, she can be found indulging in other forms of creativity like painting or travelling.
Subscribe to Our
Newsletter

and stay informed

Keep yourself updated with the latest technology and trends with TechPout.
Related Posts