Unable to Connect to World Minecraft On Windows 10 [Solved]
Published Date :
Dec 21, 2020

Have you ever encountered an error message unable to connect to the world in Minecraft? We know, it is hampered, but it is easy to fix too. Hence, this post elucidates to you how to fix the Unable to Connect to World Minecraft error. 
There is no doubt in admitting that Minecraft is one of the most relishing games which takes you into the virtual fantasy world. Moreover, it lets you create or design your own world and promotes you to play in distinct modes that lead your way from modeling to survival. But, presently, many users have complained that whenever they are trying to connect with their friend's world in Minecraft, they get one error message that reads Unable to connect to world Minecraft.
Are you in a trap of this error? If yes, then we can help! But before reaching solutions, here is a briefing about the causes because of which this issue occurs. So, let's read them!
All-In-One Solution to Fix Unable to Connect to World Minecraft on Windows 10
The outdated network driver is one of the most common reasons behind this annoying error. Therefore, to deal with this error, one can use Bit Driver Updater. It is the world-class driver updater utility that ensures automatic & frequent driver updates. This utility comes with an in-built system optimizer that can elevate the performance pace of the PC by around 50%. What you need to do is just click on the button below to download Bit Driver Updater for Free.


What Causes the Error "Unable to Connect to World" in Minecraft?
Well, there are numerous reasons because of which this error occurs. But, so far now, after reading all the complaints, here are the major causes of this error. 
Problem in the friend list.

Outdated version of the game.

Third-party Antivirus software may conflict.

Problems with ISP.

Outdated network drivers.
So, these are the core causes of this error. But don't worry, as now it is extremely easy to deal with this issue. Step forward towards our next section that explains to you how to fix unable to connect to world Minecraft windows 10. 
Read Also: Fix Minecraft Won't Launch on Windows 10
---
Best Fixes to Resolve Unable to Connect to World Minecraft on Windows 10
Within a matter of moments, you can easily fix the annoying unable to connect to world Minecraft error on Windows 10. Here, at Tech Pout, we've brought up a list of troubleshooting solutions to fix the same issue. Without wasting more time, let's start the discussion. 
Fix 1: Adding Your Friend Again
After restarting your computer and then the Minecraft game if still, it shows an "unable to connect to world Minecraft" error. Then, here is one thing, that you can do in order to fix the issue and that is re-adding the friend. Your friend list is the core part because of which you might encounter this error if there is some sort of corruption in your friend list. Issues in your friend list may prevent you from connecting to the friend's Minecraft world. 
What you can do to fix this issue is – removing the friends from the friend list and then again adding them back. To do that you just need to know the username of the friend and then input the following (/f remove <username>) command and hit the Enter key from the keyboard. But, we suggest you before implementing this fix, try to visit the unknown person's Minecraft world. If you can, then it will get clear that there is an issue with your friend list. After that, you can move ahead!
Read More: How to Fix Minecraft LAN Not Working Issue
---
Fix 2: Turn Off Windows Firewall
If the Minecraft executable file is not allowed in Firewall, then, it may be the reason for unable to connect to world Minecraft. However, you can still link to the game but can't be able to connect to a friend's Minecraft world. Hence, to prevent this make sure that Minecraft executable file must be allowed in Firewall. Here is how to do it!
Hit the Windows start button and input Control Panel in the search box then hit the enter key from your Keyboard to launch Control Panel.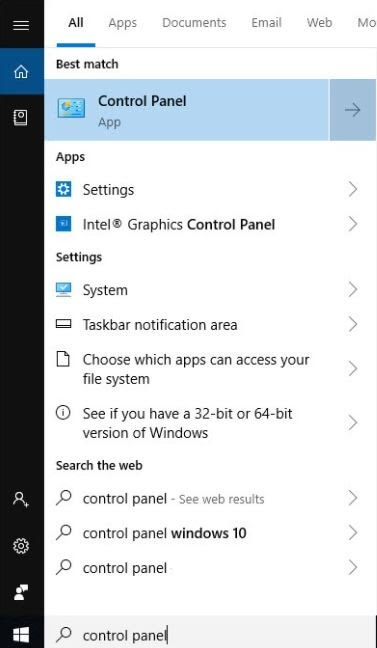 Then, make sure to set the View By section as Large icons, after this click on the Windows Defender Firewall option.
From the next pop-up window, click on the Allow an app or feature through Windows Defender Firewall.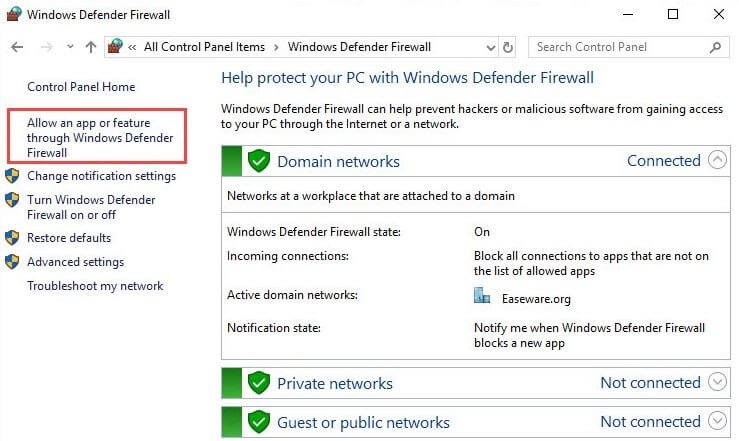 Thereafter, be sure that javaw.exe is marked. If it isn't then click on the Change Settings option and then mark the checkbox. If you find more than one javaw.exe records then mark them all. Make sure that the private and public both checkbox are marked. 

Do as so, and check whether the "Minecraft unable to connect to world" problem is solved or not. If it still remains like earlier, then move to our next fix. 
---
Fix 3: Temporarily Turn Off Antivirus Application
Sometimes, your Antivirus software can be the major cause because of which you are encountering the Minecraft unable to connect to world issue on windows 10. Rarely, your antivirus software can block some features in Minecraft so you may confront this annoying issue where you are helpless to connect to your friends' world.
But, you do not need to panic, as this can be solved just by disabling the antivirus software for a temporary period of time. So, what are you looking for, try this hack and then connect to your friend's world in Minecraft. 
---
Fix 4: Update Network Drivers
So, here is one of the most common yet bit impactful reasons why do you get an "unable to connect to world Minecraft" error on Windows 10 while connecting. The biggest culprit behind the occurrence of this issue is your outdated, old, broken, or corrupt network drivers. Hence, if you want to experience a breakthrough and smoother experience while playing Minecraft or any other game then you have to make sure that your network drivers must be always updated to their latest version.
Here, is one tool to do this task much easier and that is Bit Driver Updater. It is one of the leading driver updater tools currently which lets you update all the drivers with ease. Want to know how it works? Then, read the below-listed steps!
Download Bit Driver Updater from the download tab given below and launch it on your system.

Then, keep patience until the whole Automatic Scanning procedure gets finished.

Once, it will get over then examine the whole list of drivers.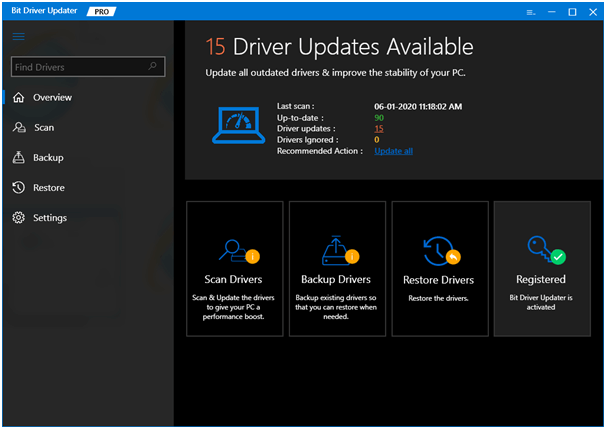 After this, hit the Update Now option presented next to the drivers, to update the drivers.
That's all, what you need to do, in order to update drivers using Bit Driver Updater. Isn't it so facile? Undoubtedly, yes! So, hit the download tab and install this amazing software now!
Read More: How to Solve Discord Overlay Not Working on Windows 
---
Unable to Connect to World Minecraft On Windows 10 [Fixed]
So, with all this, we have come to the end. Through this write-up, we have tried to explain to you every bit possible to fix Minecraft unable to connect to world issue on Windows 10. Hopefully, the above-listed fixes can help you a lot. And, just in case, if you have any queries regarding this then feel free to ask in the comment box below. We'll hear you and will answer your every query too.
In sum, do not forget to subscribe to our Newsletter for getting the latest tech information instantly. So, that's all as for the present heat of the moment, we'll back on board sooner with yet another informative post. Till then, stay in touch with us to stay in touch with the tech realm! 
Harshita Sharma is a technical writer with quite a distinct understanding of the tech realm. She is a tech enthusiast who believes that tech knowledge should reach one and all and tries to convert the sketchy knowledge into the simplest possible form for making people understand the tech world better. When not playing with words, she loves to travel and explore new places. And, is a coffee & cricket connoisseur.
Subscribe to Our
Newsletter

and stay informed

Keep yourself updated with the latest technology and trends with TechPout.
Related Posts