Tesla Mobile Phone – Tesla Smartphone Model, Price, Release Date 2022
Published Date :
Mar 30, 2022

Is the Tesla smartphone coming for real, when it may be available to buy, what may be its features, read on to know the answers to these and all other questions you may have about the device.
The name Tesla seems synonymous with innovative inventions. It often comes up with products that take the world by storm. The list of Tesla's crazy but useful ideas starts with electric cars and goes to supercharger stations, residential battery systems, portable car showrooms, and a lot more. And now the Tesla phone, expected to be named Model Pi/P is also rumored to be around the corner.
There are a lot of speculations about Tesla's mobile phone in the tech world. Tech and mobile phone enthusiasts are brimming with quite a lot of questions, such as what is the Tesla mobile phone release date, what will be the phone's price, etc.
If you are also interested in knowing more about this futuristic phone, continue reading this article.
Here, we share all that we know about the Tesla phone Model Pi from authentic sources and information floating in the tech arena.
Let's begin with a quick walkthrough of what specifications and key features the visionary Tesla smartphone is expected to have.
Tesla Mobile Phone Specifications and Design
A lot of techies are making all sorts of assumptions about what the Tesla phone may look like and its specifications. No official information has come so far from the house of Tesla about the phone's specs.
However, based on the tidbits we got from sources like ADR Studio's Tesla Model P concept designs and other sources, the phone may have the below specifications.
Storage: 1 to 2 TB
RAM: Around 16 GB
Display: AMOLED
Size size: Approx 6.5 inches
Talking about the design of the Tesla mobile phone Model Pi, it is expected to have small side bezels and a notch like iPhone X. Moreover, it may not have a chin like many other new-age phones.
Apart from this, the smaller notch may contain a front camera, an earpiece, and all other sensors.
On the rear panel, the upper left corner may have a camera enclosure, the middle section may come with a shiny T logo (with the number 4 written below it).
The rear panel is also rumored to have an alphabet written on it, apart from the letter T. This alphabet is thought to be "Q" denoting the Quadra concept that became the Model Pi.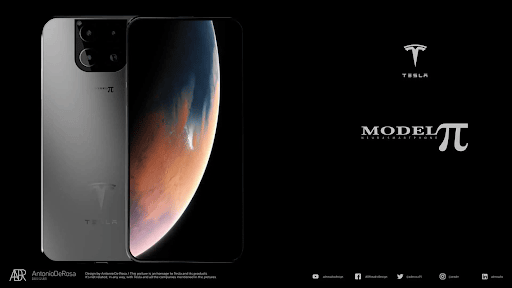 Moving towards the features of Tesla mobile, they are most likely to be groundbreaking. Let's have a closer look at them.
Also Read: Clear Ram On Mobile Devices
Fascinating Features of Tesla Phone Model Pi
As per the information circulating in the tech world, the Tesla mobile phone may have the following breakthrough features.
1. Neuralink
Imagine anything that humans cannot achieve if their brains are computer-linked. Well, almost all impossible-looking tasks may become possible with the Neuralink project of Elon Musk.
The Neuralink technology focuses on making an extremely high bandwidth channel that links your brain and computer with each other.
People at Tesla say they are "designing the first neural implant that will let you control a computer or mobile device anywhere you go." Whenever it comes to public reach, this technology is believed to be of great help to individuals with paralysis.

2. Starlink compatibility
How amazing would it be to use your mobile phone even on Mars? Well, it seems impossible at present. But the Tesla mobile phone Model Pi can definitely make it possible with its Starlink support. It may have an antenna linking the phone to Starlink. Moreover, Starlink on the Tesla phone may give you a download speed of around 210 Mbps.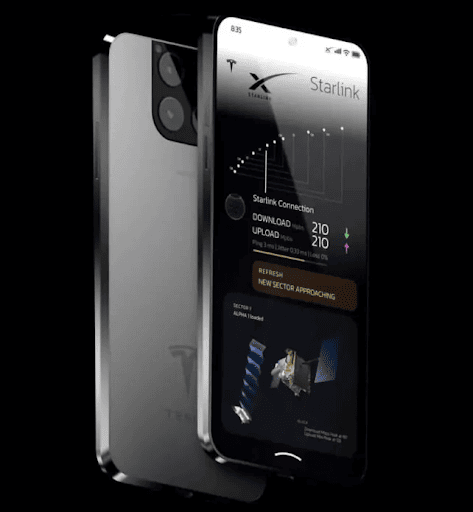 3. Solar charging
Here is another sunny side of having a Tesla mobile. You can use a Tesla case to charge your phone using solar power. It is a highly anticipated feature because the company already makes solar panels and vehicles.
4. Cryptocurrency mining
Elon Musk has been quite vocal about cryptocurrency in the past. We don't think anyone can forget his world-famous tweet that led to an approximately 60% surge in crypto named Dogecoin. The Tesla mobile phone may also boast MarsCoin crypto-mining features.
5. Car control
With the Tesla phone model Pi, you can even control your car. The phone is expected to come with a pre-installed application to perform functions, such as media playback control, locking/unlocking the vehicle, etc.
Moreover, Tesla mobile phone users may get some exclusive features like Party Mode.
6. Astronomical photography
Talking about the camera features, the Tesla smartphone may also support astrophotography. With the technology embedded into this device's camera, you may be able to capture stunning shots of astronomical objects.
That's all about the expected features of the Tesla mobile phone. Now, let's answer the two burning questions regarding the phone's price and release date.
Also Read: Best Offline Racing Games For Smartphones
Tesla Smartphone 2022 Price
With so many out-of-world features and highly-advanced technology, the Tesla phone price may not have a regular smartphone kind of price. You may expect it to be priced somewhere between $800 to $1200. It is surely going to be one of the most expensive smartphones to buy in the coming time.
Tesla Mobile Phone Release Date
Some techies anticipate the release of the Tesla mobile in 2022. However, considering the unbelievable-looking features and technology the device is expected to offer, we do not think the Tesla phone will be available for sale before 2030. Any claim about its release prior to 2030 seems just another rumor floating around.
Bottom Line
That was all about the Tesla mobile phone's specifications, features, price, and release date. At this point, not much is known about the phone. However, we attempted our best to fetch as much authentic information as possible for our readers.
To know more about this phone and all other things tech, stay connected to our blog. We will keep you updated as soon as we come to know anything new about the device through official channels.
Naavya is a writer by both passion and profession. Her deep interest in the tech world drove her to become a technical writer. She constantly endeavors to learn about all things tech to convert her knowledge into words understandable to everyone out there, so all can become knowledgeable about the world of technology. When not composing tech articles, you can find her writing some fiction, reading a book, or spending time with her family.
Subscribe to Our
Newsletter

and stay informed

Keep yourself updated with the latest technology and trends with TechPout.
Related Posts