Complete Guide on How to stream Netflix on Discord
Published Date :
Dec 30, 2021

Read on to know how to stream Netflix on Discord and have a smooth and ultimate experience? The article below provides all the information you need to know to simplify the streaming process.
Discord provides an open platform for gaming and users with common interests to communicate while streaming their gameplay. It has expanded its customer base from just gamers to multiple users. It also allows users to enjoy movies, TV series, and other content available on OTT platforms like Netflix, Amazon Prime, Hulu, Disney, etc.
The recent updates of Discords increased the number of viewers at a time for a stream from 10 viewers to 50 viewers. Although this change was made with the thought of people who were using it for professional purposes while working from home but can also be used for streaming entertainment too.
Netflix streams have gained popularity over the past few years and Discord provides an innovative way to stream them. The features similar to the clubhouse encourage user interactions and allow users to host Netflix stream parties on Discord.
How can Users Stream Netflix on Discord?
Since you are here you might have the same question, but to put it straight you cannot stream Netflix on Discord's mobile applications for both Android and iOS devices due to Digital Rights Management (DRM) limitations for protecting copyrights.
So does this mean that you can't stream Netflix on Discord? You can, by sharing the screen on the Discord Application. Not only this you can also enjoy a Spotify party mode on Discord. Similar steps can be performed to stream movies or TV shows from other platforms too.
Follow these steps mentioned below to watch Netflix on discord:
Method 1: Download the official Discord Application
The users often prefer the webpage version of Discord but to stream Netflix, you are required to load the Discord Application. You can get the Discord Application downloaded on your device depending upon the platform you use (Android or iOS) from the official website or by using the link below:
Once the download completes you can sign in using credentials for your Discord account or through scanning QR code via your mobile application.
Also Read: How to Fix Discord Stuck on 'RTC Connecting'
---
Method 2: Stream Netflix on the App
The streaming part might look complicated but can be easily attained. To stream Netflix on Discord follow the given steps:
Step 1: Open the Netflix app on your web browser and log in to your account.
Step 2: Open the Discord Application side by side while ensuring a good internet connection.
Step 3: Click on Settings option on the left bottom of the webpage.
Step 4: From the menu bar select the "Game Activity" option.
Step 5: Hit the Click button on the "Add it " option that appears.
Step 6: You can now Select the platform or network that you wish to stream on Discord (Netflix, Amazon Prime, or any other).
Step 7: Choose Netflix and Press on the "Add Game" option.
Step 8: Once done, Close the settings menu.
Step 9: Select the screen icon available on the lower left of the webpage that allows you to screen share your Netflix window.
Step 10: Choose the Window from the browser or application that you want to stream and adjust the stream settings as per your requirements.
Step 11: Click on "Go Live" to begin the stream.
---
How to Stream Netflix on Discord Using Android or iPhone?
Many users are curious about the fact that how they can use their mobile devices to stream Netflix on Discord. But the Discord Application does not extend its usability of streaming content on mobile phones. You can not screen share and stream movies or TV shows on your Android or iPhone devices. It is restricted to watch Netflix on Discord due to the limitations of DRM.
So, for now, this feature is not available for mobile devices Although for both users i.e Android and iPhone Discord allows high-quality audio and video calls. To use Discord on your mobile phone you can log in or create a new account and invite your friends to join the platform. It also enables users to create a public group to meet new people, learn from them and develop more opportunities for building an online community.
Also Read: How to Solve Discord Overlay Not Working on Windows PC
---
Issues Faced While Streaming Netflix on Discord
Users come across various issues while they watch Netflix on Discord. Let us look at the common issues faced by users and their fixes.
1. Audio Not Working
Users often face sound issues while you stream Netflix on Discord. You can reset the voice settings for Discord. It can also occur due to a lack of audio drivers or an outdated driver. Make sure the drivers you are using are updated and the most recent versions. You can download and update drivers manually or by using software that can automate this process.
To download drivers manually you can go on the manufacturer's website. To automate this process and save all the time and effort you can Download Bit Driver Updater that enables users to update or download drivers at an ease of a single click.
You can download Bit Driver Updater software by using the below link.

Follow the steps to troubleshoot the audio not working issue while you watch Netflix on Discord:
Step 1: Check the server status of Discord and reset the Discord voice settings.
Step 2: Restart your device to overcome any temporary glitch.
Step 3: Try using Discord Legacy Audio Subsystem.
Step 4: Add the program you are using to Discord.
Step 5: Update the Audio drivers of your Computer manually or by using automated software for this task.
Step 6: Update the Discord Application or Reinstall it in case the issue still persists.
---
2. Black Screen Issue:
This issue is among the most recurrent issues faced by users while they stream Netflix on Discord. One possibility for this glitch can be outdated graphic drivers. To fix the issue of the black screen you can go through the solution mentioned below.
Disable the "Hardware Acceleration"
To avoid the black screen as you stream Netflix on Discord, users need to switch off the hardware acceleration. Follow the steps mentioned below to overcome the black screen issue by putting hardware Acceleration out of action on Chrome
Step 1: Open Chrome and Tap on the icon with three dots on the right top corner. Open the "Settings".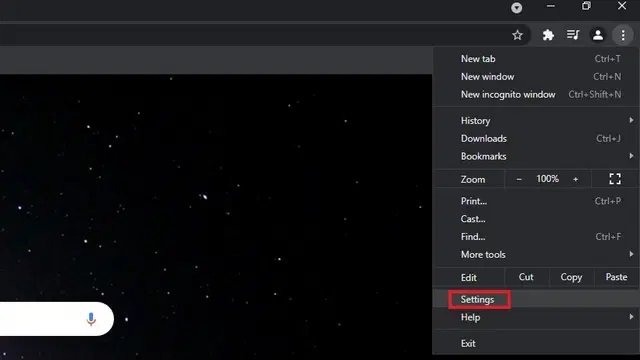 Step 2: Click on "advanced" settings and then on "System". Turn the toggle off which is in front of " Use hardware acceleration when available". Close the Window of Chrome and restart it.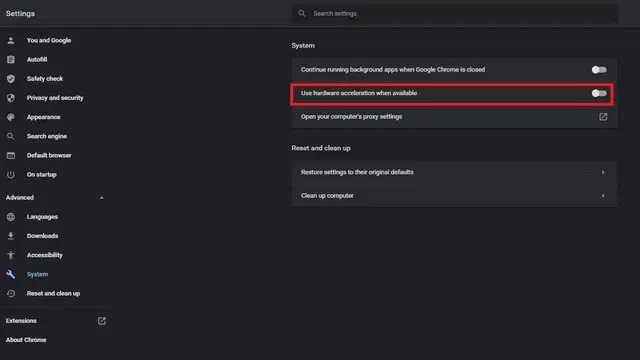 For other browsers such as Microsoft Edge, Firefox you can follow similar steps or search "hardware acceleration" in browser settings and disable hardware acceleration.
Also Read: [Fixed] Netflix App Not Working On Windows 10
---
3. Not Able to Share Screen on Discord?
Discord allows its users to communicate and connect with their friends and enjoy something together even when they are miles apart. You can follow the steps given below to share your Netflix screen on Discord:
Step 1: The screen icon on the bottom left of the Netflix window allows you to share the screen.
Step 2: Select the icon and select the tab on which you want to stream your Netflix.
Step 3: Alter the streaming settings according to your requirements.
Step 4: Press the "Go Live" option and begin the stream.
---
FAQ's ( Frequently Asked Questions)
Q.1 Why does my screen turn black while I try to stream Netflix on Discord?
Black screen issues are among the most recurrent issues faced by users. It can be resolved by following simple steps in your browser settings to turn the hardware acceleration option off.
Q.2 Is streaming Netflix on Discord legal?

No streaming Netflix on Discord is legally prohibited under Netflix's usage guidelines. We don't support Netflix stream on Discord but it is anyways good to learn how it can be done.
Q.3 Can users stream Netflix through mobile phones?
No, you can't stream Netflix through mobiles ( Both Android and iOS devices) due to the Digital Right Management limitations to protect the copyrights for content across digital platforms.
---
Conclusion
The above article provides a complete guide for users to understand how to watch Netflix on Discord and fix all the issues that occur while the stream. You can now enjoy your streams with your family, friends, and loved ones. The article focuses on Netflix mainly but you can use these steps to stream content from any other platform ( like Amazon Prime, Hotstar, etc). Since it is illegal to stream Netflix on Discord we don't promote its usage, However, it is good to know that you can do it.
Do let us know in the comments If we missed out on any of your queries. For more such tech-related content subscribe to our Newsletter and never miss an update. Follow us for more information on Facebook, Twitter, Instagram, and Pinterest.
Akshara is an Engineer turned Technical Writer. She is a tech reader who aims to deliver the best of her knowledge to the readers without complicating it. If not writing you can find her in the kitchen, because no place serves the good tea.
Subscribe to Our
Newsletter

and stay informed

Keep yourself updated with the latest technology and trends with TechPout.
Related Posts