Review of AVG Driver Updater with its Features, Pros, and Cons 2023
Published Date :
Jan 14, 2023

AVG Driver Updater is a popular tool to update drivers. But is it the best choice for you or not? You may read this honest review of AVG Driver Updater to answer this and a lot of other questions you may have about this software.
A driver is a driving force behind most of the tasks you perform on your computer. For instance, when typing anything, you press the keyboard keys (give commands to the keyboard). The keyboard driver then translates the commands into the language your computer understands to provide you with the desired output. However, outdated drivers hamper the whole process and degrade the device's performance. Hence, updating drivers becomes absolutely critical. When it comes to performing driver updates, AVG Driver Updater is a name that pops up almost instantly.
Developed by AVG Technologies, AVG Driver Updater is a renowned software to update drivers. But is it worth all the hype and capable of living up to your expectations, or should you consider other options? This comprehensive AVG Driver Updater review answers these and many more questions.
Now, before jumping into how this software works, its features, and what it can or cannot do, let us take a quick look at its specifications. The specifications of AVG Driver Updater clear the air about whether or not your computer can run it. Hence, we share them below to take the discussion further.
Specifications of AVG Driver Updater
Below are the specifications and system requirements of AVG Driver Updater to help you figure out whether or not it is downloadable and suitable for your device.
Developed by: AVG Technologies
Latest version: AVG Driver Updater 2.5.8
Operating system: Windows XP, Vista, 7, 8, 10, 11
RAM needed: 1 GB or more
Disk Space required: At least 1 GB
Above were the core specifications and system requirements of this software. However, before proceeding further, you should note that Windows XP users no longer get new software features. If you are on Windows XP, you can download AVG Driver Updater and use it, but you do not get any software updates with advanced features.
Talking about features, below is all that AVG Driver Updater has to offer, making it attention-worthy.
Also Read: Dell Keyboard Driver Download and Update in Windows 
---
Key Features of AVG Driver Updater
AVG Driver Updater comes packed with a bunch of features. We share them below.
Extensive driver database
No matter what driver you need, you may find all required drivers with AVG Driver Updater. It has a massive database of over 8 million drivers.
Installation of official drivers
AVG Driver Updater is well-known for updating and installing the most reliable, stable, and latest drivers. The software installs official driver updates from over 100 verified brands.
Driver backup and restore
Like any other best free driver update software, AVG Driver Updater lets you create driver backups. You can use these backups to restore the old drivers on your system if the updated ones do not work for some reason.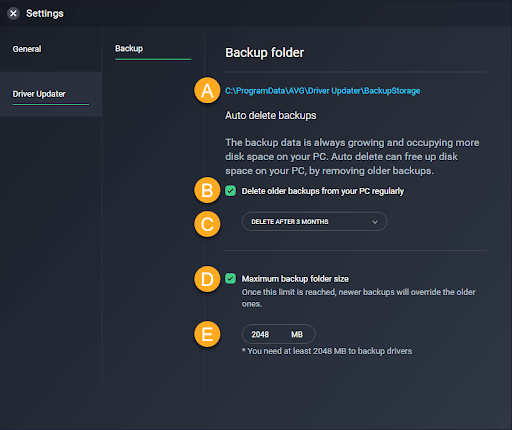 Scan scheduling
The AVG Driver Updater full version comes with an in-built scan scheduler. You can schedule the scans according to your convenience. The software automatically performs the driver scan as per the set schedule.
Real-time scanning
AVG Driver Updater allows you to scan and update drivers for Windows 10 in real-time. You can continue using your computer during the scan. It is a feature lacking in my driver updater programs.
Clean and friendly interface
Another noteworthy feature of AVG Driver Updater is its neat interface. An uncluttered, smooth, and friendly interface makes it effortless (even for beginners) to update drivers.
The above features look quite promising. However, they are of no point if you do not feel comfortable with using the software. Hence, the next section of our genuine review of AVG Driver Updater describes and examines the step-by-step process to use this software.
---
How to Use AVG Driver Updater
Below is the process you need to follow if you wish to use the AVG Driver Updater software.
Firstly, you need to visit the official website of AVG Driver Updater to download the software setup.
Click twice on the downloaded installer to run it and follow the on-screen directions to install AVG Driver Updater.
Now, you may let the software scan your device automatically or initiate the scan yourself by clicking on the "Start Scan" button.
You may now go through the list of outdated drivers, select the ones you want to update, and click on the "Update selected drivers" button to complete the update process. If you wish, you can choose the "show details" option to view detailed information about an outdated driver.
After looking at the way to use AVG Driver Updater, let us summarize its strengths and weaknesses to help you make an informed decision.
---
Strengths (Pros) of AVG Driver Updater
When using AVG Driver Updater to review it, we noticed the following strengths of this software that make it worth downloading.
Reduced hardware problems
After updating drivers with AVG Driver Updater, we noted significant improvements in the hardware performance. The instances of device crashing and freezing also reduced significantly.
Multiple language support
While it may not be a major advantage for some users, it is always good if the software is multilingual. AVG Driver Updater supports over 13 languages.
Fully automatic installation
The basic purpose of using a driver updater is to save yourself from the hassle of manually updating your drivers. AVG Driver Updater fulfills this requirement quite well by performing automatic driver updates and installations.
Self-explanatory interface
One of the best things about AVG Driver Updater is its interface. There are clearly labeled buttons for all the functions to help you pick the desired option without any confusion or complexity.
---
Weaknesses (Cons) of AVG Driver Updater
Like every other software, AVG Driver Updater has a few cons you should know before downloading it. These cons are shared below.
Costs a bomb
AVG Driver Updater is an expensive program compared to its competitors. Many other programs offer a similar set of features at a very competitive price.
No additional features
Another not-so-impressive thing about AVG Driver Updater is that it lacks additional PC optimization features. Moreover, the free version of this software misses out on a few essential features as well. For instance, with the AVG Driver Updater's free version, you can only scan for outdated drivers and not update them.
Available only on one PC
The complete version of AVG Driver Updater works only on a single PC. You cannot use the same license on multiple computers.
Now, let us look at another important deciding factor about whether or not you should get an AVG Driver Updater, i.e., its price.
---
Price of AVG Driver Updater
AVG Driver Updater is available at a yearly price of $43.99. There is also a free trial available for 15 days. After the trial expires, you can still use the software, but with limited features.
Above, we looked at the major pros, cons, and price of AVG Driver Updater to help you make the correct decision. In the following section, we answer some common questions about this software to clear your doubts, if any.
Also Read: How to Download and Install Speaker Driver for Windows
---
Frequently Asked Questions
In this section of AVG Driver Updater review, you can find the answers to almost all questions you may have about this program to update drivers.
Q1. Is it worth getting AVG Driver Updater?
In our opinion, AVG Driver Updater is definitely worth-trying driver updater. You can get the AVG Driver Updater key to use this software to the best of your advantage.
Q2. Can AVG be trusted?
Not all driver updaters are reliable. However, with AVG Driver Updater, we did not encounter or hear any episode of anyone encountering any safety issues. Hence, you can trust this software.
Q3. Is AVG Driver Updater free?
AVG Driver Updater offers a free trial for 15 days. After the said period expires, you can only scan for outdated drivers. If you wish to update drivers after the free trial ends, you need to get the AVG Driver Updater key.
---
Summing Up the AVG Driver Updater Review
Above, we comprehensively and genuinely reviewed AVG Driver Updater, one of the top driver updaters. You can weigh its features, pros, and cons against your requirements to decide whether or not it is the best choice.
If you have more questions or suggestions about this article, you can drop them in the comments section. You can also share your experience with the driver update software via comments. We will be more than happy to know your thoughts.
Niharika is a passionate soul who finds immense satisfaction in putting all her thoughts in writing. Being a technology enthusiast, she loves learning new things about tech and making everyone technologically literate through her articles. When not composing tech articles, you can find her bringing characters to life in her fictional stories, reading something intriguing, or spending time with her near and dear ones.
Subscribe to Our
Newsletter

and stay informed

Keep yourself updated with the latest technology and trends with TechPout.
Related Posts