Restore Sound Driver on Windows 10, 8, 7 | Reinstall Sound Driver

When the sound drivers get corrupted or damaged, then users experience various sorts of issues with the sound system of their computer. Sound drivers are often prone to wear and tear, therefore, if you are looking for solutions to restore sound drivers, then you have come to the right article.
In this article, we will help you understand various ways in which you can reinstall sound drivers. The four techniques we have elucidated below are immensely useful to troubleshoot and address numerous audio errors that you might be experiencing on your computer.
Experts Recommended: Use Bit Driver Updater
One of the fastest and safest solutions to uninstall and reinstall audio drivers is by using an automated driver update utility like Bit Driver Updater. If you don't have adequate technical knowledge and time, Bit Driver Updater is your best bet. To restore sound driver on Windows for free, click the button below!

How to Restore Audio (Sound) Drivers Windows 10?
Before I share with you the techniques of how to restore sound drivers, we will take a look at a step that you must perform.
The first step is to uninstall the existing audio drivers from the Windows PC, followed by reinstalling the audio drivers.
A. Uninstall The Audio Drivers
So, when it comes to uninstalling audio drivers, you can utilize the below steps:
Step 1. Hit Windows key + R key to open the Run dialog box and type the command – "devmgmt.msc."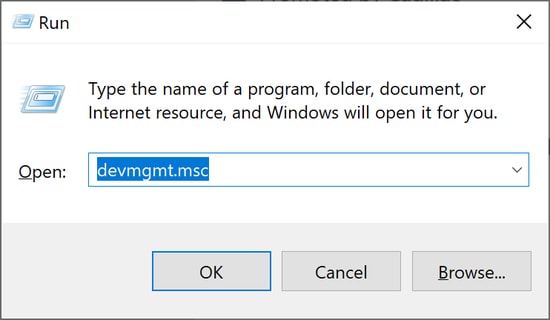 Step 2. This will take you directly to the Device Manager window where you can double click on the "Sound, video, game controllers" section to expand it and see the list of pre-existing audio drivers.
Step 3. Then, right click on the specific sound driver to select the option of "Uninstall" from the drop-down menu.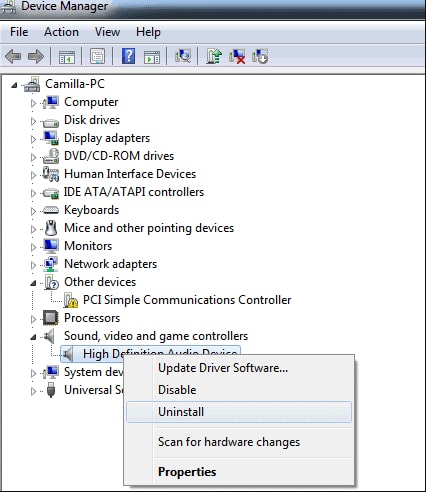 Step 4. Wait till the uninstallation completes.
Read Also: Download Generic PnP Monitor Drivers
---
B. Restore Sound Driver
Now let us take a look at how to reinstall audio drivers from the below methods:
Method 1. Restore Sound Drivers with Device Manager
Facilitated by Windows, users can fix audio driver issues by reinstalling audio drivers with the help of this built-in Windows tool, known as the Device Manager. Users can go back to the Device Manager window after uninstalling the audio drivers and follow the below steps to restore sound drivers:
In the Device Manager window, click on the Action button located in the menu bar on top.
Then, you can select the "Scan for hardware changes" option from the dropdown menu.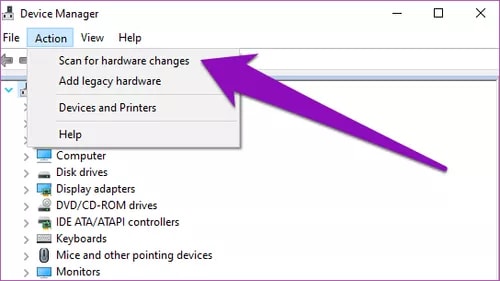 Further, let Windows identify and install the right sound drivers on your Windows PC.
You can restart the system and then find the newly installed audio drivers in your PC.
Read More: How to Fix Discord Screen Share Audio Not Working
---
Method 2. Restore Sound Drivers with Windows Update
Windows is equipped to constantly detect latest drivers and software releases and users can install the latest available updates with the help of the Windows Update service. The steps are outlined below for your ease to restore sound drivers:
Launch the Settings app in your Windows 10 computer.
Then, click on "Update & Security" option.
Furthermore, you will have to choose the Windows Update option from the leftside menu and then press the Check for Updates button on the main screen.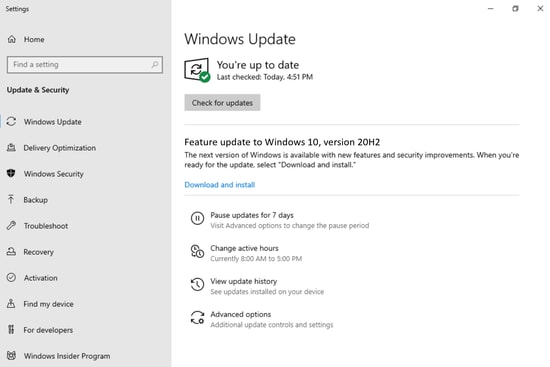 Windows will begin installing the available sound driver updates on your Windows system.
---
Method 3. Restore sound drivers automatically
This method is the most accurate method to reinstall sound drivers on your computer without any hassles. You can install the best driver updater tool on your Windows PC that can scan and find the broken, outworn, or missing audio drivers of your Windows computer and replace them with the most recent versions of the audio driver.
Such a tool can automatically install the driver updates and ensure that the audio issues are sorted completely.
Hence, to make the task more convenient for you, we have brought one of the best driver updaters in town. You can use the impeccable Bit Driver Updater program to download, install, update, and reinstall sound drivers with a single click, and that too, without any manual interruption. Below are the step-by-step instructions on how to restore audio drivers and fix common sound problems related to it.
Step 1: Download the Bit Driver Updater application for free from the link given below.

Step 2: After successful installation, launch the application and click the 'Scan Drivers' button to let it find any problem drivers.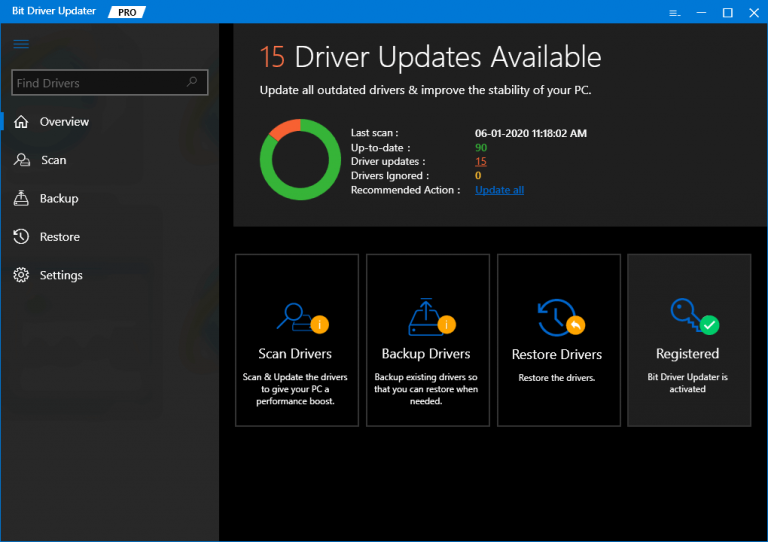 Step 3: After this, select the sound driver from the scanning results and click on the 'Update Now' button.
Simple, isn't it? You can get rid of all the irritating sound and other driver-related problems by following the above three simple steps.
---
Method 4. Restore Sound Drivers from the Manufacturer's Website
Still, wondering how to reinstall audio drivers on your PC? Though this method is not in trend due to the complications associated with it, besides being a time-consuming process, yet if you have the right technical skills, then you can try this method to obtain the right audio drivers for your computer.
You can go to the PC manufacturer's page and then search for relevant drivers. Once you locate the specific audio driver package you can download and then install it on your PC.
Read Also: How to Fix No Sound Issues in Windows 10 PC
---
Frequently Asked Questions for Sound Drivers
If you have any queries related to how to restore sound drivers on Windows, then we hope that these frequently asked questions can help you:
Q1. Which sound driver is best for Windows 10?
Sound drivers for your Windows PC depend upon the manufacturer. If you are using an Intel processor, then you need Intel sound drivers for your PC. The same goes for other devices.
Q2. What sound driver do I have?
You can check the sound driver you have with the help of the Device Manager. Just right-click on the Start button for Device Manager. And now look for your sound driver under the Sound, video, and game controllers category.
Q3. How do you tell if my audio drivers are up to date?
You can take the help of the Device Manager to know whether your sound driver is up to date or not. Run the Device Manager from the taskbar search. Expand Sound, video, and game controllers and right-click on your sound driver to update it. If the driver updates, this means that you had an outdated one and vice-versa.
---
Were You Able to Restore Sound Drivers?
To put everything in a nutshell, we can say that whenever you are experiencing "no sound issues," or any other problem, then you can restore sound drivers and fix the problem at hand like an expert.
You can manually or automatically restore sound drivers as per the above-described techniques. If you experience any issues while executing or performing the above steps, then leave a comment below.
Snigdha is a technical content writer with expertise in the field of science & technology. Though she has a very diverse academic and professional profile yet she finds writing to be a creative form that she was unable to explore so far. When not writing, she can be found indulging in other forms of creativity like painting or travelling.
Subscribe to Our
Newsletter

and stay informed

Keep yourself updated with the latest technology and trends with TechPout.
Related Posts