Sticky Notes is an app that is incorporated into Windows 10/11 that enables users to capture notes quickly and conveniently using applications that are similar to Sticky Notes for Mac. Users can also make reminders & notes that can be pinned to their desktops using Sticky Note. Sticky Note is included with Windows 10/11.
The Sticky Notes program on Windows 10 has received significant enhancements from Microsoft, including the addition of features such as text formatting, colored notes, the ability to add photographs, and a great deal more.
On the other hand, just as with any other kind of material, there is always a chance that you may lose your essential notes. The following are some of the probable reasons:
There was an unfortunate deletion of the notes.
Deleted notes as a result of viruses or other malicious software.
Loss of notes as a result of a power failure or system breakdown.
A recent upgrade to Windows caused the disappearance of notes.
In such a scenario, you will be in need of a trustworthy method to retrieve sticky notes on your PC. This article will provide you with five complete solutions to restore your lost Sticky Notes on Windows 10/11. Continue reading for more information!
Methods to Recover Deleted Sticky Notes on Windows 10, 11 PC
Because Sticky Notes does not have an archiving capability, using the "Delete" button will immediately remove the note from your device. So how exactly does one go about recovering a deleted Sticky Notes in Windows 10? There are a few ways that will allow you to recover lost Sticky Notes, and there are also a number of techniques to make sure that you will never find yourself in the same scenario again. Without further ado, let's get started!
Method 1: Review Your Sticky Notes List
As was noted before, there are situations when your sticky notes have not been removed from your computer; rather, these sticky notes have been disguised and now you are unable to access them via your device. You may demonstrate it once again by repeating the actions listed below.
Step 1: Launch the Sticky Notes application on your own computer.
Step 2: Sticky Notes is an icon located on the Windows taskbar. To access the Notes list, right-click the Sticky Notes icon. Then, choose Notes list option.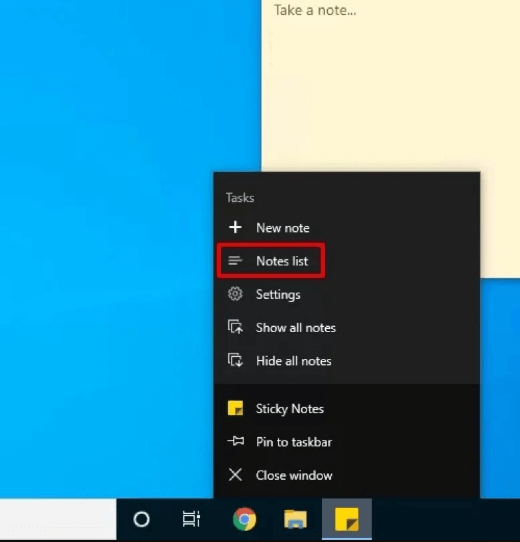 Step 3: Check the list on your Post-It notes.
Following that, a comprehensive list of all of your Sticky Notes will appear on the screen. To access your note, either right-click and choose Open Note from the context menu or simply double-click the item.
In the event that you are still unable to see your Sticky Notes, you may retrieve them by using any of the following methods.
Also Read: Best Free Photo Recovery Software to Recover Deleted Images
---
Method 2: Make use of Data Recovery Software to Recover Deleted Sticky Notes
It is the most straightforward approach to retrieving lost Sticky Notes on Windows 11, 10. Utilizing the best data recovery software is among the most simple and expedient methods for regaining access to erased information, including Sticky Notes. There are numerous data recovery software available in the market, you can download and install the one that suits your needs. Proceed with the other approaches if you do not want to use any third-party recovery software.
---
Method 3: Recover Sticky Notes Using the StickyNotes.snt File
The StickyNotes.snt file that is generated by Sticky Notes preserves more than one sticky note that floats on the desktop. The file also retains the text, font, color, and location of each note on the desktop. Additionally, the file enables already summoned sticky notes to be kept even if an individual log out of a Windows PC and logs in again.
Therefore, utilizing the StickyNotes.snt file is a viable option for you to consider if you do not want to make use of the third-party tool in order to restore your Sticky Notes. In spite of the fact that it is a very time-consuming operation, it might make it easier for you to get the notes you require. Have a look at the steps below:
Step 1: To launch the Run dialog box on your system, press the Win key + the R key simultaneously.
Step 2: To access Sticky Notes, enter %AppData%\Micosoft\Sticky Notes\ in the Run terminal. Now, you can see the Hidden folders and then navigate to a particular location in order to see the files.
Step 3: Locate the StickyNotes.snt file in the respective folder. It provides information on the notes that you have removed.
Step 4: Use the file's context menu to open this in a text editor such as Notepad, WordPad, Microsoft Word, or one of the others.
Step 5: Decode this file in order to satisfy the editor's request, and then continue by following the directions that appear on the screen.
Step 6: Perform a manual filtering process on your data as it is done for cipher text.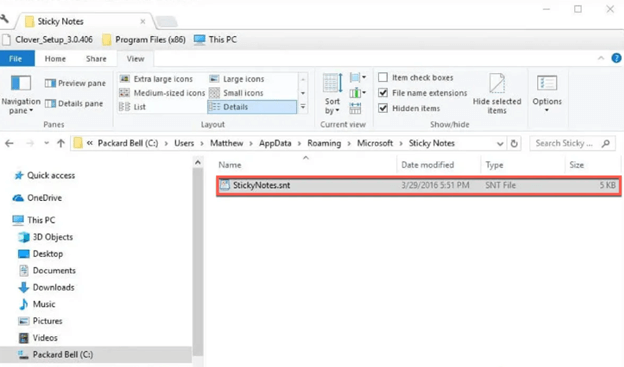 Post that, it gives an opportunity to retrieve any removed Sticky Notes. But, unfortunately, if you are still unable to retrieve your deleted Sticky Notes on PC, then move on to another method.
Also Read: How to Recover Data from a Mac
---
Method 4: Restore Deleted Sticky Notes Utilizing Earlier Versions
Utilizing the Windows function known as "Restore Previous Versions" is an additional method for regaining access to deleted Sticky Notes. After you have allowed file backup on Windows device, it will store certain files and folders at regular intervals automatically. So, if the data has been lost, you may recover it from a backup.
Step 1: Navigate to the location of the desired Sticky Note's .snt file. Now right-click and pick the "Properties" option from the context menu.
Step 2: Navigate to the Sticky Notes menu and click on the Previous Versions option to see older versions of the program. In case an earlier version is available, choose it and then click Restore.
Step 3: Lastly, click on Apply and then OK to save new changes.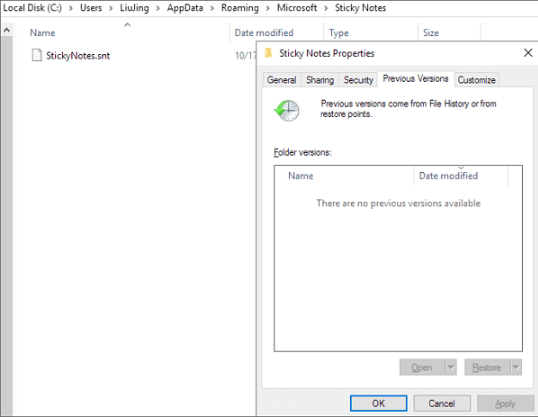 ---
Method 5: Retrieving Sticky Notes from the Deleted Items Folder in Outlook
When you remove a note, a duplicate of the same note is saved in the Outlook's Trash folder. This happens regardless of how often you delete notes. Launching the web-based version of Outlook and following the below-listed instructions, you can easily restore deleted Sticky Notes on a Windows PC.
Step 1: Launch a web browser, go to the Outlook website, and sign in using your Microsoft account.
Step 2: Navigate to the "Deleted" option in the sidebar on the left. You will see all of the notes that you have retrieved.
Step 3: Locate the Sticky Notes that you previously erased but now want to restore.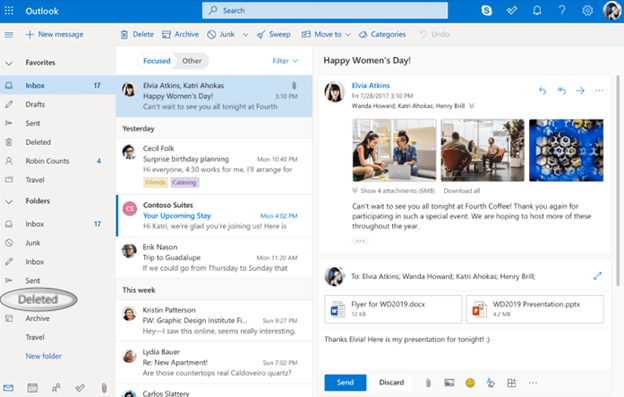 Also Read: Best Free SD Card Recovery Software for Mac
---
Wrapping Up!
It's a fantastic idea to digitize your Sticky Notes, which you should do. You are free to take it with you wherever you go, and despite the fact that it has a plethora of capabilities, it is still easy to use and has an appealing appearance.
That was all about how to restore deleted sticky notes on Windows 10, and 11. We hope you found the information in this article helpful, please free to drop your queries in the comments section below. For more technical information, you can subscribe to our Newsletter and follow us on Social Media.
Harshita Sharma is a technical writer with quite a distinct understanding of the tech realm. She is a tech enthusiast who believes that tech knowledge should reach one and all and tries to convert the sketchy knowledge into the simplest possible form for making people understand the tech world better. When not playing with words, she loves to travel and explore new places. And, is a coffee & cricket connoisseur.
Subscribe to Our
Newsletter

and stay informed

Keep yourself updated with the latest technology and trends with TechPout.
Related Posts