Oxylabs Proxy Server Review: Features, Pros and Cons, Pricing, and More

Here is a thorough Oxylabs proxy server review offering various features of the platform, its pricing, the pros and cons of using the platform, usage pattern, and various other details that will help you easily understand everything about the platform. 
Businesses of all kinds need to gather information related to their actual and potential customers from time to time. This information allows businesses to be ready to meet the requirements and expectations of the customers and users. Moreover, with the same data, the business can also improve its products and services according to user requirements as well. There are only some limited service providers that help you gather this information. Oxylabs proxy server is one such name.
Oxylabs is a service-providing organization that offers web data and information-gathering services to its clients. For the collection, recording, and storing of this data, the brand offers various proxy solutions for businesses. Using these proxy solutions, the business can conduct thorough and reliable market and customer-expectation analysis with ease.
The brand has been operational and offering proxy solutions since 2015. However, the big question that various businesses ask is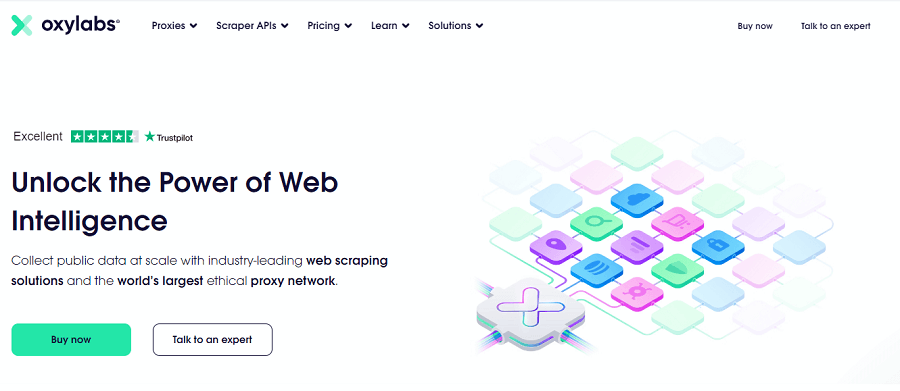 Is Oxylabs reliable? 
This is something that we will answer with the Oxylabs proxy server review. This review contains in-depth information related to the performance of the proxies, the types of proxies, features of the platform, and more. Using the same, you can make an informed decision regarding the reliability of the service provider.
By the time you and us are done with the review, you would be able to judge the platform's viability with ease. So, without any further ado, let's start this Oxylabs review with its features.
Oxylabs Features: What Does the Oxylabs Proxy Server Have to Offer?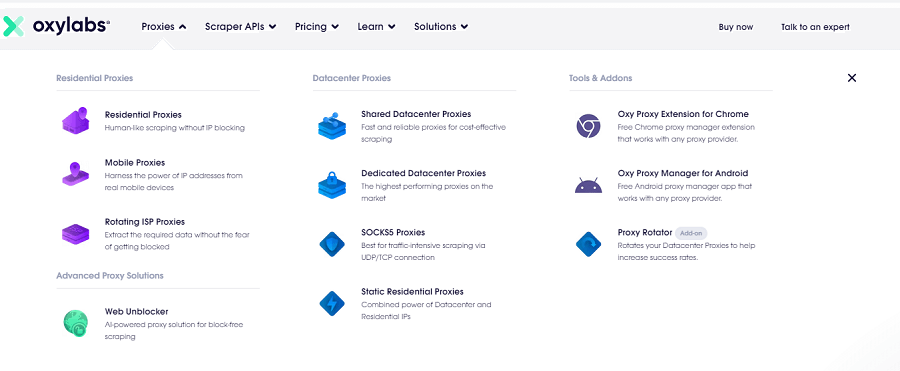 To judge any platform's performance, it's best to have a look at its features. This is what we will do as well in the coming sections of this guide. Below are some of the most extensive Oxylabs features that explain everything that the proxy server does. Check out every feature of the proxy server for detailed information.
Offers Both Scraper API and Proxies
As you may already know, there are two most common solutions that businesses rely on for data gathering. One is to use a proxy server and the other is to use the Scraper API. Different businesses select either proxy/Scraper API or a combination of both for data collection. Thankfully, Oxylabs offers both of these services to you.
Scraper APIs allow you to collect information from multiple websites and marketplaces. However, all domains may not allow APIs. Hence, this is where you can take the help of a proxy server for data collection. Let's have a look at them individually for detailed information.
Also Read: Best Proxy Websites in 2023 (Free & Paid)
---
Reliable and Multiple Solutions for Oxylabs Proxy Server
One of the best features of Oxylabs is that it offers multiple alternatives for proxy servers to you. The brand offers a variety of proxy server alternatives ranging from residential proxies to mobile proxies, from rotating ISP proxies to SOCKS5 proxies, and beyond. Let's understand how these proxies differ from one another.
Residential Proxies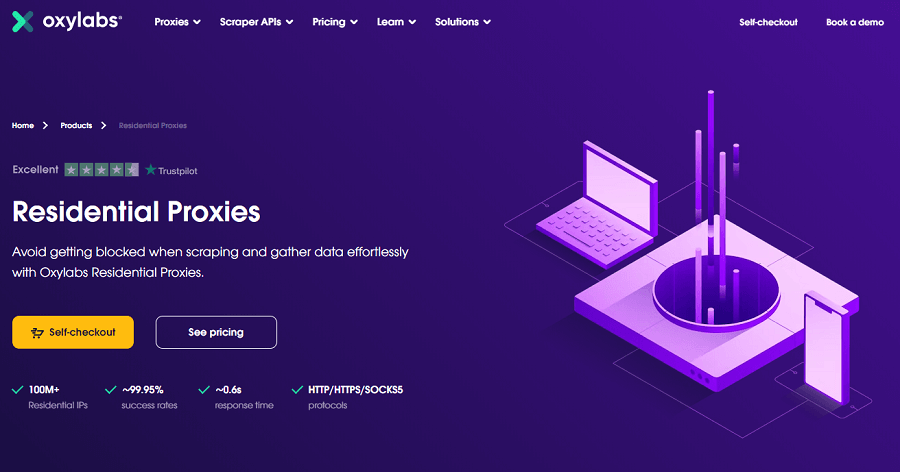 With Oxylabs, you get the option to choose as many proxy servers as you want for residential proxies. There are over 100 million proxies for you to choose from. As there are so many alternatives, it becomes easy for an organization to select the ones it deems fit for the business. All the proxies are quite fast and easy as they use fewer IP blocks, CAPTCHAs, etc. for data collection.
These proxies are spread around the world and cover almost every part of every country. Moreover, the brand selects these proxies from reliable and tested sources as well for utmost performance. Hence, this Oxylabs proxy server is quite reliable.
Mobile Proxies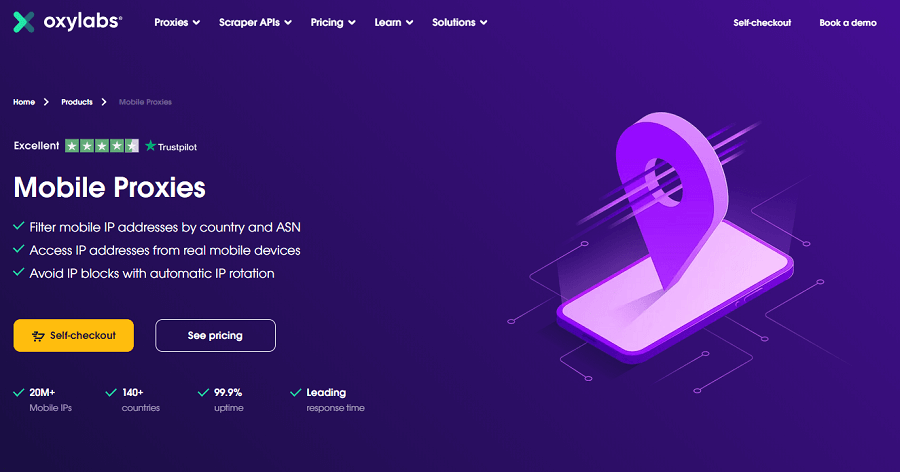 Another type of proxy server in this Oxylabs proxy server review is mobile proxies with IP addresses. With Oxylabs, you get an option to choose from a list of over 20 million different proxies. If you are looking for a proxy server to monitor the reviews, then this is the best choice for you.
Mobile proxies allow you to surpass the geo-restriction barriers as well for extensive data collection. Just like residential proxies, mobile proxies also employ fewer IP blocks and CAPTCHAs for faster delivery. Moreover, it's quite easy to integrate the mobile proxies as well.
Datacenter Proxies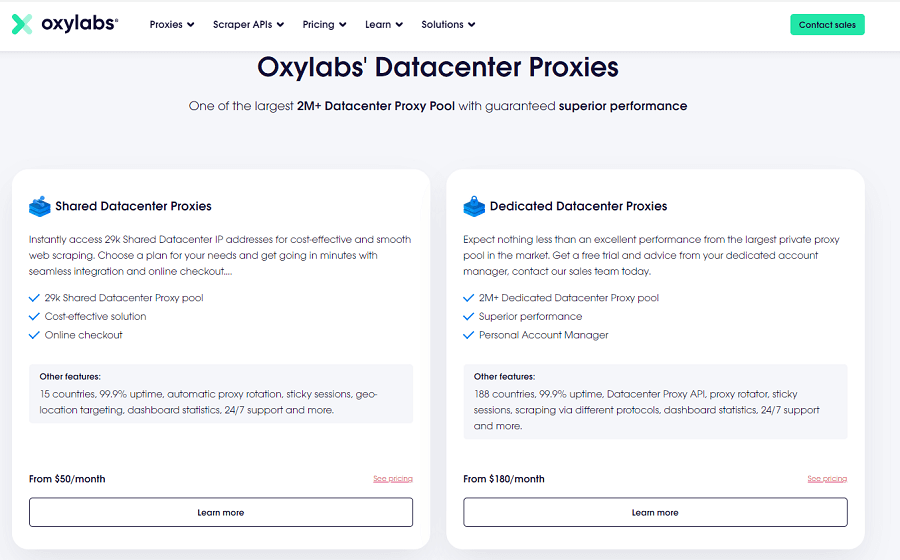 The data center proxies from Oxylabs can be divided into two parts viz. Dedicated Datacenter Proxies and Shared Datacenter Proxies. Let's have a look at some details related to these proxies from Oxylabs features right below.
Dedicated Datacenter Proxies
Dedicated Datacenter Proxies allow you to access over 2 million servers divided and spread to over 180 different locations. As there are over 8,000 different subnets, you get an amazing performance with competitive advantage. The dedicated IPs offer improved speed and performance. Additionally, it has no limitations for bandwidth, targets, and concurrent sessions. You can keep the IP the same or rotate it as per requirements.
Shared Datacenter Proxies
Originating from third party cloud services these Proxies can be used by multiple users simultaneously. You can instantly access 29K shared IPS for browsing websites without any limitations or geographical restrictions. Choose from 6 different geo locations that include: the US, UK, Romania, Germany, Netherlands, and France. The infrastructure is the latest with continuous team monitoring.
Rotating ISP Proxies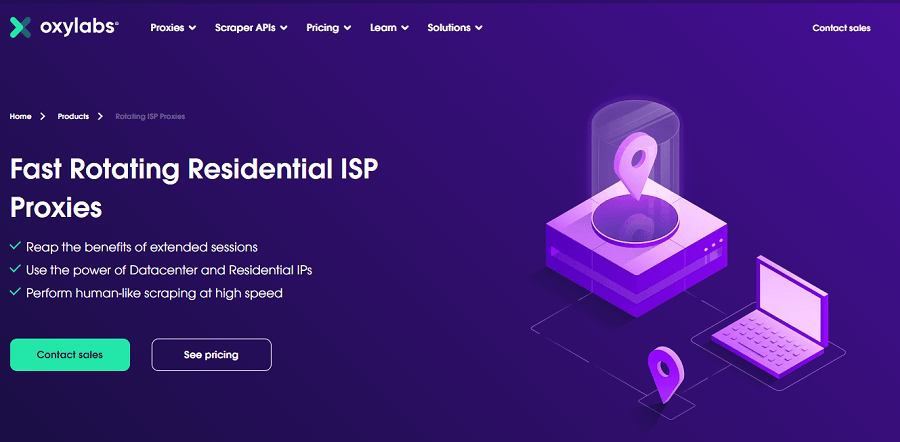 The next name on this Oxylabs proxy server review is Rotating ISP proxies. If you want a proxy that has the features of both a data center proxy and a residential proxy, then you can try the rotating ISP proxies from Oxylabs. With this proxy, you don't have to worry about the blocking of IPs or session time expiry.
This proxy can go on and on for hours, days, and weeks collecting the required information. As these proxies are hard to detect, you can collect information from the toughest targets with ease. The speed of the proxy is lightning-fast. Just like any other proxy from Oxylabs, the rotating ISPs also offer amazing speed along with a few CAPTCHAs and IP blocks.
Also Read: Difference Between VPN and Proxy Server | Proxy vs VPN
---
Scraper APIs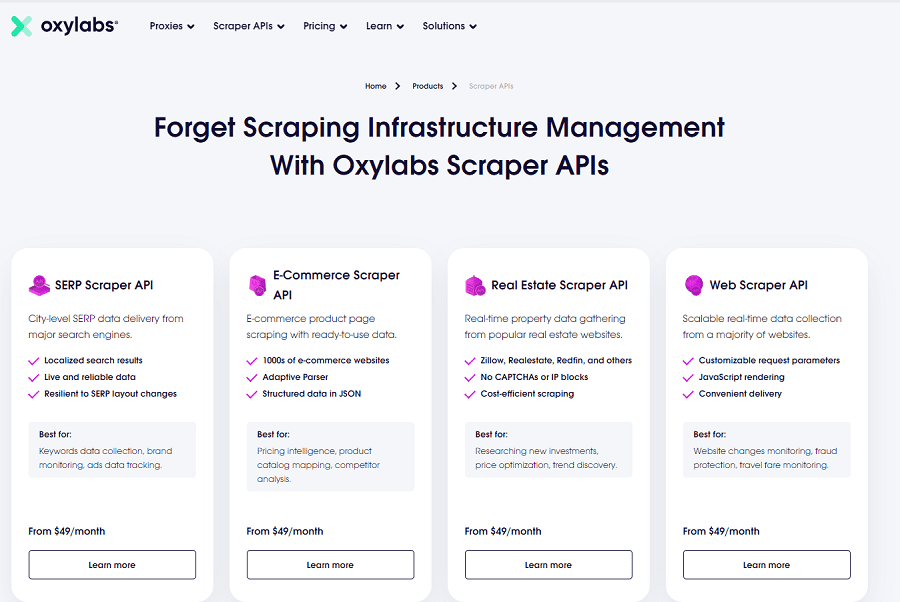 The Scraper APIs offered by Oxylabs can easily make complex web data available. There are several Scraper APIs available with a specific target audience. However, all of them offer improved performance and better user experience. The following are some of the notable guarantees made by different Scrapper APIs:
Payment should be only made post the desired results
24*7 email and chat support
Local content made available easily
Easy scaling options
Direct delivery of data to cloud storage.
Following are the four different Oxylabs Scraper APIs
Web Scraper API
With a specific intent to capture real time public data from the pages that you browse, the Web Scraper API acts as a trustworthy option. You can easily extract the exact data from any website. You can easily bypass any restrictions in your location as it minimizes IP blocks and CAPTCHAs.
SERP Scraper API
The SERP Scraper API was developed with the intent to extract real time data from search engines. It can be used for usual searches, availability, keyword search, etc. It can effortlessly bypass restrictions for specific locations. Straight away you can use the infrastructure without any need for maintenance.
E-Commerce Scraper API
The E-commerce scraper API from Oxylabs can capture all the local data in real-time from e-commerce websites. It makes a perfect match for business users with the requirement of price monitoring, catalog mapping, or other analysis with their competitors. Easy-to-use interface that can bypass all the geographical restrictions and minimize CAPTCHAs.
Real Estate Scraper API
Another useful API Scraper by Oxylabs is Real Estate. With the help of this API, you can easily gather the exact information from the globally recognised real estate websites. The information can be anything from the type of property, pricing, amenities offered, location, etc. Apart from bypassing geo restrictions it also offers protection from anti bot systems.
---
Web Unblocker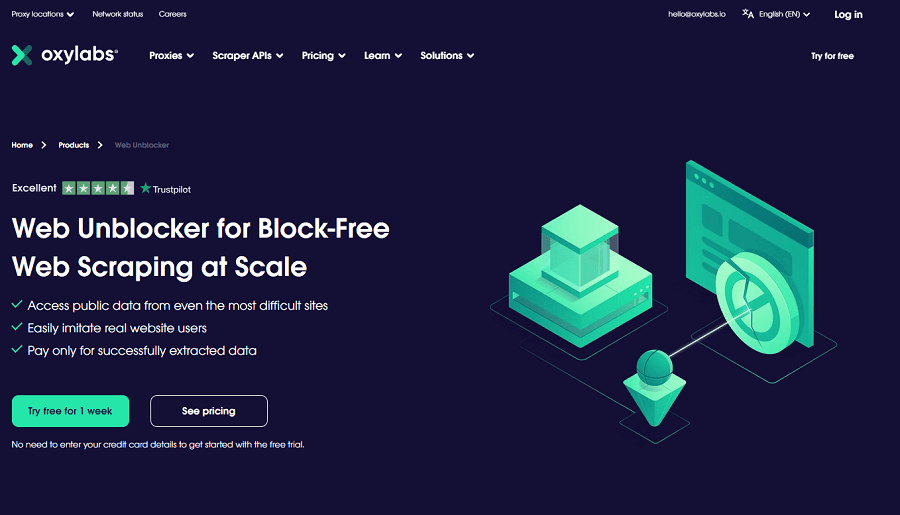 Another most reliable feature of this Proxy Service is an AI powered proxy solution referred to as Web Unblocker. You can use this to extract data from complicated sites and bypass the anti bot systems to access content. It enables users to portray themselves as an organic user and access local content. It can automatically choose the most suitable proxy tool depending upon your website. Either use one IP for up to 10 minutes or use different IPS for different requests.
The trial version of Web Unblocker is available for free for the first week. Once the sign-up process completes your API credentials are delivered to your email inbox.
---
Oxylabs Pricing
The following list can be reviewed before choosing Proxy servers or any other service offered by Oxylabs.
Pricing for Oxylabs Proxies:
| | |
| --- | --- |
| Proxies | Starts From |
| Residential Proxies | $15 |
| Mobile Proxies | $22 |
| Rotating ISP Proxies | $340 /month |
| Shared Datacenter Proxies | $50 /month |
| Dedicated Datacenter Proxies | $180 /month |
| SOCKS5 Proxies | $15 /month |
Pricing for Scraper APIs
| | |
| --- | --- |
| Scraper APIs | Starts From |
| SERP Scraper API | $49 /month |
| E-commerce Scraper API | $49 /month |
| Web Scraper API | $49 /month |
| Real Estate Scraper API | $49 /month |
Pricing for Advanced Proxy Solutions:
Web Unblocker: Starts From $75 /month
Also Read: Best Free Windows Server Backup Software
---
Pros and Cons of Oxylabs Proxy Server:
Now that we have understood the features and pricing of the Proxy servers let us begin with the advantages and disadvantages that must be considered before choosing it for your device.
Pros
Improved Overall performance
24*7 customer support
Stable, Authentic, and 100% reliable proxies
Flexible controls for Proxies
Covers over 180 countries globally
Supports HTTP, HTTPS, SOCKS5
Rotating and mobile proxies.
Cons
Learning curve is steeper as the advanced features require more time.
---
Closing Lines:
Oxylabs is one of the best options for companies or individuals looking for high-quality proxies. They offer a variety of products to address the user requirements. Nevertheless, it is important to understand that if you are looking for a budget-friendly proxy service this might not be a good fit for you.
If you have any further queries feel free to drop them in the comments section below. Also, for more review, troubleshooting, and other tech guides make sure to subscribe to our blog.
Akshara is an Engineer turned Technical Writer. She is a tech reader who aims to deliver the best of her knowledge to the readers without complicating it. If not writing you can find her in the kitchen, because no place serves the good tea.
Subscribe to Our
Newsletter

and stay informed

Keep yourself updated with the latest technology and trends with TechPout.
Related Posts