EOS Data Analytics introduced a website showing the process of building a commercial satellite in an interactive manner.
Prior to the launch of its first EOS SAT-1 agro-oriented satellite EOS Data Analytics, a global provider of AI-powered satellite imagery analytics, offers space enthusiasts to find out how modern commercial satellites are done and build them via their interactive website.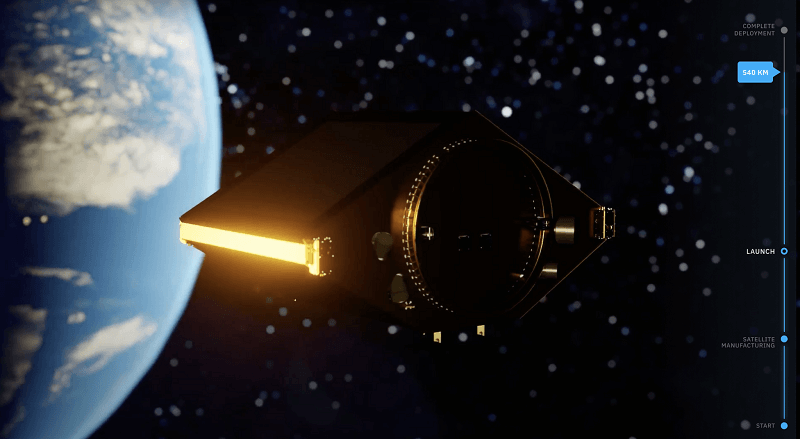 To see it for yourself, proceed via the next link.
The offered website proposes a gamified experience of building a small optic satellite and sending it to space, and also explains its possible purposes.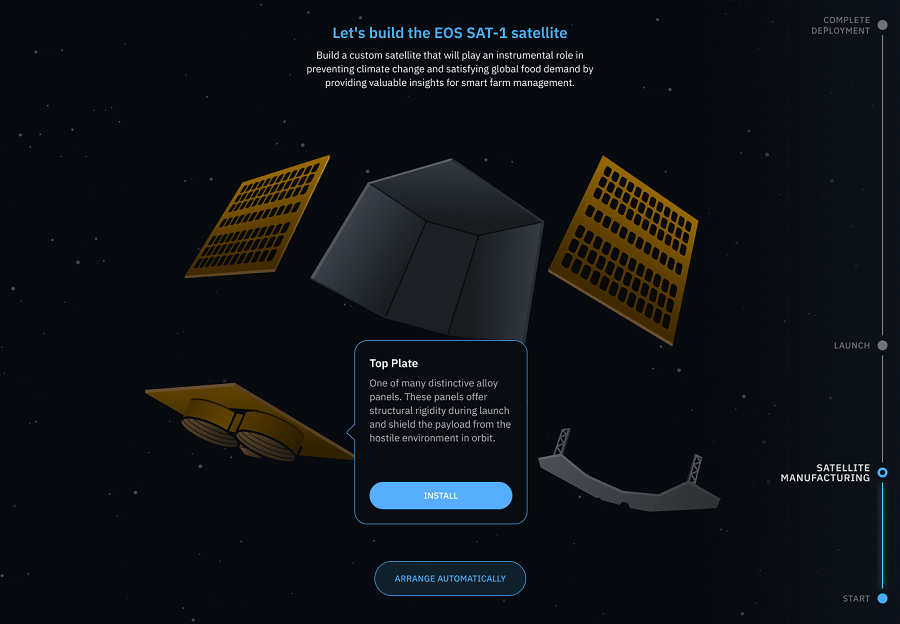 On a satellite-building stage, the website tells about the top five parts of a modern satellite, the launch process, and the areas where satellites bring the most help to saving the Earth. When the user visits it, they can learn more about optical imagers, the specifics of the satellite launch, and how the satellite operation relates to the problem of, say, water scarcity.
The interactive website was made by EOS Data Analytics to promote the launch of its EOS SAT-1, which is the initial satellite of EOS SAT, the first agri-focused satellite constellation created by a remote sensing company. The device will be launched into the low orbit of Earth soon. The EOS SAT constellation is expected to become fully operational in 2025.
About EOS SAT, the first agri-focused satellite constellation among remote sensing companies powered by EOS Data Analytics. Video: EOS Data Analytics
Once the user builds and launches a small optic satellite similar to EOS SAT-1, they will be able to learn more technical data about it.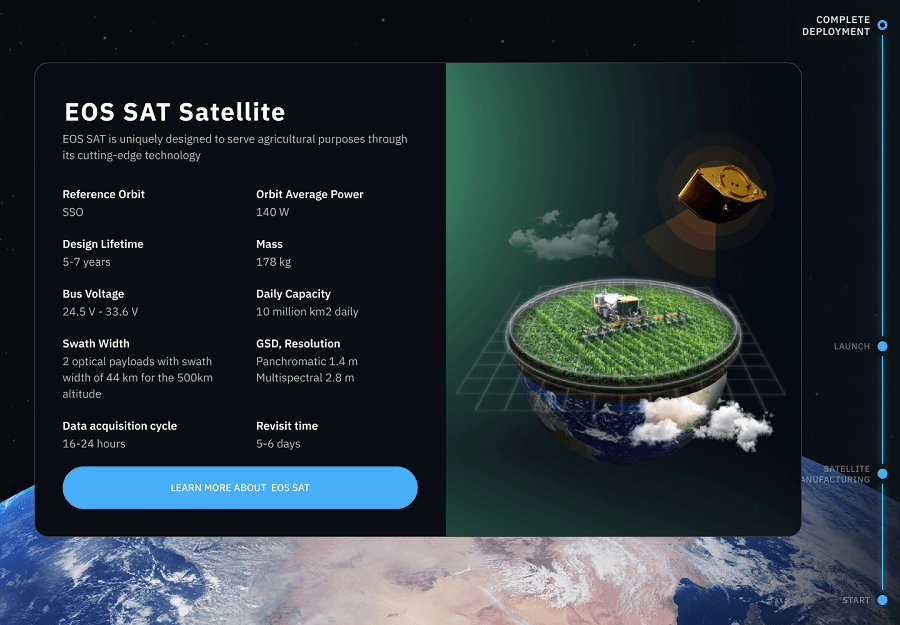 Around 5,000 satellites were flying around the planet at the beginning of 2022. Still, most people don't know much about them because there's not enough information available on the issue.
In particular, EOS SAT is intended to help agribusinesses detect cold, heat, and water stress, monitor crop growth, track the spread of weeds and pest attacks and notice other issues affecting crops. The data collected by satellites will help people all around the world to produce more with less and implement sustainable practices of food production to save the planet for future generations.
The newly-launched website allows learning how commercial satellites are made and launched, and what their purposes might be.
---
About EOS Data Analytics
EOS Data Analytics (EOSDA) is a globally renowned geospatial analytics provider in the market, commercial, and scientific organizations. EOSDA makes satellite-driven solutions for forestry, mining, and agriculture. The company wants to make a positive impact on Earth's problems using custom algorithms and geospatial data.
EOSDA gathers data recovered from satellite imagery and combines it with proprietary algorithms and AI technologies in order to analyze the condition of crops within farms. The main forte of the company is to help businesses across the globe to become more sustainable via innovative data analytics tools and accurate observation.
Also Read: AI Tool Can Now Automatically Update Outdated Wikipedia Content
---
About EOS SAT
EOS SAT is the first agri-centric satellite constellation among remote sensing companies powered by EOS Data Analytics (EOSDA), a global provider of satellite imagery analytics. The constellation is designed to support the implementation of sustainable agriculture methods and environmental monitoring of forestlands by providing high-quality data for analysis.
The constellation will consist of 7 small optical (178 kg) satellites flying on a low Earth sun-synchronous orbit and generating panchromatic and multispectral imagery. By 2025 when all satellites are deployed, EOS SAT will cover 100% of nations/countries with the largest areas of forestlands and farmlands, amounting to 98.5% of such lands across the globe. The constellation will monitor around 8.6–9.4 million square kilometers daily; there is a technical capability to increase the coverage to 12 million square kilometers.
End-users will be able to request analytics results in 16–24 hours from the moment of data generation. In addition, the data cycle can be shortened up to three hours within a prioritized tasking.
The seven-satellite constellation will generate imagery of the same territories every 5–6 days. Also, daily revisits of specific areas will be available on customer demand through field-level tasking. Generating imagery within country-level tasks may take up to 4 days, as the timing depends on a state's area, geographical location, and the length of a satellite's orbit above the surface of the area of interest. The EOSDA team can also solve anomaly detection tasks within a day.
EOS SAT satellite cameras will capture imagery using agri-related bands: RGB, 2 NIR channels, 3 RedEdge channels, WaterVapor, Aerosol, Pan, and SWIR. EOS SAT-1 will have 11 spectral bands, excluding SWIR. EOS SAT-2 and the following satellites will have 13 (two extra SWIR) bands.
The deployment of the first satellite, EOS SAT-1, is scheduled for early 2023. The other six satellites are expected to reach orbit in 2023–2024.
Remy is a technical writer at TechPout. Being an IT enthusiast, he inclines to write about contemporary technology and growing security for machines. One steadfast follower of Baseball, Remy is an active social worker and a gastronome.
Subscribe to Our
Newsletter

and stay informed

Keep yourself updated with the latest technology and trends with TechPout.
Related Posts