Laptop Is Plugged In But Not Charging – Here is How to Fix

Running into the "Laptop is plugged in, not charging" issue? Don't worry, this troubleshooting guide can help. Here you will find best practices to fix this problem. 
Have you ever undergone a situation where, you are doing your work on your laptop, and suddenly a notification pops up informing you that your battery is about to die? Afterward, you rush to find your charger and try to plug it in before your screen turns all black. Surely, it's a very common issue to encounter. Isn't it? How many times has this occurred to you?
Once the power supply is connected, you can proceed with your ongoing work, but many times you plug in the adapter and you see nothing, no battery charging notification, no charging icon, and no brightened display.
Well, it's so easy to get worried or irritated when you notice that your laptop is plugged in but not charging. The thought of not being able to use the laptop once the battery dies bothered you to no end. But, don't worry, in numerous cases, you can easily figure out why you are encountering a "laptop plugged in, not charging and fixing it as well.
To help you in this, we have prepared this guide, here you will learn the most economical tips to fix laptop not charging issues. Doesn't matter, whether you are using a Lenovo, HP, Dell, or another laptop, you can consider these tips & tricks.
All-In-One Solution to Fix Laptop Is Plugged In But Not Charging (Recommended)
Mainly, an outdated battery driver is responsible for the laptop is plugged in but not charging. Therefore, to resolve this, you should update your laptop battery drivers. Use Bit Driver Updater to perform this task automatically without any hassles. It is a driver updater software that automatically recognizes your system and finds the most compatible drivers for it. Additionally, it only provides WHQL tested and signed drivers. To give this magnificent utility a try, click on the download button below.

8 Most Workable Tips to Fix Laptop Is Plugged In But Not Charging
In this section, we are going to discuss a few approaches that you can surely give a try in order to fix laptop battery not charging issues. Check out the tips below:
Tip 1: Check All Cable Connections
Before heading into the more complicated solutions, just be sure that you have plugged in the charging cable strongly into the laptop's charging port. After that, check its connection to the wall outlet, if in case the current one is not working then you should try another socket or wall outlet. In addition to this, don't forget to ensure that the cable is plugged into the AC adapter brick only.
Also Read: 10 Best Laptop Battery Testing Software for Windows 10
---
Tip 2: Verify the Integrity of the Battery
Laptop battery not charging? To resolve this, you should first check the integrity of the battery. If you are using a laptop that comes with a removable battery, then take the battery out and hold down the power button for around 30 seconds in order to drain any extra power from the machine. Then, plug in the power supply cable and switch on your laptop.
If you notice that the laptop powers on perfectly, then it indicates that the power adapter is functioning accurately and the actual culprit is the battery. Sometimes, you can try to re-insert the battery, probably the battery was not firmly placed.
And, if in case, your laptop doesn't have the removable battery chamber on the bottom, it might be built within the laptop like most of the Macs are. In this scenario, you will have two options, either open it by yourself or contact a tech specialist just to test the battery.
---
Tip 3: Be Sure to Use Correct USB C Port
USB C is a well-known standard cross-platform for connecting hardware devices, transferring data, and charging your battery. No doubt the new standards support thinner devices, but at the same time, it might cause some problems. Many manufacturers have only selected to make specific USB C ports standard, which won't charge your device.
Additionally, you may find two USB C ports on your device, one is for data transferring and the other is for charging. If you are facing a laptop not charging issue, ensure that you are connected to the right USB C port. Also, to get assured that you are plugged into the right port, find a little charge icon on the side of the port that is meant for charging-only.
---
Tip 4: Check the Connector
When plugging your cable into the laptop's power connector, ensure that the connection should be somewhat stable. If there is any dust particle inside the jack, it may not be able to establish a solid or clean connection. In order to clean your jack, you can use a toothpick, and once it is cleaned, then you can try to plug it in again.
Moreover, the jack may have broken or damaged, hence not connecting firmly. In this case, you will need to visit a PC repair store. And, if you are pretty confident about your technical skills then you are good to open it by yourself.
Also Read: [Fixed] USB Port Not Working On Windows 10
---
Tip 5: Update your Battery Drivers
The prime reason behind all battery-related issues is outdated battery drivers. When the corresponding drivers goes missing and become outdated your laptop starts showing problems like the laptop is not charging. Hence, it is crucial to keep battery drivers always up-to-date. Not only the battery drivers, but you should update all PC drivers from time to time to ensure the smooth running of the entire system and connected hardware.
When it comes to updating the drivers, you have two ways, either do it manually by visiting the official website of the PC manufacturer or using a driver update utility. Finding and installing the drivers manually is a bit tedious or error-prone task, especially for newbies. So, we recommend you use the best driver update utility like Bit Driver Updater.
Bit Driver Updater is one of the leading solutions available for updating all outdated drivers, easily & quickly. The software automatically verifies the Windows OS version your PC is currently running, and then finds the most suitable drivers for your device. Moreover, with this driver update utility, one can update all faulty, outdated, broken, or corrupted drivers at once. Want to know how Bit Driver Updater works? Follow the steps below:
Step 1: To begin the process, first, you need to download the Bit Driver Updater on your laptop. You can do it for free from the button below.

Step 2: Run its setup file and complete the installation by following the on-screen instructions.
Step 3: Launch the utility on your PC and wait until it completes the scanning.
Step 4: Next, click on the Update Now button shown next to the drivers.
Step 5: Alternatively, you can also click on Update All to fix all faulty drivers in one click.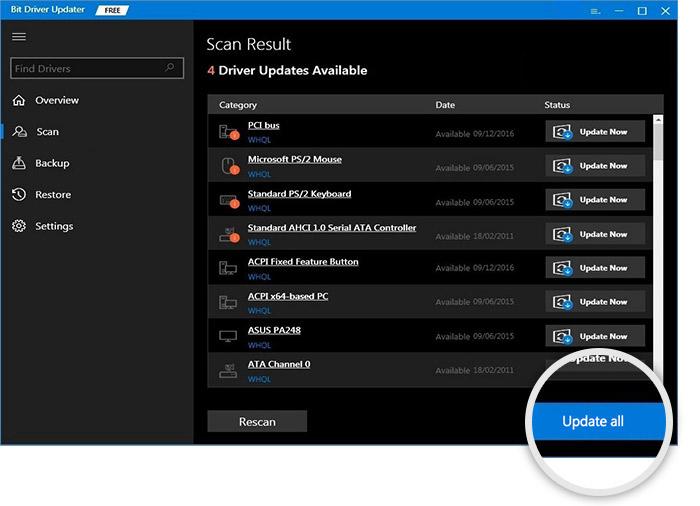 If you are still running into the same issue even after updating your battery drivers, and wondering "how to fix laptop won't charge, then try another fix explained below.
---
Tip 6: Reinstall Battery Drivers
Sometimes, updating the drivers does not work, if that is the case, then you should try to reinstall battery drivers. Doing so helps you resolve all issues with the drivers. To do so, you can use Windows in-built utility called Device Manager. Below are the steps one need to follow in order to use this method to fix laptop won't charge issue:
Step 1: Launch Device Manager by altogether pressing the Windows logo and X keys.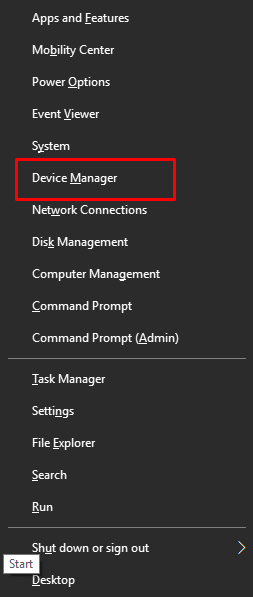 Step 2: In the Device Manager window, you need to look for the Batteries category and expand the same by making a double click on it.
Step 3: Next, you will see two devices: Microsoft AC Adapter and Microsoft ACPI – Compliant Control Method Battery. Click right on each and choose Uninstall Device from the context menu list.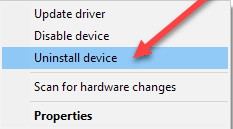 Step 4: Click YES if a pop-up appears asking for your confirmation.
Wait for the process to finish the uninstallation. This will prevent the PC from interfering with the Battery. And when you reboot your PC the related drivers are reinstalled automatically. So try to start your PC.
Also Read: Best Ways to Fix Common Driver Problems on Windows 10, 8, 7
---
Tip 7: Reduce Resource Usage
If your laptop is working hard and gets exhausted, your charger might not be replenishing the battery instantly. To cool down your device, the fan has to function harder which will eliminate the resource usage and leads to enough battery power. If you are running too many programs at once, they will get stuck and end up taking more battery power at a higher rate.
Hence, you should try to close the unnecessary programs in order to lessen resource usage. To do the same, you will need to launch the Task Manager by pressing CTRL + SHIFT + Esc keyboard buttons at the same time, and in the Processes tab, you will be able to see how many resources are currently in use. You can also end the program that you longer need.
---
Tip 8: Use Another Laptop Charger
Last but not least,  if nothing has worked for fixing a laptop plugged in not charging, Try the last resort is to order an all-new laptop charger and check if that works. You can easily find third-party chargers or Amazon or other shopping platforms at a reasonable price.  But we suggest you use an official charger because utilizing a cheap third-party charger might damage your laptop. Before buying a charger, check all the reviews and ratings.
Also Read: How to Fix USB Device Not Recognized Error in Windows 10/8/7
---
Bottom Line: Plugged In But Not Charging
So, these were some tested and tried solutions that can help you troubleshoot the laptop plugged in not charging issue. Hopefully, one of these should work for you, but, unfortunately, the problems remain the same as earlier, then perhaps a part inside your laptop is damaged and eventually stops the battery from working accurately. If that is the case, we recommend you to visit a PC or laptop repairing center to have an expert look at it.
A technician might suggest a battery replacement. In addition to this, it is also crucial to keep an eye on your battery health to avoid related glitches. If you have any queries or further doubts regarding the same, then do tell us in the comments below.
Lastly, for reading more helpful tech guides do subscribe to our Newsletter and follow us on Facebook, Twitter, Instagram, and Pinterest.
Harshita Sharma is a technical writer with quite a distinct understanding of the tech realm. She is a tech enthusiast who believes that tech knowledge should reach one and all and tries to convert the sketchy knowledge into the simplest possible form for making people understand the tech world better. When not playing with words, she loves to travel and explore new places. And, is a coffee & cricket connoisseur.
Subscribe to Our
Newsletter

and stay informed

Keep yourself updated with the latest technology and trends with TechPout.
Related Posts