[Fixed] USB Port Not Working On Windows 10

We have all been through that time and event when our USB port seems to not work. How annoying is that, right? And most of the time we don't even know the source or the cause of the problem when in our Windows 10 system or Mac system, the USB is not recognized. 
If you're struggling with the same problem, then don't worry! Through this post, we bring to light the simplest solutions to fix USB port not working on Windows 10 problem. Keep reading ahead to know them.
But, before moving on to those solutions, let's first address a common query that most users ask these days, i.e., "Why is my laptop USB port not working or not recognized on Windows 10?"
Ideal Way to Fix USB Port Not Working on Windows 10
When the USB driver goes missing or out-of-date, then it eventually leads to USB Port Not Working issue. So, to fix this issue quite precisely, you should use Bit Driver Updater. It is the best driver updater solution presently available in the market. The tool allows you to fix all the broken, or faulty drivers in just a single click. Apart from updating and fixing drivers, this is the ultimate solution for accelerating the PC's overall performance. To give it a try, click on the download button below.

Why is My USB Port Not Working?
Below are the prominent reasons for which your USB port is not working on Windows 10.
The USB driver is missing or outdated.

Hardware device is not connected properly to the USB port.

Recently installed system updates 

Problems with the physical connection
These are some of the major causes behind the 'USB port not recognized' problem. Now, let's try the below-mentioned workarounds one by one until you fix the issues with USB ports.
---
How to Fix USB Ports Not Working on Windows 10
Don't fret, we bring you a list of steps and methods that would ensure you a working USB port again. 
1. Check the Power Supply (Only For Laptop Users)
USB ports function properly when they get the right power supply. Perform the steps below to get a working USB port again:
Step 1: Remove or unplug the existing power supply of your laptop.
Step 2: Turn off your computer and restart it again.
Step 3: Now plug your USB device into the laptop.
Step 4: Plug in the power supply to your laptop again.
Read Also: Microsoft USB Driver Updates Completely Free For Windows 10, 8, 7
---
2. Restart the Computer
"Have you tried turning it off and back on again?"
Sometimes the easiest and the most common ways are the most apt solutions to all the issues. Don't tell me that you haven't switched off a device instantly after facing the USB port not working issues? Because I can bet a million bucks that you, and almost everyone has done this uncountable times.
After restarting the computer, insert the USB device to see if the USB port is working or not.
---
3. Check the USB Port 
Another most common culprit behind a USB port not working on Windows 10 issue is the lack of or improper maintenance. 
USB ports are pretty wide open, so that means they are an easy target for dust and debris. Clean them safely for proper utilization. 
They could also be broken, so you will need to take them to a computer repair shop to get them working again.
You can also try checking that your USB device is in working condition or not. Maybe it is the device which is the source of all issues.
Read More: Update Outdated Drivers in Windows 10
---
4. Check the Device Manager (When USB Port is Not Working in Windows 7 and 10)
There are two things that can be done using Device Manager:
A) Scan For Hardware Changes 
Step 1: Right-click on the Start button and choose Run
Step 2: A small pop up box will open, type in devmgmt.msc and click OK. This would open Device Manager.
Step 3: After it opens, right-click on the name of your computer and select 'Scan for hardware changes'.
Step 4: The scan would begin, wait for it to get over and then check if the USB port still works or not.
B) Disable and Re-Enable the USB Controller
Step 1: Right-click on the Start button and choose Run
Step 2: A small pop up box will open, type in devmgmt.msc and click OK. This would open Device Manager.
Step 3: After it opens, find 'Universal Serial Bus Controllers' in the list.
Step 4: You'll find an arrow next to the little USB cable icon, click on it so as to make it point downwards.
Step 5: You'll get a list. Right-click on the first USB controller and choose Uninstall. Repeat this step for every USB controller.
Step 6: Finally turn off your computer and turn it back on again.
Step 7: Now check to see if your USB device works or not (Windows automatically reinstalls the USB controllers).
C) Reset the System Management Controller (When USB Port is Not Working in Mac)
Step 1: Switch off your computer.
Step 2: Now, plug the power adapter to the computer.
Step 3: Press and hold ctrl+shift+option simultaneously and then press on the power button.
Step 4: Release all the buttons and keys at the same time. When your Mac starts again, the SMC would have reset.
Step 5: Now, you can check if your USB device works or not.
Read More: How to Enable or Disable USB Ports in Windows 10/8/7
---
An Advanced Fix For "USB Port Not Working" For Windows 7 and 10
When all the above-mentioned methods don't work in your favor, you can start to believe that the issue is more severe and grave than what you thought earlier. But don't worry. We are here, and we'll help you combat this problem very easily.
Update Your USB Driver (Recommended) 
Sometimes the issue is more internal and needs the help of special software. 
When the USB ports seem to still not work at all, then you should realize that maybe the drivers in your system are broken or outdated. 
A device driver (in this case a USB driver) or a hardware driver is actually a group of files or computer programs that enable Windows and other applications and hardware devices to interact with each other. Without such drivers, your computer system won't be able to receive or send any data to hardware devices.
It is driver issues that are causing your USB port to not work. Maybe they are the reason why, in your Windows 7 and 10 system, the USB device is not recognized. 
---
How to Download & Update USB Driver on Windows 10
You can't play around with drivers manually; you'll need the help of something competent and super-efficient. And that's where we give you- Bit Driver Updater. 
Bit Driver Updater is what your system needs the most in the case of perpetual problems. This extraordinary piece of software scans your system for all the outdated drivers and updates them meticulously to give your PC a performance boost. It also backups the existing drivers so that you could restore them anytime you wish.
It offers a one-click update that saves up so much time and effort of the user and even prepares the computer for system stability and peak performance.
Read More: Best Driver Updater Software for Windows 10, 8, 7
Here are the step by step instructions on how to use Bit Driver Updater to download and install the latest version of your USB driver.
Download Bit Driver Updater for FREE via clicking on the below button.

Click on the "Scan Drivers" option to get a complete list of all the missing or out-of-date drivers on your system. 
Select the USB driver you'd like to update and click the "Update Now" button placed alongside it.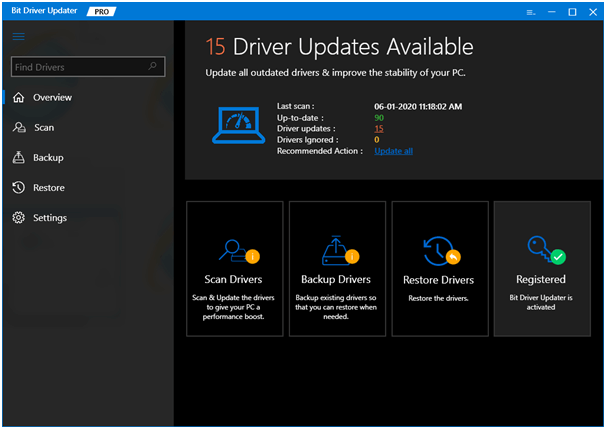 ---
Concluding Words: Fix USB Port Not Working On Windows 10
And these were the ways by which you can solve your "USB port not working" issue. If the basic methods don't work, Bit Driver Updater is your sure bet. Install it in your computer system and enjoy a performance boost instantly.
Diksha Lalwani is an aspiring content marketer and a self-declared bibliophile. An English honors graduate, she likes to keep up with the recent happenings around the world and form an opinion. Her interest in anything and everything tech made her follow the path into becoming a technical writer.
Subscribe to Our
Newsletter

and stay informed

Keep yourself updated with the latest technology and trends with TechPout.
Related Posts