How To Wave On Facebook (Facebook App & Facebook Messenger)

Facebook's Messenger app does not need an introduction, it not only provides a great platform to connect with your friends and family but also comes with a huge basket of exciting features like "Wave". If you are new to this concept, refer to our tutorial to find more about this incredible feature, know what is wave on Facebook and learn how to Wave on Facebook .
Bored with a simple "Hi", "Hello", Facebook brings to you an exciting way of starting your conversation. You can now wave to someone and get a wave back on messenger with this stunning functionality.
If you are a newbie to the wave feature, and are struggling to find how to wave at someone on Facebook, then this blog is especially curated for you. So, without further ado, let's get started and learn how to wave on Facebook.
We will cover the below points in our article.
Wave on Facebook from a PC (Facebook.com)
How to Wave on Facebook from Facebook Messenger App
How to Wave on Facebook App
Wave on Facebook From a PC (Facebook.com)
Here are a few simple steps with which you can wave to someone from Facebook.com using your desktop.
1. Launch the Facebook page on your desktop and login into your account.
2. From the right hand corner of your Facebook page, check your friends list to see all online contacts. (Ensure that you maximize your chat tab to see their details).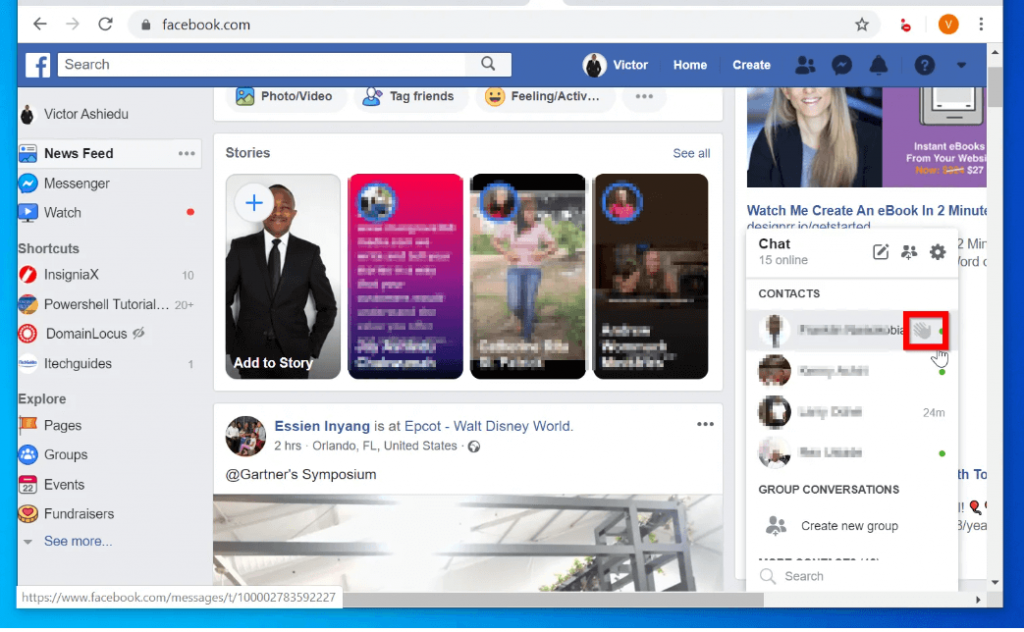 3. Now choose a contact from the list of contacts and hover on its name to wave at your friend. When you hover over a particular name, a wave sign (hand icon)gets displayed besides the contact details.
4. Simply click on the hand icon to wave, doing this will send a yellow colored hi sign to your friend and a message saying "You Waved at <Friends name>" will get displayed on your screen.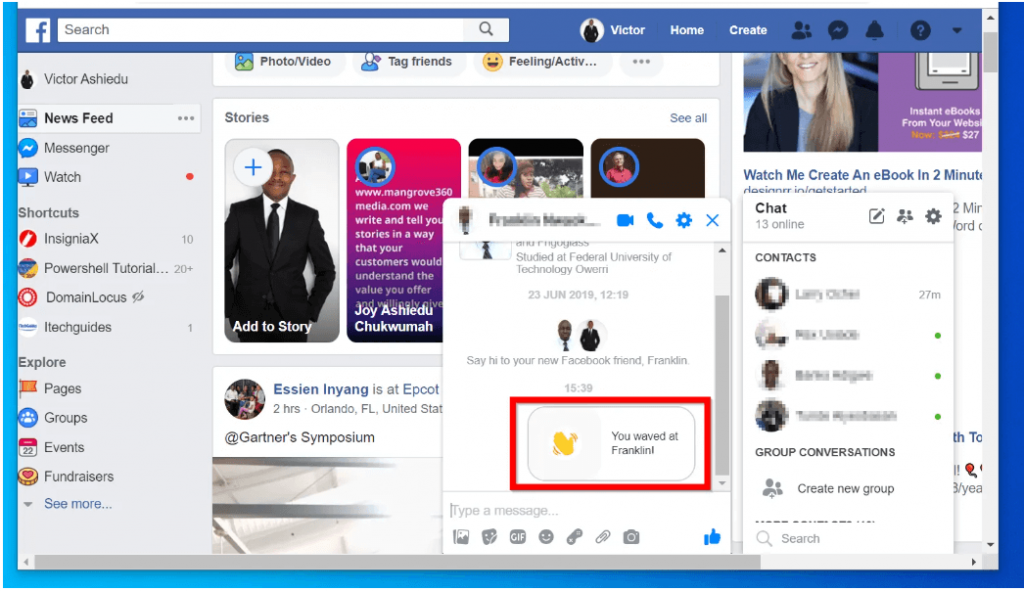 Read More: How to Use Multiple Facebook Accounts on Android Smartphones
How To Wave On Facebook Messenger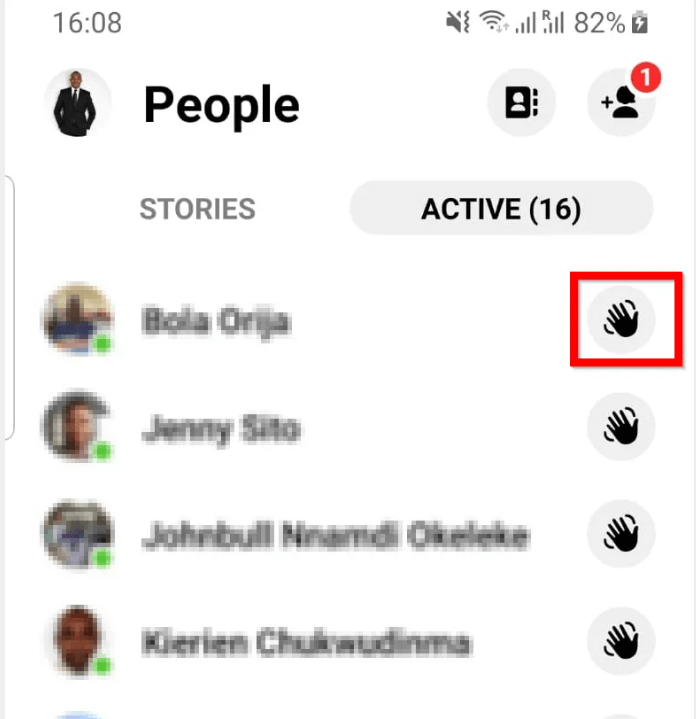 Your all time favorite Facebook chat got recently moved to Messenger app and provides an ultimate chatting platform to all desktop and mobile users. Here are two simple methods in which you can use Facebook Messenger to wave at someone.
Follow simple procedures and learn how to wave on Facebook. To start with first launch the Messenger app from your mobile device. You can either choose to open it within the app or directly launch the Messenger app on your device.
Once the screen is live on your smartphone. You can use it to wave to your friends in two different ways:
Wave to a friend from your friend List
Wave to a new contact by using the Wave icon.
1. Use Your Friends List to Wave to a Friend
Launch the Facebook app on your smartphone.
Look out for the three dot icon on the top right corner of your screen and click on it.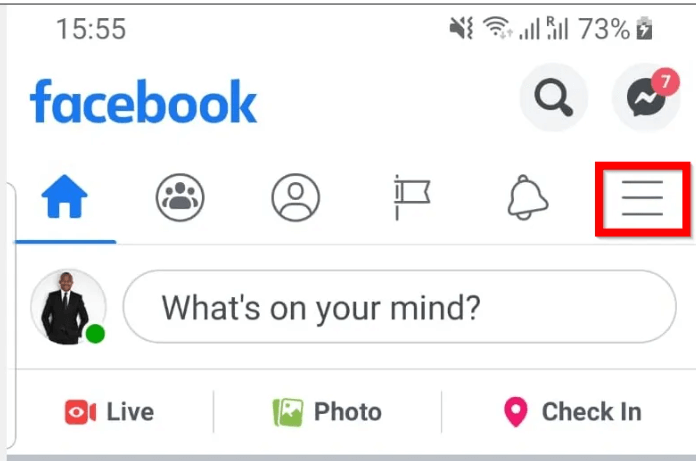 Now choose Messenger from the list of drop down options.
Once the Messenger app is launched successfully, click on the friends list icon located at the bottom of your screen.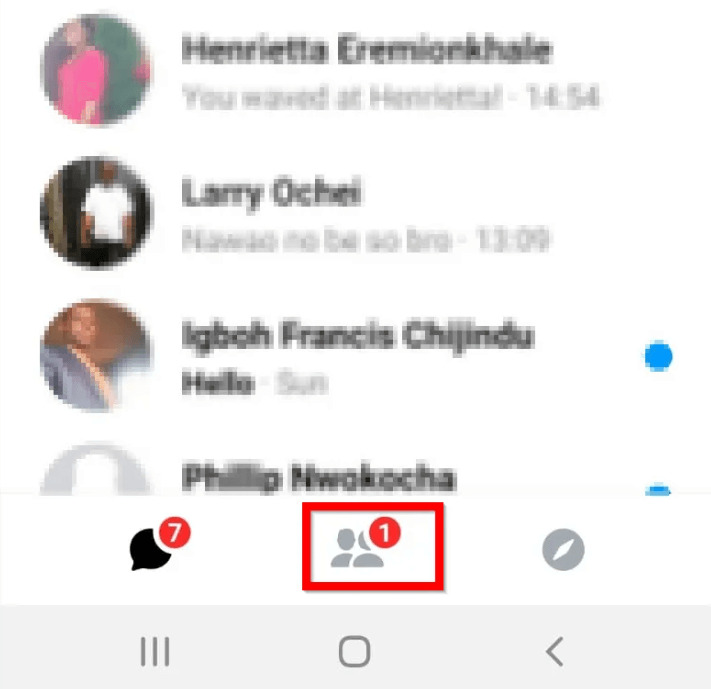 From the displayed list click on the "Active" button to check for your active friends.
In the next step, click on the hand icon to wave at a friend.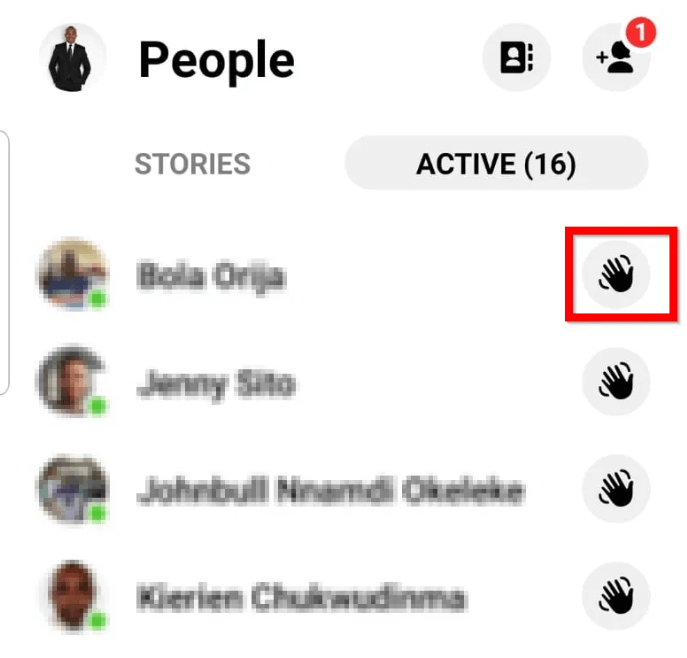 2. Wave to a New Contact by Using the Wave Icon
If you are still struggling to find out how to wave to a friend, the below mentioned procedure might be of great use to you. Wave to a newly added contact directly from the Messenger app.
Click on the New Friends option from the active friend's list.
In the next step click on the wave icon to wave to a friend.
So, these are a few ways in which you can wave at your friends. Rather than sending a boring "Hi" use this amazing feature you lighten up your conversation.
Let's have a quick look at some of its other details.
Read More: How To Use Facebook Messenger Without Facebook Account
How to Take Back a Wave
Send a wave to a wrong contact? Don't worry, we have you covered. If you realize that you have sent a wave to the wrong person you can undo your action. The feature allows you to remove the wave you sent by mistake within a time slot of 10 minutes.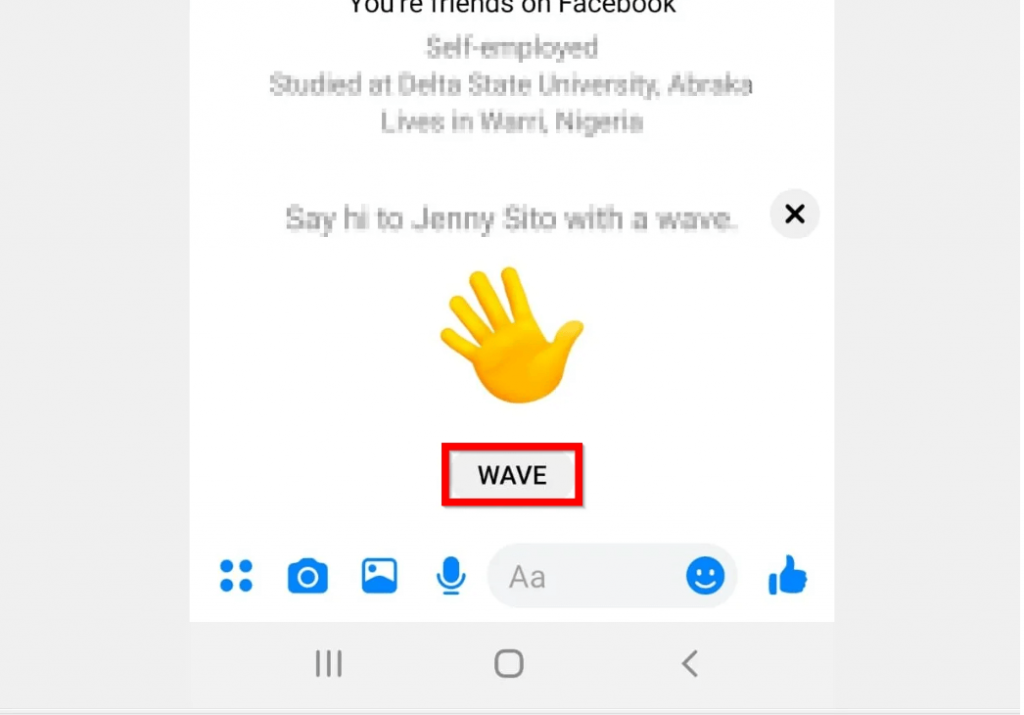 To undo your action, open the chat window, put your finger on the yellow wave icon and hold it for a few seconds until a remote notification appears on your screen. Click on the Remove for Everyone button to delete the wave sign from both the sender and receiver's window.
Spice Up Your Conversations a Little Bit More with the Emoji's Buttons
To make your chats more lively and fun filled, you can use the Emoji button offered by Facebook messenger. The feature is available on both the website page and messenger app. Pick a specific contact and open the chat window. Adjacent to the text box you will find a round smiley face icon. If you click on it a list of multiple emojis will get displayed on your screen. Use them to send various hand gestures and facial expressions to your friends and express your thoughts in a lively way.
Wrapping Up
Don't know how to start a conversation with your friends? Use the wave feature of Facebook messenger to start your chat in a lively way. We hope our roundup on how to wave on Facebook has clarified all your queries and confusion.
So, what are you waiting for? Pick a contact and start waving at it.
Image Source: Itech Guides
Prachi Dani is a technical content writer who specializes in areas of science and technology. She is highly up to date with technological transitions and transformations. Writing is not her passion but the only thing that carries satisfaction in life. If not writing, you may find her engrossed playing action games on her treasured smartphone.
Subscribe to Our
Newsletter

and stay informed

Keep yourself updated with the latest technology and trends with TechPout.
Related Posts