How to Recover Permanently Deleted Messages On Facebook Messenger

Have you ever accidentally deleted Facebook messages on Messenger? Well, losing old Facebook conversations with your loved ones is such a nightmare and nobody wants to experience such awful feelings.
If you've ever been on the receiving end of accidentally deleting important Facebook chats, then there's no need to panic! The great news is there are numerous easy ways through which you can retrieve your lost Facebook messages and gain access to the precious memories again.
Thus, in this article, we have shed some light on how to recover permanently deleted messages on Facebook messenger in the most hassle-free manner.
How to Recover Permanently Deleted Facebook Messages on Messenger
Recovering a deleted Facebook conversation is not rocket science. Here's a quick guide on how to restore deleted Facebook chats quickly:
1. Check whether the Facebook Message is Permanently Deleted
This is one of the most obvious things to consider before you try to find solutions for recovering deleted messages in Messenger. More often than not, the message isn't actually deleted, it just becomes hard to locate because of the several newer conversations.
Therefore, making sure that you actually deleted the Facebook conversation can help you in saving a lot of time and effort that you might have put into looking for ways to recover them.
If you're unable to find your message, move on to the next method.
2. Recover Permanently Deleted Messenger Messages via Archived Threads
There's a good chance that you haven't deleted the Facebook chats but accidentally archived them. If that's the case, you can easily recover those FB conversations by unarchiving them.
Follow the steps to retrieve Facebook messages on Android, iPhone, and iPad:
Step 1: Open the Facebook Messenger app on your Android/iPhone device.
Step 2: Navigate to the search bar and search the name of the person you think you've deleted the conversation with.
Step 3: When you find the lost chat, unarchive the conversation by sending that person a new message. This will help you retrieve your lost Facebook conversations.
Follow the steps to retrieve Facebook messages on desktop (messenger.com):
Step 1: Open Facebook Messenger on your PC and click the gear icon.
Step 2: From the list of items, select the "Archived threads" option.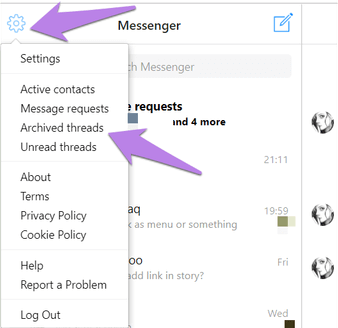 Step 3: Here you will find all the hidden Facebook messages. You can unarchive any of them by sending a new message to the recipient.
Also See: How to Use Multiple Facebook Accounts on Android Smartphones
How to Recover Permanently Deleted Facebook Messages on PC
If you haven't found your lost Facebook messages in the archive folder, there are high chances that you've deleted them. If that's the case, you can still easily recover those accidentally deleted messages from Facebook settings.
Here's what you need to do:
Step 1: First, log in to your Facebook account in your computer's web browser and navigate to the 'Settings'.
Step 2: Here go to the General Account Settings > Your Facebook Information and then click the 'Download your information' option.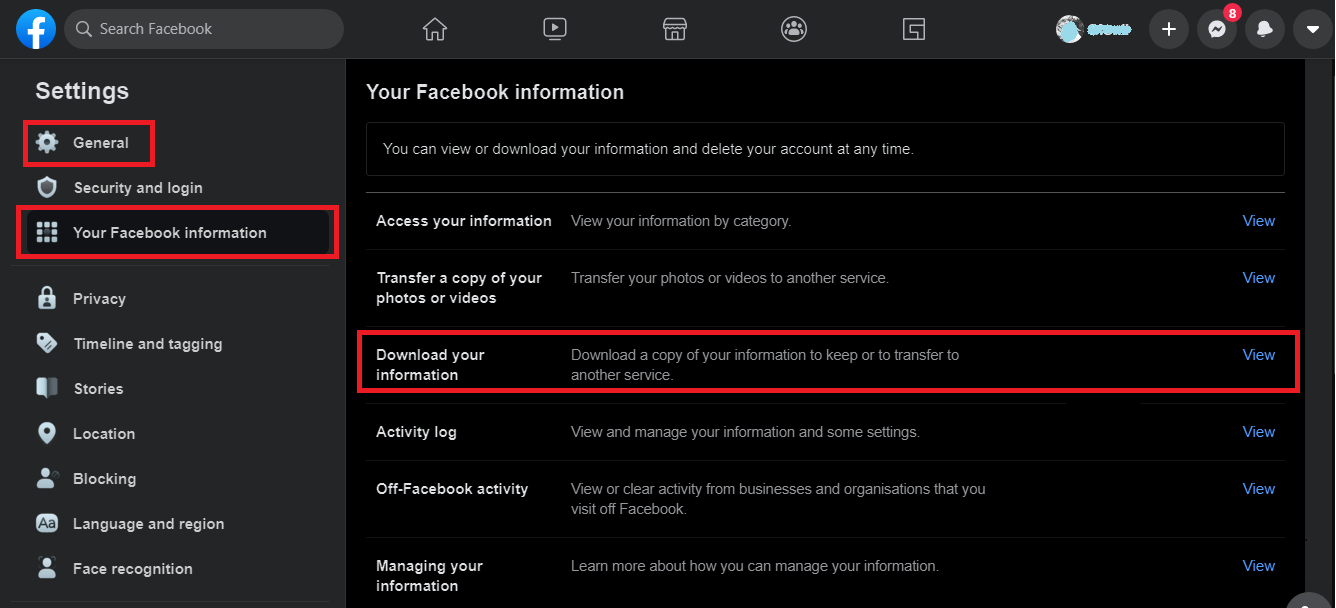 Step 3: On the next screen, you will be able to download every bit of your Facebook data, including comments, likes, and reactions. Here tick the box next to the 'Messages' option and then click the 'Create File' button.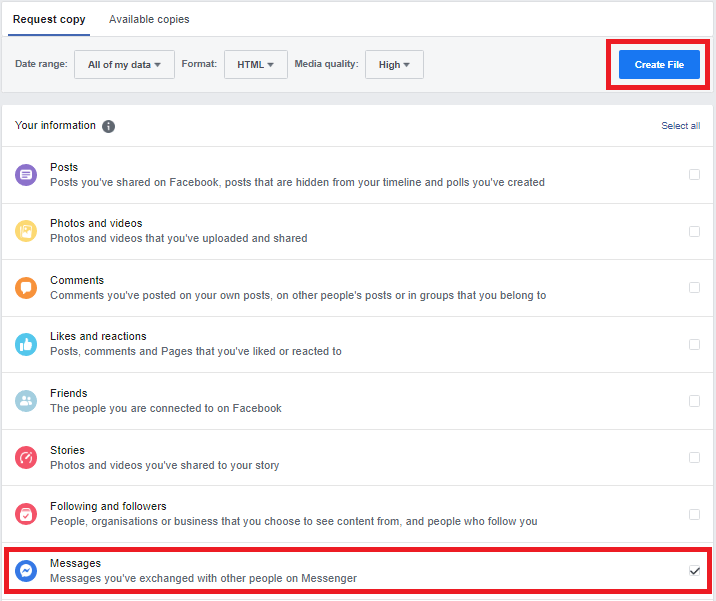 Step 4: You will receive a notification once the downloading process gets completed. Then click on the 'Download' button next to the file name as shown in the image below.
Step 5: Upon clicking on the button, you will be prompted to enter your Facebook password for security concerns.
Step 6: Enter your password and choose a download location on your PC where you wish to save the file.
Now that you've saved the Facebook data folder on your desktop computer, you can easily open the file and see all of your deleted messenger messages whenever you want.
Recover Deleted Facebook Messages On Android With File Explorer
Many people aren't aware of the fact that Facebook stores a copy of your data in the phone's memory. So, if the above-listed methods don't work for you, then you can retrieve your deleted Facebook texts with the help of your Android file manager app.
Follow the simple steps below to recover Facebook Messenger messages:
Step 1: Open the File Manager app on your Android and select Storage > Internal Storage.
Step 2: Scroll through the list of items and open the folder named 'Android'.
Step 3: Here go to the Data > com.facebook.orca > cache > fb_temp.
FB temp folder holds all the backup files related to Facebook messenger. So, there's a good chance that you may find your deleted FB conversations in there.
Recover Deleted Facebook Messenger Messages Using Third-Party Apps
The next thing you can try to restore deleted Facebook messages is to use a third-party data recovery application. The data recovery tools are the safest solutions to get back your accidentally deleted or damaged files.
With the help of such apps, you can not only quickly retrieve your deleted messages but can also regain access to other accidentally lost file types such as pictures, documents, emails, and more.
Among hundreds of data recovery solutions available online, Stellar and Recuva are the two most popular tools that you can use to restore your permanently deleted Facebook conversations.
Final Words
Many users have been tirelessly searching for an answer to the question, 'how can I recover permanently deleted messenger messages?', and we hope our article was informative enough to help you find a proper solution.
So, now that you know how to recover permanently deleted messages on Facebook messenger, you don't have to worry about losing your precious conversations anymore.
Which method helped you recover deleted Messenger messages? Please let us know in the comments section below!
Monil is a professional writer whose forte is absorbing a lot of data and help large technical organizations convey their message clearly across multiple products. An engineer by qualification, his affinity for design enables him to write to inspire, energize, and influence various audiences to uncover their true potential. When not writing, Monil is likely to be found listening to music, traveling, or simply excavating into his favourite cuisines.
Subscribe to Our
Newsletter

and stay informed

Keep yourself updated with the latest technology and trends with TechPout.
Related Posts