How to Manage Comments on Instagram Posts? Try Different Ways!

Instagram is a social media place where attracting followers, likes and comments delivers a winsome appeal in an individual's social standing. Not to mention, that it is also an influential platform where thousands of people come ahead to offer their opinion, commentary and of course, to vent out which concludes both the good and not-really-good result to anything. 
When it comes to comments, you must have been through those trivial, offensive and sometimes the type of comments that only crowd the lane for nothing. Wondering how to manage or completely wipe them away? Let us roll over this article to know how to manage comments on Instagram. 
Ways to Manage Who Can Comments on Instagram Posts
If you are an ardent fan of Instagram then it is a matter of relief for you to know that Instagram offers different ways to manage comments on your posts. If you spot a totally useless or offensive comment, you can delete them or block the person who has posted it from commenting ever again in the future. 
You can also select who to let free to comment on your posts and who to say never to. Besides, Instagram's restrict feature allows only you to see a person's comment which you can either approve, delete or keep hidden. Well, let's learn how to do all of this in steps.
How to Manage Who Can Comment on Your Instagram's Photos and Videos
1. Tap on the three-line button on the top right corner and then open Privacy options under the Settings section.
2. Now, walk yourself inside the Comments menu.
3. Then, you can check the Allow Comments From option which helps you limit the group of people who can post a comment on your Instagram photos and videos.
Note: When you have a public account, this option is set to Everyone. You can go back there and change the settings to receive the comments from only the people you are following, your followers or both.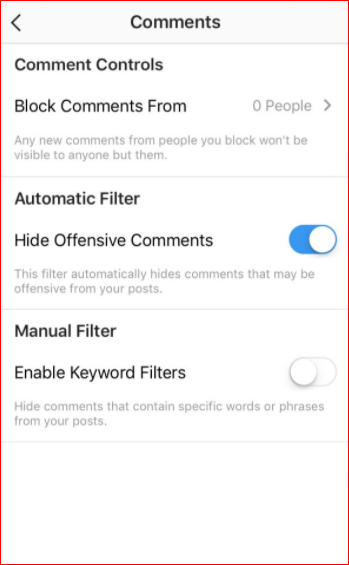 4. If you want to be more particular on this, you can also block people from commenting on your photos and videos. To block, you simply have to go to the Comments settings and tap on Block Comments From option.
5. Then, in the search bar, you can search for the person's Instagram handle who you don't want to receive comments from and when their profile appears in the search result, you can simply hit the blue Block button to cease comments from their side. You can add more people to this list if there are any.
If you happen to change your mind and want to undo the block then you can simply go back to the same page and hit the Unblock button next to the individual's handle and they will again be able to comment on your posts.
Read Also: How To Get Blue Tick On Instagram
---
How to Restrict Comments on Instagram
You just learned how to stop someone to comment on your Instagram posts. When you block comments from someone, what actually will happen is that the comments they post will only be visible to them and not even you will be able to see them. 
But if you wish to view the comments from a person and want no one else to be able to see them, you can get it done with Instagram's restrict feature.
Here's how to restrict someone on Instagram:
1. Go to the Instagram handle of the person you wish to restrict comments from.
2. Tap on the three-dot menu on the tap right corner of their handle and tap Restrict.
3. Once you have restricted them, now the comments they post on your photos and videos will appear to you as restricted comment and nobody else will be able to view that.
4. If you wish to read the comment then simply tap the See Comment option. You can also tap Delete if you wish to remove that comment from the post.
Read More: 16 Best Free Instagram Followers Apps in 2020 
---
How to Delete a Comment on Instagram's Website
If you want to delete a comment on your post using Instagram's website, follow these steps:
1. Go to Instagram.com from your preferred browser on PC or MAC.
2. Now sign in to your Instagram account by entering your username and password. If you are already signed in, search for the comment you want to remove.
3. Now, walk your cursor over the comment and then, click on the three-dot icon appearing on the right side of the post.
4. You will find options such as Delete and Report on the new window pop up.
5. Select delete if you want to delete the comment from your post.
---
How to Delete a Comment on Instagram on Mobile
1. Go to the Instagram app on your iPhone or Android device.
2. Spot the comment you want to delete. Now, swipe left on the comment for delete option on iPhone and hold the comment to delete if you are using an Android.
3. Then, you will see a white trash bin icon for the comment. It will be against either red or blue background which depends on the device you are using. You have to tap the trash bin icon to delete the comment.

4. You will see that the comment is finally deleted. But a red banner will appear on the top asking you to confirm the action where you will have an option to undo the action.
Read More: How To Post On Instagram From PC or Mac
---
How to Disable Comments on Instagram
Here's another route if you want to completely be free from comments on your Instagram posts. To disable the comments, follow these steps.
1. If you wish to disable comments from the post which you have already uploaded then open the post and tap the icon on the top right corner of your post.
2. Spot the Turn Off Commenting option and tap on that. The comments from your post will disappear and nobody will be able to comment on that post in future.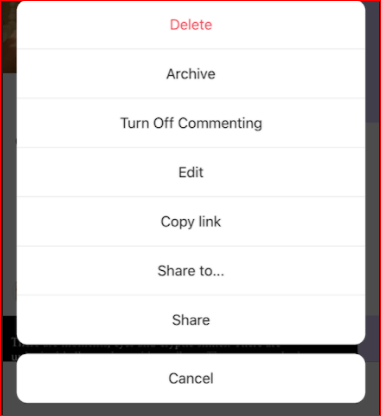 3. If you wish to turn off commenting while updating a new post, you can do that by tapping on the Advanced settings option which you will see at the bottom while editing the caption, tag, location and sharing options.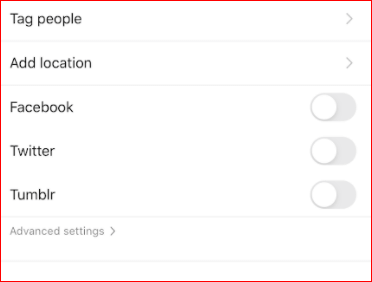 4. Once you tap on that, you will spot the Turn Off Commenting option which you can turn on to disable the comments.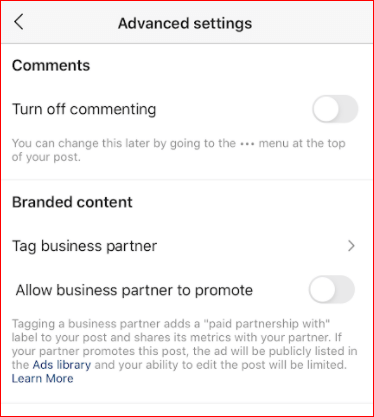 ---
Manage Instagram Comments According to Your Preferences
Let's hope you have just found the best way to manage the comments on your photos and videos that you post on Instagram. While deleting a particular comment is a good idea to manage the comments that you like, turning off comments saves time. 
Sometimes, limiting the comments to some people is the best way to keep it sober and sometimes it just varies from one post to another. What's you say on this? How do you manage comments on your Instagram's posts? Spill your personal favorite method in the comment section.
Jyotsana is a technical writer with a non-technical background. An eye of detail and a knack for writing helps her to write technology related content.Apart from writing, she is a coffee connoisseur and an aesthete who rejoices in poetry and music during leisure.
Subscribe to Our
Newsletter

and stay informed

Keep yourself updated with the latest technology and trends with TechPout.
Related Posts