How to Fix Disconnected Outlook in Windows PC (Top Fixes)

Are you experiencing connectivity issues with Outlook? Don't worry, here are a few tried and tested solutions for you to fix Disconnected Outlook on Windows PC, easily & quickly. Read an entire article for complete details!
Microsoft Outlook is a globally recognized email client among Windows PC users. Undoubtedly, it is an excellent choice for managing emails, daily tasks, calendars, and more, but it also has flaws that can't be ignored.
Outlook often fails to set up a server connection and shows the Outlook Disconnected error on the PC. The error typically appears when you're either accessing Outlook offline or not connected to the active network (internet). Apart from that, the issue might also be caused due to the old version of the Outlook app.
Well, whatever the reason might be, the good news is that the error can be resolved. In this write-up, you will find several ways to deal with Outlook disconnected errors on Windows PC.
Solutions to Fix Outlook Disconnected Error in Windows PC
Following are a few non-cumbersome different ways that can be considered to resolve Disconnected Outlook errors in Windows 11, 10, 8, 7. Now, without further ado, let's get started!
Solution 1: Reboot your PC
Before trying other complicated and advanced solutions, you should first try to restart your PC. We understand it sounds too basic, but sometimes it really works wonders. Rebooting the device automatically fixes the possible errors, or issues, so this might help you. But, if this didn't work for you, then we suggest you use other solutions mentioned below to fix Outlook Disconnected error in Windows 10/11 PC.
Also Read: How to Fix Microsoft Outlook Cannot Connect to the Server
---
Solution 2: Check your Connectivity Status
In order to access applications like Outlook, you should rely on an active and stable internet connection. The very first thing that you should do in this case, is use another internet connection and check to see if that makes any sense.
In addition to this, you can also use the Outlook Web application via your web browser and try to test if you're able to access the service successfully. If not, then the Outlook disconnect in Windows issue is most likely to happen due to your poor internet connection.
And, luckily, if you're good to go, then try other solutions suggested below in order to deal with this inconvenience with the desktop version of the application.
---
Solution 3: Disable Offline Mode
Outlook comes with an offline working mode functionality, which may be responsible for the issue. When this offline mode is enabled, you may run into a Disconnected Outlook in Windows 11/10 error. It may prevent the Outlook app from connecting to the network. So, to fix the issue, you need to disable the work offline feature. Here is how to do that:
Step 1: Open Outlook and go to the Send / Receive tab.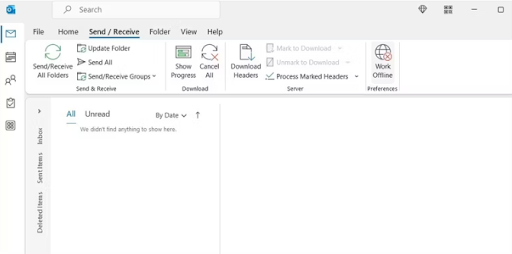 Step 2: Head to the Work Offline option and click on it to disable the feature.
That's it! Once disabled, try to test the issue. Proceed with the another solution mentioned below, if this didn't fix Outlook disconnected on Windows PC for you.
Also Read: How to Recover Corrupted OST and PST Files with Recovery Toolbox for Outlook
---
Solution 4: Update Outlook
Possibly, you are using an outdated version of Microsoft Outlook and hence experiencing the Outlook disconnected error on your Windows PC. So, to fix the issue, you need to check for the latest updates and install the available ones. To do so, follow the steps below:
Step 1: Launch the Outlook application.
Step 2: Move over to the File and then choose Office Account.
Step 3: From the right pane menu, choose Update Options to proceed.
Step 4: Lastly, click on the Update Now option.
Wait for the process to be completed. Once done, reboot your Outlook application and check to see if the issue has been resolved. If not, follow the last resort listed below.
---
 Solution 5: Disable Extensions
Last but not least, you can try to disable the extensions added in order to fix Disconnected Outlook in Windows PC. To do so, simply follow the steps below:
Step 1: Open Outlook.
Step 2: Go to the File tab.
Step 3: Select Options from the left menu.
Step 4: Next, select Add-ins.
Step 5: After that, click the Go button available on the right side.
Step 6: Now, unmark the boxes linked to all the extensions listed, in order to disable the extensions.

Also Read: How to Fix Laptop Stuck on Hibernating [Windows 10,11]
---
How to Fix Outlook Disconnected Error in Windows PC: Explained
So, that was all about it, hopefully, now you are not experiencing Outlook disconnected error on your Windows PC. Above shared solutions are tried and tested by numerous PC users across the globe who have witnessed the same error.
Please feel free to drop your queries and further suggestions in the comments section below.
If you liked the troubleshooting guide, then do subscribe to our Newsletter and follow us on Social Media – Facebook, Instagram, Twitter, or Pinterest.
Harshita Sharma is a technical writer with quite a distinct understanding of the tech realm. She is a tech enthusiast who believes that tech knowledge should reach one and all and tries to convert the sketchy knowledge into the simplest possible form for making people understand the tech world better. When not playing with words, she loves to travel and explore new places. And, is a coffee & cricket connoisseur.
Subscribe to Our
Newsletter

and stay informed

Keep yourself updated with the latest technology and trends with TechPout.
Related Posts