11 Best Free Movie Apps For Android Smartphone Users in 2020

Video content drives us all. Even thinking about missing an episode of a show like Game of Thrones (Valar Morghulis!), or a movie like Avengers ("I still believe in heroes") is heartbreaking. But what happens when we don't have anything other than our smartphones (aka miniature TV) with us and want to watch some videos. This is where Android apps come for the rescue.
Movie apps like Netflix or Amazon Prime have been the salvation of many users worldwide, but they come with a hefty price. And hence to lessen your woes, we bring you a meticulously curated list of the best free movie apps for Android which is free of cost.
11 Best Free Legal Movie Apps For Android in 2020:
1. Sony Crackle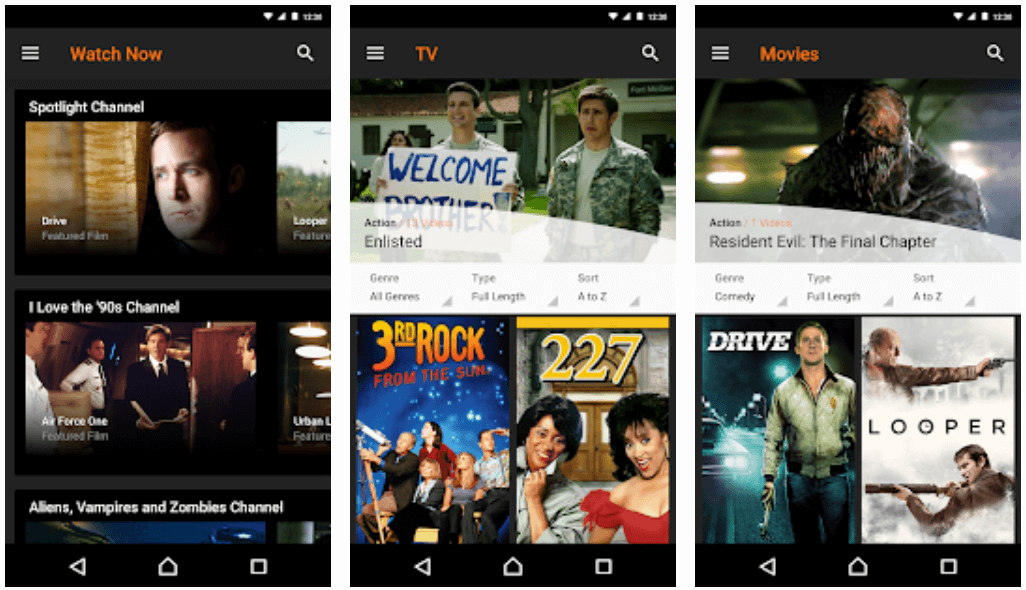 Compatibility: Android 4.4 and up
Cost: Free
Installs: 10,000,000+
Probably the most renowned streaming app in the digital world.  It is freely available on the Google Play store and is a product of Sony Entertainment.
It lets you watch full-length TV shows and movies in the confines of your phone, and all of them can be streamed without any subscription. Although some ads might affect the viewing.
Read Also: Best Free Sports Streaming Sites of 2020
The range of content is wide and it is updated every single month.
All of it is legal and free. So you're not breaking any law here and nor are you spending money.
Download App: Android
---
2. PlutoTV – Free Live TV and Movies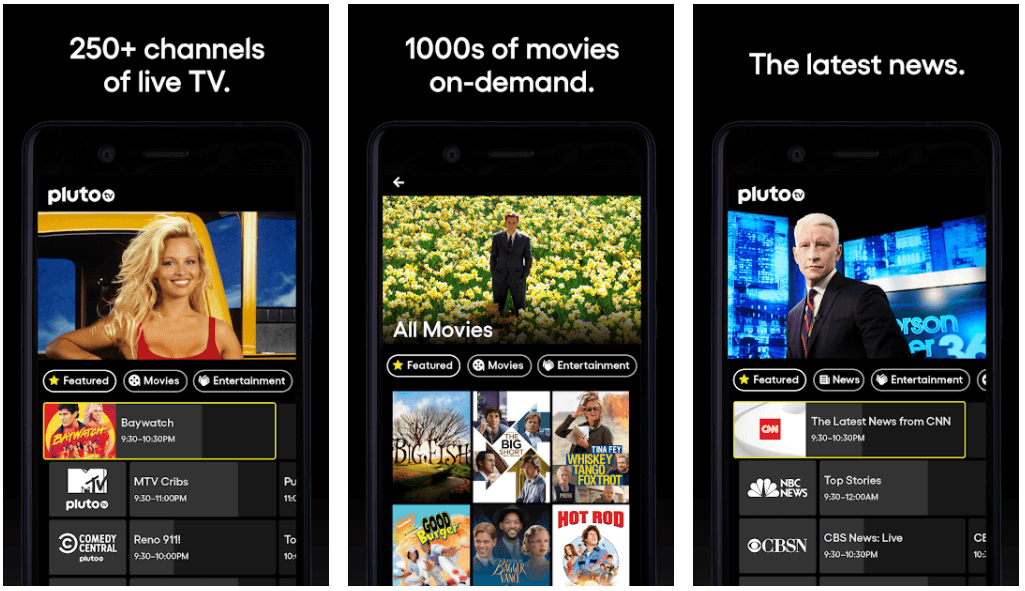 Compatibility: Varies with device
Cost: Free
Installs: 10,000,000+
This app is one of those few video streaming apps, which is legal, high rated, and 100% free. It is a give and takes an application, i.e., it asks the user to watch ads and provides the video content in exchange. 
It comes adorned with 17 movie stations for different categories like romance, drama, comedy, among others. It also lets you watch live TV and stream on-demand movies.
It commands and delivers both live content and on-demand programming. 
You can enjoy real-time video content with this live TV app downloaded on your devices.
Download App: Android
---
3. YouTube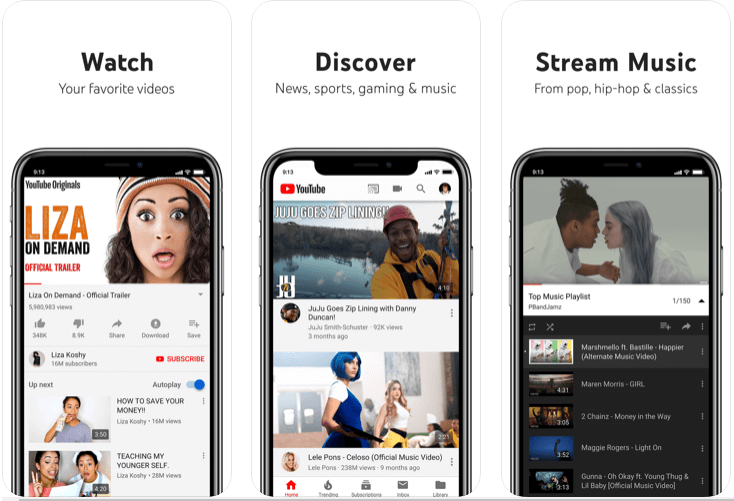 Compatibility: Varies with device
Cost: Free
Installs: 5,000,000,000+
How can we forget the pioneer in video streaming? What are we all without some YouTube in our lives? Even in the age of Instagram and Snapchat, YouTube has a special place in every viewer's heart. 
You can watch many movies and shows by many different sources, free of cost. And you even get a chance to stream original content by famous YouTubers. For Android users, it's no hassle to download it on their devices as it comes preloaded. 
YouTube is an excellent app for Android phones, but also one of the best free movie apps for iPad, iPhone, and other OS. It is capable of streaming high-quality videos even on slower networks.
Download App: Android
---
4. Tubi – Free Movies & TV Shows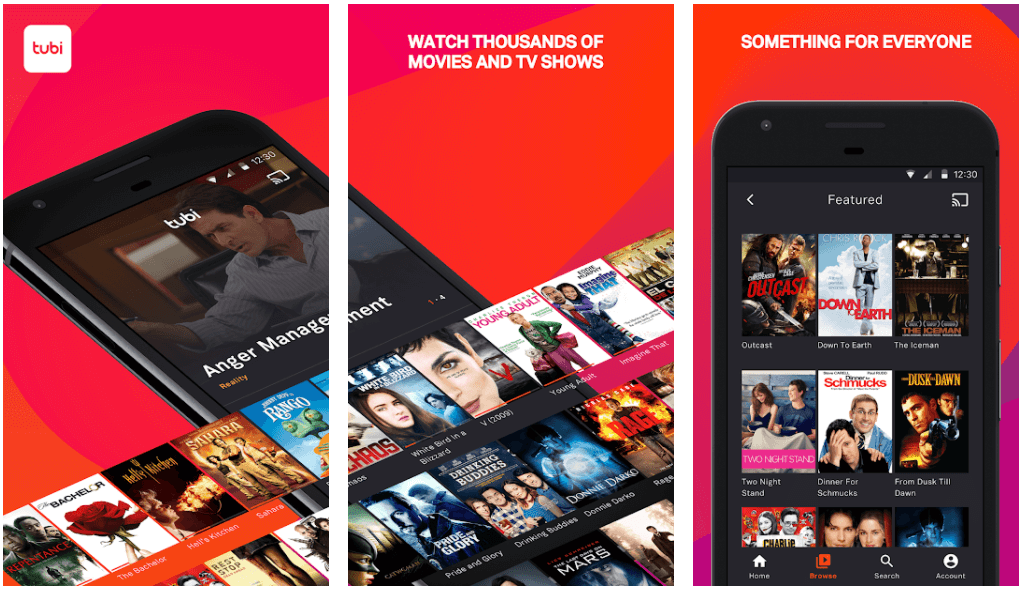 Compatibility: Android 5.0 and up
Cost: Free
Installs: 50,000,000+
Since the beginning of our movie addict life, most of us have searched for Hollywood movies on the Tubi TV website. And it never disappointed us even once.
Now the same magic is available in the form of an app (for both Android and iOS). 
You can watch a bunch of popular TV shows and movies legally without paying even a cent. No need to enter your credit card details too, as the app is monetized through ads (the only issue for most users).
The best thing is that the app is updated every week (new things every time, yay!) and offers content from other countries as well.
Download App: Android
---
5. SnagFilms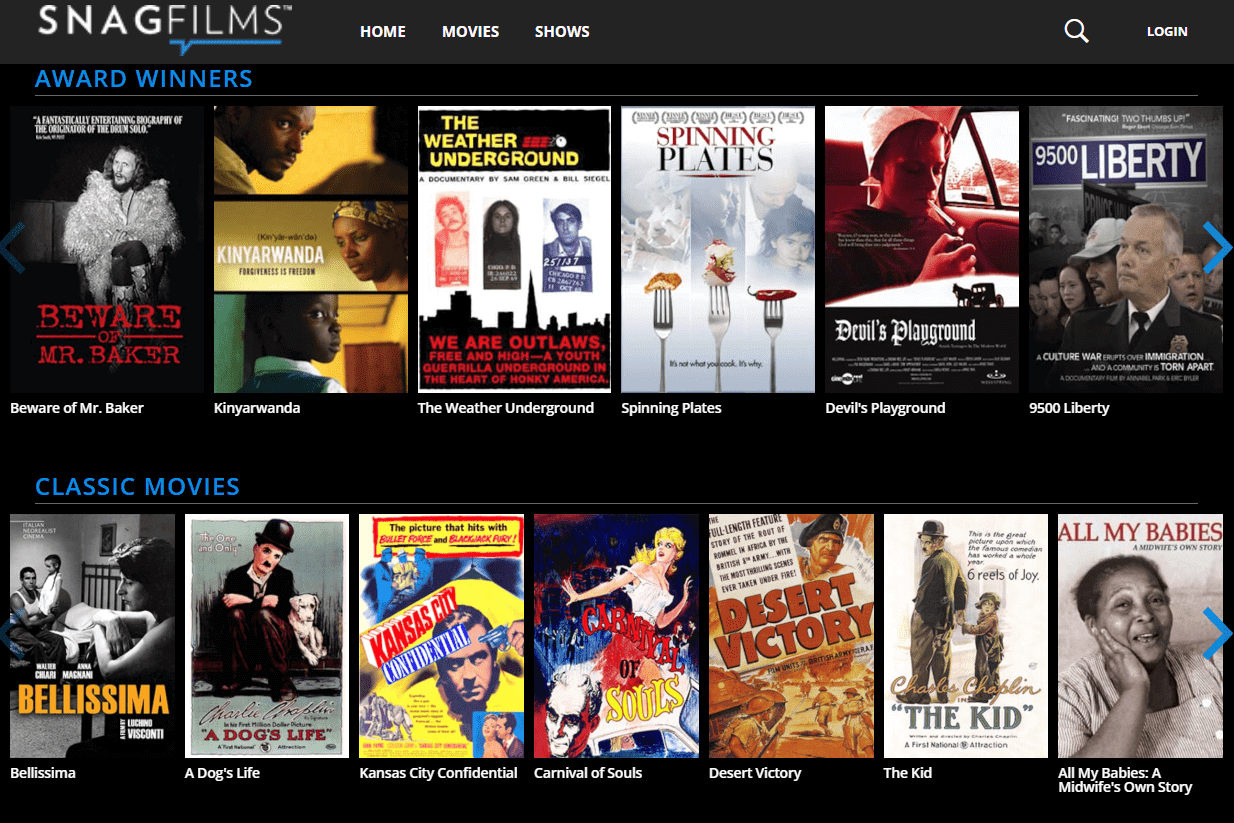 Compatibility: Android 5.0 and up
Cost: Free
Installs: 50,000+
SnagFilms is a free way of watching movies and TV shows, and legal too! 
They have over 5000 movies in their catalog, including documentaries, mainstream categorical movies, indie films, and LGBTQ inspired movies all under one space.
It is supported by Android TV, which means that a user with smart TV can enjoy the perks of the app on television as well.
The only problem people have with using it is that you need to create an account to enjoy the app's services.
New content updates are done every month and you get it all for free.
Download App: Android
---
6. Showbox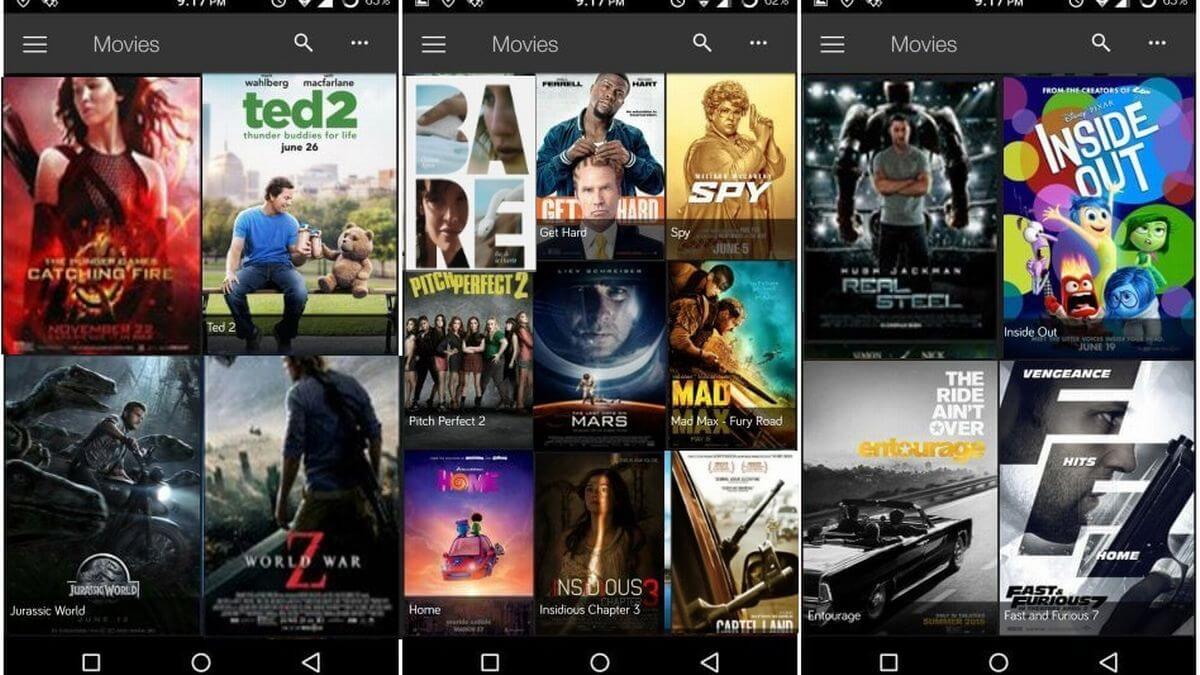 Compatibility: Android 4.1 and up
Cost: Free
Installs: 20,000,00+
The list wouldn't have been complete without the name Showbox. A favorite of millions around the globe, this app comes with plenty of exciting features. 
It has a smooth UI, easy navigation, no annoying and disturbing ads, HD quality support and offline download availability.
It is a near-perfect alternative to subscription-based services and you don't even require a login account for it!
Although while streaming the ShowBox app, be careful as the app is not legal in the eyes of the content creators. So use this application at your own risk (preferably with a VPN server).
Download App: Android
---
7. Hotstar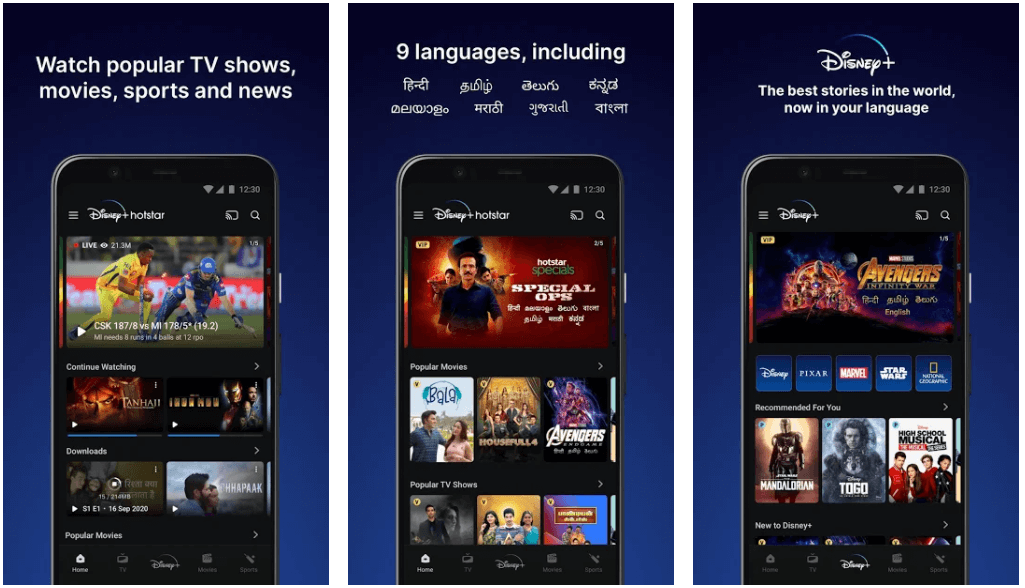 Compatibility: Varies with device
Cost: Free
Installs: 100,000,000+
This one is mainly for Indian users, as most of the content is geo-restricted. With over 350 million downloads, Hotstar is definitely a cherished video streaming app. 
Many mainstream Indian soap operas, movies, and sports are free to watch. But for newer American shows and real-time watching, you require Hotstar Premium.
It is fruitful on the back of a very advanced video streaming innovation and high consideration regarding the quality of experience across gadgets.
Download App: Android
---
8. Kodi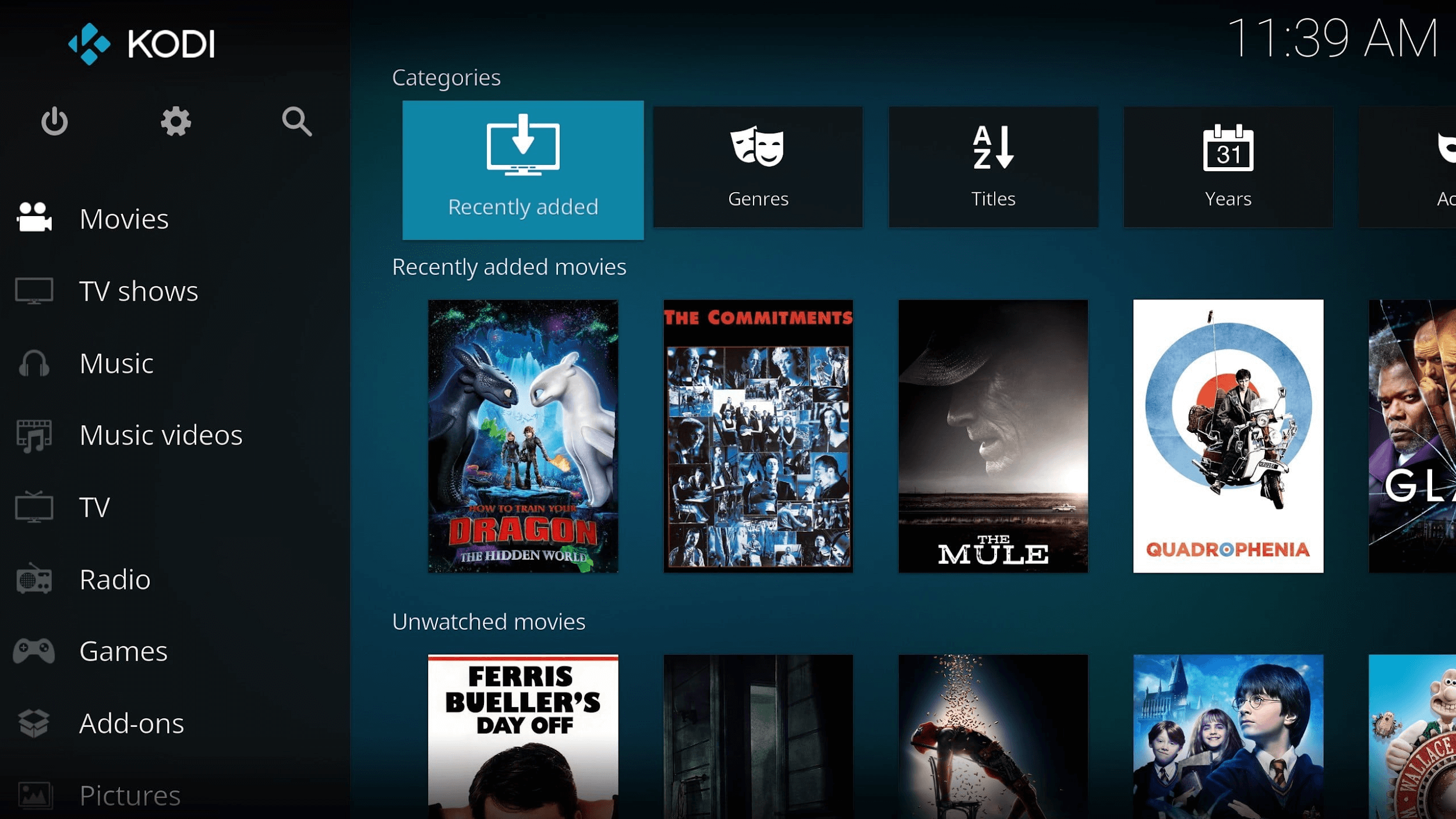 Compatibility: Android 5.0 and up
Cost: Free
Installs: 10,000,000+
There have been times when you have the desired videos with you but don't have a proper media player to stream them. 
Kodi, a cross-platform media player, does not contain any content whatsoever. But it is still regarded as a pretty popular video streaming application. It lets you install a number of apps in just a single app.
It is open source, has an easy installation and a quick navigation process, and offers plentiful customization options. One just needs to download the origin file in the Kodi and install the Add-on. This less-than-a-minute process would allow the user to watch live TV, movies, shows, and much more.
Download App: Android
---
9. Popcorn Time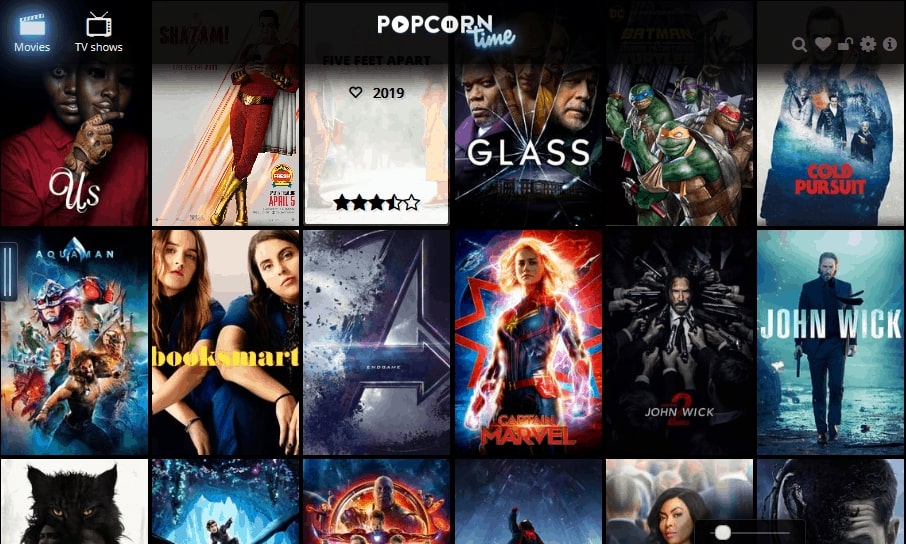 Compatibility: Android 4.2 and up
Cost: Free
Installs: 1,000,000+
Now this applies in a gray area of legality, as it's not available officially on Google Play store. But nonetheless, its APK can be downloaded from its official site.
Popcorn Time uses BitTorrent protocol to let users stream content over the web. It is a favorite of many because of its elegant and user-friendly interface.
Read More: Best Cartoon Streaming Sites: Watch Your Favourite Cartoon
Usually, Torrent users have to wait a while for the completion of file downloads, but in Popcorn Time the users can stream the videos immediately.
With the help of this, you can watch and download any type of movie on your Android device from anywhere in the world.
Download App: Android
---
10. Crunchyroll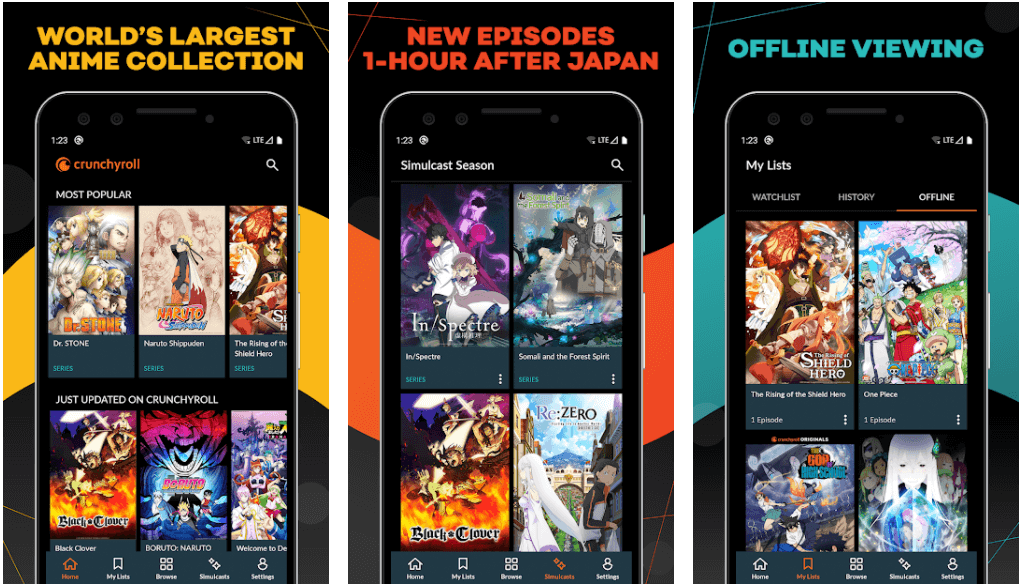 Compatibility: Varies with device
Cost: Free
Installs: 10,000,000+
We all have been through that phase in our lives, wherein anime videos were the only thing that we wanted to watch. 
Drama? Anime videos. Comedy? Anime videos. Romance? Anime videos.
And this app enhances that phase even more. Crunchyroll has a repository of hundreds of anime, manga, and drama episodes with subtitles and dubbing to quench anime love of "otakus" worldwide. It has a very easy interface, is quick to navigate through and doesn't ask you to sign up or register in the portal.
Download App: Android
---
11. Viki
Compatibility: Varies with device
Cost: Free
Installs: 10,000,000+
Fallen in love with the world of K-drama? Oh well, haven't we all? 
Viki is here to help you with this predicament. 
With a huge collection of great K-drama, K-pop, and variety shows, it streams them all for free and provides content interaction to the users. It has community-driven support of over 200 languages. You can also watch various other Southeast Asian shows (C-dramas maybe?). 
The only issue that irks most users are the annoying ads that jump out every moment. They ruin the show in between. But they could be removed with the use of Viki Pass that lets you watch exclusive HD content and free of ads HD when available.
Download App: Android
This was our list of best movie streaming apps for Android. And the next time you feel like watching a new show, just pick one application from this list.
Diksha Lalwani is an aspiring content marketer and a self-declared bibliophile. An English honors graduate, she likes to keep up with the recent happenings around the world and form an opinion. Her interest in anything and everything tech made her follow the path into becoming a technical writer.
Subscribe to Our
Newsletter

and stay informed

Keep yourself updated with the latest technology and trends with TechPout.
Related Posts