How to Fix Windows Live Mail Not Working on Windows PC?
Published Date :
Mar 02, 2022

Windows Live Mail not working on Windows PC? Don't worry, try these 100% working tactics to repair Windows Live Mail, easily & quickly.
Almost a year ago, Microsoft decided to stop the support for Windows Live Mail, which is one of the most utilized email clients among Windows PC users. But, numerous users haven't discontinued using this outdated email client and are still using it.
However, recently, many Windows users who prefer to use the Windows Live Mail client have complained about the unresponsive behavior of the respective email client. They stated that the Windows Live Mail won't open or launch on their Windows operating system. This can be very frustrating, particularly when Windows Live Mail (WLM) is your preferred choice as an email client. Therefore, today, we have created this guide explaining a few tested and tried tactics to fix problems with Windows Live Mail.
Easy & Quick Ways to Fix Windows Live Mail Not Working on Windows PC
If you are having problems with your best-loved vintage e-mail client i.e., Windows Live Mail, then be sure to try the below-listed resolutions. The suggested hacks will surely help you fix Windows Live Mail not working on Windows 11, 10, or older versions.
Way 1: Launch the Email Client as Administrator and in a Compatibility Mode
Many users somehow managed to fix Windows Live Mail not working issue simply by just running the program as an administrator and in compatibility mode. It may sound like a basic hack, but it can work like magic. If you have no idea, how to make certain changes, follow the steps outlined below:
Step 1: Locate the following paths.
C : Program FilesWindows Live Mail or C : Program Files(x86)Windows LiveMail
Step 2: Click right on the wlmail.exe file and choose Properties.
Step 3: Choose the Compatibility tab to proceed.
Step 4: Tick mark the box shown before the Run this program in compatibility mode for, also choose the correct Windows OS version from the drop-down menu.
Step 5: After that, check the box before Run this program as an administrator.
Step 6: Click on Ok to save the changes.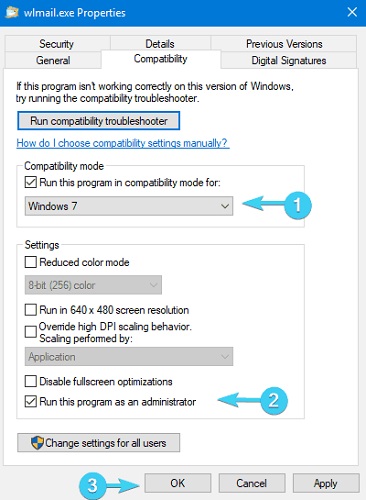 Step 7: Once done, try to relaunch the Windows Live Mail.
This should surely repair the Windows Live Mail client. But, unfortunately, the issue persists, so try another hack.
Also Read: How to Fix Gmail Temporary Error? Try Best Ways!
---
Way 2: Create a New Windows Live Mail Account
It's likely to happen due to the changes that Microsoft made, perhaps your currently existing Windows Live Mail account might lapse in Windows 10. If that is the case, then you can try to remove the old account and create a new one. This might help you fix the issue. To do so, follow the steps below:
Step 1: Launch Windows Live Mail to proceed.
Step 2: After that, make a click on the Account icon and select Sign out of a Windows Live Mail option from the drop-down menu list.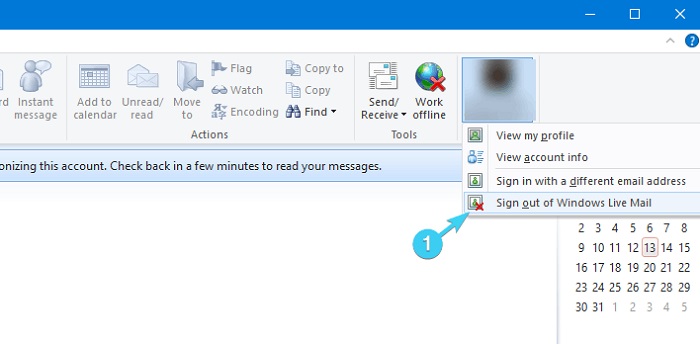 Step 3: Wait for a few seconds and create a new account or sign in with an alternative email address.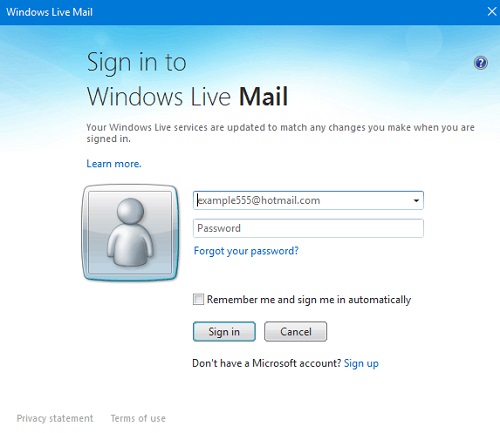 Once it's done, then test the issue and look for changes. If it didn't help, try another solution.
Also Read: How To Backup Gmail Emails With Attachments
---
Way 3: Temporarily Disable Antivirus Solution
Your antivirus software can be another cause behind the Windows Live Mail won't open on Windows 10 PC. Sometimes, the antivirus software blocks specific apps or programs from running properly as expected.
So, just ensure that Microsoft's email client is included in the list of exceptions in your third-party antivirus solution. If in case, Windows Live Mail is not blocked by your antivirus software, then you can try to disable your antivirus in order to fix the problem. Because particular antivirus programs just are not compatible with the older version of apps. Hence, you should definitely give it a shot, especially when you are running into Windows Live Mail not working problem.
After disabling the antivirus software, check if the problem is solved. If not, then you need to move on to the next solutions to get rid of the problem.
---
Way 4: Update your PC Drivers
Last but not least, if you are using outdated PC drivers, then you may face numerous issues and errors like Windows Live Mail won't open and more. Hence to resolve this error, you should try to update the outdated drivers on your PC.
In order to perform this task quickly & easily, you can use any third-party driver updater utility software like Bit Driver Updater. It is the best solution for detecting and fixing all faulty drivers on Windows PC. Bit Driver Updater automatically recognizes your system and finds the correct drivers for it.
To update drivers with Bit Driver Updater, you need to follow the steps shared below:
Step 1: Download Bit Driver Updater from the button below.

Step 2: After that, double click its executable file and follow the on-screen instructions to complete the software installation.
Step 3: Run Bit Driver Updater on your PC and click on the Scan option from the left menu pane.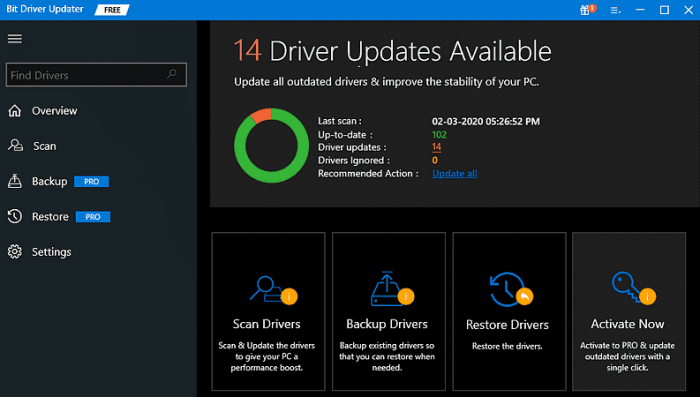 Step 4: Next, wait and let the scanning be completed.
Step 5: Check the scan results and click on the Update All button to install the latest version of all PC drivers at once.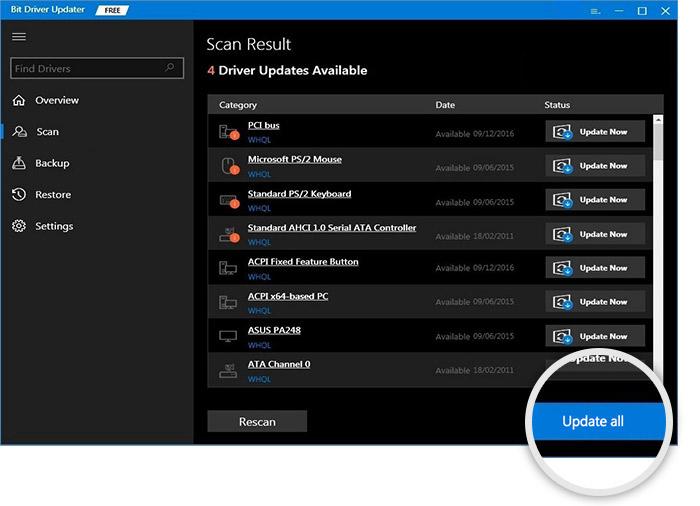 However, this requires you to upgrade to the pro version of Bit Driver Updater, which also provides a 60-days complete money-back guarantee and 24/7 technical assistance. If you are using the free version, then you can click on the Update Now button shown next to the driver you wish to update. This way you can update drivers one-by-one as its free version is partly manual.
Also Read: How to Delete Gmail Messages in Bulk
---
Windows Live Mail Not Working on Windows: FIXED
So, the above suggestions were some of the best and proven resolutions to fix Windows Live Mail not working on Windows PC. We hope you find this troubleshooting guide much helpful and useful. Please tell us in the comments below if you have any better suggestions regarding the same. Furthermore, drop your queries also in the comments below. We will try our level best to help you out.
In addition to this, do subscribe to our Newsletter if you want to read more informative articles just like this one. Lastly, follow us on Facebook, Twitter, Instagram, and Pinterest.
Harshita Sharma is a technical writer with quite a distinct understanding of the tech realm. She is a tech enthusiast who believes that tech knowledge should reach one and all and tries to convert the sketchy knowledge into the simplest possible form for making people understand the tech world better. When not playing with words, she loves to travel and explore new places. And, is a coffee & cricket connoisseur.
Subscribe to Our
Newsletter

and stay informed

Keep yourself updated with the latest technology and trends with TechPout.
Related Posts