[Fixed] Modern Warfare Crashing Issues On PC

Are you experiencing Modern Warfare crashing issue on PC? Then, here are a few fixes that you can try!
Call of Duty: Modern Warfare is one of the most played games till the present date. But, nowadays, many Call of Duty: Modern Warfare players have complained that they are facing random crashes on PC while playing the game and fighting to win the top spot. Moreover, it freezes even in the one-player mode. However, there are numerous causes because of which COD: MW crash. Out of all, some of the core ones are mentioned below.
Old or broken video and audio drivers.
Corrupt game files.
Third-party software is conflicting.
Quality of texture.
So, these are some core points because of which Modern Warfare crash. In addition to this, be sure that your PC meets the minimum or recommended requirements of the game. Coming back to the point, so if you are a hard-core player of COD and unfortunately encountering the dev error or fatal error then no need to worry. Let's read the solutions below to fix the call of duty modern warfare crashing error!
How To Solve Modern Warfare Crashing On PC
Here, at Tech Pout, we have listed down few easy yet productive solutions to fix the Call of Duty:- Modern Warfare crashing issue on PC. Let's read them below!
Fix 1: Be Sure Background Running Apps Are Closed
Initially, what you can do in order to fix the issue is – be sure to close all the background running applications. Especially, your antivirus software which can be super protective and hence causing Modern Warfare crashing issue on Windows 10. Try this method at a very initial stage and unfortunately if this doesn't work then switch to our next methods.
---
Fix 2: Repair Your Game Files
Whenever you ran into game crashing issues, then you can always try this method to fix the crashing issue. Corrupted or faulty files can cause random crashing issues. Similarly, to fix Call of Duty Modern Warfare crashing on PC you can scan for the corrupt files and repair them too. Here is how to do it on Steam!
Step 1:- Head to your Game library, then click right on the game Call of Duty: Modern Warfare, after this select Properties.
Step 2:- Then, switch to the Local Files tab.
Step 3:- Thereafter, click on Verify Integrity of Game Files.
That is it! You need to do to execute this method. If this doesn't prove enough to fix the Modern Warfare crash then move towards the next solutions.
Read More: How To Fix Shockwave Flash Crashed Error In Google Chrome
---
Fix 3: Adjust The Texture Quality To High or Normal
The next method to fix this annoying issue is – adjust texture quality to normal or high. Sometimes, because of low graphics random game crashing issues occur. Many COD: Modern Warfare users may set their graphics settings to low, which can be the real criminal behind the Call of Duty: Modern Warfare crashing issue on PC. And, many high-end gamers find that setting Texture Quality to Normal or High can solve the issue. Consequently, you can also do so!
Step 1:- Open-up your COD: Modern Warfare game on PC. Then switch to Options, after this head to Game Settings, and lastly Graphics.
Step 2:- Thereafter, under the Details & Texture section, adjust Texture Resolution to Normal or High.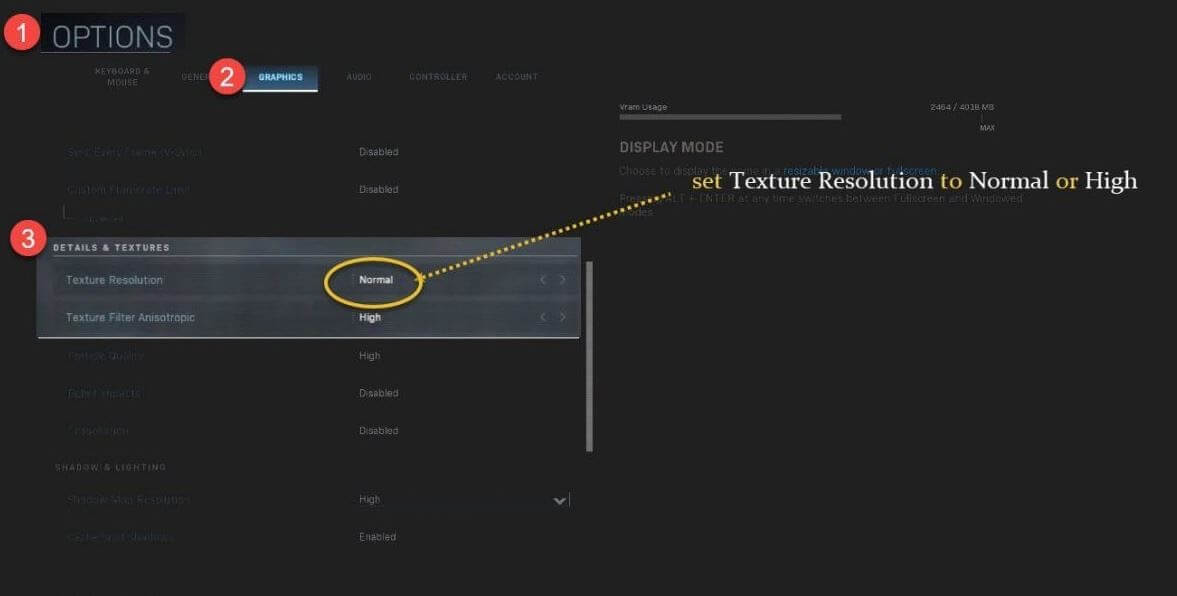 Apart from this, you can keep everything to a low value. Along with this, be sure to switch off Sync Every Frame (V-Sync).
Read More: Fix World of Warcraft Was Unable to Start Up 3D Acceleration
---
Fix 4: Update Your Device Drivers
Whenever you encounter any crashing issue while playing the game then it may occur because of the low or corrupted graphics driver. As to ensure effective gaming performance Graphics Card are the core components. Thus, in that case, always make sure that your graphics driver always associated with their latest version. And, here is a sneak peek of the methods to download graphics drivers quite easily.
See, apparently, you would have may download drivers via the official site or using the Windows in-built utility tool Device Manager. But, here is one best approach to perform this time-consuming driver updation task within moments. And, which is, using a driver updater tool, and when it comes to choosing the best driver updater tool then Bit Driver Updater is the only one that bags the applauds.
Bit Driver Updater is the supreme-quality driver updater tool that lets you update all the drivers just in a single click. Isn't it so amazing and a time saver? Of Course, it is! Want to know how it works? Then, here is a quick tutorial that explains the working of Bit Driver Updater!
Step 1:- Download and launch the Bit Driver Updater on your system.
Step 2:- Then, you need to wait until the completion of the Automatic Scanning process.
Step 3:- After this, it will produce the list of drivers that need to be updated, then review the entire list.
Step 4:- Lastly, you will find an Update Now button presented next to the driver click on it to update & install the new version of the driver. Plus, if you want to update all the drivers in one go then click on the Update All option instead.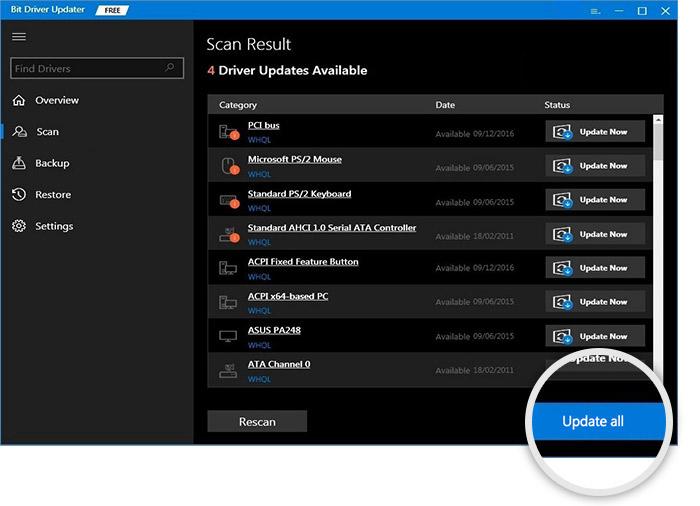 That's all you need to do to update drivers using Bit Driver Updater. Update your graphics driver and fix the Call of Duty: Modern Warfare crashing issue on PC permanently. And, click on the download tab given below to install the amazing Bit Driver Updater.

---
Call of Duty: Modern Warfare Crashing On PC SOLVED
So, that is how you can be able to fix Modern Warfare crashing error on PC. If you are facing a random freezing issue with your game while playing then you can try the above-mentioned fixes. However, you do not need to try all of them, just choose the one that fits the bill. Lastly, do not forget to subscribe to our Newsletter. Plus, do tell us your opinion on this in the comment box below. We'll be really pleased to hear you from. So, till our next write-up, stay in touch with us!
Harshita Sharma is a technical writer with quite a distinct understanding of the tech realm. She is a tech enthusiast who believes that tech knowledge should reach one and all and tries to convert the sketchy knowledge into the simplest possible form for making people understand the tech world better. When not playing with words, she loves to travel and explore new places. And, is a coffee & cricket connoisseur.
Subscribe to Our
Newsletter

and stay informed

Keep yourself updated with the latest technology and trends with TechPout.
Related Posts