Fixed: HP Scanner Not Working Problem in Windows 10 [Solved]
Published Date :
Nov 13, 2020

Is your HP Scanner doesn't work accurately as it used to be? Then, read on the entire write-up to get to know why it happens and how you can fix it!
Undoubtedly, HP printers and scanners are the top-picks of millions of users all over the world. But, nowadays, HP scanners are not working properly as it used to. Many individuals have encountered the issue of the HP scanner not working. If you are also one of them and, then feel lucky, that you've arrived at the right spot. Yeah! Here you can get to know how to fix it. It's not that big to get panic as this is the common issue that usually happens with HP scanner or other as well. Before moving ahead towards the solutions to fix this issue, it is quite better to get familiar with the causes. 
What Causes the HP Scanner Not Working Issue?
The HP Scanner not working issue hinders your tasks, and abruptly stop the scanner to work appropriately. Sometimes, it is really hard to recognize the causes, especially when you are not so aware of techy things. Primarily, this issue occurs because of the wrong or outdated scanner files, corrupted system files, software errors in your system, the USB cable is not compatible with the scanner, and many more. But you don't need to worry, as this issue can be fixed easily and quickly. String with the below suggested ways to solve this issue in no time. 
---
How to Fix HP Scanner Not Working Problem in Windows 10
Here, at Tech Pout, we'll help you understand the reasons behind this issue and explains to you how you can fix this issue. So, without any further ado, let's jump into the list!
Fix 1: Check the Connection between Computer and Scanner
At the very initial level, what you can do to fix this problem is – check the connection between the system and the scanner. Moreover, if you are utilizing the USB cable then make sure that the USB cable must have properly connected to the USB ports. And, if you are utilizing the Wi-Fi connection then make sure the proper internet connectivity. Maybe, if you are accessing any VPN services, then try to disconnect it to ensure the effective working of the Scanner.  Do all this in order to fix HP scanning problems, and then scan something just to check whether this issue has solved or not. 
Read Also: Download HP Webcam Drivers for Windows 10, 8, 7
---
Fix 2: Run SFC Scan
If the above method doesn't work for you, then try to run an SFC scan, this will surely work. SFC, System File Checker, it scans for corrupt or damaged system files and if there has anything like so in your system then it removes or repairs them. Corrupt or faulty system files are the biggest reason behind the poor working of the scanner. Accordingly, an SFC scan repairs all the corrupt files without any need for manual support. Follow the below-mentioned steps to run the SFC scan.
Step 1:- Hit the Win and R key simultaneously to toggle up the Run Dialog box.
Step 2:- Then, input cmd in the box and press enter from your Keyboard.
Bonus Tip: Don't click on the ok tab, as this prevents you from opening the command prompt as administrator. Hence hit the Enter from your Keyboard.
Step 3:- After this, the Command Prompt will open and then enter SFC/scannow command and again hit the enter key.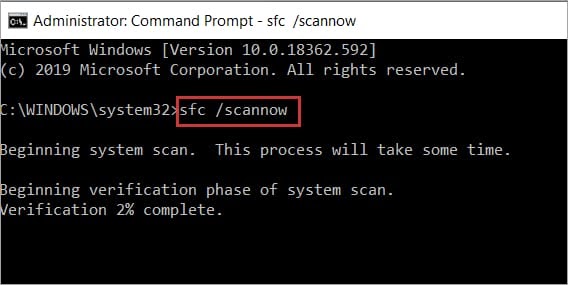 Step 4:- Now, you have to wait for a moment until the entire process executed, then input the EXIT command to close the command prompt.
After accomplishing all this, restart your system and check the Scanner. If still your HP Scanner Not Working then move ahead towards the next fixes. 
Read More: Download HP Printer Drivers Software for Windows 10
---
Fix 3: Update Your HP Scanner Driver

 
Next is the utmost crucial point that surely fixes your HP scanner not working problem in Windows 10 and that is – update your HP scanner drivers. Drivers ensure the effective performance of the system and other connected peripherals. So, you need to make sure that the drivers of your system and hardware that you used must be associated with the latest ones. 
Now, here comes two approaches to update HP Scanner drivers i.e., either manually or automatically. Doing this task manually is a bit cumbersome and you need to have a good amount of techy knowledge. Hence, we would like to suggest you rely on the automatic approach because in this you just need to install an ideal driver updater software. And, no other driver updater is better than Bit Driver Updater. A fully operative tool that updates all the drivers within just a single click. Here's how to do it!
Step 1:- Download and run the Bit Driver Updater.
Step 2:- Wait for a moment until the Automatic Scan process is performed.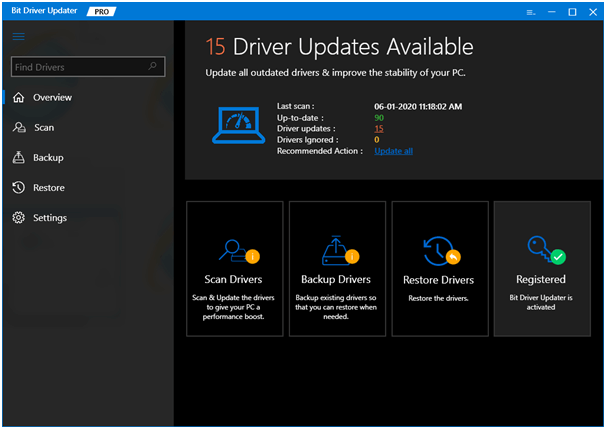 Step 3:- Then, it will display the list of outdated drivers, examine the list carefully.
Step 4:- Once you examined the list, then select the driver that you want to update and click on the Update Now tab. And, if you want to update all the drivers simultaneously then click on the Update All option rather than Update Now. 
After all, this, restart your system and check scanner is working or not. Isn't it a matter of a few minutes to update drivers via Bit Driver Updater? Of course, it is! So, if you haven't downloaded this amazing utility tool yet then do it right now. Below is the download link of this magnificent driver updater tool, hit it! 

---
HP Scanner Not Working Problem in Windows 10 – [Solved]
To sum up, the above we've tried to explain to you how to fix the HP scanner not working problem in Windows 10. We've tried our best to serve you better than the rest. Still, if your HP Scanner lagging in working accurately, then let us know in the comment box below. We'll help you out in all the possible ways. And, don't forget to subscribe to our Newsletter for getting daily tech feeds instantly. Hopefully, this article has really proved helpful to you. That's it as for now, we'll come back sooner, till then, stay tuned with us! 
Harshita Sharma is a technical writer with quite a distinct understanding of the tech realm. She is a tech enthusiast who believes that tech knowledge should reach one and all and tries to convert the sketchy knowledge into the simplest possible form for making people understand the tech world better. When not playing with words, she loves to travel and explore new places. And, is a coffee & cricket connoisseur.
Subscribe to Our
Newsletter

and stay informed

Keep yourself updated with the latest technology and trends with TechPout.
Related Posts