How to Fix GTA 5 (Grand Theft Auto) Crashing Issue

In this troubleshooting guide, you will learn the possible workarounds to fix Grand Theft Auto (GTA) 5 crashes. So, read the entire document till the end!
Grand Theft Auto (GTA) 5, designed by Rockstar is a well-known action-packed game among all avid gamers. But, recently, lots of users blamed the Rockstar games due to facing numerous problems while playing the game, such as GTA 5 keeps crashing, GTA has stopped working, and many more. The users reported whenever they try to play GTA 5, the game doesn't load at all.
Have you ever wanted to know why Grand Theft Auto (GTA) 5 crashes? Well, the only answer to this question is an outdated graphics card driver. When your graphics card driver goes missing or out-of-date, then encountering such kinds of issues during the game is pretty obvious. Furthermore, the bigger paging file size, corrupt game launcher, and outdated version of the Windows operating system also cause GTA 5 crashing.
However, you do not need to worry at all, as there are multiple solutions available to deal with these issues quite effortlessly. Without wasting more time, let's dive into a vast ocean of solutions.
Possible Solutions to Fix Grand Theft Auto (GTA) 5 Crashing Issue on PC
We have mentioned some possible solutions below to fix GTA 5 crashing issues. You don't need to try them all, just work your way down until you find the one that fits your bill. Without further ado, let's get started.
Solution 1: Restart your PC and Game
Whenever you encounter game crashing issues like Grand Theft Auto (GTA) 5 crashes, you should initially restart the PC and the game. Because sometimes, restarting the game and PC can fix the regular game crashes. And, even after restarting the PC and game, GTA 5 doesn't work properly, so try the more advanced solution mentioned below.
---
Solution 2: Introduce the Latest Patch
In order to avoid Grand Theft Auto 5 crashing issues, you need to make sure that you keep your game always updated. Keeping the game up-to-date ensures the impeccable functioning of the game. Hence, you can often check for the latest patches and updates in Steam or on the official website of the game.
Additionally, the developers of Grand Theft Auto (GTA) 5 release the latest updates and patches regularly to diagnose the bugs and various issues. So, it is very crucial to rely on the latest patches to make sure that the game runs sleekly.
Also Read: 5 Smart Ways to Improve Gaming Performance on Windows PC
---
Solution 3: Change Graphics Settings
Fix GTA 5 crashes on PC by changing the GTA 5 settings. An accurate graphics setting in GTA 5 can optimize the performance and help you to run the game more efficiently. Many users have claimed that lowering down the graphics settings can make your GTA 5 work again. Here is how to do that:
Step 1: Launch GTA 5 settings.
Step 2: Then, make a click on Graphics.
Step 3: Now, set the following settings to Normal.
Texture Quality
Shader Quality
Reflection Quality
Grass Quality
Shadow Quality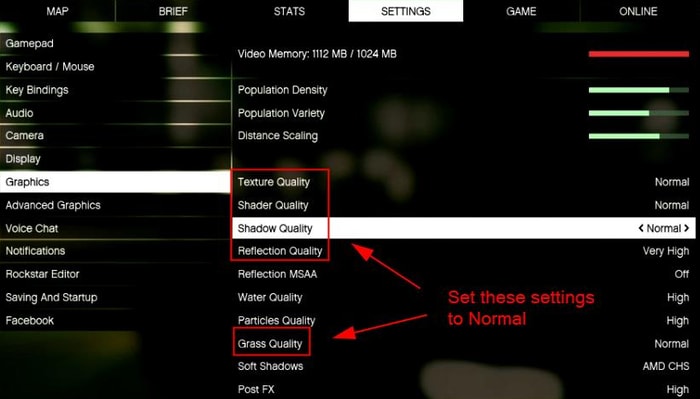 Step 4: Save changes and restart your PC.
Now, try to re-launch GTA 5 just to check whether Grand Theft Auto (GTA) 5 crashes are solved or not.
Also Read: 4 Best Ways to Update Outdated Drivers in Windows 10 & Older Version
---
Solution 4: Enable VSync
Grand Theft Auto 5 has stopped working? Then, try to enable the VSync option. VSync (Vertical Sync) is a display feature in high-end 3D PC games. The feature lets you synchronize the frame rate with the PC's refresh rate for ensuring way better consistency. And, many users reported that enabling VSync has fixed GTA 5 crashing issues. Here is how to turn VSync on:
Step 1: First of all, launch the settings of GTA 5.
Step 2: Then, from the left choose Graphics and click on it.
Step 3: After this, detect VSync in the left pane and switch it on.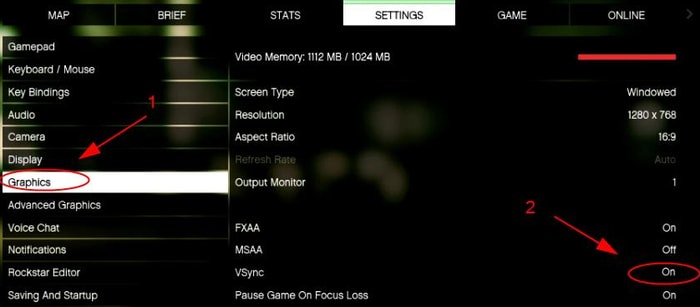 If it is already ON, then try to turn it off and then again turn it ON.
Step 4: Reboot your PC to validate the new changes.
Now, try to launch GTA 5 and see if turning VSync ON makes any difference. If not, then try the next solutions mentioned below.
Also Read: How to Play PlayStation Games on Your PC
---
Solution 5: Update Graphics Card Driver
Outdated graphics drivers are majorly responsible for the game crashing issues. So, if you are experiencing GTA 5 crashing issues, then you should try to update the graphics driver. To update drivers automatically with ease, you can use Bit Driver Updater. It is the best driver updater utility program that can replace all broken or missing drivers within a click.
Apart from this, the driver updater can be used to fix numerous Windows or display-related issues like BSOD errors, frequent system breakdown, and many other issues. The Bit Driver Updater comes with an in-built system optimizer to boost up the PC's performance. Now, let's have a look at the steps shared below to learn how to fix GTA 5 crashing on loading screen.
Step 1: Download Bit Driver Updater for Free from the button provided below.

Step 2: Next, run the downloaded file and go with the on-screen instructions to complete the software installation.
Step 3: After this, launch the software on your computer and wait till it scans your PC for faulty or corrupted drivers.
Step 4: Then, it provides you with a detailed list of drivers which need to be updated. You need to find the problematic graphics driver and click on the Update Now button presented next to it.
Step 5: Alternatively, click on the Update All button to update all the drivers in one click.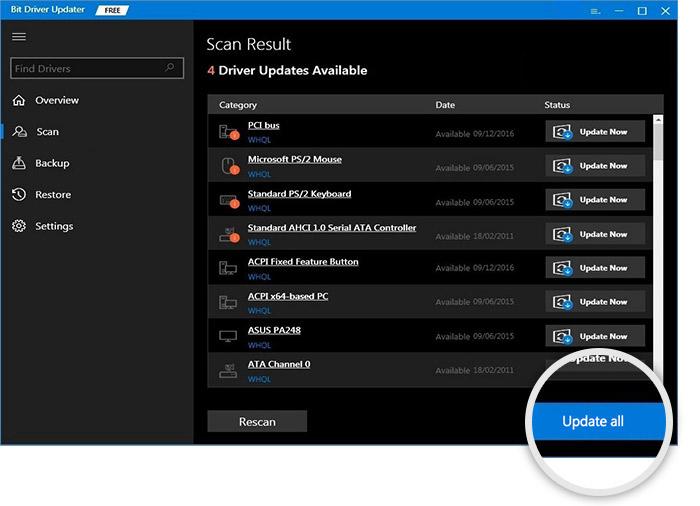 That's it! Within a few steps, you have updated and installed the latest version of drivers. The premium version of Bit Driver Updater comes with some much-needed features like one-click driver update, 24/7 technical support, larger driver database, money-back guarantee, backup & restore. So, it is a wise move to rely on the premium version of the software.
Also Read: How to Fix Fallout 4 Keeps Crashing Issue on Windows PC
---
Grand Theft Auto (GTA) 5 Crashing Issues: FIXED
Now, Grand Theft Auto (GTA) 5 crashes won't bother you anymore. Through this troubleshooting guide, we have tried to educate you on how to fix GTA 5 frequent crashes with ease. We hope you have liked this troubleshooting guide.
If you have any queries then let us know through the comments box below. Also, share your suggestions too in the box below. Before you leave, do subscribe to our Newsletter for staying up-to-date.
Harshita Sharma is a technical writer with quite a distinct understanding of the tech realm. She is a tech enthusiast who believes that tech knowledge should reach one and all and tries to convert the sketchy knowledge into the simplest possible form for making people understand the tech world better. When not playing with words, she loves to travel and explore new places. And, is a coffee & cricket connoisseur.
Subscribe to Our
Newsletter

and stay informed

Keep yourself updated with the latest technology and trends with TechPout.
Related Posts