6 Essential Computer Maintenance Tips to Keep Your PC Safe in 2023
Published Date :
Nov 18, 2023

A well-maintained PC is what we all desire. Take the help of the methods listed and explained in this simple guide on Computer Maintenance Tips and maintain your PC to its most optimal state with ease. 
Computers are an essential component of your day-to-day life, and you can do a great deal with a personal computer (PC), including, but not limited to, surfing the Internet, watching movies, playing games, managing your job, and so on. Regular maintenance of your personal computer is vital to guarantee that it operates without any hiccups.
If you have ever had to spend a lot of time cleaning a nasty virus from your computer, lost vital data because your hard drive crashed, or fried a CPU because you didn't clean the fan, then you probably have a good understanding of why it is necessary to maintain your computer.
If you are one of the users who uses a computer regularly, it goes without saying that you want the system to be at its best at all times. If you are one of the users who uses a computer frequently, you want the system to be at its best. So you give a lot of attention to the upkeep of your personal computer. In this piece, we will go over some fundamental and straightforward Computer Maintenance Tips that even inexperienced users may do.
Top Computer Maintenance Tips to Enhance Your Device
Here are some of the best and Essential Computer Maintenance Tips that will allow you to improve the performance of your Windows device.
Tip 1: Please Do Not Overload Your Device Battery
The first one of these Computer Maintenance Tips is one of the most important ones ever. If you are working off of a laptop, the temptation to let the battery charge all night may be strong. Once the battery has reached its maximum capacity, unplugging the device is one of the most effective methods to keep it in good condition for a lengthy period of time.
This is true despite the fact that doing so will not harm the device. If you won't be using the gadget for at least a month, you should take the further step of completely removing the battery so that you can give it a longer shelf life.
Also Read: My Computer is Frozen and Control Alt Delete Not Working: Fix
---
Tip 2: Make Sure Your Device Doesn't Become Too Hot
Let's have a look at the next Computer Maintenance Tips. Install your personal computer in a part of your workplace or house that has enough ventilation, leaving two inches of free space on each side of the device. By allowing your gadget some breathing area, you may help prevent it from overheating, which can prolong the life of your device.
It's important to maintain your desk space clean and clutter-free in order to prevent your computer from overheating, which may be caused by piling papers and other stuff on top of it.
---
Tip 3: Conduct Checks for Viruses on a Regular Basis
If you have a sophisticated antivirus program already installed on your personal computer, you will be protected against the harm that viruses do in the event that you become a victim of a malware assault. Malware attacks may occur at any given time. Scans with your antivirus software once a week will guarantee that your machine is never infected with harmful malware. Your machine will be analyzed during a fundamental scan to look for any obvious threats or suspicious behavior.
So, here's the next one of the Computer Maintenance Tips. People who use the internet often and download applications and data on a regular basis should think about running virus scans twice a week at the very least. It is best to err on the side of caution at all times, but this is particularly true when your personal information could be in danger.
Infections with malware may reduce the efficiency of your computer and make your private information accessible to third-party attackers.
Also Read: How to Defrag A Computer Hard Drive in Windows 11, 10, 8, 7
---
Tip 4: Clean Your Device's Storage Regularly
Your computer will gradually accumulate a substantial quantity of data that is not required, such as temporary files, thumbnails, web pages, outdated installations of Windows, and a great deal of other data. Because there is a large amount of data in use, the computer may begin to perform more slowly.
A fantastic piece of advice or the next one of the essential Computer Maintenance Tips is to clean your drive. You have the ability to seek assistance from the Disk Cleanup tool inside Windows. You can keep your personal computer running quickly and clutter-free by using PC Cleaner software to remove unnecessary files from the Windows operating system.
These unnecessary files might include cache, logs, fragments, temporary files, and more. These items can take up a lot of space, lead to software failures, and slow down the system. Using a duplicate file finder will also help you with this task. Such a tool will help you find similar and duplicate files and then delete them easily.
---
Tip 5: Update the Drivers of Your Device
Yet another amazing way to enhance the performance of your device and keep it stable is to update the divers. This is amongst the most important Computer Maintenance Tips as it can easily enhance the system performance. You should update the drivers on your device regularly. To execute this task manually, you need to either visit the official website of the device manufacturer and find the required driver or take the help of the Device Manager. Both of these tasks are quite complicated.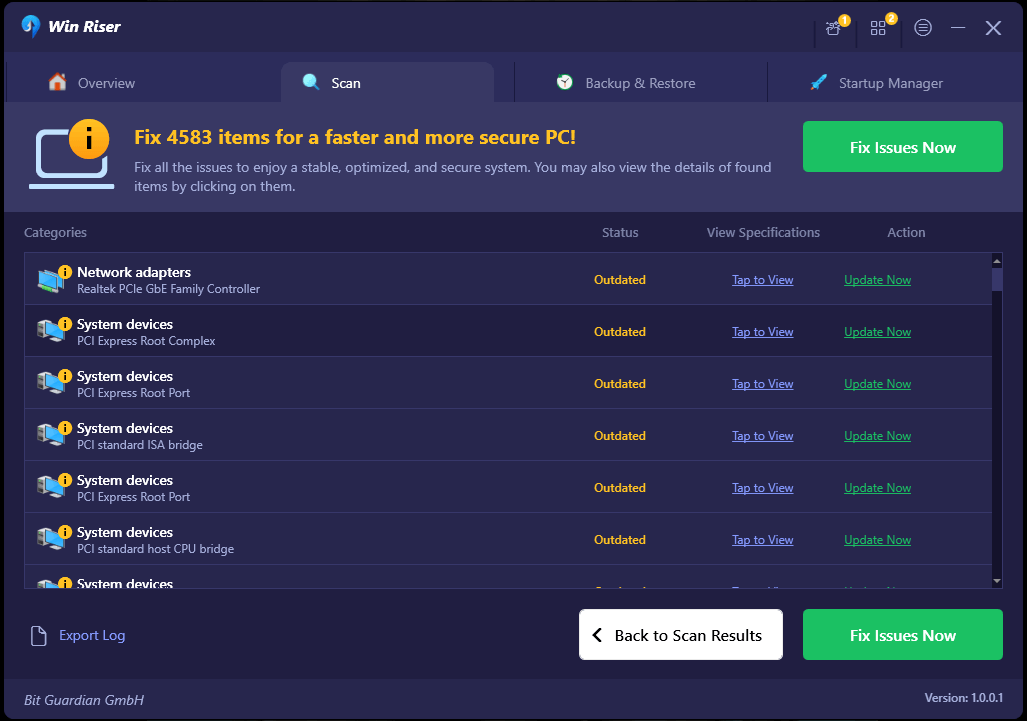 A smart and advanced solution is to use a Windows driver updater tool. Win Riser is amongst the best ones in this category. The tool is very easy to use and allows you to update all kinds of device drivers with a single click. Additionally, the tool offers multiple other beneficial features like Malware Removal, Junk Cleaning, etc.
Also Read: How to Fix Computer and PC Freezes Randomly (Top Fixes)
---
Tip 6: Fix Registry Entries
Ending this guide on some of the best Computer Maintenance Tips, we have the last one here. When you use the PC for a long time, the Registry entries can corrupt or damage. Registry Entries allow the OS to work in a proper pattern, hence corruption of such entries will result in a slowed and ill-performing PC. However, there is an easy fix for this issue. To fix the registry entries, you can take the help of a registry cleaner and fixer. On the internet, you will find a plethora of such cleaners and fixers. So, download and use as required.
---
Essential Computer Maintenance Tips: Summed
Your computer, like your car, has to be serviced on a regular basis if you want it to continue to function effectively. Performing routine maintenance on your computer may significantly increase the device's lifetime, and it can also help to protect you from any hazards. You will be able to operate on an operating system that is both quicker and in better health if you just complete a few simple procedures.
Maintenance of computer hardware and software is not a job that everyone enjoys doing, but it is essential to ensure that your computer continues to function without any hiccups. We are pleased to provide you with further guidance and recommendations on how to take the best possible care of your computer and some further Computer Maintenance Tips if required.
Just communicate with us using the comments sections below.
Devesh, being a technical writer, likes to research and write technology articles and solutions to help others. Having great knowledge about the tech world and its working, he likes to pour the same into his write-ups. Before starting any write-up, he likes to pen down his thoughts and flaunt a creative edge in the same. Apart from being a writer, his primary interests include reading books and poems, cooking, and playing video games.
Subscribe to Our
Newsletter

and stay informed

Keep yourself updated with the latest technology and trends with TechPout.
Related Posts