Epson L380 (Printer & Scanner) Driver Free Download

Epson L380 scanner and printer driver ensure a smooth printing and scanning experience. Hence, this article walks you through the methods to download, install, and update it.
Epson L380 is a renowned InkTank printer, well-known for its top-notch printing and scanning capabilities. It is among the best multifunction, all-in-one printing machines in the marketplace. However, it needs an Epson L380 driver as a helping hand to deliver an error-free and smooth printing experience.
The Epson L380 printer-scanner driver for Windows 10/11 facilitates communication between your computer and the printer. It converts your printing or scanning instructions to the language your PC can understand, i.e., binary codes, for effective execution.
You may experience annoying problems, like the printer not printing, without downloading an updated version of the Epson L380 printer driver.
Therefore, this article shares the best ways to download the Epson L380 driver update and install it to keep irritating problems at bay. Let us proceed to them without ado.
Best Methods to Download, Install and Update the Epson L380 Driver
You can implement the below methods to download the driver update for the Epson L380 printer and scanner for Windows 10 and 11.
Method 1: Get the Epson L380 driver from the official website
Epson's official website is among the most reliable locations from where you can download and install the needed driver. The only prerequisite is that you should know your computer's make and model. You can find the PC details by following the path Settings>System>About. After noting the required details, you may follow these steps to download the Epson L380 driver update and install it.
Firstly, navigate to Epson's official website through this link.
Now, go to the tab called SERVICE.
Click on Drivers. 
Select Printers from the menu on your screen.
Now, input Epson L380 in the on-screen search box and hit the Enter button on your keyboard.
Select your Epson L380 printer/scanner from the available options.
Choose your operating system.
Now, click on the button to Download the latest Epson L380 printer driver and scanner driver for Windows 10 or 11.
Read and Accept Epson's Software License Agreement.
Double-click on the setup you downloaded above to run it.
Follow the directions appearing on your screen to install the driver.
Restart your computer after completing the driver installation.
Also Read: Download, Install and Update Driver for Epson L120 Printer Free
---
Method 2: Use Device Manager to Download the Epson L380 driver for free
An in-built tool in Windows, called Device Manager, allows you to download and install driver updates for all hardware devices, including the Epson L380 printer/scanner. Hence, below is how to use the Device Manager to download the update for the Epson L380 scanner driver and install it.
Use the combination of Windows and R keyboard keys to launch the Run command.
In the on-screen Run box, type devmgmt.msc and click on the OK button.
After the Device Manager window appears, click on the Printers and Print queues categories to view their contents.
Find and right-click Epson L380.
Now, select Update driver from the available options.
Choose to Search automatically for updated driver software if you are a Windows 10 user. Search automatically for drivers if you use Windows 11.
Wait for Windows to complete the search, download, and installation process of the Epson L380 driver.
Reboot your device after completing the above process.
Also Read: Epson L220 Printer Driver Download, Install and Update for Windows PC
---
Method 3: Update the operating system of your computer
Updating the OS helps fix common device issues, downloads required drivers and updates the old ones. However, this method may be unsuccessful if the driver update is extremely new or Windows cannot find it. Still, you can follow these directions to give it a shot.
Firstly, use the Windows+I keyboard shortcut to launch the settings panel.
Secondly, select Update & Security from the on-screen settings.
Now, click on Check for updates to find the available Windows updates.
Download the available updates and install them on your computer.
Restart your device after completing the above steps.
Also Read: Driver Epson L210 Download, Install and Update On Windows PC
---
Method 4: Download the Epson L380 driver update automatically (Recommended)
Now, let us discuss the easiest way to update drivers. The above-mentioned methods to update drivers manually are not beginner-friendly. Moreover, they are time-consuming and cumbersome. Hence, we suggest downloading and installing driver updates automatically via software like Bit Driver Updater.
The Bit Driver Updater updates all out-of-date drivers automatically. Moreover, it offers several benefits, such as backup and restoration of old drivers, driver download speed acceleration, scan scheduling, and a plethora of other features.
Below is the download and installation link of Bit Driver Updater to get it on your computer.

A few seconds after completing the software installation, you get a list of outdated drivers on your screen. You can click on the option to Update All automatically with one click.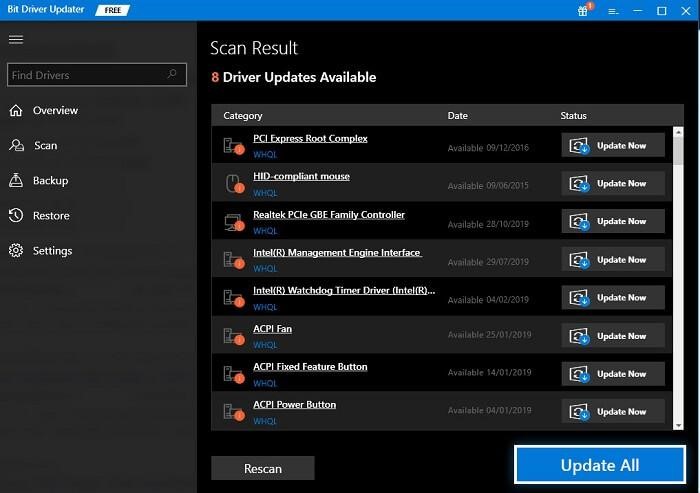 There is also an Update Now tool to get only the Epson L380 driver downloaded and installed on your device. However, we recommend updating all drivers to ensure you get the best performance from your computer.
Also Read: Epson L3110 Driver and Software Free Download and Update
---
Epson L380 Driver Downloaded, Installed and Updated
This article discussed the best ways to download the free Epson L380 printer/scanner driver update for Windows 10/11 and install it. You can follow any of the above methods. However, we recommend updating drivers through Bit Driver Updater keeping in view your convenience.
In case of any questions/confusion/suggestions about this article, do not hesitate to drop a comment. We are always available to address your queries.
Niharika is a passionate soul who finds immense satisfaction in putting all her thoughts in writing. Being a technology enthusiast, she loves learning new things about tech and making everyone technologically literate through her articles. When not composing tech articles, you can find her bringing characters to life in her fictional stories, reading something intriguing, or spending time with her near and dear ones.
Subscribe to Our
Newsletter

and stay informed

Keep yourself updated with the latest technology and trends with TechPout.
Related Posts