Driver Epson L210 Download, Install and Update On Windows PC

Refer to our step-by-step guide to learn how to download and update driver Epson L210 on Windows PC. Read along to know every bit in detail.
Epson is a well-known brand in the industry of printers and other hardware peripherals. However despite being the biggest manufacturer, still users are unhappy with the devices. The same situation is happening with Epson's one of the best multi-function ink tank printers called Epson L210. Quite a few users have reported that after a certain time the printer suddenly stops working.
Well, if you are also dealing with some kind of issue, then be assured as you can get its effectiveness working again. But, before we reach out towards the resolutions, it would be better enough to understand why it happens so. Why does the Epson L210 abruptly stop working?
See, the exact answer to this question is outdated or faulty drivers. When your printer driver goes missing or out of date then lagging in the effectiveness of the printer is quite common. However, don't worry and keep yourself relaxed as you can ensure the proper working of your printer by keeping its drivers up-to-date.
Sometimes, the wrong installed drivers also hinder the accurate functioning of your Epson L210 printer. Hence it is crucial to get the compatible and correct driver installed on your PC. Through this write-up, we have created a list of the robust and easiest methods to help you download and install the latest Epson L210 driver software on Windows 10 and older versions of the operating system. Without any further ado, let's get started with the actual discussion.
Strongly Recommended Method for Epson L210 Driver Downloads
The easiest and most efficient method to download Epson L210 drivers for Windows 10 and older versions is by using Bit Driver Updater. The software comes with a highly effective automatic functionality that helps users download and install the latest version of all drivers with a single click.

Quick Method to Download, Install and Update Epson L210 Printer Driver
Try the below-mentioned methods to get the latest driver Epson L210. Let's read more about them in detail!
Method 1: Use Device Manager to Get Latest Epson L210 Driver
Windows has an in-built program to update, roll back, uninstall and disable the driver called Device Manager. You can use this utility program to download printer Epson L210 driver. All you need to do is just go with the above steps.
Step 1: Using the keyboard, press Windows + R keys at a time to trigger the Run Dialog box on the screen.
Step 2: Then, type devmgmt.msc in the box and hit the Enter key from the keyboard.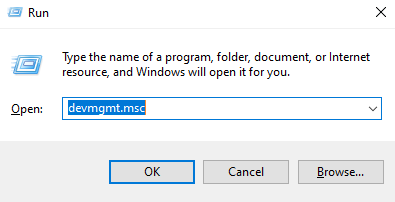 Step 3: After this, in the Device Manager window, expand the Printer or Print Queues and find the Epson L210 driver.
Step 4: Next, right-click on the Epson L210 driver to pick the Update Driver Software as an option from the menu list.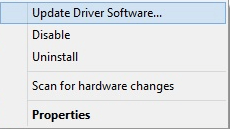 Step 5: Go with the first option from the subsequent prompt.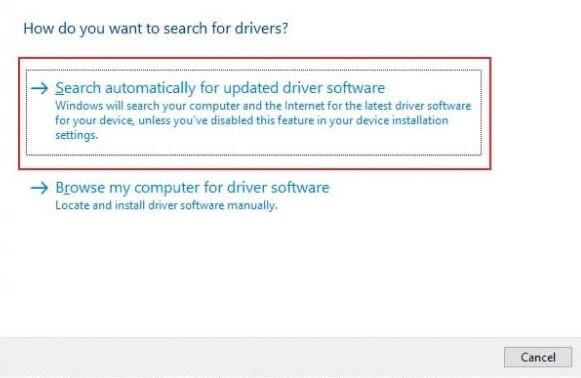 Once you have completed the aforementioned steps, then Windows starts searching for the drivers automatically. Lastly, restart the PC. However, sometimes the Device Manager fails to detect and install the correct drivers for you. Therefore, you can try the below-mentioned methods for the correct driver.
Also Read: How to Install and Update Bluetooth Drivers in Windows 10
---
Method 2: Download Epson L210 Driver from Epson's Official Website
You can use the official website of Epson to perform printer drivers download for free. But, for using this method you must have proper information about your Epson L210 model. If you have so, then, you are good to go with the steps shared below:
Step 1: Visit Epson's official website.
Step 2: Then, switch to its Support tab and click on it to choose the Printers from the drop-down menu list.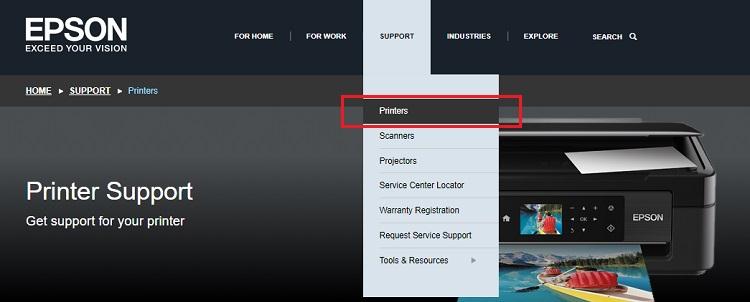 Step 3: After this, type the product name of your printer for which you want to update the drivers. For instance, type Epson L210.
Step 4: Next, make a click on the Search button presented next to it.
Step 5: Now, choose the driver file which is compatible with your Windows operating system.
Step 6: Lastly, click on the Download button.
Once you have done with the above steps, then run the downloaded file by clicking double on it. And, comply with the onscreen instructions to get the latest driver Epson L210 installed on your PC.
Also Read: How to Update Drivers on Windows 10,8,7 – Update Device Drivers
---
Method 3: Automatically Install Latest Driver for Epson L210 Printer via Bit Driver Updater
If you are not familiar with the technical skills and unable to get the latest drivers for the Epson L210 printer, then you can use Bit Driver Updater to ease work. It is the best driver updater tool that not only updates the drivers but also improves the overall performance of your PC. Not only that but with this tool you can resolve the other Windows-related issues including blue screen death error, frequent failure, crashes during the game, and many more. Here are the steps that you need to follow in order to fix the faulty drivers via Bit Driver Updater:
Step 1: Download, run and install the Bit Driver Updater on your PC.
Step 2: As you launch the software on your PC, then it automatically initiates scanning your system for finding outdated or faulty drivers.
Important: The Bit Driver Updater starts to scan automatically. But, in some rare cases, when it doesn't start on its own, then you need to start it manually by clicking on the Scan button.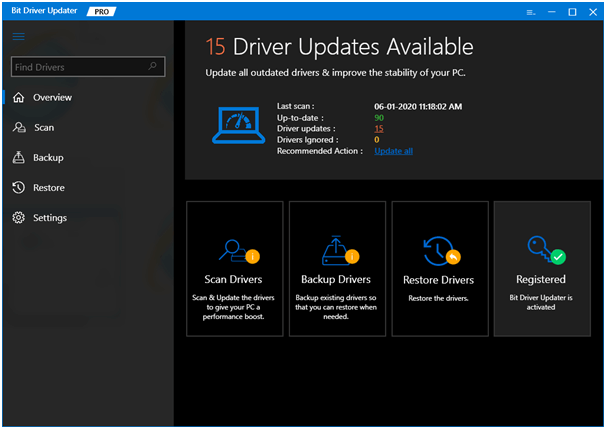 Step 3: Find the Epson L210 driver in the list and make a click on the Update Now button which is displayed next to it.
Step 4: And, if you find more drivers need an update and want to update all of them along with the Epson L210 printer driver. Then, you can do so, just by clicking the Update All button instead.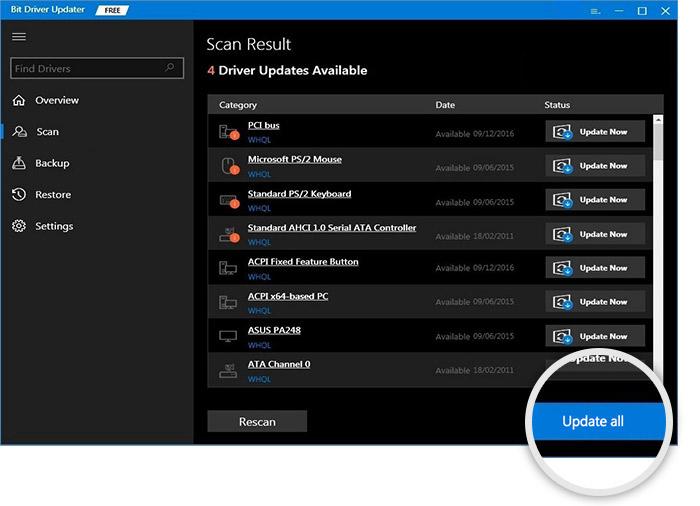 The utility is available in two models i.e., Free and Pro. You can use any amongst both of them. But, keep in mind that the free version will not allow you to access the advanced features of the software. Whereas, the pro version will let you run the driver update for all the faulty drivers even in one click. Plus, with the pro version, you will also receive the complete money-back guarantee, backup & restore facility, and full technical aid 24/7. So, make this daunting task a bit easier by updating the drivers automatically using Bit Driver Updater. To give it a try for free, click on the downloaded button provided below.

---
Method 4: Run Windows Update to Download Epson L210 Driver
Sometimes, you can install the latest version of drivers through Windows Update. Similarly, to download Epson printer driver you can run Windows Update. Here is how to do that:
Step 1: Go to the search box of Windows, and type Settings, then choose the best match of it.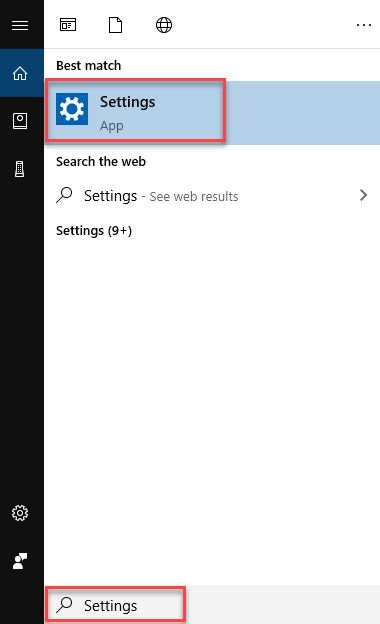 Step 2: Next, locate and make a click on Update & Security.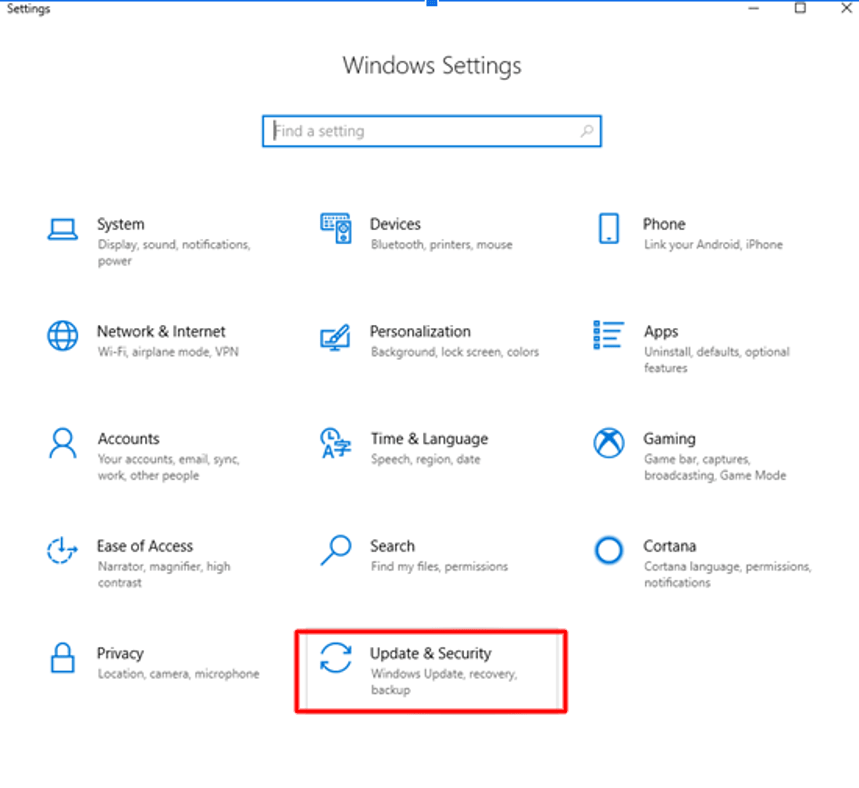 Step 3: Then, choose Windows Update from the left pane and click on the Check For Updates option.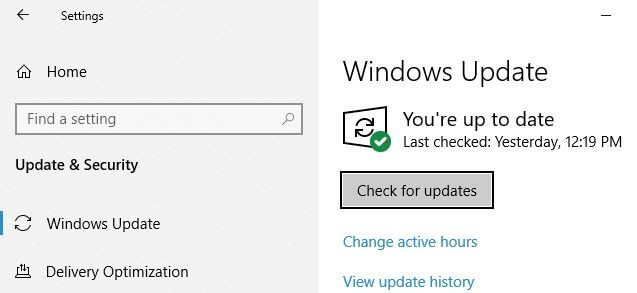 Now, Windows will start checking for the updates, if any update is available, then it will install it automatically. Windows Updates doesn't bring the drivers update only, but also new security patches, better performance, fixes to bugs, and some additional features.
Also Read: How to Update Audio Drivers in Windows 10, 8, 7
---
Epson L210 Driver Download, Install, and Update – DONE
In this write-up, we have mentioned the easiest but effective methods through which you can quickly download and update the driver Epson L210 on Windows 10, 8, and 7. In our opinion, updating the drivers using Bit Driver Updater is the best approach, because it saves a lot of time and manual effort. This tool ensures the complete automatic driver update. Hence, you should give it a try.
If you have any questions related to this then tell us in the comment box below. Furthermore, if you have any tips, ideas, and suggestions, then let us know that too in the box below. Lastly, if you want to read more such informative articles then sign-up for our Newsletter. Till then, stay tuned!
Harshita Sharma is a technical writer with quite a distinct understanding of the tech realm. She is a tech enthusiast who believes that tech knowledge should reach one and all and tries to convert the sketchy knowledge into the simplest possible form for making people understand the tech world better. When not playing with words, she loves to travel and explore new places. And, is a coffee & cricket connoisseur.
Subscribe to Our
Newsletter

and stay informed

Keep yourself updated with the latest technology and trends with TechPout.
Related Posts