Epson L3210 (Printer & Scanner) Driver Free Download

You may go through this article to learn how to download the driver update for Epson L3210 scanner/printer and install it on Windows 10/11 computer.
Epson is a celebrated name in the printing industry. It manufactures world-class printers. L3210 is one such top all-in-one printer from Epson that is both cost-effective and well-performing. However, despite having the best-in-class specifications, it may fail to deliver a smooth printing experience without a compatible Epson L3210 driver.
The driver is a connecting bridge between your printer and computer. It helps your PC understand the printing instructions and deliver the desired output. Without a suitable and up-to-date Epson L3210 printer driver, you may experience various annoying printing problems.
Therefore, this article acquaints you with the best possible ways to download, install, and update the Epson L3210 driver for Windows 10 and Windows 11. Let us get started with them without further ado.
Strongly Recommended Method to Download Epson L3210 Driver Update
If you cannot go through the complete article due to time constraints, you can directly download and install the updated Epson L3210 driver via Win Riser Driver Updater. This software updates drivers safely and automatically with one click. Moreover, it provides several beneficial features, such as driver download speed acceleration, driver backup and restoration, and much more. Following is the download and installation link for this renowned driver updater.

Methods to Download, Install and Update Epson L3210 Driver
You may apply the methods shared below to download the driver for your Epson L3210 scanner and printer and install and update it.
Method 1: Download the Epson L3210 driver from the official website
Like every other manufacturer, Epson also releases drivers for its products on the official website. You can download and install the Epson L3210 printer driver from there. The following is the series of steps to do it.
Firstly, click on this link to navigate to Epson's official website.
Now, hover over the Support tab on Epson's homepage and choose Printers from the drop-down menu.
Enter your product's name, i.e., Epson L3210 in the search box and press the Enter key.
Now, select Epson L3210 from the on-screen search results.
Select your operating system if it does not get automatically detected.
Click on Drivers to expand them.
Click on the Download button to free download the Epson L3210 installer.
After the installer gets downloaded, double-click on it and follow the on-screen instructions to complete the driver installation.
Also Read: How to Download and Update Epson L3250 Driver
---
Method 2: Download and install the Epson L3210 driver from Device Manager
All Windows PCs come with a tool named Device Manager to download and install drivers. You can use this tool to download the Epson L3210 scanner driver and get it installed. The following steps show how to do it.
Enter the Quick Access menu using the Windows+X shortcut command of the keyboard.
Now, choose Device Manager from the menu on your screen.
Now, select the Print queues and Printers categories to expand them.
Find the Epson L3210 printer and right-click on it.
Select the Update driver option.
If you are a Windows 10 user, select the option to Search automatically for updated driver software. If you use Windows 11, click on the Search automatically for drivers option.
Wait until Windows completes the driver search, download, and installation process.
Reboot your computer after the above process is complete.
---
Method 3: Update your device's operating system
Updating the operating system solves common device problems, downloads needed drivers, and updates the old drivers. However, this method may sometimes be unsuccessful if the driver update is very recently released and Windows cannot find it. Still, you can follow these steps to try your luck.
Firstly, access the Settings panel using the Windows+I keyboard shortcut.
Secondly, choose the option to view your computer's Update & Security settings from the on-screen panel.
Find and choose the option to Check for updates.
Download the available updates (including driver updates) and install them.
Reboot your computer to complete the above process.
---
Method 4: Download the Epson L3210 driver update automatically (Recommended)
Many users (us included) feel manual methods to download and install driver updates consume a lot of time. Moreover, there is always a risk of installing the wrong drivers that may harm the computer.
Thus, to bypass all these problems, we suggest downloading, installing, and updating drivers safely and automatically via competent software.
We update drivers using Bit Driver Updater. This software downloads all needed driver updates and installs them automatically with a single click. Moreover, it comes with many useful features.
For instance, you can use the Bit Driver Updater software to backup and restore your existing drivers, schedule scans for outdated drivers, and accelerate the driver download process.
The following is the link to download and install this software.

A couple of seconds after the installation, the Bit Driver Updater starts scanning your computer for outdated drivers. Once the scan is complete (it takes only a few seconds), you can Update All drivers automatically with one click on the button to do it.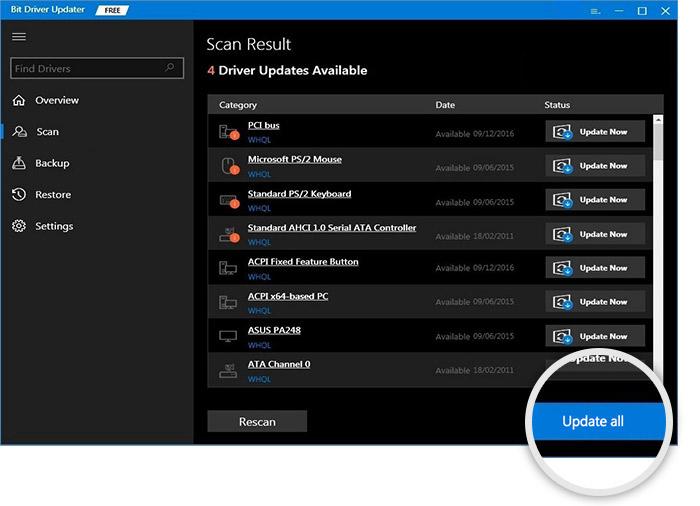 The software also provides an Update Now option if you wish to download and install updates for only the Epson L3210 printer driver. However, we prefer updating all drivers to get the best computer performance.
Also Read: Epson L3150 Driver Download, Install and Update on Windows
---
Epson L3210 Driver Downloaded and Installed
This article walked you through different methods to download the Epson L3210 installer for free to get the updated driver installed. You can follow any method from the above guide to download and install the required driver.
If you know any other more suitable methods to download the Epson L3210 scanner driver for Windows 10/11 or have any questions, please drop us a comment. We will be pleased to help.
Niharika is a passionate soul who finds immense satisfaction in putting all her thoughts in writing. Being a technology enthusiast, she loves learning new things about tech and making everyone technologically literate through her articles. When not composing tech articles, you can find her bringing characters to life in her fictional stories, reading something intriguing, or spending time with her near and dear ones.
Subscribe to Our
Newsletter

and stay informed

Keep yourself updated with the latest technology and trends with TechPout.
Related Posts