8 Competitor Tracking Tools to Spy on Your Competition
Published Date :
Sep 26, 2022

While you probably wish it didn't exist, competition is healthy.
Having competition is a good sign. They keep you on your toes, improving your offering and looking after your customers. But staying on top of your competitors' moves shouldn't be taking too much of your time. If you are continuously visiting your competitors' websites to know what they are up to, you should check out these competitor tracking tools to spy on your competitors.
Competitor tracking tools will help unearth crucial information giving you a competitive edge. You will easily find out what they are doing that you should be doing too. Or, if they have overlooked an opportunity, you could take advantage of it.
What is a Competitor tracking tool?
Competitor tracking tools are online software that will help you track, monitor, and analyze your competitors' strategies. Then you can learn from this information and use it to excel in your business.
To effectively monitor your rivals, you may want to consider using these competitor analysis tools.
Top competitor tracking tools
1. Visualping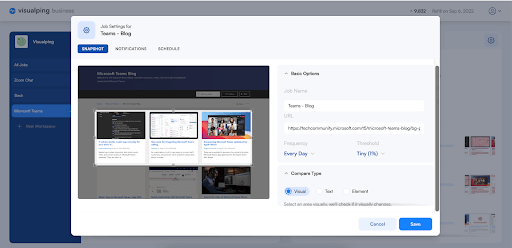 Visualping is a competitor tracking tool that identifies changes on web pages you monitor and sends you an email notification every time a change occurs. You can either track an entire page or select an area of the page you want to follow for changes. You can use the advanced settings to receive an alert when a specific keyword is mentioned.
Companies use Visualping to monitor changes in competitors' prices, website design, content updates, and important announcements on their rivals' websites. But you can also spy on their social media profiles, mentions on the media, online reviews, or rankings for specific keywords.
All this information will give you a competitive edge to stay ahead of them and modify your business strategies accordingly before it is too late.
Visualping is very simple to use: you only need to introduce the URL of the page you want to track for changes and adjust the settings as they best work for your needs. Teams can share the information organized in workspaces, keep evidence of all the detected differences, and download reports when needed.

Also Read: Best Graphic Design Software
---
2. SimilarWeb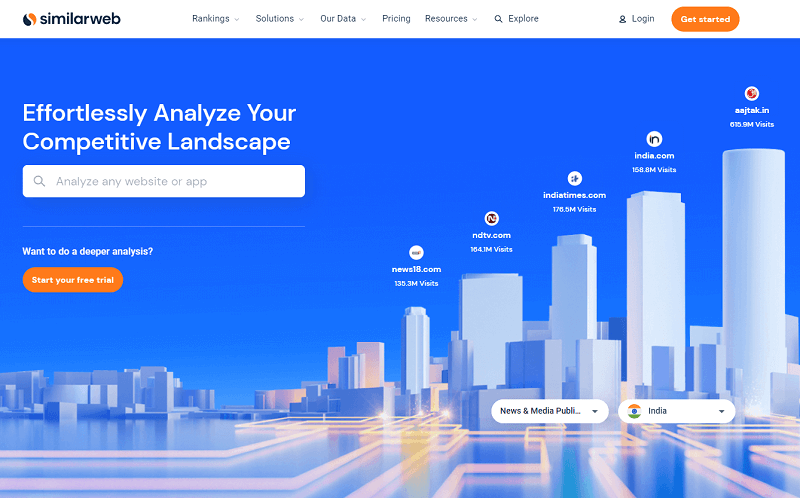 Traffic analysis is essential to get a solid indicator of a competitor's overall web performance. With SimilarWeb, you will learn about monthly traffic, which channels attract the most visitors, and specifically where these visitors are coming from.
You will first get an overview of their competitor's online traffic and their traffic sources. It helps you find out which channel is the most relevant for each competitor. You can then get a breakdown of each of the traffic sources. And it also permits you to compare the traffic of various competitors.
---
3. STAT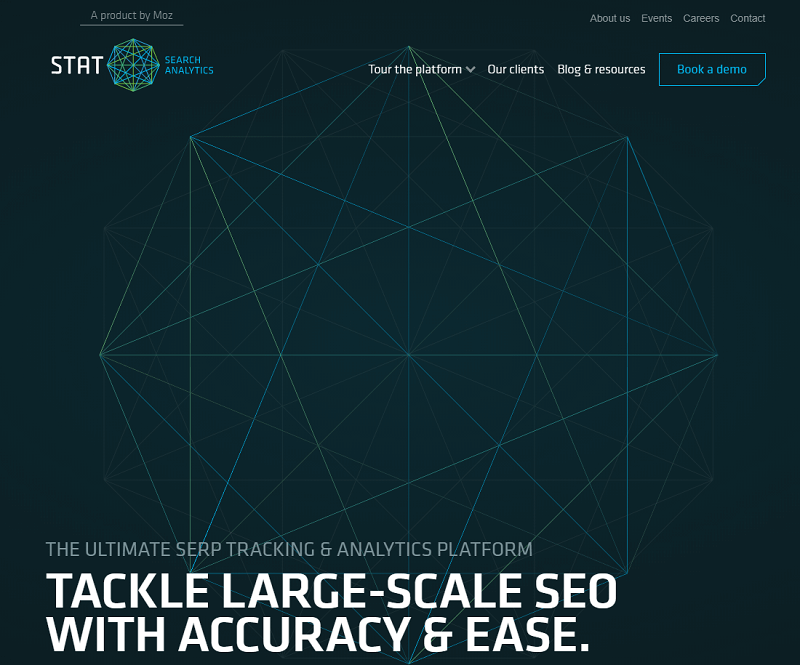 STAT is a useful tool to keep an eye on your competitors' SEO strategies. Users select which competitors they want to track and receive alerts every time their SERPs move up or down. With STAT, you can pull reports on monitored competitor sites and their performance results.
All you have to do is to right-click on any table to get the data and export the information as a CSV spreadsheet. It allows you to schedule the report generation to regularly obtain and share the data with your teams or clients.
It shows who the competitors are in a specific space and puts rivals under the radar, stopping them from creeping up on you.
---
4. Fan Page Karma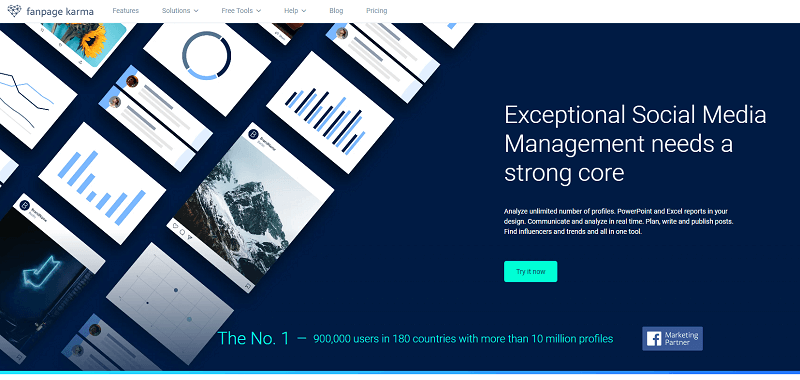 If you want to know how your competitors' social media pages are doing, Fanpage Karma is one of the best tools to do so. Instead of just searching for your competitors' pages on social media, you can automate the process and get a detailed analysis using this tool.
You will get an overview of KPIs with information such as the number of fans, weekly growth, number of posts published per day, overall reach per day, data on content, posting times and frequency, influencers, ad value, and much more about your competitors' social media profiles.
Also Read: Best Social Media Marketing Software
---
5. Moat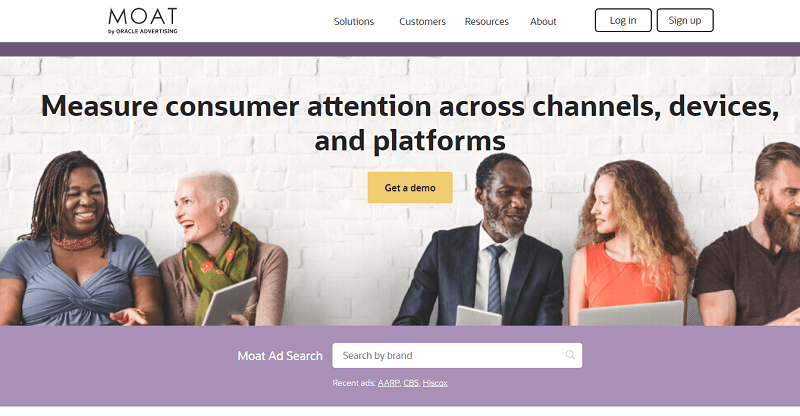 Moat Ad Search is the largest search engine for digital ads. It is a great tool for analyzing your competitors' advertising formats and content. You just need to type in a brand and the tool will show you all the ads they've used in the past for you to review.
When you hover over an individual listing, you'll be able to see the dimensions and dates that the listing ad was active. It will tell you if it is currently running, and some information about its performance. You can also follow your competitors and create alerts whenever they create a new ad.
---
6. Broadly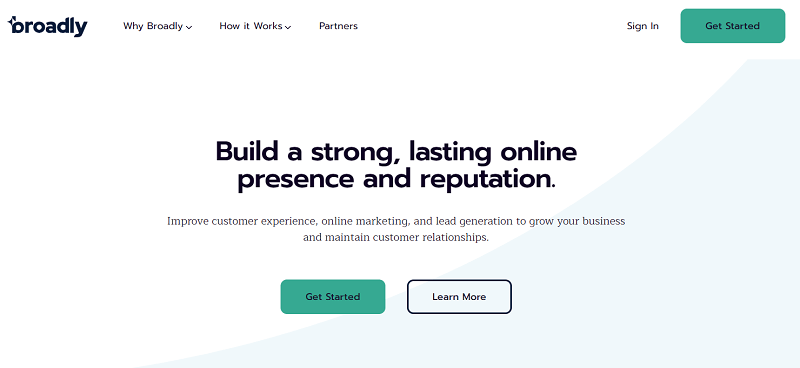 Broadly is a price tracking and dynamic pricing platform. It began as an internal tool of the Predomina company, where they developed it to monitor the prices of their competitors and apply better strategies in their eCommerce. But they realized it would be useful for other eCommerce and it presented a powerful opportunity, so they marketed it.
Some of the biggest marketplaces and eCommerce platforms now use this competitor tracking tool as it allows them to know who sells their products and at what price they are sold. It is also very useful to get notifications to know who raises and lowers the prices in their online store.
---
7. Screaming Frog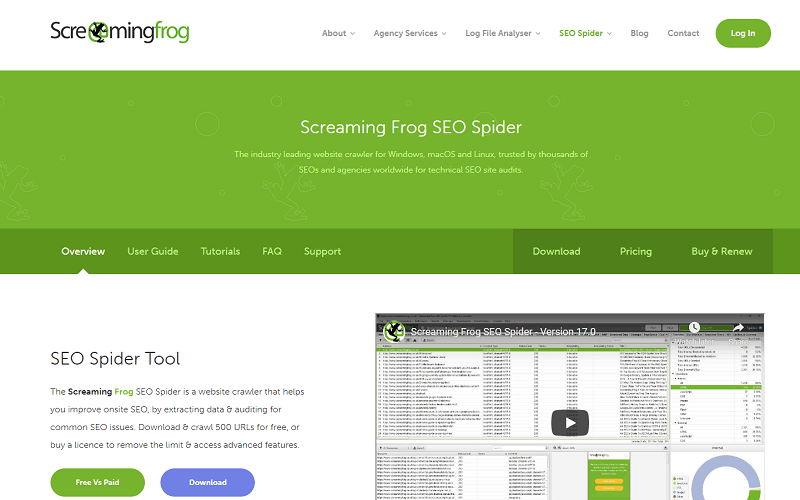 Screaming Frog SEO Spider Tool is a desktop application that helps you improve onsite SEO by extracting data and auditing for common SEO issues. This program scans all the internal URLs of a website and does a quick SEO audit, and it is straightforward to install and easy to use.
You can use Screaming Frog to analyze your site, your clients´ sites, or competitors. The free option allows you to download and crawl 500 URLs, or you can buy a license and remove the limit while accessing other advanced features.
---
8. Buzzsumo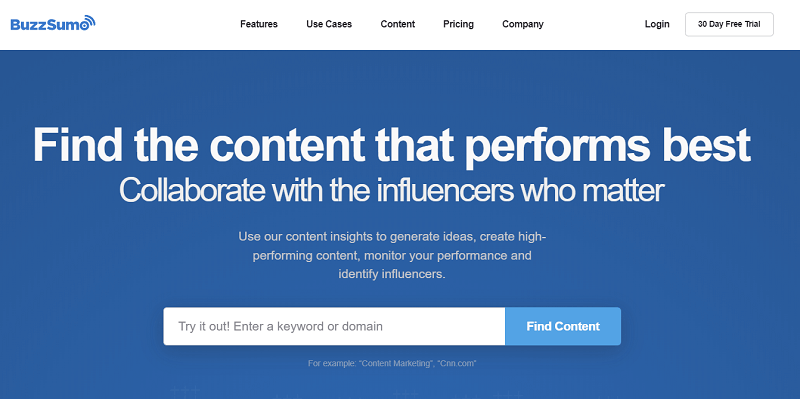 Buzzsumo is the best tool to find out what content works for your competitors. If you're just starting, you can create a solid content strategy using only this tool. Enter the domain of your choice and press "Go". BuzzSumo will find your selected topic's most shared content and key influencers. And you will get all the top-performing posts for that domain.
The goal is to find valuable topics for your business that work well for your competitors and create something even better on your site.
With the free trial, you can see the content's backlinks and the number of people who shared it. But the free option is limited, so you may want to sign up for a trial.
Also Read: Best Social Media Apps For Your Business Marketing
---
Conclusion
You are in a competitive environment. There is no escape. Keeping an eye on your competitors is not an option. It should be part of your growth strategy.
The only way to outperform other players in your industry is to get a broad and comprehensive view of where they are. And using these competitor tracking tools you will get a unique advantage.
But don't just use one tool. Get multiple data sets from different sources and connect the dots to get a complete picture.
Remy is a technical writer at TechPout. Being an IT enthusiast, he inclines to write about contemporary technology and growing security for machines. One steadfast follower of Baseball, Remy is an active social worker and a gastronome.
Subscribe to Our
Newsletter

and stay informed

Keep yourself updated with the latest technology and trends with TechPout.
Related Posts