Bill Gates Steps Down From Microsoft's Board to Serve Humanity

Main Highlights:
Microsoft on Friday announced that Bill Gates, its Co-founder has officially declared his departure from Microsoft's Board.
He stepped down from the CEO's position in 2000 and later in 2008 he stepped down from his full-time role in the company.
Post his departure from Microsoft, Bill Gates will involve himself in philanthropic endeavors.
He plans to remain a silent technical advisor to the Current CEO of Microsoft, Mr. Satya Nadella.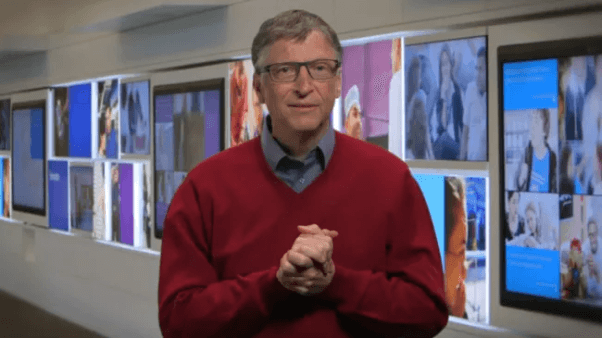 Bill Gates, the original CEO and co-founder of the World-renowned tech giant Microsoft recently announced his final departure from the company. He said he will work as a silent technical advisor to the current CEO of the company Satya Nadela to gradually reduce his involvement in the company's operations and management. 
Bill Gates co-founded the company in 1975 with his childhood friend Late Paul Allen and is amongst the top shareholders of the company. As per the recent figures shared by FactSet, he owns close to 1.36 % of the company's shares. At present, he is the 2nd richest person in the world after Amazon's Jeff Bezos who overtook his position as the richest person. His current net worth is estimated to be around $110 billion.
He further added that post his formal exit he will devote more time for charitable and philanthropic works in areas like global health, education, development and other alarming issues like climate change and global warming.
While Gates will focus more on charitable work, Nadella will continue working to take the company to new heights and on generating more business customers.
Just like Steve Jobs was synonymous with Apple, Bill Gates is to Microsoft. They both are known to build up two of the most powerful and iconic businesses in the area of personal computing. 
Bill Gates has led Microsoft for almost 3 decades till 2008 when he stepped down from his full-time role in the company and decided to dedicate more time to his charitable activities under "Bill & Melinda Gates Foundation". It is a non-profit organization founded by Bill Gates and his wife and has invested billions of dollars in the last 20 years in various programs to develop vaccines and combat world issues like poverty. 
Read More: Microsoft Bing Team Launches COVID-19 Tracker Globally
Bill Gates added further that "Berkshire Hathaway and Microsoft are being managed by efficient leaders with commendable skills. Therefore it's a perfect time for him to step down from his official role. He also said that he is confident enough in Nadella and his crew."
Nadella in his speech quoted that "he is grateful to have worked under and learned from a leader like Bill Gates. He said that he will continue to learn and work alongside Bill to achieve company goals and take it to new heights".
Also since Bill was not significantly involved in the company operations since 2008, his exit will not make a huge impact. Satya Nadella started his journey as the CEO of Microsoft from 2014 and has continued to put forward a show run for everyone. He has given the company a new direction and is more focused on cloud, enterprise and end services. 
In addition to Microsoft, Bill Gates has also stepped down from the Board of Berkshire. In respect to his role in Microsoft, he quoted that his decision of leaving the board does not mean he is cutting all cords with it. He will continue to guide Nadella to help achieve the goals of the company. 
Further, he also quoted that he is very positive about the company's progress and its role in benefiting the world's economy. 
Image Source: TechRadar
Prachi Dani is a technical content writer who specializes in areas of science and technology. She is highly up to date with technological transitions and transformations. Writing is not her passion but the only thing that carries satisfaction in life. If not writing, you may find her engrossed playing action games on her treasured smartphone.
Subscribe to Our
Newsletter

and stay informed

Keep yourself updated with the latest technology and trends with TechPout.
Related Posts