12 Best Free YouTube Keyword Tools In 2020

If your dream is to gain name and fame by being a Youtuber, then all you need are the best YouTube keyword tools that can help you grow your YouTube channel in no time at all.
Many times excellent videos and its associated content can go unnoticed if your YouTube SEO is not up to the mark. Only being aware of the tactics to promote your YouTube channel for free can't be considered enough these days. Thus, if you really wish that your hard work pays then, you have to focus on optimizing your YouTube channel in the best possible way to receive maximum traffic, follower subscriptions, and video downloads.
Now, you must be cracking your head upon how can you best optimize your YouTube channel? You don't need to worry as we are there to help you with this article. We will inform you about the bare minimum requirements for optimization and also provide you information about which are the best YouTube keyword tools for SEO that can serve the purpose.
Steps To Optimize Your YouTube Channel:
A study conducted by Cisco the previous year made a forecast that 80% of the internet consumer traffic by 2020 will be gained from videos. Therefore, having a thorough knowledge of how to enhance the ranking of your videos on the search engine can be of immense help in the near future, whether you are using YouTube for marketing your products and services, else for showcasing your talent.
Before we deep dive into the YouTube keyword planner tools, it may be useful to first look at the steps which can ease the optimization process.
YouTube's Algorithm Plays a Major Role in YouTube SEO
YouTube is itself a search engine for video content; hence, you need to make your video content catchy to get the algorithm's attention. You need to keep the following points in mind:
Fresh content and frequent uploads will boost your ranking.
The engagement level of your content can make a big difference to the ranking of your videos.
Optimizing the video content in the first 48 to 72 hours after uploading it plays a major role in impacting the ranking of your video.
Metadata is Your Savior in YouTube SEO
Another way to attract the algorithm's attention is by improving your video titles, descriptions used, meta tags, and annotations.
Online YouTube Keyword Generators can Improve Your Keyword Research Skills 
The most effective way to drive traffic to your videos is by knowing what people are looking for over the internet relevant to a particular topic. If you know what is being searched for, you will automatically be able to furnish it. Apart from the competitor analysis, keyword tools can save your day by pulling the historic information of the relevant search queries for a particular topic.
Using long-tail keywords, short tail keywords as well as, broad-term tags can make your videos rank better on YouTube. Google Trends is a smart tool which can show you trending topics from which you can choose a topic for your video. 
Now, we will look at the best YouTube keyword tools present in the market to support you in your quest for keywords.
Best YouTube Keyword Research Tools in 2020 For SEO Optimization
Let's take a look at our curated list below to know about the top YouTube tools to find better traffic-generating keywords:
1. VidIQ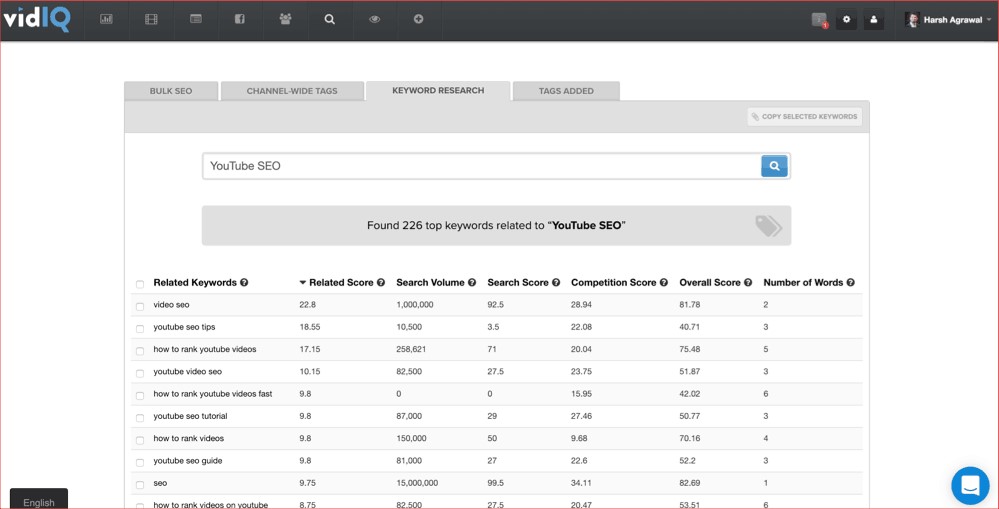 This tool is available at a subscription rate of $7.50 per month. VidIQ is certified by YouTube and it can provide insight on what is going on with the concerned topic for which you are researching.
It shows which are the topmost videos in SERPs.
It will help to search for relevant keyword terms that have reported in the previous month or year in the form of search queries.
It also shows the keyword rankings.
It will also suggest various tags for your videos.
---
2. Keyword Tool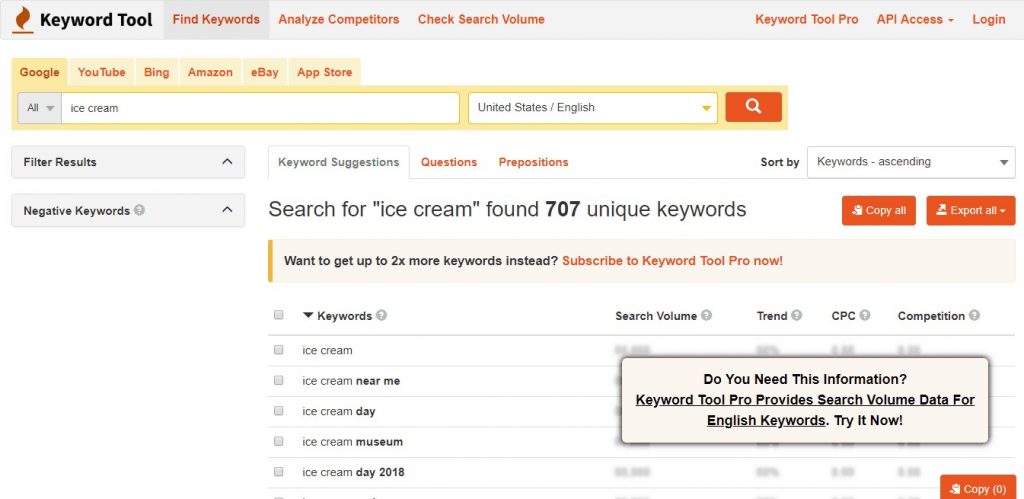 This tool is able to generate frequently used search queries from a few basic terms that you use to research your topic. This YouTube keyword tool is a YouTube autocomplete keyword program that can help you in finding relevant keywords for your needs. A basic keyword search is available in the free version. However, to get more benefits, you can buy a suitable plan, which ranges from $69 to $159 per month.
This tool can suggest appropriate keywords related to popular search queries.
It also shows a comparative analysis of how keywords are performing based on consumer behavior.
Cost-per -click data as well as, competitor analysis features, unlock when you are using the paid version.
---
3. Ahrefs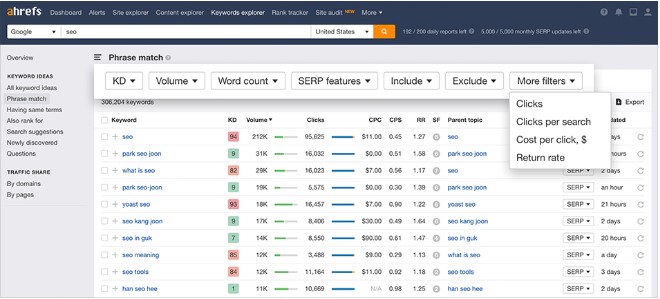 This has proved to be an excellent tool for marketers due to the exceptional services and features offered. They have some notable clients like Facebook, Netflix, and Uber. Priced at $99 per month for one user, this amount is definitely worth the deal. There are three other pricing options also available which are higher than the basic membership price in the aforementioned statement. You can also go for the 7-day trial period available for $7 that can give you an idea about whether the tool's performance meets your expectations. 
Read More: Best Free Video Sharing Sites Like YouTube
The tool has a simple UI.
The tool can help in YouTube SEO by showing the data volume of keywords searched from 171 countries.
The tool can show you the search queries surrounding your keyword.
It also has features like competitor analysis.
---
4. Keyword Tool Dominator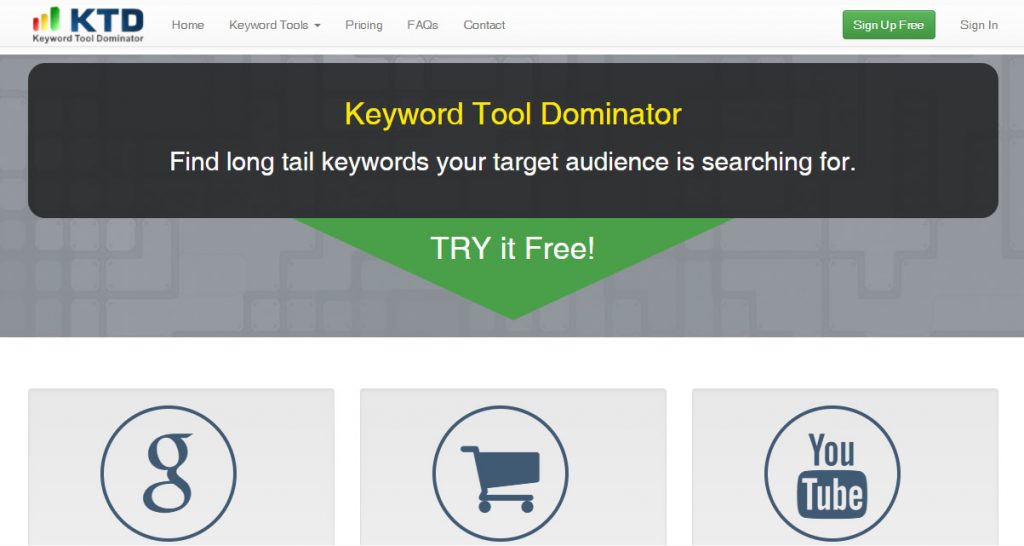 The tool works in collaboration with other search engines like Amazon, Etsy, eBay, and some more to act as a YouTube keyword planner extension. The tool is free up to three keyword searches per day beyond which you need to pay a one-time subscription price of $69.99.
With an easy to use interface, you can search a term on the search bar and get relevant keyword suggestions.
You can also export the results from the same screen.
---
5. Keyword Keg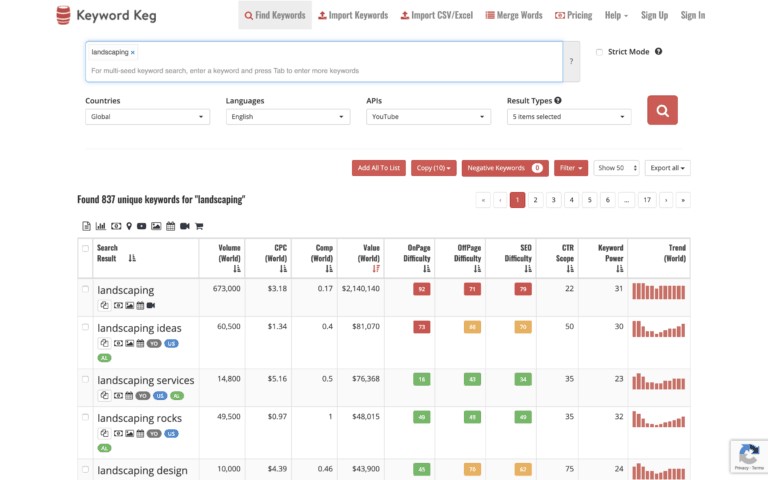 This is another useful YouTube keyword planner tool as it will enable you to take a look at the search queries relevant to your keyword terms. The subscription plans available are in the range of $40 to $280 per month.
The tool also provides additional information like the search volume of a particular search phrase and the associated CPC.
It is also capable of displaying whether a keyword is easy or difficult to use with the help of the "keyword power" factor that it can calculate based upon certain factors like CPC, monthly volume, SEO difficulty, and the CTR. The difficulty level is measured on a scale of 0 to 100.
---
6. TubeBuddy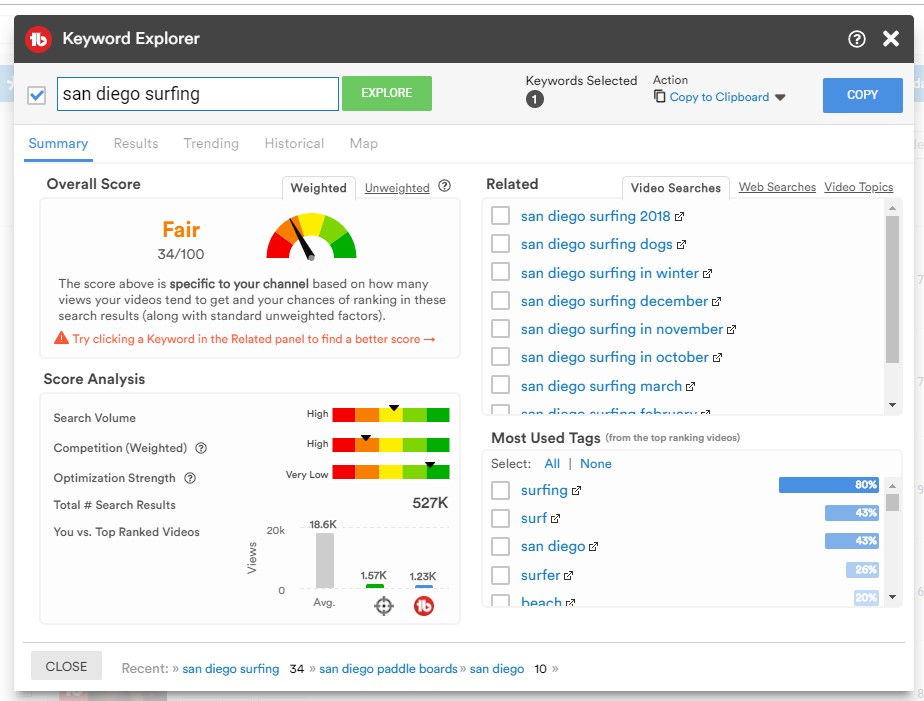 Another useful tool to help you optimize your YouTube video content, this tool as the name suggests, can act as your SEO buddy as it can pull relevant searches for your research term and that too for free. This YouTube keyword planner tool is certified by YouTube.
The dashboard can display the overall score for your research term.
It can pull related tags for your search phrase.
It also shows the search volume along with the competitiveness of the term.
---
7. Keywords Everywhere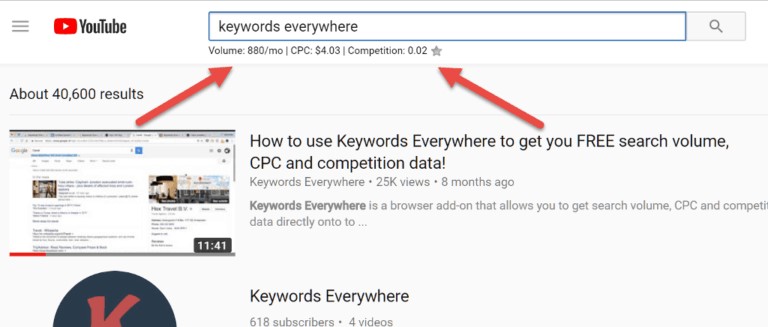 The tool can be downloaded for free and can be used in conjunction with another YouTube keyword tool. It can be used as a Chrome browser extension of even as a Firefox browser extension.
The tool can directly reveal on YouTube's search engine the search volume of the term, associated CPC and the competitiveness on AdWords.
---
8. Kparser

This tool is free to avail of the basic features but for enhanced features, it can be availed at $4.99 per month. This tool is excellent for YouTube SEO as it can generate relevant tags for your research term.
Read Also: Free Video Sharing Websites Other Than Youtube
The tool can show relevant tags and also display the search volume for the tags. It can also show the associated CPC with such terms.
It is highly suitable for international businesses. You have the option to view the results country-wise and search engine wise.
---
9. Hypersuggest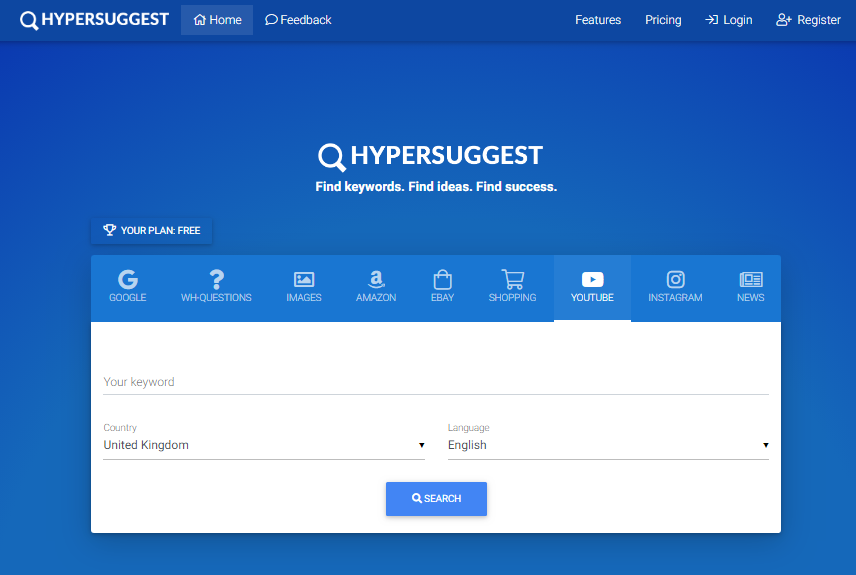 This tool works for nine different search channels. The tool is priced at $13.35 per month plus $4.40 for add-ons. There are many free features but the Pro plan can be used to access pro features.
The tool can collate all the top tags of YouTube videos which is relevant to your search query. 
It can also suggest the video title, description of the videos, tag list, and transcripts.
---
10. Tubular Labs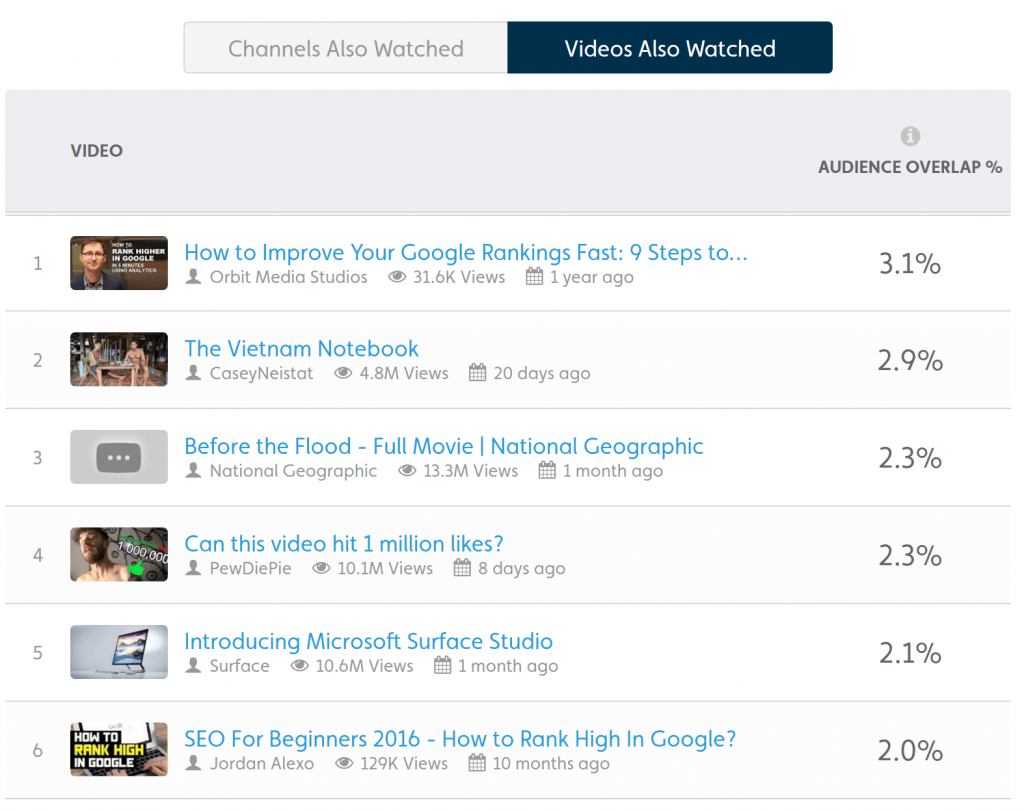 The YouTube dashboard of this tool provides valuable insights for content creators. This tool is free of cost for average users.
It provides audience insights.
This YouTube SEO tool also gives YouTube session insights like the user engagement level, subscriber base, etc.
---
11. Tubics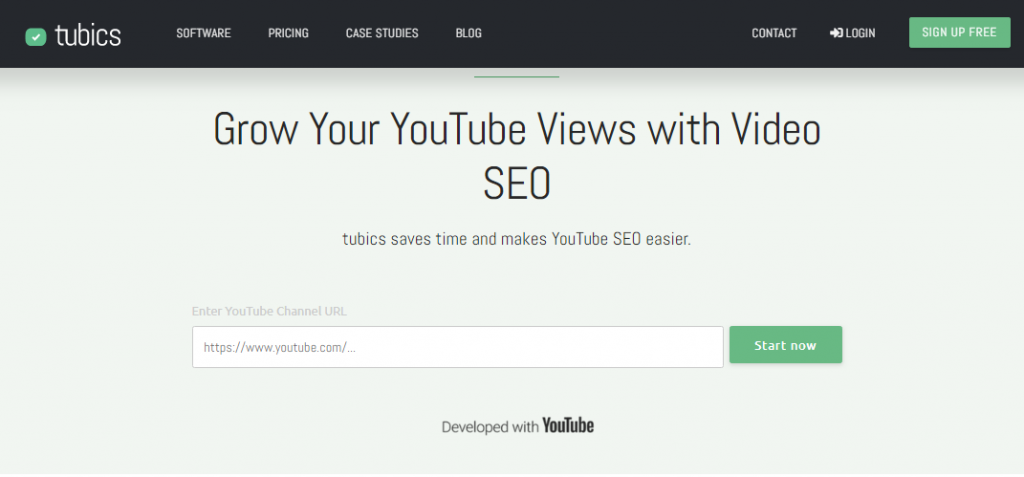 The tool is having a trial version for new channels followed by the pro version priced at $20 per month and another superior version priced at $98 per month. This YouTube SEO tool can help you in the following ways:
Suggests YouTube tags for videos.
Analyzes the real-time content of your YouTube channel.
Improves the video views with the help of professional thumbnails.
Also, get unlimited keywords in the free version, search volumes associated with those keywords.
---
12. Morning Fame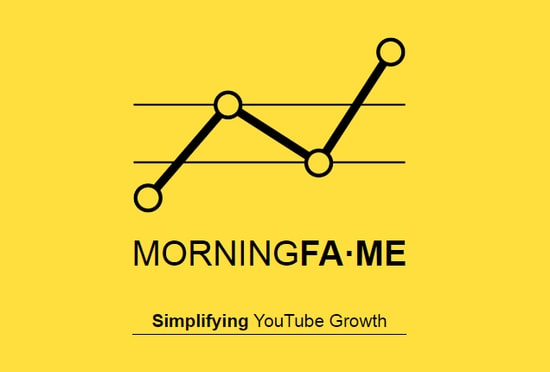 Here's another popular keyword tool for YouTube SEO, Morningfame. Any content creator out there who wants to get more views and subscribers on YouTube should try this excellent keyword research tool. Below are some of the major reasons to use Morningfame.
It provides in-depth insights to help you figure out what makes a particular YouTube video successful or flop. 
It compares your YouTube channel with other similar, competitive channels to provide better recommendations for increasing the reach of your audience.
---
Final Words: Best YouTube Keyword Research Tools to Grow Your Channel
These are some of the best YouTube keyword tools that can help you get proper keywords, tags, and other essentials required to grow your YouTube channel.
In conclusion, we can see from this article that following the best practices for gaining more views and subscribers not only involves creating engaging and unique video content but also using YouTube keyword research tools to discover proper traffic-generating video and channel tags.
Snigdha is a technical content writer with expertise in the field of science & technology. Though she has a very diverse academic and professional profile yet she finds writing to be a creative form that she was unable to explore so far. When not writing, she can be found indulging in other forms of creativity like painting or travelling.
Subscribe to Our
Newsletter

and stay informed

Keep yourself updated with the latest technology and trends with TechPout.
Related Posts