Best WiFi analyzer for Mac in 2023 (Free and Paid)

The availability of WiFi has increased over the years. And hence it is necessary to maintain their performance on Mac devices. Many users reported the issue of WiFi unable to deliver the required speed on Mac. For this, you need to install the best WiFi analyzer for Mac. These WiFi analyzer applications help you to identify the root cause of the issue and fix it to improve the WiFi speed.
If you are in the search of Best free WiFi analyzer Mac your search ends here. Read the complete guide to find out the best WiFi analyzer for Mac which can surely enhance your internet experience.
Before moving to the list it is important to understand the need for a WiFi Analyzer.
Need for WiFi Analyzer for Mac
Identify the sources that are interfering and get rid of them easily on your Mac.
Access points that are hidden can leak your sensitive data. Hence the Analyzer scans these malicious access points and warns the users about them.
When connecting to a new WiFi network it creates a fresh deployment plan by gathering all the available information.
The analyzer resolves all the configuration issues by choosing the WiFi channel that is least cluttered.
List of best WiFi Analyzer for Mac in 2023
Although there are uncountable options available over the internet for the Best WiFi analyzers for Mac we have shortlisted the best ones below. Read the features, pros, and cons of each to identify the best one for your device.
1. NetSpot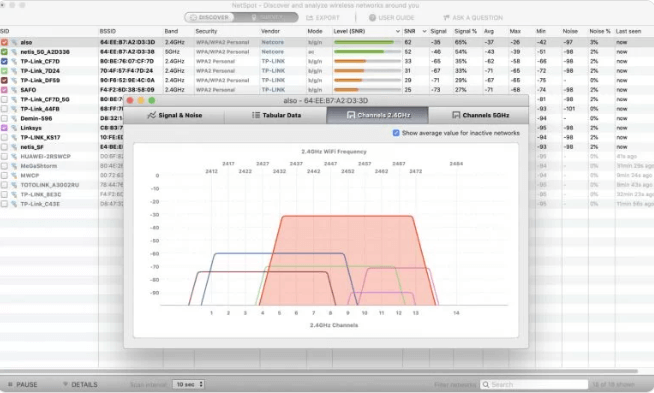 The first and best Free WiFi analyzer Mac is NetSpot. It has two modes of operation i.e Discover and Survey. The Discover mode is similar to the in-built Mac Wireless Diagnostic tool and displays colored visuals with graphs.
Whereas in Survey mode it gathers all the WiFi data and converts it into color coded heatmaps. With over 15 visualizations identify WiFi problems and resolve them to have a better WiFi network.
Pros
Powerful features
Color coded and interactive heatmaps
Easy-to-use interface
Free version of the app is generous
Real time charts available
Cons
Expensive when compared to other WiFi Analyzers for Mac
Also Read: Best Mac Disk Repair Software
---
2. WiFi Explorer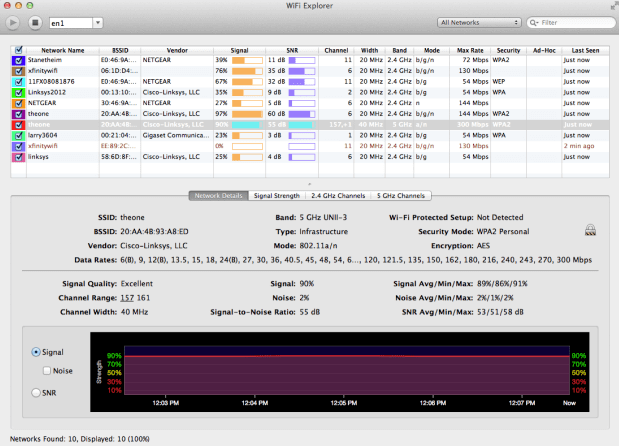 The next best free WiFi analyzer Mac on our list is WiFi Analyzer. The tool is available for 7 days free trial. It offers complete insight into different WiFi networks. Some notable features of the application are identifying channel conflicts, configuration issues, & overlapping that can lead to poor performance of WiFi networks.
Get the application on Mac store to get the advanced troubleshooting mechanisms and diagnostics. It is a complete package to deliver actions that are possible with a single tap.
Pros
The user interface is well-designed and clean
Decode the required network information
Cons
Unable to generate signal heatmaps.
---
3. Mac Wireless Diagnostics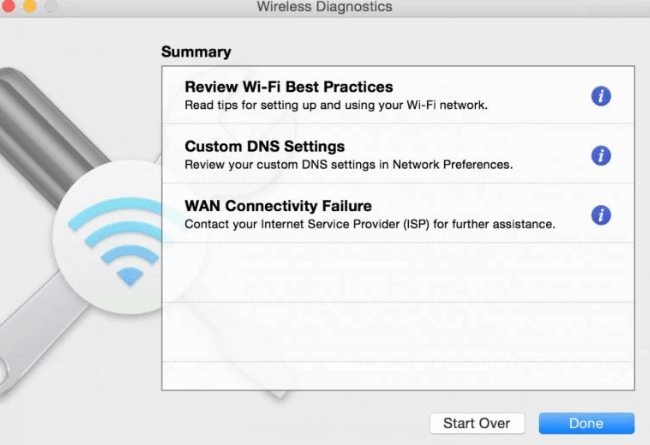 If you are someone who is a fan of in-built application stock this one's for you. So the best free WiFi analyzer for Mac is Mac Wireless Diagnostics. It enables users to troubleshoot issues and deal with email synchronizations without any major efforts.
It provides a complete graph for the quality of WiFi signals. Also, move around your space to find out the spot where the signal strength is maximum. To access the built-in Wireless Diagnostics tool here are the simple steps to apply on your Mac
Press & hold the Option key on your Mac keyboard. Choose the Open Wireless Diagnostics option.
Else, use the Command and Space keys together to activate Spotlight. Now search for the Wireless Diagnostic option.
Pros
Intuitive
Included by default in all the macOS devices
Offers quick and workable hacks to enhance network speed
Cons
Advanced features are missing
No visualization of Wifi coverage
In-built Mac Wireless Diagnostics
Also Read: Best Free Scanning Software For Mac
---
4. WiFi Scanner
With complete support of 2.4 & 5GHz networks and a list of channel bandwidths i.e 20, 40, 80, & 160 GHz the WiFi Scanner is one of the best WiFi Analyzer for Mac. It displays all reliable information about WiFi networks i.e SSID, RSSI, channel, encryption setting, quality of the signal, and Mac Address.
Although it's been a long time since the developers released any updates for the app it still works effectively on the latest Mac versions. However, for the application to work uninterruptedly make sure the location services are enabled. Head to System Preferences, expand the Security section and click on Privacy. Now enable the location for the WiFi scanner to identify the surrounding networks.
Pros
Upload or download speed testing for WiFi
Creates summary reports for your WiFi in the form of HTML file format.
Simple interface yet a culpable one.
Cons
Customer support is limited
No support for heat mapping
---
5. iStumbler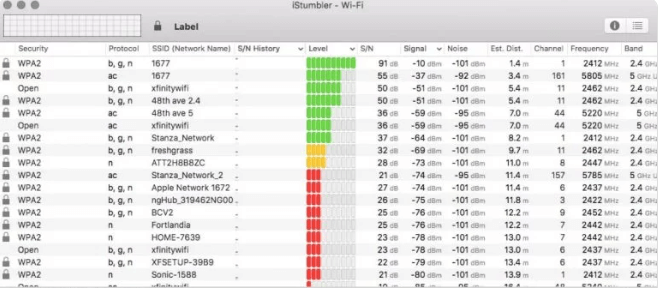 Another best WiFi Analyzer for Mac is iStumbler. The app has a barebone interface but is capable of some powerful functions when compared to other WiFi analyzers. Apart from WiFi networks the tool also offers the available information and location of Bluetooth devices & Bonjour services.
Use the tool with WyPry 5x to upgrade it to a spectrum analyzer. Although the iStumble has not been updated for a long time it still holds a position in the list of best WiFi analyzers for Mac.
Pros
Highly comprehensive list of features.
App version available even for the older Mac versions
App purchase possible from different app stores
Cons
Use interface is basic and minimal
To unlock the complete potential you must upgrade to the Paid version
Also Read: Best Free Mac Cleaner Apps to Clean and Optimize Your Mac 
---
Frequently Asked Questions (FAQs)
Q1. What is a WiFi Analyzer App for Mac? 
An application that can detect the wireless networks around you and can offer all the available information such as signal strength, channels used by the network, encryption method, etc is referred to as WiFi Analyzer. The gathered information by the analyzer helps users to improve their WiFi performance.
Q2. How is a WiFi Analyzer Application helpful?
The WiFi analyzer for Mac or Windows helps in gathering all the relevant information about the WiFi networks around. This information will ultimately guide the user to analyze these networks and choose the best WiFi channel for their device.
Q3. How to run WiFi diagnostic on Mac? 
To diagnose WiFi on your Mac device here are the simple steps to be followed
Click on the Option key and hold it.
Press the WiFi icon present on your menu bar and expand the open Wireless Diagnostics option.
In the popup that appears click on Continue to complete the diagnosis.
Also Read: Best Uninstaller for Mac to Completely Remove Unwanted Apps
Closing Lines on Best WiFi Analyzer for Mac in 2023
Hopefully, you were able to find the best WiFi Analyzer for Mac. The aforementioned list mentions the features, pros, and cons of each Analyzer. Depending upon your needs and skills you can choose the best alternative for yourself.
If you think we missed out on your favorite WiFi Analyzer for Mac do let us know in the comment section. If you have any questions or suggestions for us feel free to write them below. For more technical guides, lists, and news, subscribe to our blog. To never miss out on any updates make sure you follow us on Facebook, Twitter, Instagram, and Pinterest.
Akshara is an Engineer turned Technical Writer. She is a tech reader who aims to deliver the best of her knowledge to the readers without complicating it. If not writing you can find her in the kitchen, because no place serves the good tea.
Subscribe to Our
Newsletter

and stay informed

Keep yourself updated with the latest technology and trends with TechPout.
Related Posts