8 Best Twitch Extensions for Viewers & Streamers in 2023
Published Date :
Jun 15, 2023

With the help of the upcoming sections of this article, we will have a look at some of the most commonly used best Twitch extensions for viewers, console streamers, and others.
The purpose of employing Twitch extensions is to raise the level of interaction shown by the audience and to encourage repeat visits from the following you have. It's another step in the process of drawing in new followers! Therefore, it motivates you to make every effort on your end. Hence, to have a more satisfying experience while using Twitch, you can take the help of any of the best extensions for Twitch.
So without further preamble, let's get down to business and have a look at what a Twitch extension actually means and then move on to the best alternatives available for all.
What Exactly are the Twitch Extensions?
The remarkable panels and layouts that makeup Twitch extensions allow broadcasters access to an enormous amount of control. Extensions have the potential to give your channel a lot more weight and to get your community engaged in an even greater way than previously. However, the development of these sorts of Twitch tools is contracted out to other companies, and these third parties have already produced more than 200 extensions for Twitch.
You have the opportunity to include a variety of extensions in the stream that you are broadcasting on Twitch in order to provide the viewers with the necessary information. In general, there are video additions in addition to the panel extensions. At the moment, a streamer is able to play up to three video extensions in addition to the live feeds that they are playing. In a similar manner, there are several restrictions that may be used while using panel extensions.
Now that the definition of the Twitch extension is straightened out, let's understand why you should use the top Twitch extensions.
---
Why Should You Use the Best Twitch Addons?
The ultimate goal of the Twitch Extensions is to contribute to the expansion of the channel. However, streamers should be educated more on the perks that are listed below.
Alluring
If you have looked at the profile of any streamer who uses such extensions, you will see that it has a really appealing appearance. The audience will get more information from these extensions, and your broadcast will seem to be more engaging as a result.
Excellent for Gathering User Input
You also have the option of including customer feedback forms in order to collect information about your subscribers. Because it is such a large contributor to the development of the channel, it will have a favorable effect. Based on the questions they ask, you may make more improvements to your live streaming or designing approach.
Encourages Individualization
It is among the most effective approaches to personalizing your Twitch channel. Your audience won't feel as if they are on an alien track thanks to the personalization, which means they are more likely to participate. In addition, you may have many sorts of extensions, each of which can be utilized for a certain purpose.
Now that we got that out of the way, let's discuss the essential Twitch extensions that every streamer needs. If you make effective use of them, your Twitch channel's engagement rate might increase by a factor of several times over.
Also Read: How To Install & Watch Twitch On Roku
---
Best Twitch Extensions for Viewers and Streamers in 2023
As was just said, there are different sorts of best extensions for Twitch that may be loaded into the Twitch feed. Depending on how you use it, each extension accomplishes a certain goal. Let's take a look at these tools in light of the goals to which they are connected.
1. Streamlabs Merch Extension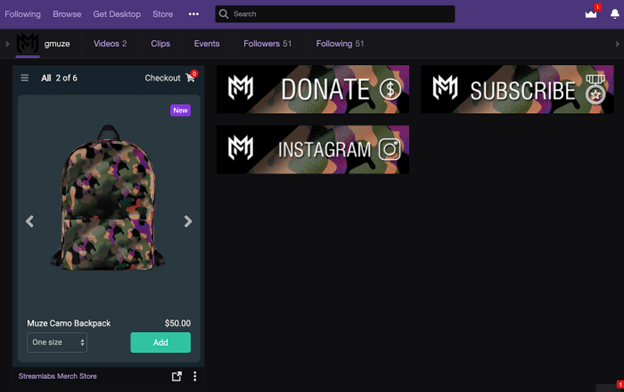 The purpose of Twitch's Streamlabs, which is an all-in-one solution, is to improve the entire experience of viewers on the platform so that they will remain active users of the service. This is one of the best Twitch extensions for console streamers as it offers multiple functionalities.
It allows the viewers to play minigames, request songs, collect loyalty points, vote in polls, enter prizes, request music, and do a lot more. Additionally, it provides a number of widgets that can be found in the Twitch Extension Manager. All these features make it one of the best extensions for Twitch. Some examples of these widgets are Chatbox, Alertbox, Donation Tricker, Donation Goal, The Jar, and others.
---
2. Sound Alerts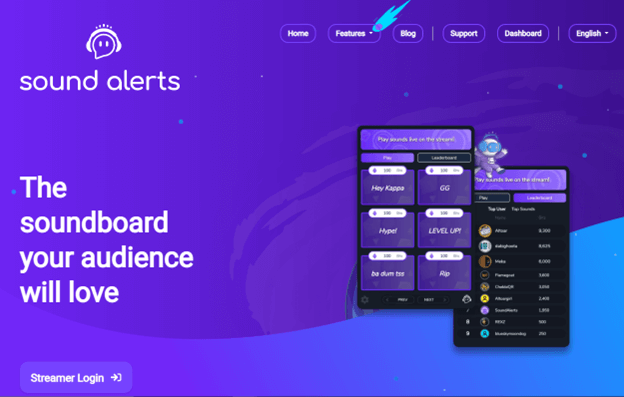 Streamers may find it helpful to utilize Sound Alerts in order to upload noises and music while simultaneously assigning various buttons. In addition to this, they will get a commission of around 20% for the viewers' bits that are used to play these buttons. Additionally, these bits count toward the Bits Leaderboard and the Bits Chat Badge tally. Hence, it is one of the best Twitch chat extensions.
---
3. Snap Camera

The next name in this list of the best Twitch extensions for new streamers is Snap Camera. To replicate the fun that can be had with Snapchat Lenses on Twitch, this plugin is an absolute need. Viewers have the ability to unlock and choose from hundreds of face lenses, ranging from those created by legendary classics to those made by the Lens Studio community. They even have the ability to initiate subscriptions to the channel, provided that the viewer in question is a Twitch affiliate partner. Hence, all these attributes make this tool one of the best Twitch addons.
Also Read: Best Discord Music Bot
---
4. Unwanted Twitch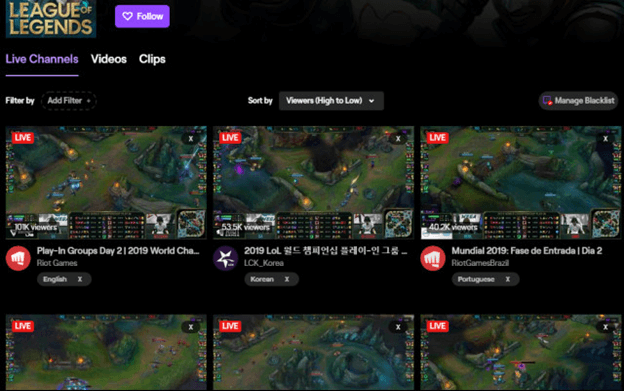 The next best alternative as one of the best Twitch extensions for viewers is Unwanted Twitch. You may conceal undesired streams, games, channels, categories, tags, and other content with the help of this plugin. Additionally, it has the ability to hide undesired tags and broadcast repeats from the channel on Twitch. Other features include the ability to alter the display of X buttons, the ability to share blacklists with export/import, and automatic synchronization of the blacklist. Moreover, you can also use this one of the top Twitch extensions for a one-click toggle.
---
5. Twitch Chat Overhaul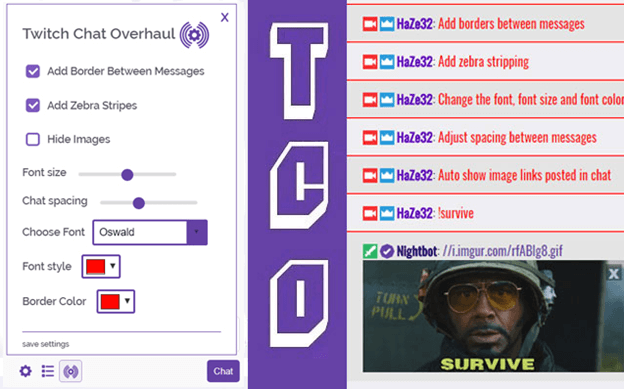 By installing this one of the best Twitch extensions for new streamers, you may give your audience the impression that they are participating in a facilitated and personalized discussion. It is able to adjust the text size, alter the conversation spacing, and do other similar functions. Overall, it will make it simpler for viewers to understand the conversation. This is done by allowing them to make adjustments to the chat's many specifications. Such as its font color, font size, message spacing, adding borders, zebra striping, and showing pictures inside the chat. So, these are some of the features that you get with this one of the best Twitch chat extensions.
---
6. Twitch Adblock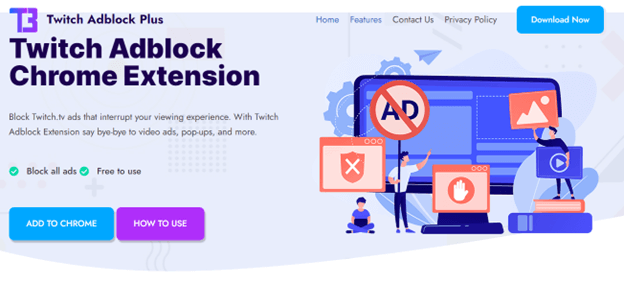 The next name on this list of the best Twitch extensions for console streamers is Twitch Adblock. The obnoxious advertisements that users see when watching live broadcasts may be blocked with the help of Twitch Adblock. If you do not want any interruptions to occur while your audience is viewing your material, you may make use of this addon. However, according to the rules of Twitch, you need to exercise caution while using this addon. If this one of the best extensions for Twitch didn't float your boat. Try the next one.
Also Read: Best Twitch Alternatives
---
7. Frankerfacez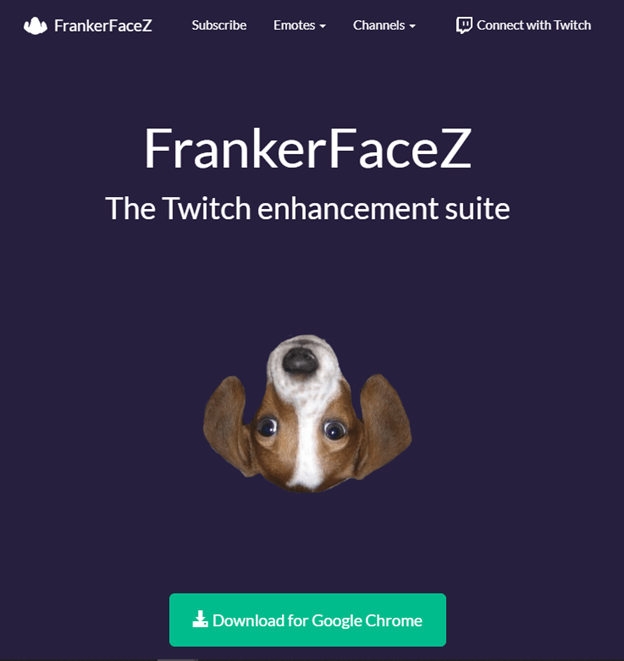 It is the next one of the best Twitch extensions for console streamers to incorporate emotes into their own broadcasts. The whole chat layout of your Twitch broadcast may be modified with the help of this plugin. The moderating of the discussion will take place at an expert level using a variety of methods. In addition to this, it grants access to a variety of one-of-a-kind features. Such as dark themes, chat rooms with tabs, protection from harmful URLs, individualized keyword highlighting, and so on. Try this one of the best extensions for Twitch for more information.
---
8. Betterttv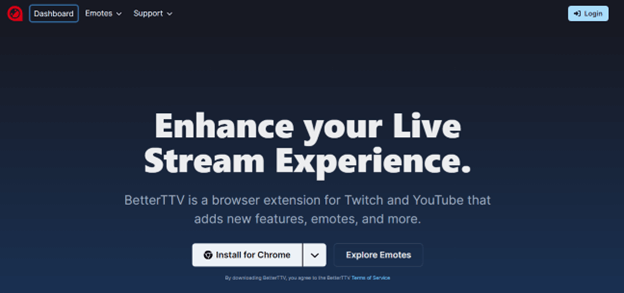 If you want to include a greater variety of emotes in your Twitch broadcasts, this is your best option. BetterTv is one of the best Twitch extensions for viewers and streamers. The Better Twitch TV, often known as BTTV, is a wonderful tool for adding more emoticons. In addition to that, it comes with a number of other useful features. Such as Anon Chat, which enables users to join a channel without the channel ever being seen in the list. It has split chat lines that are simple to use for reading reasons. Then, you may use this extension to add a phrase or word to the blacklist as well. This is indeed one of the best Twitch addons.
---
Summing Up: The Best Twitch Extensions
So, here we are summing up the best Twitch extensions in 2023. If you are serious about making money and monetizing the platform, you should acknowledge the relevance of these extensions. To achieve this goal, it is very important to personalize your Twitch channel with a variety of such features. You can obtain these features from Twitch itself or from third parties. However, you need to ensure that you follow the rules carefully.
Also Read: Best Free Sports Streaming Sites
If you need any type of help in selecting or using the best Twitch extensions, you can connect with us. Write your queries and concerns in the comments section below. You can also provide reliable feedback on the article as well. Subscribe to the newsletter from our blog page for such interesting updates. Follow us on various social media platforms including Facebook, Twitter, Instagram, Pinterest, and Tumblr.
Devesh, being a technical writer, likes to research and write technology articles and solutions to help others. Having great knowledge about the tech world and its working, he likes to pour the same into his write-ups. Before starting any write-up, he likes to pen down his thoughts and flaunt a creative edge in the same. Apart from being a writer, his primary interests include reading books and poems, cooking, and playing video games.
Subscribe to Our
Newsletter

and stay informed

Keep yourself updated with the latest technology and trends with TechPout.
Related Posts