You have no choice but to file your taxes, but purchasing one of the below-mentioned tax software solutions, alleviates some of the anxiety and difficulty associated with this chore and makes it much simpler.
The process of doing your yearly taxes might seem like a hassle. This is because of a complicated list of laws to adhere to, which can terrify the majority of people. In point of fact, even tax specialists may have occasions when they need advice through the process of optimizing deductions and boosting the number of possible refunds.
We have compiled a list of the finest tax software applications available in 2023 so that your experience will be as stress-free and pleasant as possible. We have produced a list of the top tax software that is compatible with mobile devices, and we have laid out the benefits and drawbacks of each option.
Tax applications and websites simply keep getting better. If utilizing a web-based tax solution in the past has left you feeling confused or overwhelmed, you might think about giving it another go this year. Read our in-depth evaluations to locate the company that best meets your requirements about your finances. It is possible that the process of doing your taxes may surprise you with how simple it is.
Our ranking takes into consideration the familiarity of the user with the tax filing process, the ease of use of the software, the cost of filing, and the best tax programs for basic or complicated returns, depending on the user's requirements.
List of Best Tax Software for Mac:
The following section mentions the best free tax software for Mac. Go through the list and choose the most suitable option for your device.
1. TurboTax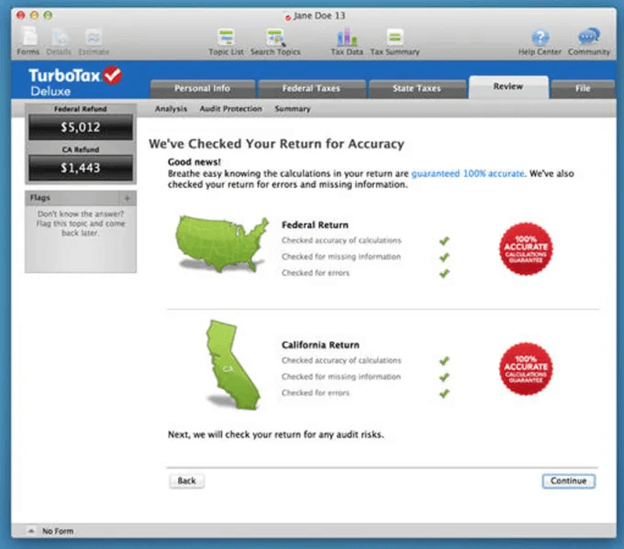 This user-friendly application, which is one of the most popular tax software alternatives that are now accessible, is able to make the process of filing your taxes easy and uncomplicated for you. With TurboTax's user-friendly design and straightforward, step-by-step instructions, even a tax filing newbie won't have any trouble getting a firm handle on the process of submitting tax returns.
Key Features of TurboTax:
The program offers assistance for the management of several tax forms, tax deductions, and tax credits.
In addition to that, it will provide audit assistance and it will ensure that the calculations are correct, which will provide customers peace of mind while they are submitting their taxes. These programs come with professional tax guidance and ideas that are likely to assist you in maximizing the amount of money that you get from your tax return.
Using the free version of TurboTax, you are able to file your basic tax returns on your own and do so without having to pay any fees.
If, on the other hand, you feel more comfortable receiving assistance from a third party, you have the option of purchasing either TurboTax Live Assisted Basic or TurboTax Live Full Service Basic at the pricing that has been provided.
With the help of professional tax guidance and recommendations, you may maximize the amount of money that you receive back from your taxes.
However, if you go through the free plan very soon, it is possible that you will only obtain the most basic customer care. You may either choose to utilize the version that is available online or download it to your Mac so that you can use it whenever it is most convenient for you. It should come as no surprise that TurboTax is one of the most popular options for tax software given its extensive feature set and the high level of free functionality it provides.
Also Read: Accounting Software for Mac for Small Business and Enterprises
---
2. TaxAct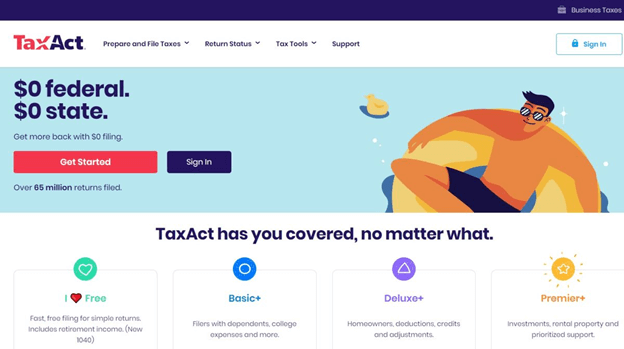 Being the very best might sometimes come at a high financial cost. It's possible that you'll find TaxAct to be more expensive than the other options, but there's no getting around the fact that the quality of the services it offers is unrivaled. This program is not only the most suitable option for proprietors of businesses required to file a Schedule C, but it also provides support for a wide variety of tax forms.
Key Features of TaxAct:
TaxAct is an excellent choice for those who are interested in lowering their tax liability without lowering the level of service they get because of its audit assistance and tax planning tools.
In addition, the support for the most recent tax rules and regulations that is already incorporated into the software guarantees that your taxes are submitted accurately.
If you are the proprietor of a company, we strongly suggest that you have a look at the applications that we have compiled under the category of task management so that you may keep on top of your job.
There is a wide range of possibilities, from the most fundamental to the most complex, so that any user, from those who have never filed taxes before to seasoned tax experts, may find something that suits their needs.
TaxAct guides you step by step through the process of filing your taxes, from inputting your income to choosing the appropriate deductions.
Negotiate all of the intricate laws and procedures that the IRS requires in order to get the most possible tax savings.
The program provides users with access to a comprehensive library of tax forms and assistance, in-depth tutorials to assist with the filing process, and an integrated audit shield to assist users in protecting themselves from any prospective audits. When it comes to finding the finest tax software for Mac users, TaxAct is an excellent option to consider.
---
3. Credit Karma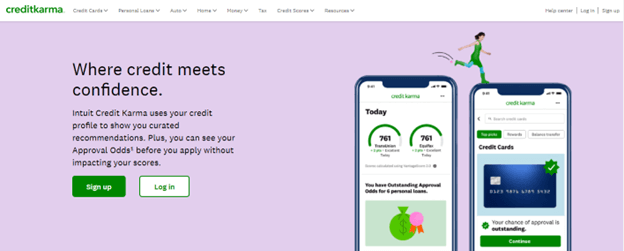 Credit Karma is the tool you need if you are operating on a limited spending plan and are getting close to the end of your fiscal year. The program is simple to use and provides an end-all, be-all answer to all of your accounting requirements on top of its support for a variety of tax forms. Tools for improving credit use and providing audit assistance are only the frosting on the cake. This program is deserving of its position as a famous tax solution because of its speed and precision.
Key Features of Credit Karma:
The program is capable of supporting a wide variety of filing types, such as joint filing, free filing of federal taxes, and free live tax counseling.
Increase your profit margins by taking advantage of the many tax deductions, credits, and exemptions that are available to you.
Through its robust reporting and filing features, it provides its customers with the ability to maintain their composure in the face of any challenge.
You may benefit in the long term by using some of Credit Karma's more complex tools, such as the risk management tool, the income verification option, and the asset monitoring feature.
Discover that you are unable to go on with the procedure in either direction, experienced tax specialists will be available to provide you with individualized assistance.
In addition, you have the option of importing the data from the prior fiscal year. In a nutshell, this program includes everything you could possibly need in one convenient location.
Therefore, if you want to get first-hand knowledge of the companies that are at the top in their field, sign up for a trial that offers free IRS filing, no cost returns, and free direct filing. Users of the Mac operating system who are seeking for tax software that is both effective and inexpensive can consider Credit Karma.
---
4. TaxJar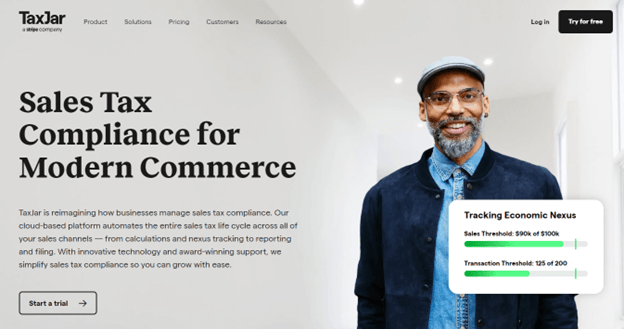 TaxJar is the best choice for you if you are seeking for software that specializes in dealing with e-commerce and sales taxes, as is the case with TaxJar. TaxJar provides a variety of one-of-a-kind services in addition to being supported by a number of e-commerce platforms. These features include automatic sales tax computation, tax reporting, and filing help.
Key Features of TaxJar:
Getting better deductions and increasing the amount of money you receive back from the government is all possible with the help of TaxJar.
In addition, the advanced monitoring and analytics guarantee that you do not fall behind in your tax preparation and that you are on top of everything at all times.
The program receives annual updates that bring it into compliance with the most recent rules and regulations, therefore establishing it as a trustworthy and dependable source of information.
In addition to this, TaxJar provides customers with an automated system that enables them to keep track of their costs, analyze their data, produce reports, and submit their taxes.
This program may also sync with widely used apps such as QuickBooks, making it possible for you to do tax management tasks in a more effective manner.
In spite of this, if you are still skeptical about TaxJar, don't be afraid to join up for a free trial for a period of thirty days without providing a credit card. Mac users who are looking for tax software that is practical, dependable, and affordable need go no farther than TaxJar. This program is ideal for everyone who has to file their taxes, whether they are an individual, company owner, or freelancer. TaxJar simplifies the process of filing taxes on a Mac, no matter how complicated the return may be. Using the most cost-effective method available to you will help you streamline the process of completing your taxes.
Also Read: Price Tracking Tools You Must Try
---
5. TaxSlayer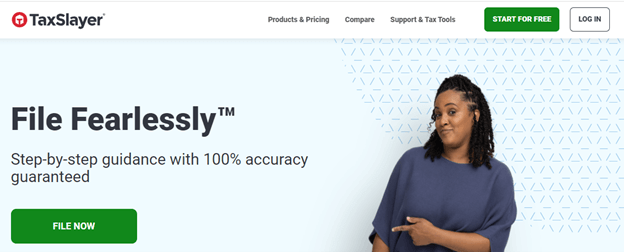 TaxSlayer is a cloud-based tax software that enables customers to conveniently and quickly submit their taxes while maintaining a high level of security. This tool is the only one of its type since it supports a broad variety of forms and comes equipped with a comprehensive set of capabilities.
Key Features of TaxSlayer:
Automatic tax filing, accuracy checks, and choices for direct payment. In addition to its low cost and intuitive operation, TaxSlayer is an attractive option.
Users are able to easily complete the forms with little difficulty because of the streamlined method of data entering.
As a result of TaxSlayer's use of robust algorithms and methods for doing thorough checks, you can rest easy knowing that the software will provide accurate results.
In addition, customers are able to make use of a wide number of tools, including reminders to prepare their taxes, automated tax deductions, and many more.
The quality of the software continues to improve. It includes free tax advice help, there are no fees for filing state taxes, and there are no costs associated with getting refunds.
In addition, TaxSlayer complies with all applicable state and federal rules and regulations. Do not be afraid to bring up issues with TaxSlayer, even if you find yourself unable to go forward with issues such as e-filing with the IRS.
TaxSlayer offers a fantastic customer support system, providing both live chat and phone help to address questions of any sort. They have been killing it in this department. If you are looking for a tax software application that is compatible with Macs, TaxSlayer is the best option due to the extensive set of features it offers as well as the customer assistance choices it provides.
---
6. The H&R Block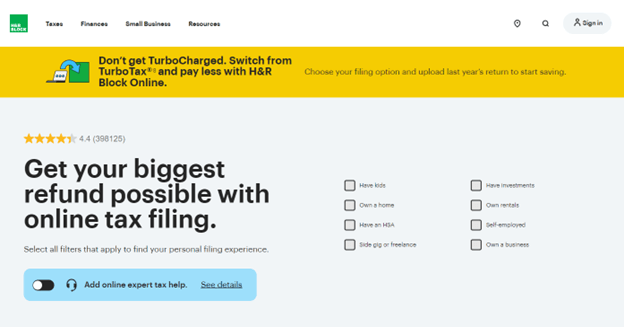 H&R Block, which is famous for its ease of use, is another example of a blessing in disguise since it was designed to guide you through the process of filing your taxes. It is the best option for everyone who wants to submit their taxes in a way that is straightforward and simple to understand and utilize. You may get your hands on special features such as tax deductions and credit optimization in addition to the well-organized support from H&R Block.
Key Features of H&R Block:
It provides a wide range of advice, suggestions, and support services to assist you in comprehending the procedure and ensuring that it goes as smoothly as is humanly possible.
You will be able to effortlessly browse through the many tax forms and get the highest potential return thanks to the interface's accuracy and simplicity.
In addition to this, the application may notify you of any potential inaccuracies, ensuring that you get the highest possible return.
You will be able to do your work quickly and easily with the help of H&R Block's enormous database, which is organized to deliver everything in one location.
Mac customers have had H&R Block as their first choice for a considerable amount of time due to the company's status as a reliable industry pioneer ever since the year 1995.
In addition, H&R Block has continued to advance its position in the rapidly developing market for tax software, and the company's most recent version for Mac users is the most comprehensive, up-to-current, and precise version to date.
In the year 2023, H&R Block is one of the top tax software alternatives that is accessible for Mac users. This holds true regardless of whether you are an experienced veteran or are just starting out.
---
7. Liberty Tax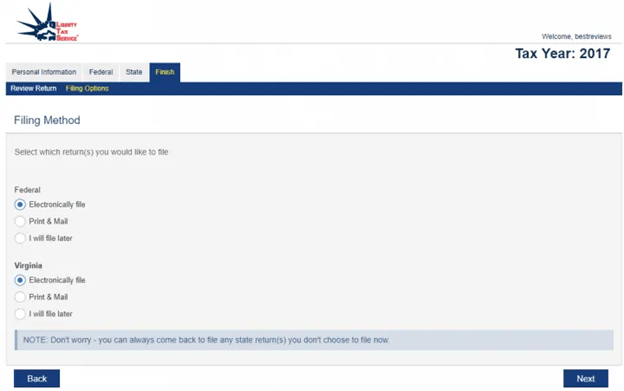 A reputable offline tax preparer has recently expanded their offerings to include an online tax preparation service under the name Liberty Tax. The pages load quickly, and the user interface is uncluttered and straightforward.
Key Features of Liberty Tax:
The website provides a useful tool for writing reviews, and the mobile applications it offers make it feasible to compose a brief review on a portable device.
Taxpayers who are familiar with Liberty Tax and do not want to deal with the hassle of learning a new website may find it appealing to utilize Liberty Tax.
If you are an existing customer of Liberty Tax who does your taxes in person and you want to attempt to save some money by doing your taxes on your own, this may also be a suitable option for you.
Also Read: Best Free Mac Windows Manager to Use
---
Closing Lines of Best Tax Software for Mac:
When opposed to completing your taxes using paper forms, using the best tax software for Mac and filing services may save you a significant amount of time as well as stress. They could even be able to save you money by pointing out deductions that you hadn't thought of taking advantage of. Therefore, there is no longer any need for you to worry about your taxes. Choose the piece of software that best suits your needs, and then sit back and let it do all of the laborious tasks.
If you have any questions or concerns regarding free tax software for Mac then take the help of the comments section below. We would be happy to help you in every possible way. Moreover, you can also follow our social media pages on Facebook, Instagram, Twitter, or Pinterest. Don't forget to subscribe before you go. See you in the next post.
Akshara is an Engineer turned Technical Writer. She is a tech reader who aims to deliver the best of her knowledge to the readers without complicating it. If not writing you can find her in the kitchen, because no place serves the good tea.
Subscribe to Our
Newsletter

and stay informed

Keep yourself updated with the latest technology and trends with TechPout.
Related Posts