Best Reddit Alternatives | Sites Like Reddit 2022

For finding out what's fresh and happening on the Internet, Reddit is the most widely used website. Reddit attracts a sizable audience thanks to its focus on the Internet, technology, entertainment, groundbreaking discoveries, politics, and the hottest stories involving well-known people.
Additionally, the ability to remain anonymous allows everyone to debate various subjects freely. It provides a public forum where everyone can engage and discuss multiple topics, express their opinions, etc. You'll find it all right here, whatever you're looking for on the Internet, whether it's amusing memes, viral videos, breaking news, entertaining tales, or the most recent posts.
However, many best Reddit Alternatives can be used in its place. These Reddit substitutes might serve a narrower audience and distinctively offer services. In some instances, Reddit may not even compare to them. So, here are the top 10 Reddit alternatives for 2022 that you can use if you need a short break from the website.
List of 10 Best Reddit Alternatives
There are several possibilities available if you're looking for the best alternatives to Reddit for various reasons and want to start or join a community on a forum website or platform. Here is a comprehensive list of everything you might try and the functions they are meant to fulfill so you can choose Reddit similar apps wisely!
1. Hive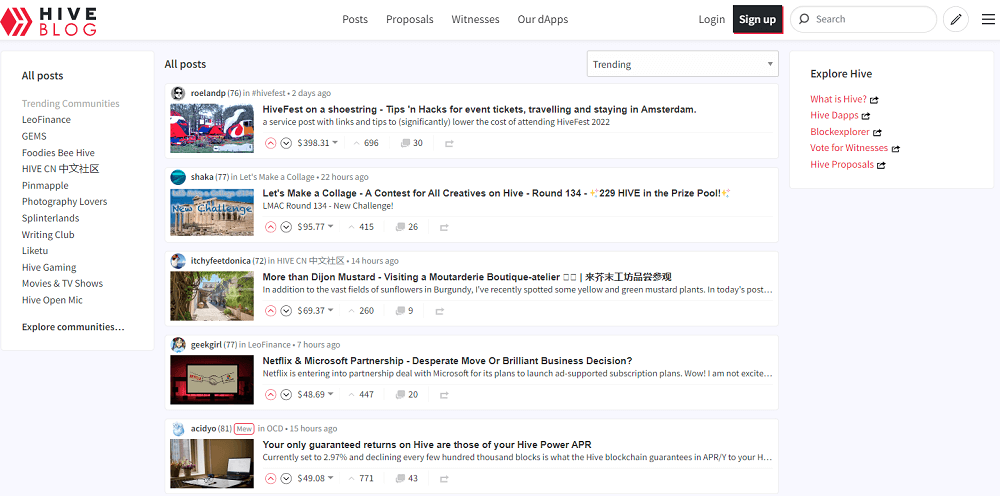 Hive is the first on our list of the top 10 Reddit substitutes for 2022. Similar to Reddit, Hive Blog is a social network and blogging platform. The site was initially known as Whoosh, which changed to Hive when it received funding for its business.
The website was initially created as an experiment and started with only 100 users before snowballing, thanks to positive reviews on social networks Twitter and Facebook. It also gained recognition from well-known websites such as the BBC and Mashable.
Despite being much smaller than Reddit, the website's main user interface (UI) will be familiar to Reddit users because of its similar post style and UX components. Additionally, just like Reddit, Hive offers upvotes and downvotes, and there are communities you can join and be a part of. These communities are effectively subreddits. You should be able to locate whatever it is you want to discuss because Hive has communities for various themes.
One can post fresh content, repost other people's postings, and leave comments on each other's. You can also follow communities or subjects relevant to you and participate in discussions. Hive functions admirably as a forum and is a good option for anyone seeking a social media platform similar to Reddit. Overall, Hive is a great choice to explore if you are looking for a replacement for Reddit.
Also Read: Best and Free Loom Alternatives 
---
2. Quora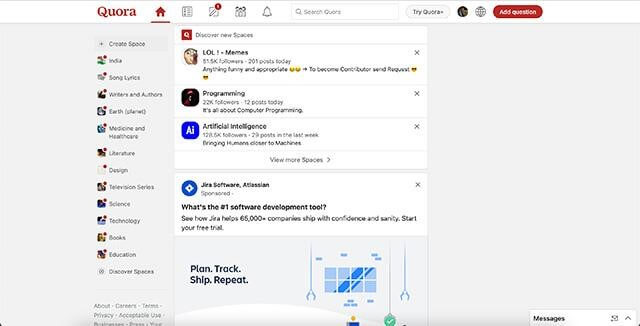 We're confident that Quora doesn't require an introduction. For essential conversations among the crowd, it offers the perfect setting. You will likely discover a solution on Quora provided by other online peers, regardless of your question's subject or level of sophistication.
An intellectual discussion that started with a straightforward inquiry can often be found on Quora. On the website, users of Quora can post questions that other users, who may know the subject, can respond to. If you are an expert on the subject, you may write the answers yourself or ask questions and get replies from professionals.
Simply choose the subjects that interest you, and you will receive all the questions and comments on that subject. After that, you can decide how many questions to respond to. Your level of authority in the community will rise due to your responses. Other people can follow you while also following other professionals.
You may interact with your peers in a community setting on Quora without worrying about spamming posts. With this Reddit substitute, you can do it in an informed and constructive manner.
---
3. 4Chan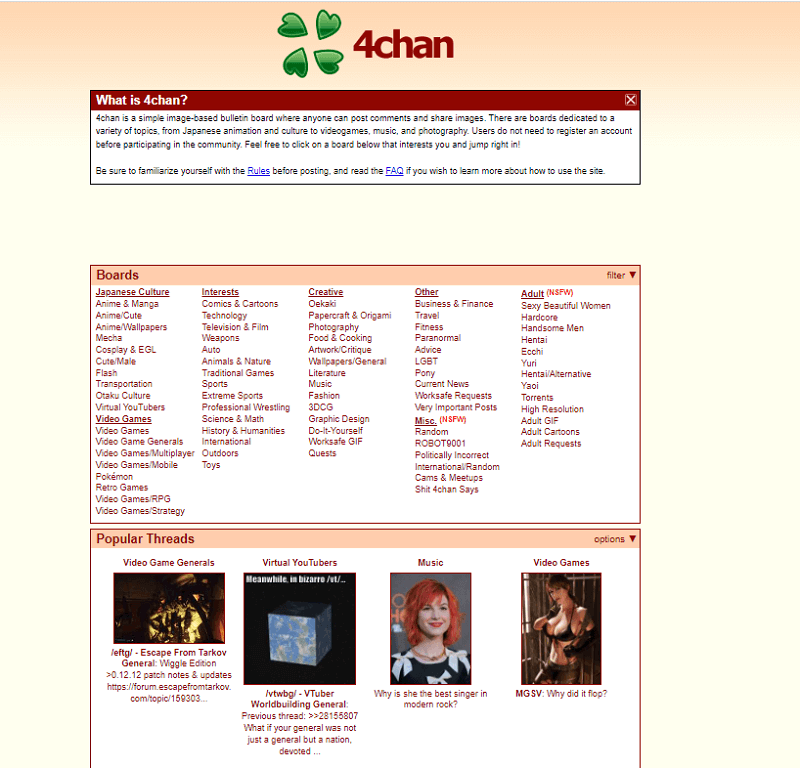 4Chan is one of the most well-liked communities and the best Reddit alternatives out there. Users of the image board 4Chan can share images on their favorite boards and remark on other people's shares. On their favorite boards, anybody and everyone can submit their photos and leave comments without creating an account. You may engage in your favorite communities without creating an account.
It doesn't matter what you're interested in—music, video games, movies, technology, Japanese anime, etc.—4Chan has a board for it. The message board also has an adult section where all the NSFW content is posted for the adults. Of course, you are free to use whatever name you wish when posting your material anonymously.
Users are not confined to publishing text-based content, unlike Reddit. Additionally, they can share pictures and videos. The website is renowned for its "meme" culture. Overall, it's an excellent free Reddit substitute for practically everything you want to learn.
---
4. Slashdot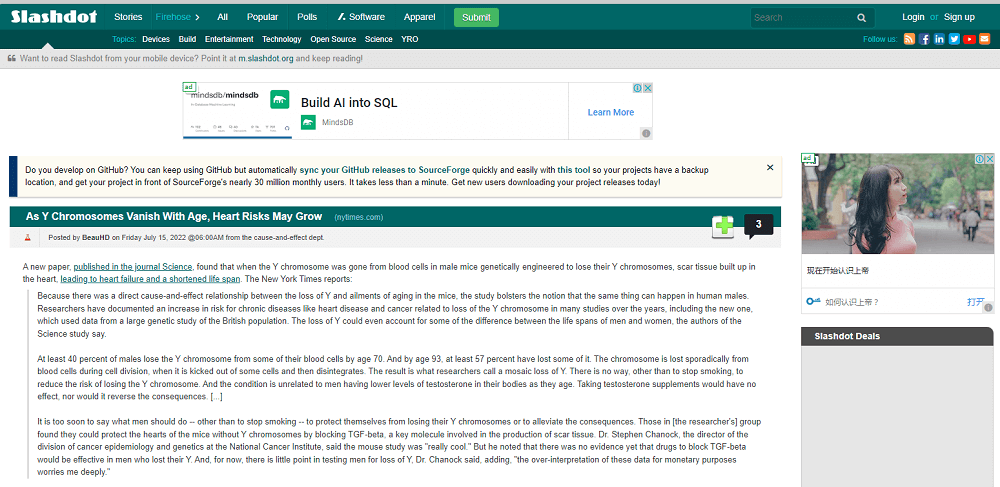 You should bookmark Slashdot in your browser if you're seeking a replacement of Reddit to stay up to date on the latest technology news. Slashdot provides the most recent tech news from tens of thousands of sources. Finding each piece of information and reading it on several websites is a big hassle. Getting the most recent news is made simple for everyone via Slashdot.
The front page of this website has all the technological news from numerous sources. Following that, you can join in on the debates and comments to share your thoughts on the narrative with everyone. If you are a tech-knowledgeable person, Slashdot is the best Reddit alternative for you. You can express your opinions or statements on an article and join discussions that interest you to stay updated on the newest news and technology.
Also Read: Best Flash Player Alternatives
---
5. Imgur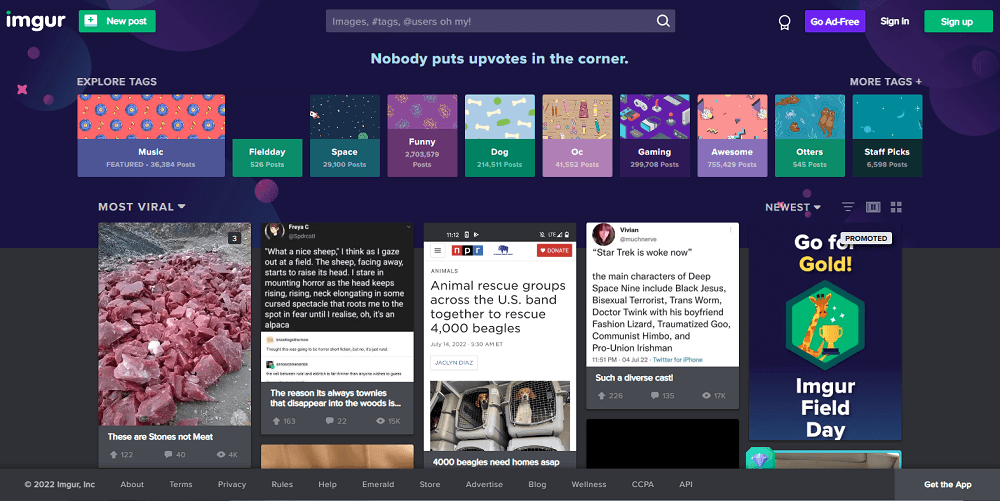 Imgur isn't really a discussion board like Reddit. Nevertheless, Imgur is the place to go if you're primarily seeking a virtually limitless collection of photographs. Due to its versatility and ease of use, it is a well-liked Reddit alternative by social networking platforms like Twitter and Reddit users.
Here, especially those Reddit-posted memes and viral postings, are simple to uncover. In fact, Imgur links are the most used way to distribute photographs on Reddit. In addition, you can rapidly search for the items you're looking for because the website functions like a repository of photos of various categories.
Imgur is one of the best alternatives to Reddit that includes multiple kinds of pictures, whether they are of a sport, a piece of technology, or even memes. In addition, Imgur features tags that are used to gather images while not having functionality like Reddit's subreddits. So, even though Imgur differs a little from Reddit, one can find the most popular articles, photos, GIFs, or memes on relevant subjects there.
---
6. Steemit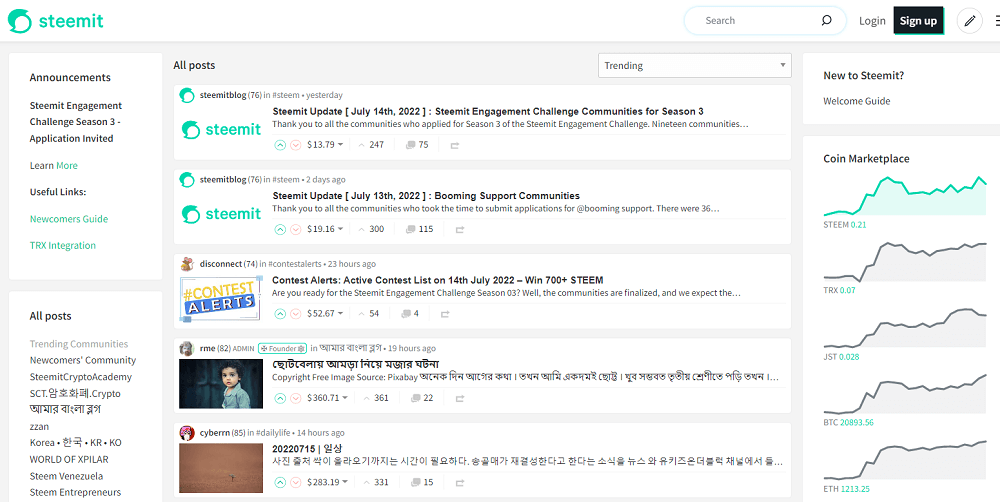 The first Reddit alternative and competitor was Steemit, which was also one of the most popular Reddit substitutes for a long time. It is a social media and blogging platform built on the blockchain that enables users to publish and curate their content in exchange for the company's cryptocurrency, STEEM.
You can post here, comment on topics, and cast upvotes and downvotes to express your opinion on any subject, just like on Reddit. However, Steemit, in contrast to Reddit, really rewards upvoted posts and compensates users for the number of upvotes their posts receive.
Despite being a fantastic idea, Steemit frequently has clickbait or spammy postings, which makes the community less inviting. Therefore, if you're interested in the bitcoin sector, Steemit is arguably the best Reddit alternative you can join.
---
7. Hacker News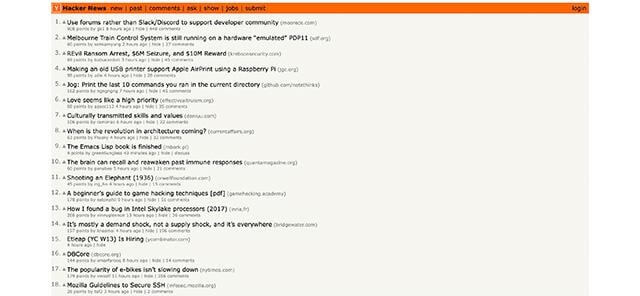 You will never find a news aggregation website or Reddit alternative on the Internet more clear than Hacker News. Widgets, sidebars, and other glitzy elements are totally absent. Instead, you only receive straightforward news about technology from all across the world. In addition, the News Y Combinator channel provides access to all the data geared toward geeks, entrepreneurs, hackers, and startup fans.
The scores determine how well-liked a news piece is. A user may give a news item an upvote to put it on the table and give it a point. Top of the table is the most widely read stories with the most points. This is because each news story has a trustworthy source, such as The New York Times, Washington Post, or another respected newspaper.
Utilizing the submit button up top, any user may contribute a tale. Before submitting a tale, leaving a comment on one, or even upvoting one, you must create an account first. Then, you may leave a comment on a story to join in on the conversation about it and to share your thoughts on the subject at hand.
Also Read: Best uTorrent Alternatives 
---
8. Product Hunt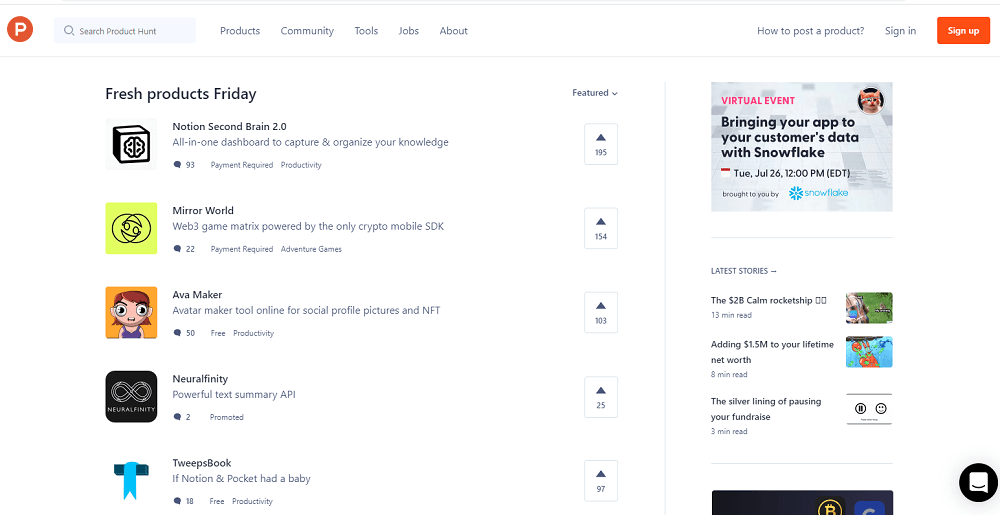 Product Hunt is precisely what its name suggests. The search for the ideal products on the market is at hand. Product Hunt offers the finest of everything, from the newest and most significant technological advancements to the most incredible video games. In addition, you may find a list of excellent products in the technology area, including the top mobile apps, website designs, and games.
People can make their own lists and publish them online. You can share your works with everyone on the website by creating them or leaving comments on others' works. People in the community share unique tech-related content with one another, enabling everyone to weigh in and express their opinions on the relevant technology.
Additionally, one can participate in debates, read tech articles and interviews, and discover future events, so if you're looking to learn something new, whether a smartphone app or a straightforward game, this Reddit alternative is the ideal place to look.
---
9. 9Gag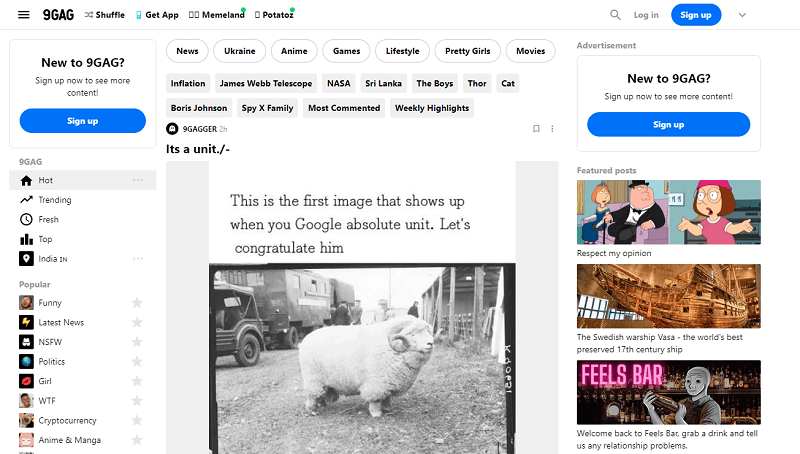 It's not totally a Reddit rival, but it's unquestionably the funniest spot on the Internet. 9Gag began as a straightforward website where users could upload amusing pictures and internet memes for laughter. But now, it has developed into a sizable community of outstanding individuals.
Users have started providing helpful stuff and content worth talking about, which generates a lot of debate in the comments section. The comments are funnier than the posts themselves. The ideal venue to let off steam and giggle uncontrollably is 9Gag.
There are several new areas that 9Gag has developed that are tailored to different interests. Additionally, you can come across postings that are worthwhile for discussion, the most recent news, and trending issues wrapped up with deft wit, sarcasm, and comedy. Everyone can find something out there in this replacement for Reddit.
---
10. Digg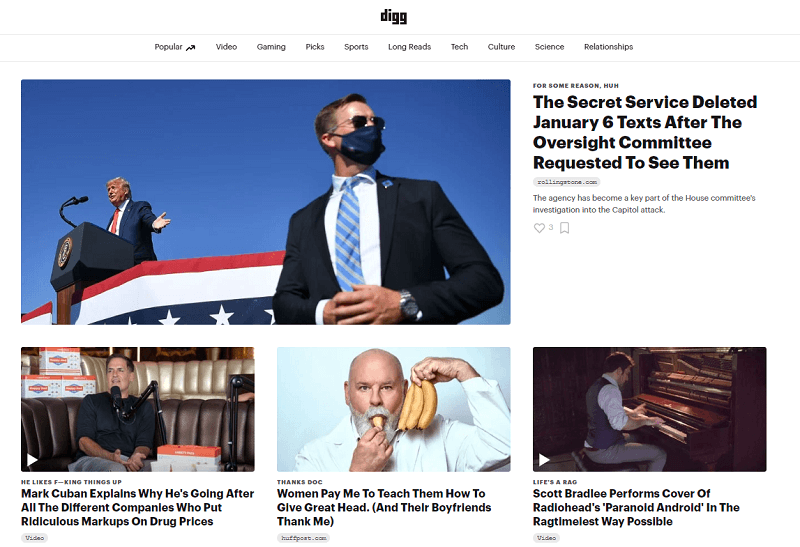 Our list of the best alternatives to Reddit for 2022 concludes with this option. Digg publishes articles about the hottest scientific, political, or viral topics online that have been specifically chosen for the internet audience. Digg's layout offers an enjoyable way to discover more about unusual things while exploring the fantastic things online. Compared to Reddit, it provides a user interface that is considerably cleaner and better organized.
The posts or stories that receive the most votes or likes are highlighted on the homepage. Each piece has a heart icon and a bookmark icon to like and save, similar to Instagram's content voting style. Digg is the best Reddit alternative website where you can access the most recent and popular news, videos, and information on various subjects, including tech, culture, science, gaming, etc.
Rich media content is the most refined type of material to supply for Digg. For instance, you may use Digg to share eye-catching images or direct links that inform visitors about the various options available on the website. Additionally, Digg's joyful atmosphere makes it possible for users to discover different interesting new things online.
Also Read: Best Glary Utility Alternatives
---
Conclusion
These best alternatives to Reddit are the ideal substitutes, and you should use them if you're seeking something fresh. Although Reddit is the most widely used platform, several more comparable websites have emerged with a similar function over the years.
There are plenty of best Reddit alternatives available on the Internet, which you can check out. And you know what? Some Reddit substitutes may even be a better option for you! So we really hope that this list of best Reddit alternatives will assist you in locating a suitable replacement for Reddit.
Samuel is an ardent tech geek who is obsessed with technology. He loves using his technical expertise to write informative and useful content to help people. Besides the techy stuff, he enjoys listening to music, reading books, and playing football.
Subscribe to Our
Newsletter

and stay informed

Keep yourself updated with the latest technology and trends with TechPout.
Related Posts