Are you looking for a privacy app that can not only protect your Android device but also enhance your online security? Then this blog will surely help you.
With the ever-increasing dependency on the internet, privacy has become a significant concern. The digital world provides a ready platform for cybercriminals and data thieves, which adds on to the security concern of smartphone users.
Our smartphones and computers hold an incredible amount of sensitive and confidential data, including emails, contacts, personal information, images, bank details, and many others. Adequate security and privacy app are what we need to ensure the right level of privacy.
Thankfully there are several privacy apps for android devices that can take care of the usual security concerns and needs. Here is our pick for Best Android apps to protect your online privacy. Pick one to keep your secrets safe from unwanted hands.
Best Android Apps to Protect Your Privacy Online
1. Express VPN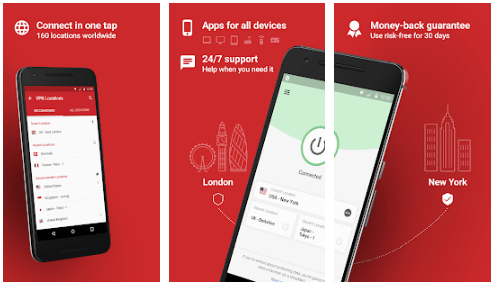 A browser without a VPN connection is highly vulnerable. A good VPN connection encrypts your data and protects all online activities and digital prints from unwanted eyes. There are several options available in the market, but Express VPN stands out amongst its competitors.
Read Also: 11 Best App Lock Apps For Android
With its military-grade encryption protocol, massive server network, and fast speed, ExpressVPN is consistently ranked as one of the best Privacy Apps For Android.
It hides online activities, the websites that you are visiting, along with the incoming and outgoing traffic from spies and surveillance agencies.
Enjoy safe and anonymous surfing with this incredible tool. It also has a 24/7 customer support team along with a live chat support mechanism. It also comes with a 7-day free trial.
---
2. Orbot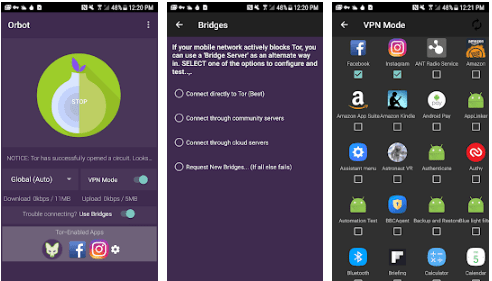 Often known as the Tor Project, Orbot is developed by Guardian Projects and allows you to use the internet more securely.
With Orbot, users can easily access the Tor network and enjoy secure surfing without worrying about getting their location tracked. It smartly encryption and routes your location through multiple systems which protect you against surveillance and spy activities.
However, with so much movement, you may experience a slow connection speed at times, but all-in-all its a good trade-off.
---
3. DuckDuckGo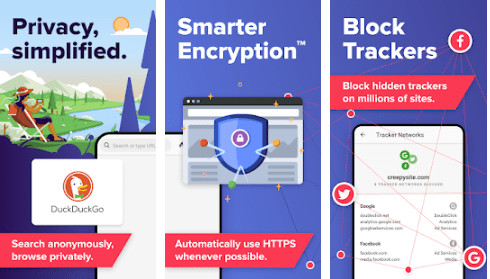 Next on our list of top Privacy Apps for Android Phone is DuckDuckGo. It is often seen that major browsing engines like Google and Bing track your online activities and share them with third-party agencies.
At times they also place virtual cookies in your search engine to monitor your search and browsing habits. This is where privacy apps like DuckDuckGo come in and act as a drop-in-replacement for our popular search engines and browsers.
It ensures that no data is tracked and avoids any leakage of information to third-party agencies. Search privately and enhance your encryption protection with this stunning security app.
Enjoy an ad-free experience with DuckDuckGo and hide your search location from unauthorized access.
---
4. Free OTP Authenticator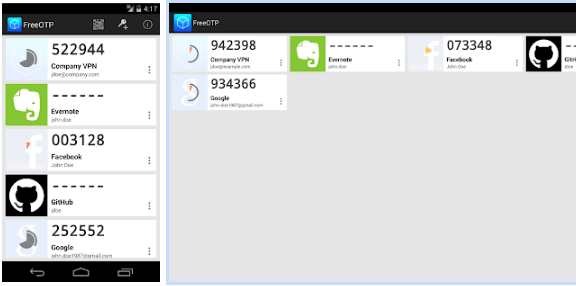 Protecting your accounts with s 2FA is a smart way to safeguard them. It adds a second form of identifying information to your primary password and is used by multiple websites and social media accounts.
Such apps generate a unique one-time code and send it to the registered mobile number, which means no one can log in to your account without both pieces of information.
Free OTP Authenticator is one such app that promises secure login. It's an open-source code generator tool which makes account hacking nearly impossible. The most beautiful thing about Free OTP Authenticator is that it does not spy on you like Google.
---
5. ProtonMail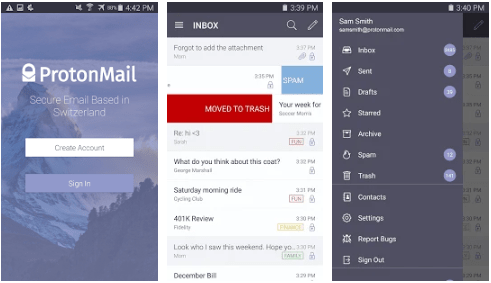 Frequent exchange of email makes you highly vulnerable to digital crimes. Google uses a tracking algorithm within your Gmail account to present you with various marketing messages, product recommendations, and targeted ads.
ProtonMail is a well known encrypted email service and can work as a perfect alternative to major email platforms. It offers end-to-end encryption and keeps your email private and secure. It automatically encrypts your emails and promises zero access.
---
6. Firefox Addons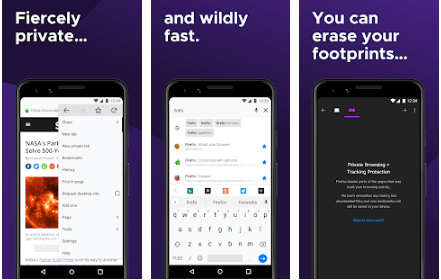 Firefox browser for Android devices offers private and fast browsing experience. It protects you from hackers by safeguarding your browsing sessions. However, you can opt for various add-ons to enhance the security and speed of browsing on your Android devices.
To install add-ons, launch your Firefox browser, and open the menu option.
Followed by this, click on the "Tool" button.
Then, open the "Add-ons" menu and select the desired add-ons that you want to add to your default browser.
The enhanced protection offered secures not only your private information but also blocks unwanted ads and cookies. It also provides a private browsing mode, which facilitates the automatic deletion of browsing history.
Ad-blockers and password managers are some of the prominently used Firefox Addons.
---
7. Abit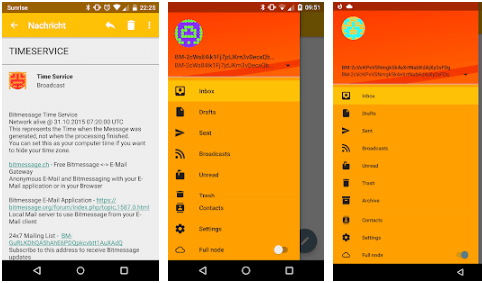 Hackers and data miners are always in search of useful information that can generate revenue for them. No matter how strong your encryption services are, they will find a way to intrude into your system and dig details about you.
Abit helps you fight this issue. It works on a Bitmessage protocol mechanism, which means end-to-end security of all the messages that you exchange.
It offers a perfect way to hide your identity from snoopers and hackers.
---
8. Kyms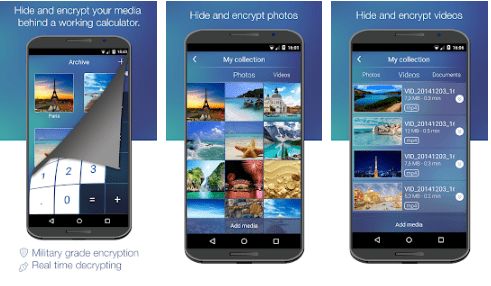 If you want to keep your media safe, then there is no better option than Kyms. It disguises itself as a calculator and is available on your desktop as "KyCalc." It hides your photos and videos in an encrypted vault, which can only be accessed with a password or pin code.
It also works as a utility engine to transfer media, and with its built-in web browser, you can directly save all your downloaded media files in the vault.
Enjoy an additional layer of hidden security with this Best Android Privacy App.
---
9. Hushed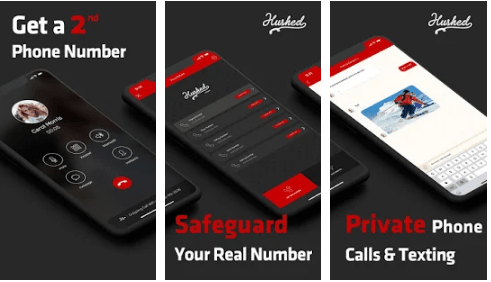 Undesirable phone calls can easily annoy anyone. We often tend to share our contact details on multiple websites, which serve as a ready platform for advertising agencies and sales reps.
Read More:  Ways To Protect Yourself Against Cybercrime
Hide your original contact details by creating a temporary number with Hushed. The fake number can be used to fill online forms and fill surveys.
Use this handy app to hide your caller id with a temporary number, send anonymous messages, make private calls, and manage multiple phone lines. You can also use it for online dating and buying and selling on local classifieds.
Hushed comes with flexible prepaid plans, which means you can pay as per your short and long term requirements.
---
10. LastPass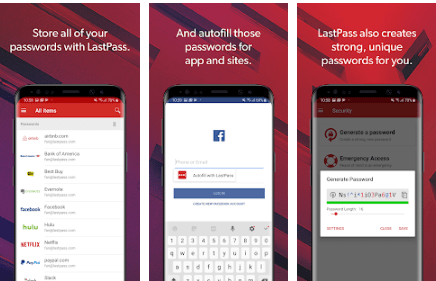 Keeping similar passwords and login details expose you to cybercrimes and data breaches. It is always advisable to use different and unique passcodes for different accounts.
A secure password adds on to your security and safety levels, and that's precisely what LastPass does for you. It helps you create strong passwords with which you can quickly secure your confidential data and information.
The privacy app for Android devices also allows you to change passwords at regular intervals automatically. Enjoy an easy and convenient way to secure your accounts with LastPass.
---
11. SmartApplock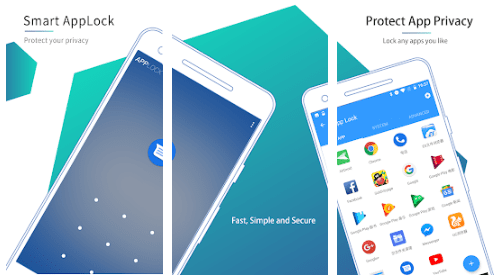 Many of us have a habit of locking our smartphone screens with a password and face id, but often we forget to lock different apps and folders stored in it.
This means if someone manages to pass the screen lock barrier, they can easily enjoy a sneak peek into your gadget. SmartApplock is built to cater to this requirement. With this handy and easy to use a tool, you can lock individual apps on your Android device.
It uses strong passwords to block social media accounts and safeguard your vital personal data.
---
12. Find My Device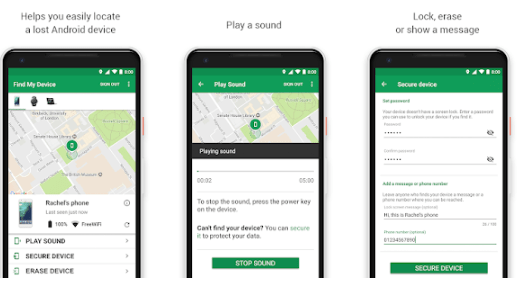 Find My device works on similar lines to Find My iPhone. Google develops it, and it assists in tracking and locating the lost equipment.
It helps you to see its location information also allows you to leave a callback number.
---
Wrapping Up
So, these are some of the best privacy apps for Android devices. pick one that best suits your needs to add an extra layer of security to your device.
However, it is always recommended that you follow a safe security protocol to avoid getting trapped in unwanted situations. Use a proper VPN connection and be vigilant to maintain your data privacy and online security.
Prachi Dani is a technical content writer who specializes in areas of science and technology. She is highly up to date with technological transitions and transformations. Writing is not her passion but the only thing that carries satisfaction in life. If not writing, you may find her engrossed playing action games on her treasured smartphone.
Subscribe to Our
Newsletter

and stay informed

Keep yourself updated with the latest technology and trends with TechPout.
Related Posts