Below we have listed some of the best PictureEcho alternatives that can help you in finding and removing duplicates easily. To know more about these duplicate image finders keep reading.
Finding duplicates is one of the most challenging and time-consuming tasks as you have to remember the location of the file and then effectively remove only the duplicates. Unfortunately, as compared to automatic methods you cannot be efficient in manual one. Irrespective of the steps you follow you would need a lot of time and effort to delete duplicates. Even after investing so much time and effort, you won't get the desired outcome.
Instead of using the manual method you can simply choose any automatic duplicate finder software and remove all the duplicates in no time. PictureEcho is one of the most popular duplicate cleaners but users are looking for a better alternative that takes less time and offers accurate results.
If you are one of them looking for better PictureEcho alternatives, then this article is for you. Below we have shared the 7 best alternatives for PictureEcho that you can try and remove all duplicates easily. So now let's jump on to the list and check the offerings of these duplicate finders.
Best PictureEcho Alternatives to Try in 2023
The programs mentioned below are the best alternatives to PictureEcho that you can use for removing all the duplicates effectively in no time.
1. Quick Photo Finder
First up on our list is Quick Photo Finder software. The reason why we consider it the best PictureEcho alternative is that it offers loads of features with an easy-to-adapt interface. The software is acclaimed by industry experts. It offers simple drag and drops functionality using which you can simply drop the folder or files for scanning.
This software not only scans for files on your internal drive but it also scans for a duplicate in external drives as well. You can simply scan for files by adding filters. It will offer you the result exactly what you are looking for.
The software interface is very easy to adapt, however, it offers tutorials that you can refer to in case of confusion. Moreover it also offers group-oriented results which makes it easy for you to scan and remove in bulk.
Pros
Quick and reliable software
Easy to use interface with a tutorial for beginners
You can modify the search for better results
Group scan results
Cons
Not available for older versions of Windows

Also Read: Quick Photo Finder Review 2023: Product Features & Details
---
2. Gemini 2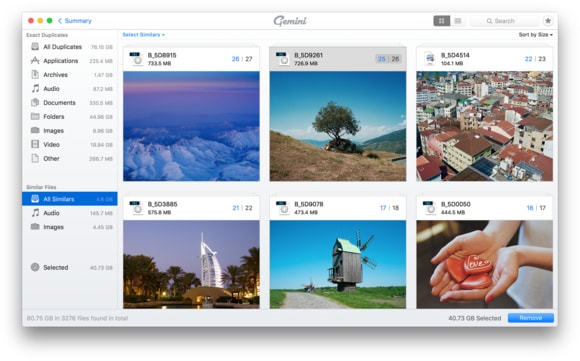 Gemini 2 is a great duplicate photo cleaner that can be considered as the best PictureEcho alternative too. The software has a user rating of 4.5 out of 5 which makes it a great pick. This software offers various features which make it easy for you in identifying and removing the exact duplicates you want. You can easily add filters for better search results.
The best part about the software is that it keeps on updating. You will not get the same features or interface as the company keeps on adding new things to the software. Though the software requires a subscription to use it which becomes the only negative. If you are looking for free software similar to PictureEcho then Gemini 2 is not the software for you.
Pros
Simple and user-friendly interface
Finds and remove duplicates effectively
You can easily filter and scan for accurate results
It lets you scan for a single image too
Cons
Available only for macOS
Not a free to use software
---
3. PhotoSweeper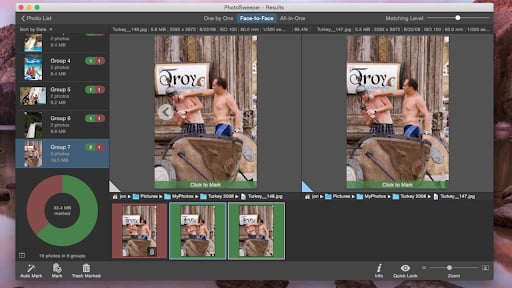 PhotoSweeper is another great pick for all those who are looking for the best PictureEcho alternatives. The software performs very smoothly without even affecting the processing speed of your PC. The only negative about this software is that it is available for Macs only. You can skip PhotoSweeper if you are looking for a Windows alternative.
With this software, you can scan for most of the file formats including HEIC, RAW, PDF, WebP, and DNG. you can easily scan with filters and find the exact duplicates that you are looking for. It not only scans for duplicate files but it also scans for files that are edited or have similar aspects. The software even offers integration with various software like Photos, Lightroom, Aperture, and Capture One. Overall this is a great alternative to PictureEcho that you can try.
Also Read: How To Delete Duplicate Photos Of Different File Formats

Pros
Accurate scan results
It scans swiftly without affecting other processes
It offers integration with many software
You get it for an affordable price
Cons
It isn't compatible with Windows OS
---
4. Remo Duplicate Photos Remover
Remo Duplicate Photos Remover is a very popular software for removing duplicates easily. The software offers free as well as paid versions. You can choose the version depending on your needs. The paid version offers a variety of features while the free version has limited access. The best part about this software is that it offers a very easy-to-use interface that can be adapted by anyone easily in no time. Unlike other software, it doesn't require any tutorial or training.
It offers various options that make the process of finding duplicates easy. The software has an option using which you can scan for files in the external drive too. Apart from this, you can even relocate all the duplicate files to a new location and then remove them whenever you get time. It doesn't restrict users from deleting the files. The feature which we liked about this software is that it always keeps the original file no matter what. So you can easily delete files easily without even worrying about the original files.
Pros
You can filter scan as per needs
It keeps your original files safe always
The user interface of the software is very simple
Available for various OS
You can easily scan for internal as well as external drives easily
Cons
It is not available for free
---
5. Duplicate Photo Cleaner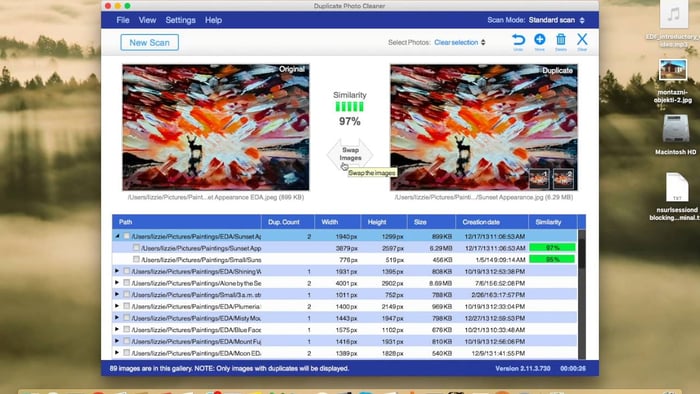 As the name suggests Duplicate Photo Cleaner is a great duplicate remover software that you can pick in place of PictureEcho. It offers compatibility with Mac and Windows operating systems.  Using this software you can easily scan for the whole system and find duplicates easily. The software will find files in various file formats easily as it is compatible with JPG, TIFF, PNG, RAW, GIF, HEIC, and PSD. Apart from this, it is compatible with all the camera brands and their file extensions.
This PictureEcho alternative uses a scan algorithm using which you can scan files with their names, date, size, and similarity. Irrespective of all these features the software is accurate when it comes to search results and scan. You can even scan for duplicates on Adobe Lightroom as well.
Also Read: How To Delete Duplicate Photos On Windows 10 Computer

Pros
You get a filter scan option for desired results
It supports various other software too
Compatible with various file extensions
Available for Windows and Mac platform
Cons
The user interface is a bit cluttered
---
6. CCleaner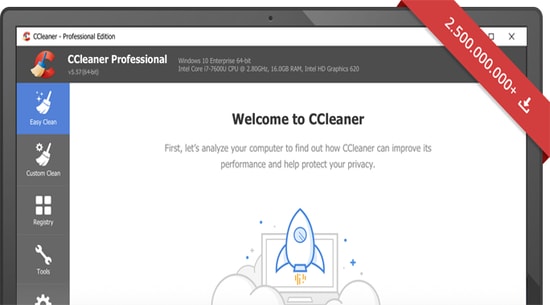 CCleaner is one of the most popular software which offers you loads of features that can help you in improving the performance of your PC and keeping it organized. The software is available for Mac, Windows, and Android platforms. Unfortunately, it is not available for iOS devices. Being a one-stop solution software it offers a duplicate remover tool too.
Using the software you can easily scan and find the duplicates in a few minutes. After the software presents the list of duplicates you can delete them manually. For every user's need, the software comes with various plans. You get free as well as paid plan options to choose. The software not only scans for duplicate images but also scans for videos, documents, and other duplicates present in the system.
Pros
One-stop solution for PC optimization
Variety of plans to choose from
It helps in improving the performance of PC to a great extent
Cons
Not available for iOS devices
The paid plan is not budget-friendly
---
7. VisiPics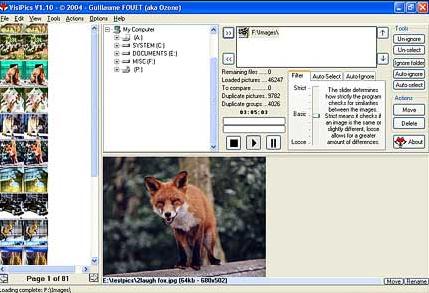 Last up on our list of best alternatives to PictureEcho is VisiPics. This is very old yet renowned software for removing duplicates. One of the best things about VisiPics is that it is available for free. Unlike other software it does not charge any subscription fee, you can easily remove duplicates too at no cost.
It uses a unique algorithm for locating duplicate images. It deeply scans every single aspect of the image and then presents the list to you. So if you are looking for a free PictureEcho alternative then this can be the best option for you.
Also Read: How To Find Best Duplicate Image Cleaner [Expert Guide]

Pros
Free to use software
All file formats supported
Locates duplicate from deepest corners of the disk
Cons
Available for Windows only
It doesn't offer an interactive user interface
---
Concluding the List of Best PictureEcho Alternatives 2023
After reading the blog you must have found out the best PictureEcho alternative to use. The list is prepared on the basis of software performance and user review. However, you can choose the software that suits your requirements. That is all for this blog, we hope that you will find it useful. For more such interesting technical blogs, subscribe to our newsletter and keep reading the good stuff.
Tanmay is a technical writer from the field of mass communication. He aims to communicate the best of the technology to the readers through his write ups. If not writing you can find him with his camera capturing nature and exploring the unexplored world.
Subscribe to Our
Newsletter

and stay informed

Keep yourself updated with the latest technology and trends with TechPout.
Related Posts