10 Best Photo Storage Apps for Android and iPhone in 2023

You may go through this article to know the best online apps for storage of all your photos on iPhone/Android.
Photos are a memory machine that refreshes beautiful moments you've spent with your dear ones. However, we click a lot of pictures to preserve memories. Well, capturing photos is not trouble. The problems begin when you do not have enough room on your phone to keep all the images. However, with the best photo storage apps for iPhone and Android, you can conveniently store all your precious photographs.
There are many commercial and free apps for photo storage to keep your images safe and make them easily shareable. Through this article, we share a carefully curated list of such applications.
We selected the best iPhone and Android photo storage apps after a careful analysis of various parameters such as their features, ease of use, user rating, and availability. Hence, let us do a rundown of these applications in the following section of this write-up without any ado.
Well-Researched List of the Best Photo Storage Apps for iPhone and Android
You can choose from the following commercial and free storage apps to keep photos safely stored on your phone.
1. Google Photos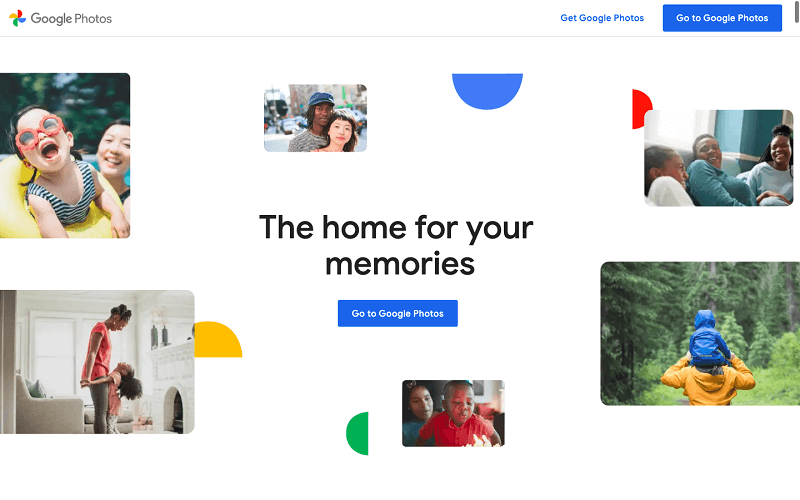 Let us first talk about the giant Google. Google Photos is undoubtedly one of the most popular and best online photo storage apps for a variety of reasons. For instance, it lets you backup and sync your photos across multiple devices.
Moreover, it offers 15GB of free storage and the following tempting features to justify its position on our list.
Key features of Google Photos
Automatic photo organization
Keyword-based photo search option
Facial recognition
In-built filters and editing tools
Easy photo sharing with friends and family
"Memories" shows photos taken on the same day in the past
Photo printing directly from the app
Integration with website building, printing, and other applications
Also Read: Best Duplicate Photo Finder & Cleaner Software
---
2. Dropbox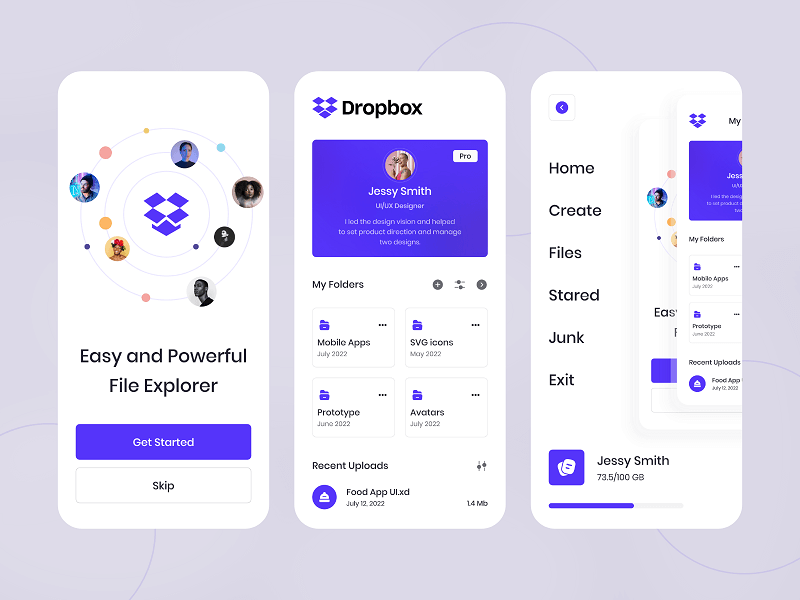 When it comes to choosing the best way to store photos, we cannot skip Dropbox. It is a renowned online application that safely backups and securely syncs all your photos and other files across multiple devices.
Additionally, it helps enhance your efficiency with a lot of useful tools for remote working, collaboration, and sharing. Furthermore, the following are its other remarkable features.
Key features of Dropbox
Keyword-based image search
Version history viewing and file recovery
Syncs with the phone camera
Automatic new image uploads
Availability of two-factor authentication
Password protection
Seamless image sharing with others
Digital watermarking is available
Smart sync saves local copies of images in a lower resolution
Integrates with a lot of other services and applications
---
3. iCloud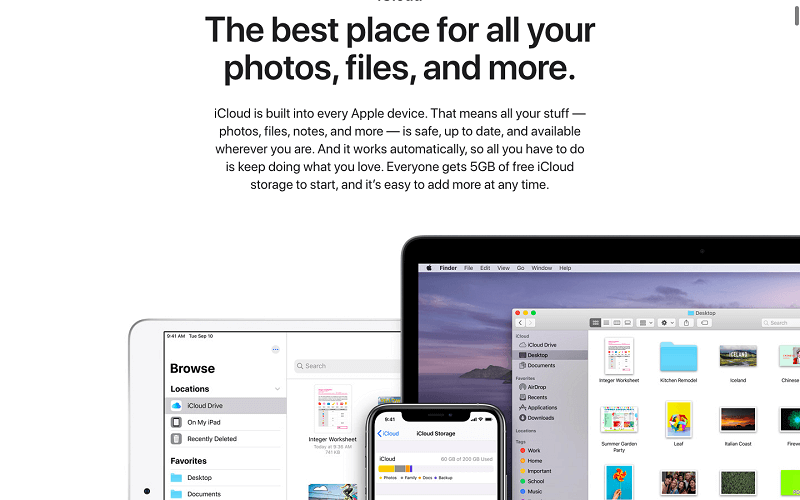 Let us now introduce you to iCloud. It is an in-built online photo storage application for iPhone. With this app, you can perform cloud storage and sync your photos across various devices.
Moreover, the following features make it an apt choice as one of the best photo storage apps for iPhone.
Key features of iCloud
In-built into all Apple devices
Automatic image sorting into albums
Easy photo search by keywords
Stores low-resolution images on your device and high-resolution photos on the cloud
Supports album sharing with friends and family
Integration and syncing with all Apple apps and across devices
Automatically backups and syncs your photos to a new device
Additional security with two-factor authentication
Also Read: Best Photo Stitching Software for Windows
---
4. Amazon Photos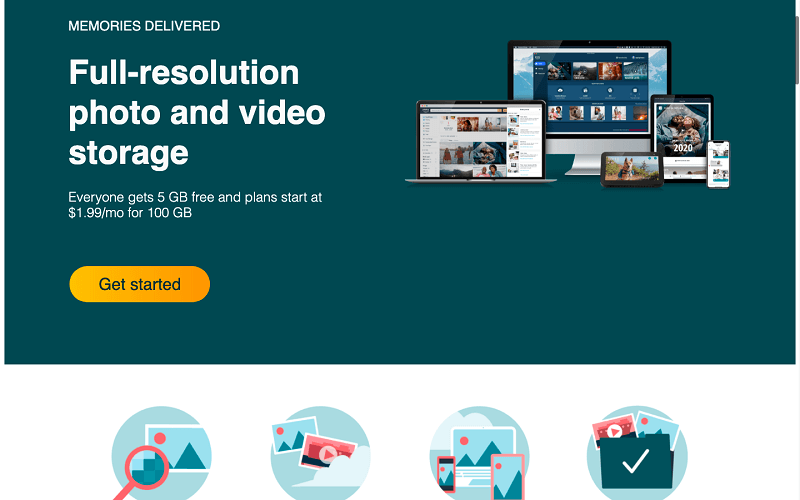 Are you a casual smartphone shooter looking for the best way to store photos? If yes, we have Amazon Photos for you. It is a full-resolution cloud image storage platform that offers 5 GB of storage for free (unlimited if you are an Amazon Prime member).
The features of this app are quite basic but are just what budding photographers need. Let us look at them.
Key features of Amazon Photos
Automatic creation of photo backups
Easy image sharing with others
Keyword or place-based photo search
Facial recognition to find a particular person's photos
Lets you set photos as a screensaver on Echo Show and Fire TV
Allows up to six members to upload photos
---
5. Microsoft OneDrive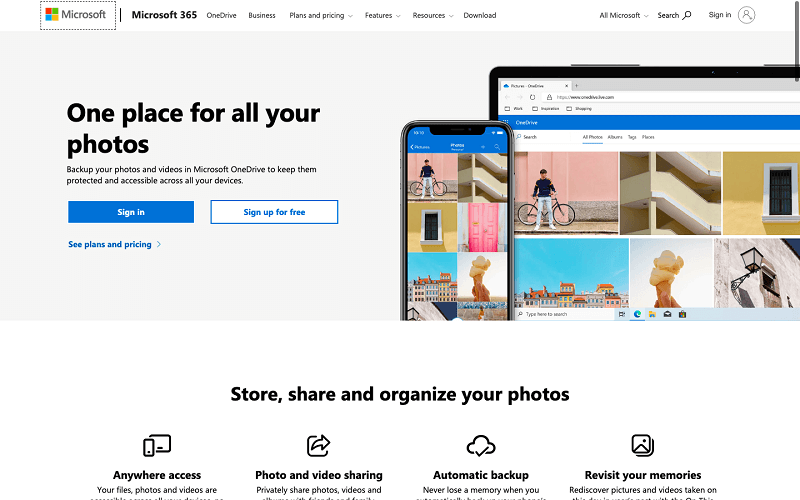 The next name on our list of the best photo storage apps for Android and iPhone is Microsoft OneDrive. Designed to store all kinds of files, you can use this app to store, organize, and share your photos as well.
Moreover, its following features make it an ideal choice for everyone looking for the best free online photo storage apps.
Key features of Microsoft OneDrive
Automatic tagging with image recognition
Creates albums automatically
5 GB free storage
Memories to view past images from the same date
Photo search by keyword, date, or place
Image organization with tags and albums
Automatic photo upload and backup
Also Read: Best Free Photo Slideshow Software For Windows
---
6. Flickr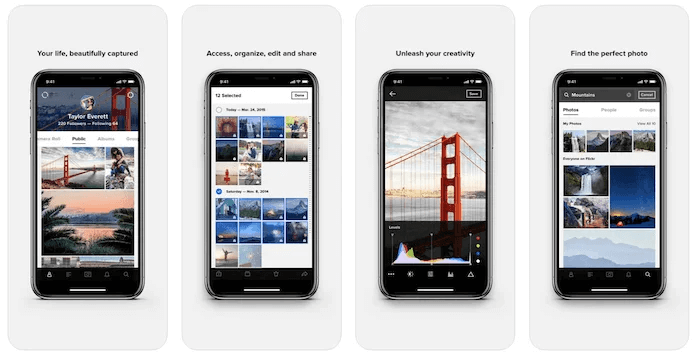 Here is a photographer's haven called Flickr. Before Instagram took the world by storm, Flickr was the ultimate destination for photographers to showcase their shots.
Below are some Flickr features that many users find fascinating and justify the app's placement as one of the best apps to store photos.
Key features of Flickr
A photographer community and image-sharing groups
Availability of a photo license assignment option
Image search by tag, license, location, description, date taken, camera model, color, etc
Automatic image upload from your phone, PC, and apps like Lightroom and Dropbox
Shows stats on how many people are viewing your pictures
Lets you order wall art, photo books, and prints directly from Flickr
---
7. SmugMug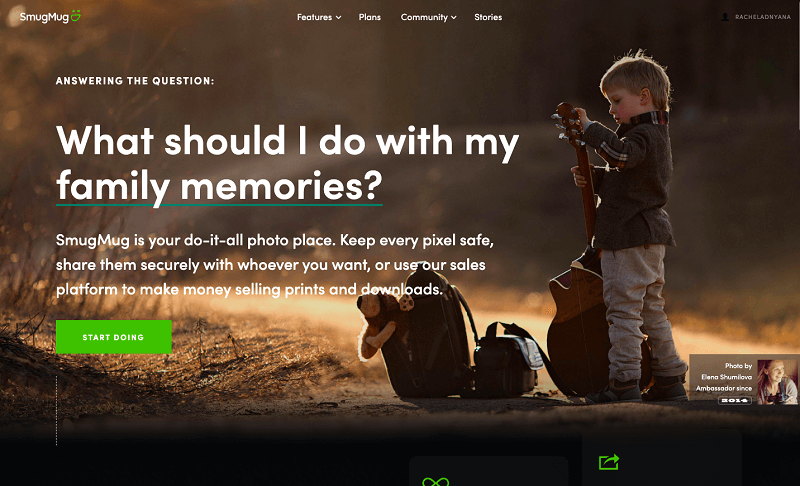 Let us now introduce you to SmugMug. It is a combination of a photo storage application and a drag-and-drop website builder. In addition to storing and creating a portfolio of photos, it also allows you to sell the pictures.
Moreover, the following are some other features that brought it to the list of the best photo storage apps for Android and iPhone.
Key features of SmugMug
Automatic photo upload
Integration with photo editing apps like Lightroom
Gallery password protection and privacy controls
Direct print selling from your website
---
8. iDrive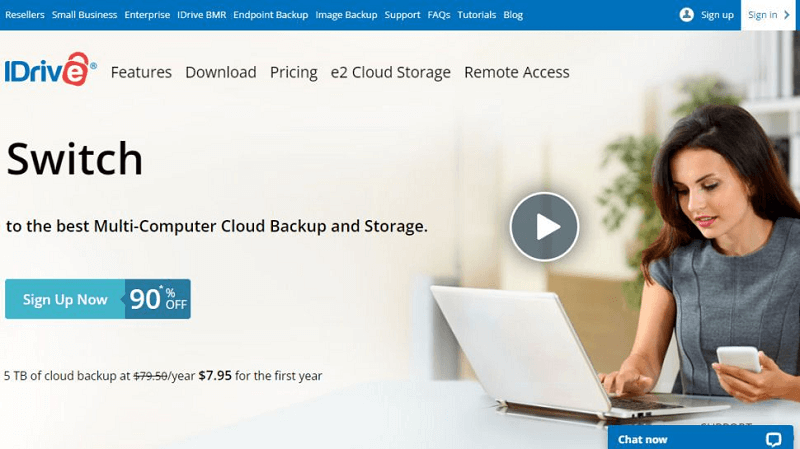 Next, we have iDrive among the best online apps for photo storage. Though it does not offer any fancy features, it is still a perfect choice for everyone who needs a simple storage solution for images.
The following are some features that brought this application to our attention.
Key features of iDrive
Supports online photo sharing
You can download photos to all your devices
A reasonably priced unlimited backup plan for photos
Impressive security features like password protection
---
9. Adobe Creative Cloud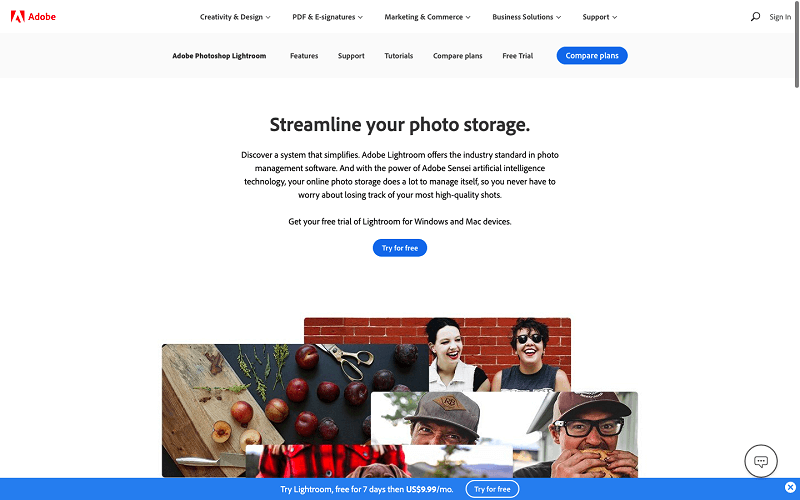 We cannot skip Adobe when the discussion is on anything about photos. In addition to world-class photo editing applications like Photoshop and Lightroom, Adobe offers a cloud storage solution with 10TB of space to store your photos.
Moreover, Adobe Creative Cloud is among the best photo storage apps for iPhone and Android for non-casual photographers due to its following features.
Key features of Adobe Creative Cloud
Image editing, storage, and organization from anywhere
Tools to create portfolio websites and social graphics
Improved search with smart image recognition
Community with which you can share images and get Lightroom presets
Photo sharing with family and friends
---
10. 500px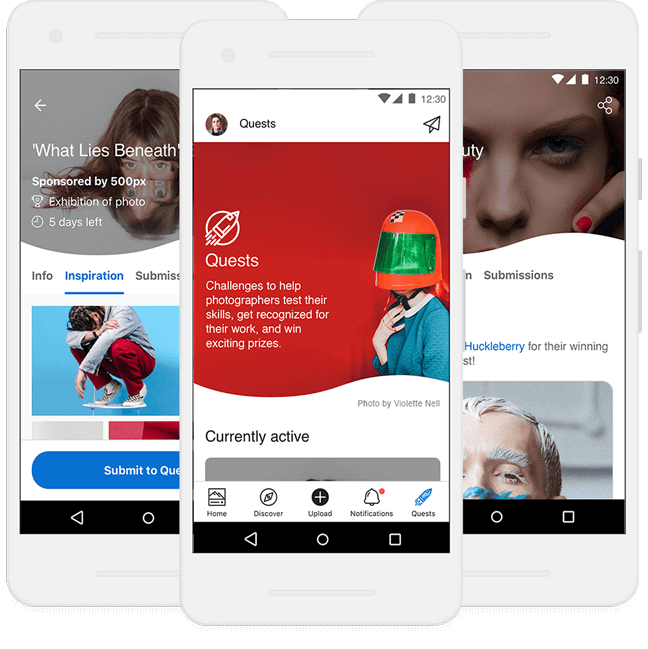 Let us conclude the list of the best online photo storage apps for iPhone and Android with 500px. It is a photographic community allowing you to store your favorite photos.
Talking about the features, below is what we found exciting about this application.
Key features of 500px
Shows insights about where your photo views are coming from
Allows you to make unlimited image uploads
Supports portfolio creation
Lets you create resources like videos and share them
You can hide, add, or rearrange tabs to customize your profile
Allows resume sharing with potential clients
Also Read: Best Photo To Cartoon Picture Apps For Android & iOS
---
Summing Up
This article discussed some of the best photo storage apps to store all your fabulous photos without blocking the phone's memory. You may go through the features of all these apps to pick the perfect one for your requirements.
Please drop us a comment if you find your favorite online photo storage app missing from the above list or have any other suggestions/questions about this article. We will be happy to get in touch with you.
Niharika is a passionate soul who finds immense satisfaction in putting all her thoughts in writing. Being a technology enthusiast, she loves learning new things about tech and making everyone technologically literate through her articles. When not composing tech articles, you can find her bringing characters to life in her fictional stories, reading something intriguing, or spending time with her near and dear ones.
Subscribe to Our
Newsletter

and stay informed

Keep yourself updated with the latest technology and trends with TechPout.
Related Posts