Best Music Streaming Services In 2022 [Free & Paid]

Almost everyone has a membership to a music streaming platform today. If you haven't already made a move yet, you're in for a world of ease and discovery because it will be simple and quick for you to listen to hundreds of thousands of musicians.
Audiophiles may criticize the quality of online music, but an increasing number of best music streaming services offer Dolby Atmos audio that is lossless and spatial. With so many music services available, how are you expected to choose the top music streaming services?
The most important factors to take into account when choosing the best music streaming services are the monthly cost and compatibility. However, that's not really a problem because the majority of the best free music streaming services have music libraries with over 60 million songs. Additionally, they let you stream content from a variety of devices, though some music streaming platforms do this better than others.
So, which top music streaming services provide the best value for money, sound quality, and collection size? Continue reading for a detailed analysis of each service and a functionality comparison.
List of Top 7 Music Streaming Services for 2022
There are numerous best music streaming services to pick from that provide limitless access to sizable music collections. These collections can be instantly downloaded to your device for offline listening or streamed over the web or a mobile network.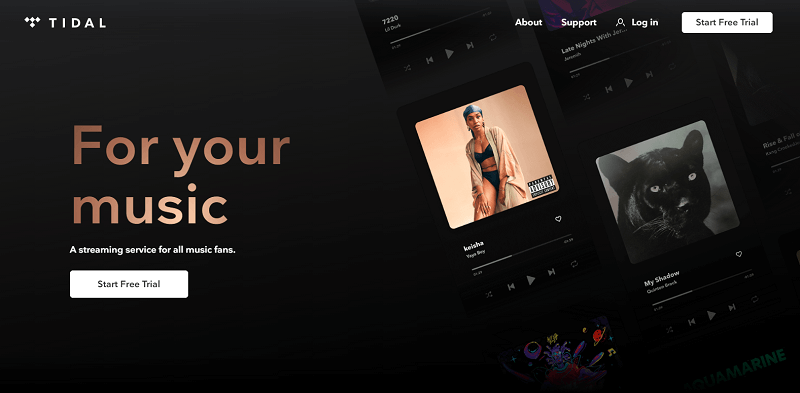 There is only one place to invest your subscription money if music is what you care about most and you're willing to pay to listen to it: Tidal. The benefits of the biggest music streaming services outweigh Tidal's recent introduction of a free subscription option named Tidal Free, which offers 160kbps streams of its complete music catalog with "minimal interruptions."
The audio quality is the main difference between its HiFi Plus and HiFi packages. A HiFi Plus subscription grants access to content refined in Dolby Atmos spatial audio and Sony 360 Reality Audio, as well as millions of truly high-resolution audio tracks recognized as Tidal Masters, which use MQA technology to stream at a heady 9216kbps. Tidal streams at a CD-quality 1411kbps on its HiFi tier.
This is one of the most popular music streaming services, where good sound is sheer musical joy regardless of what you listen to. You will be awarded a detailed and rich presentation worth the additional investment if you have a compatible machine that can realize the full resolution of a Tidal Masters file.
Also Read: Best Free Music-Making Apps
---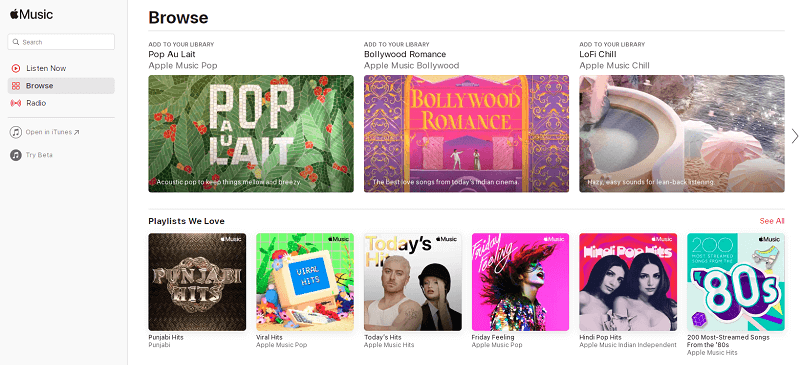 To get where it is today—a digital music streaming service—Apple has traveled a tremendous journey. Initially a platform for iTunes downloads, it evolved into the dominant and biggest music streaming service, Apple Music, as user listening and purchasing preferences changed.
Recently, unexpectedly, and without charging extra, Apple Music changed the audio output quality of their service from compressed low-res audio to full CD-quality music files as a minimum. Existing members then found themselves with immediate, hands-free access to high-definition music streaming.
All of this suggests that customers of high-quality audio may stand to gain significantly from the audio enhancements made by Apple and spatial audio on selected content, making it the biggest current rival to the majority of free online music streaming sites offering superior value to its users.
The sound quality is excellent, and Apple Music's "lossless" format offers full "CD quality" at 16-bit/44.1kHz and equal to 24-bit/192kHz for genuine Hi-Res Audio. The absence of high-resolution output on Windows desktops is the only minor drawback of this most popular music streaming service.
---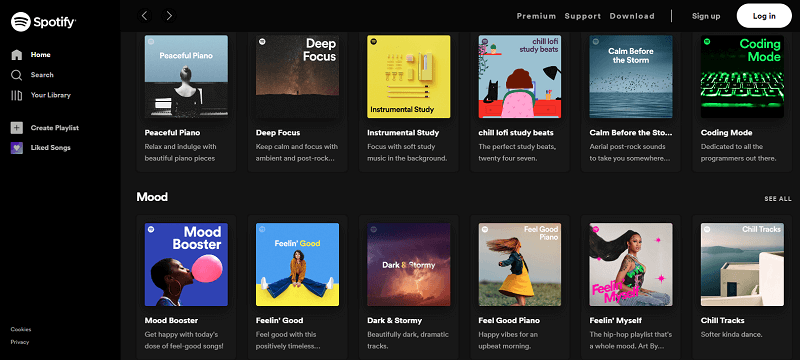 You can get Spotify for free if you don't mind the advertisements that play in-between songs and obstruct your music-streaming experience. But, unfortunately, you only get a low 96kbps or 160kbps audio quality in this music streaming platform, which in our opinion, is severely insufficient for any musical enjoyment.
Spotify's streaming run at 320kbps for those willing to spend the $9.99 monthly cost, which is improved but still not fantastic. It's feasible to hear the disparities in detail levels when you compare to similar content streamed through a service that considers audio quality more seriously, even while Spotify's audio format effectively delivers an interesting sound at roughly one-third the data rate of the other best music streaming services.
Spotify is one of the better social media integrations we've seen, which is one of its advantages. You can share Spotify material on Facebook and Instagram, and almost any messaging app allows you to share playlists by creating links.
Also Read: Best Music & Audio sound Visualization Software
---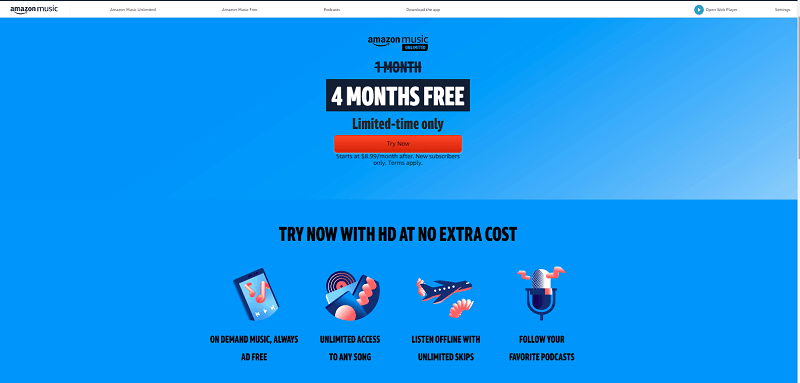 Amazon has introduced a number of various top music streaming services throughout the years. However, Amazon Music HD is the best and competes with music streaming platforms like Apple Music and Spotify. This affordable, high-definition music service can compete with Tidal and other audiophile-grade options. Additionally, it is one of the best music streaming services that delivers 24-bit / 192kHz lossless FLAC audio, whereas Spotify only gives 320kbps.
The high-definition streaming audio, previously available only to Amazon Music HD members, is now free for Amazon Music Unlimited users. Additionally, if you are an Amazon Prime subscriber, you pay £7.99/ AU$6.99/$7.99 monthly instead of £9.99/ AU$11.99/$9.99 for this streaming subscription. Additionally, there is a £14.99/ AU$17.99/$14.99 family tier, accompanied by a £4.99 / $4.99 monthly student plan.
As you might anticipate, Alexa is well integrated into all of Amazon Music HD's controls. This suggests that if you frequently use Amazon as well as its products, this best free music streaming service may be the ideal choice for you. However, even though you don't, Amazon Music is a terrific value choice with high-resolution audio files and a strong music selection.
---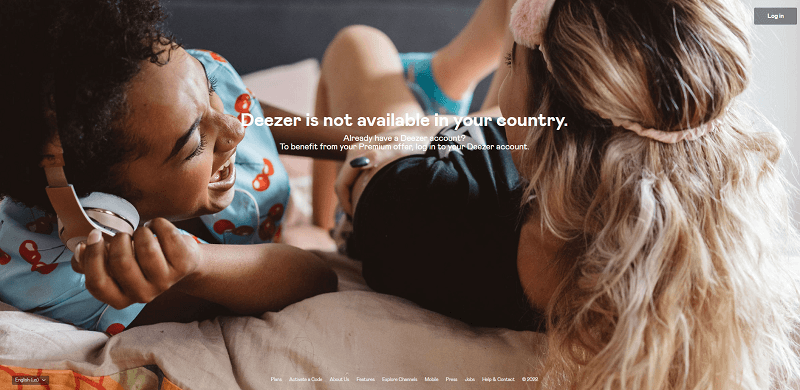 Deezer offers streaming tiers for everyone, with over 90 million great songs in its library and reasonably priced subscription levels. Additionally, its best music streaming services provide a three-month free trial, allowing you to fully explore the service before committing.
The UI of this music streaming platform does not really feel as natural as Apple Music or Spotify because of its somewhat antiseptic design. However, Deezer is straightforward to utilize and navigate, regardless of whether you access it through a desktop browser, application, or mobile app.
This free online music streaming site's available audio quality depends on the subscription tier you choose. For example, 128kbps MP3 files are available through Deezer's free subscription plan. On the other hand, its Premium subscription tier matches Spotify's own Premium tier at 320kbps.
However, suppose you are particularly interested in the "HiFi" tier. In that case, it lets you stream music at CD quality using 44.1kHz / 16-bit 1,411kbps FLAC audio files, comparable to Tidal's HiFi tier, for $14.99 / £14.99 / AU$14.99 per month.
---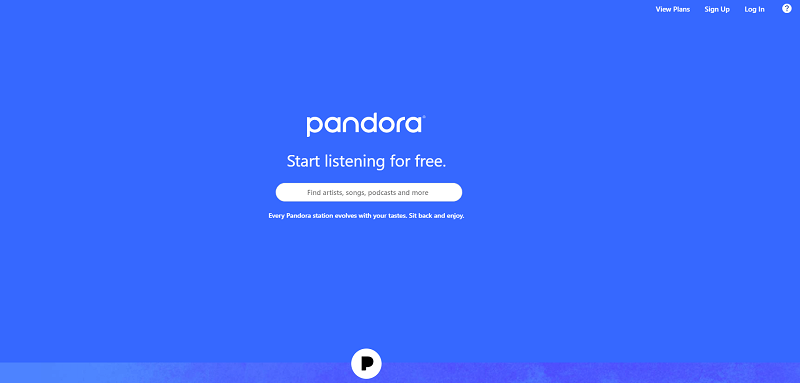 Pandora is another best music streaming service that skips the typical first step of asking you to select your favorite artists and instead starts by incorporating your listening habits. They don't require assistance because their algorithm is effective enough.
Free access to Pandora's ad-supported streaming radio is available. In this top music streaming service, you can listen to the radio without ads, have more skips & replays, and listen when offline with a "Plus" plan. The name of their streaming service is Pandora Premium. It's still new, but it allows you to pick the musician and songs you would like to hear whenever you want, much like our top services.
Unfortunately, their only strength is their finding algorithm. Pandora has a smaller repertoire and poorer audio quality than the other best music streaming services on this list. Not only does it lack HD audio, but the audio quality on Pandora is also not up to par with the other services mentioned in this guide.
Also Read: Best Free Music Notation Software for Windows
---
At first, we weren't really impressed with the service, but YouTube Music is now beginning to show signs that it's up to the task. The user interface of this music streaming platform is strong, and the excellent search feature scours its video archives for long-lost musical treasures. The issue is that the quality of the competition is still a concern: Apple Music and Spotify are the two major competitors who already provide five-star services.
But there are some compelling arguments in favor of YouTube Music. For £10 per month, you can subscribe to YouTube Music Premium, which is ad-free and also permits downloads for offline listening. The free tier is simple to use but sponsored by advertisements. (Students can purchase it for £5.)
However, if you enjoy the USP of this service—music videos rather than audio—and the option to look for a recording performed live at a specific location on a particular date, YouTube Music is one of the best music streaming services, which has a lot to offer.
---
Conclusion
You cannot go wrong with any of the choices on our best music streaming services list if all you want from a modern music streaming service is the ability to play music on all your devices, create playlists, and view suggestions.
All these best music streaming services provide a similar service, including a broad selection of music and intriguing discovery tools. However, you can be more specific if you're seeking a particular experience, audio quality, or user interface. So please explore our list of the best free music streaming services, bearing your needs in mind.
Samuel is an ardent tech geek who is obsessed with technology. He loves using his technical expertise to write informative and useful content to help people. Besides the techy stuff, he enjoys listening to music, reading books, and playing football.
Subscribe to Our
Newsletter

and stay informed

Keep yourself updated with the latest technology and trends with TechPout.
Related Posts