Top 10 Best Microsoft OneNote Alternatives You Can Use in 2021
Published Date :
Jun 18, 2021

Below in this article, we have listed some of the best OneNote alternatives that offer a user-friendly interface with many other features. Check the list to know more about them.
Keeping notes of things you want to remember is very important and thus to help you with that Microsoft rolled out OneNote software. This was one of the most used software among the others. It offered many features which made people fall in love with the software, but as usual, there are some positives and some negatives of the software.
Here in the case of OneNote, there can be many, some of the negatives points about the software are space-consuming, not that user-friendly, and the user needs to have a Microsoft account to use it. These points made many of its users switch to other platforms.
If you are one of those who are looking for paid or free OneNote alternatives then this article is for you as we have mentioned some of the best alternatives to OneNote. Now without wasting time, let's start the list.
10 Best Alternatives to Microsoft OneNote to Try in 2021
 Here are some of the best Microsoft OneNote alternatives that you can try to keep all your important things stored.
1. Simplenote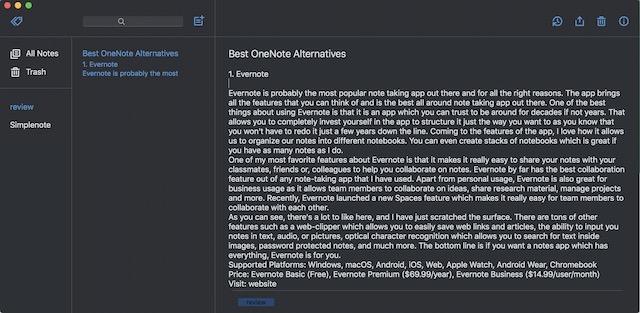 As the name suggests this is a very easy-to-use software that can be used by anyone, literally anyone. Even if you want to teach this software to your grandparents you can easily do that too. The software doesn't even require any efforts to sync with the device.
Using the software you can easily create reminders, to-do lists, and other notes. Other than just offering a simple and user-friendly interface it offers modes like dark mode to make it look more attractive.
The best part about this OneNote alternative is that it takes very little space for keeping all your notes. It takes space in MBs where on the other hand software takes GBs for it. It is moreover a free software which is why it can be considered as free OneNote alternatives. The software is available for macOS, Windows, Linux, iOS, Android, and web platforms.
---
2. Notion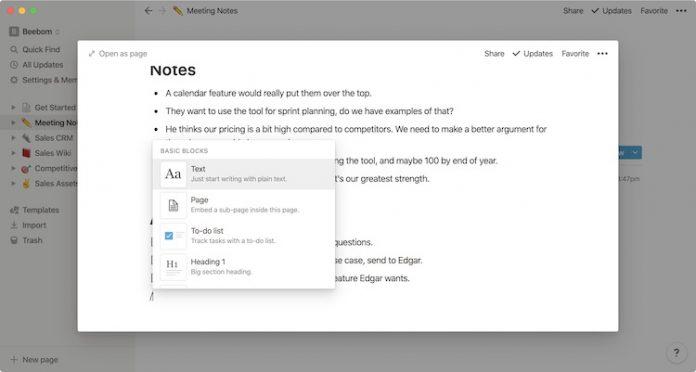 Notion is one of the fastest-growing software that is also among the best OneNote alternatives. This is not only a simple note-keeping software but it's much more than that. You can easily store everything related to a project in it and manage them easily. It does not just promote managing tasks alone, you can simply distribute work with other teammates.
Using the software you can create any type of document that you wish to. Apart from all the offerings, the best part about this software is that it is versatile note-taking software. Other than these note features the software is capable of adding checklists, note history, team collaboration, and others.
You can use the '/' command to add various things like headings, calendars, dividers, tables, and others. Moreover, this OneNote alternative also offers that can be used to embed video sharing from various platforms. The software is compatible with iOS, Android, macOS, Windows, and Web.
Also Read: 17 Best Duplicate Photo Finder & Cleaner Software In 2021
---
3. Laverna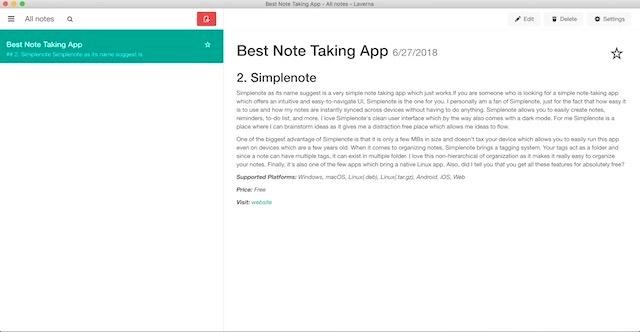 Next up in the list of best OneNote alternatives is Laverna. This is a great software that offers privacy and security to the user and their data. It is open-source software that can keep your files end to end encrypted and password protected. It moreover is very easy to use which can easily create notes based on text.
The software can be synced with cloud storage platforms like Dropbox to keep the files secured. Apart from just creating normal text notes, you can also add images and voice notes to make it enriched.
The unique feature which this software has is markdown editing. This feature allows the user to format text without lifting a finger. The software is compatible with Windows, macOS, Linux, and Android. The best part is that it is available for free, which means you can create as many notes as you want without even paying a penny.
---
4. Google Keep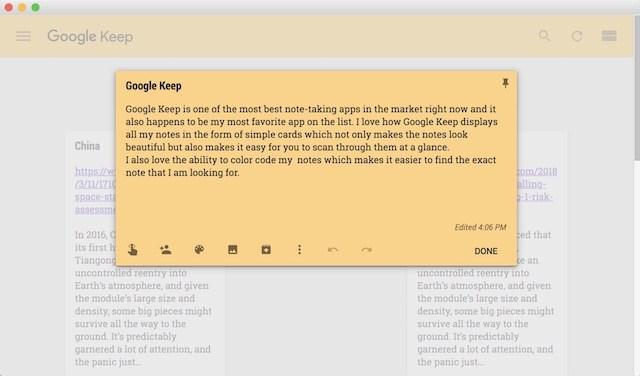 Just like in any other segment, Google has software for note-making too. Google Keep is among the best OneNote alternatives that are present in the market. The software offers everything in a neat and clean manner with vibrant colors. The colored cards are used to make the interface look better and to make it easier for the user to identify the notes.
Though it is the best Microsoft OneNote alternative it has similar features. One of them is that it is easier for Google users to sign up and use it. This is similar to what Microsoft OneNote offers. Being a Google user you can easily import drafts of emails and transfer emails to notes.
The software also lets the user create lists, to-do lists, reminders, and images. It is free-to-use software that is available for Chrome OS, Web, Android, and iOS devices.
Also Read: 10 Best Microsoft Edge Themes for Windows 10 in 2021
---
5. Zoho Notebook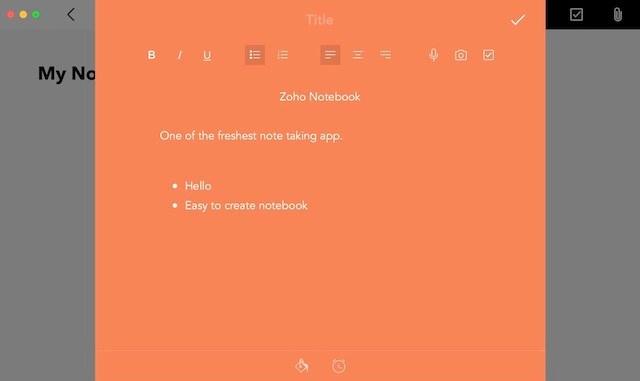 Zoho is another big brand name that offers one of the best alternatives to OneNote. The Zoho Notebook software isn't considered in the list of best OneNote alternatives because of the brand name but is considered because of the features offered by the software. The software is very easy to operate. You can easily create notebooks with covers that ultimately look like a real notebook.
Just like other software from the list you can add pictures, voice notes, text notes, and more to your file and make it look more attractive. Apart from this, you can even add links to articles which you want to save in the notes.
You can even color-code all your notes to make them attractive and easy to identify. Apart from this, you can even sync all your notes to a number of devices without spending any money. This best alternative to Microsoft OneNote is compatible with Windows, Web, macOS, iOS, and Android devices.
---
6. Bear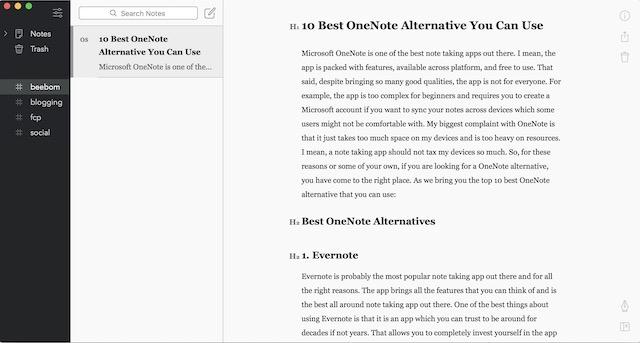 Next up is another best OneNote alternative that you can use on your Apple devices. Bear is among the best alternatives as it offers the best interface. For its interface, the software has won Apple's best-designed app award in 2017. Apart from just offering a good interface, the developers have created a clean and modern UI that is very easy to use.
One of the core features of Bear software is that you can easily tag on the notes. Other than this it offers a feature using which you can easily organize all your notes the way you want. It is polished software that takes very little time to launch and it doesn't even crash.
The notes that you create using this software can be exported in almost every format. The list of formats includes JPG, PDF, RTF, HTML, and many others. By looking at the features list you must have also liked the software. Now you can simply install this best Microsoft OneNote alternative on your Mac, iOS, and watchOS.
Also Read: The Best Bluetooth Software for Windows 10 PC in 2021
---
7. Elephant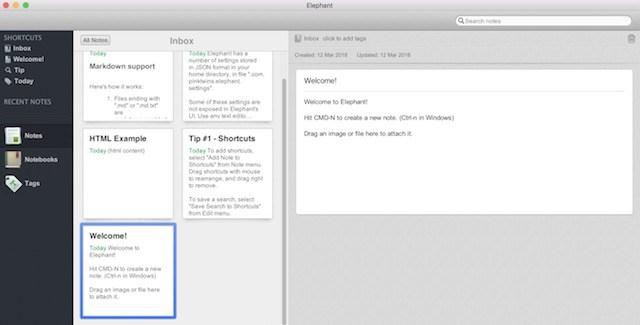 Elephant is open-source software that can be the best OneNote alternative. This software has the same features and like Evernote, you can even consider it as an alternative to Evernote. Using this alternative to OneNote you can easily create individual notes, notebooks and keep them all together for future reference.
The notes that you create are saved on your device and not on your cloud storage. If you wish you can use third-party cloud storage platforms like Dropbox, Github, and others to keep the notes available for other devices.
Unlike OneNote, Elephant does not have a mobile app available for keeping notes but you can use this free OneNote alternative in Windows.
---
8. Turtl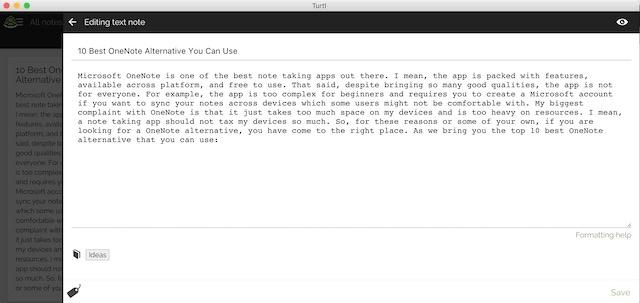 If you are the one who wishes to keep all your notes private and then this is the best OneNote alternative that will protect all your notes. This software acts like a locker that can easily keep all your research, notes, passwords, dream logs, bookmarks, documents, and photos. You can easily store every crucial document on this software and keep it safe.
In the beginning, when you create an account on this software, it will create a key that will help in encrypting the data. The key can be accessed using your password only. Besides being software that protects data, it is still very easy to share all your documents and notes with your contacts.
All your notes will be organized in notebooks which in the software's language is 'Boards'. This is a great software that is compatible with macOS, Linux, Windows, and Android devices. The software is a free OneNote alternative, so you don't have to worry about the pricing.
Also Read: 10 Best Free Janam Kundali Software For Windows PC (2021)
---
9. Keep It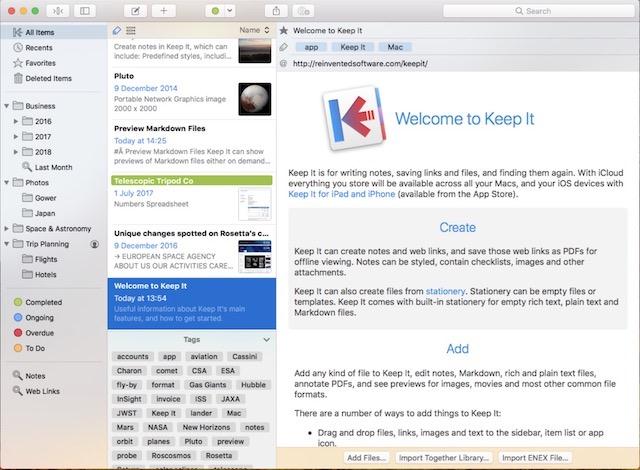 As we are coming close to the end, don't get disappointed. Keep It is another great software that is similar to all the best alternatives of OneNote we have listed above. Keep It is the software from the makers of "Together 3" which is a note-taking software for Mac. Keep It is similarly a powerful software that can easily help you in creating notes and keeping them safe.
This is a very lightweight alternative to OneNote that you can try. The software can easily help you in keeping lists, images, and other files as attachments. All your notes will be synced across various platforms including cloud storage platforms.
The best feature about this software is that it can easily organize the notes the way you want. You can easily create levels, lists, and bundles for the notes and keep them as per your wish. Though this is not the free alternative to OneNote but still for trial you can use it for 30 days. This software is compatible with iOS and macOS.
---
10. CintaNotes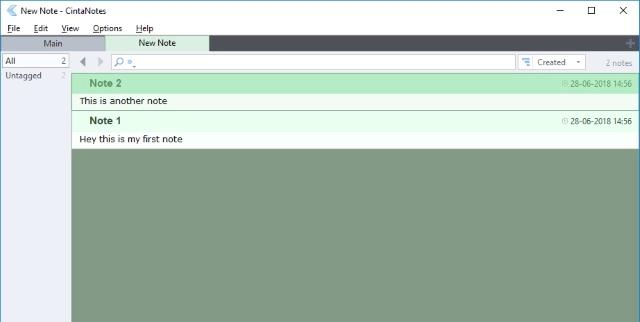 CintaNotes is the last software on our list of best OneNote alternatives. This is a software where you can keep everything which you wish to keep, it doesn't restrict the user in adding new files or documents. You can add notes, screenshots of notes from the web, ebooks, PDFs, and other files from any source.
The reason we have kept this software on the list of best alternatives to OneNote is because of its features. The best feature which this software offers is that users can easily add links of other notes as internal links. Using this feature you can create your own Wikipedia of notes. This is a very unique feature that is not even present in OneNote.
Besides the linking feature, the software has a very easy-to-use interface that can be easily adapted by any user.  You can even organize all your notes according to your requirements. CintaNotes is available for Windows, web, macOS, iOS, and Android platforms.
Also Read: 22 Best Free Driver Updater for Windows 10, 8, 7 in 2021 [Updated]
---
Easily Maintain Notes with These Best OneNote Alternatives 2021
 All the software we have listed above has some or the other feature which is similar to OneNote, while some software even has better features that you might like. You can easily go through every software description and choose whether the software is ideal for you or not. We hope that you will find the best OneNote alternative for keeping notes. That's all about the article. If you have any suggestions or requests regarding this article you can write them in the comments section below.
Tanmay is a technical writer from the field of mass communication. He aims to communicate the best of the technology to the readers through his write ups. If not writing you can find him with his camera capturing nature and exploring the unexplored world.
Subscribe to Our
Newsletter

and stay informed

Keep yourself updated with the latest technology and trends with TechPout.
Related Posts