7 Best Free Word Processors in 2023 (Word Processing Software)

You can create, edit, format, and collaborate on documents without any software license using the best free online and offline word processors shared in this article.
Document composition and editing are core tasks we perform on our computers. And when talking about documents, Microsoft Word is a name that comes to mind. It has ruled the world of word processing (writing, editing, and printing of documents) since 1983. However, over the years, Microsoft Word has witnessed a steep decline in popularity after the emergence of the best free word processors of the modern era.
The new-age word processing software programs have replaced Microsoft Word for many users due to their refreshed feel, ease of use, low or no price, and a lot of other features.
Hence, if you are also looking for the best offline or online word processors to use instead of Microsoft Word, this article is for you.
This write-up shares our carefully curated list of the best free word-processing programs. We created this list after a lot of research and analysis of all the available software. While selecting a program, we analyzed whether or not it is user-friendly, reliable, and feature-rich.
Let us now walk you through the list without further ado.
Well-Researched List of the Best Free Word Processors
Below is a rundown of the best free offline and online word processors for users who seek ease of use but won't settle for only the basic features.
1. WPS Office Free Writer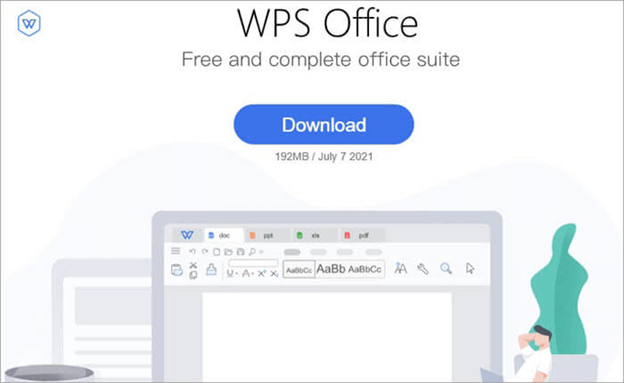 Let us kickoff our list of the best word processors with WPS Office Free Writer. It is a lightweight program renowned for its excellent PDF editing capabilities.
Moreover, features like team collaboration to collaborate and synchronize with your team members on various platforms (Linux, Android, Windows, and macOS) make it even more helpful.
Furthermore, the following are all of its delightful features.
Key features of WPS Office Free Writer
A complete PDF editor allowing you to fill in, annotate, and export annotations
Free PDF extension with options to sign, merge, split, combine, and convert PDFs from one format to another
Top-notch document management with easy identification of file sources from various drives
High-end search functions allow you to find file types and content keywords
100,000+ templates to help you customize your documents
Supports over 46 languages on the mobile version and 13 languages on desktop
Also Read: Best Free Document Scanner Software for Windows 10
---
2. LibreOffice Writer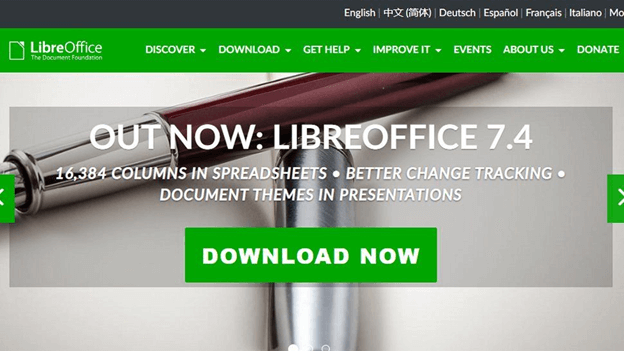 Next, we have LibreOffice Writer as one of the best free word processors. It is simple and open-source software to create and edit all types of documents.
With LibreOffice Writer's comprehensive functionality, you can even compose entire books with attractive graphics. Some helpful features of this software include automatic spelling checking when you type, templates and wizards for common document types, and the following.
Key features of LibreOffice Writer
AutoComplete suggests commonly used phrases and words to complete what you have begun to type
Formula editor to help you insert scientific and mathematical formulas
Grammar checking with language tool APIs
ODF, i.e., Open Document Format extensions
---
3. FreeOffice TextMaker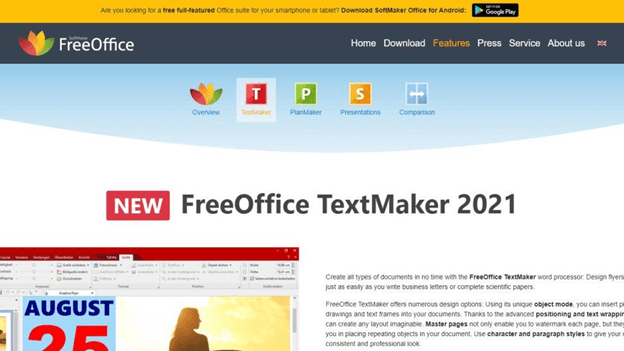 SoftMaker FreeOffice's word processing element FreeOffice TextMaker is our third pick for the best word processing programs. With this software's user-friendly templates, you can hassle-freely create flyers, brochures, business letters, scientific papers, and other everyday documents.
Moreover, it allows you to make your documents more impactful using the object mode. The object mode lets you add drawings, pictures, and text frames to the documents. Furthermore, the following are its other notable features.
Key features of FreeOffice TextMaker
Positioning and text wrapping options to create the desired document layout
You can export files in PDF and EPUB
Allows you to choose from a classic or ribbon menu style
Lets you create chapters and footnotes
Supports document previewing, change tracking, objects/shapes insertion
Allows you to open many types of document files, such as WRI, PWD, SXW, and others
Checks for spelling errors via Hunspell dictionaries
---
4. FocusWriter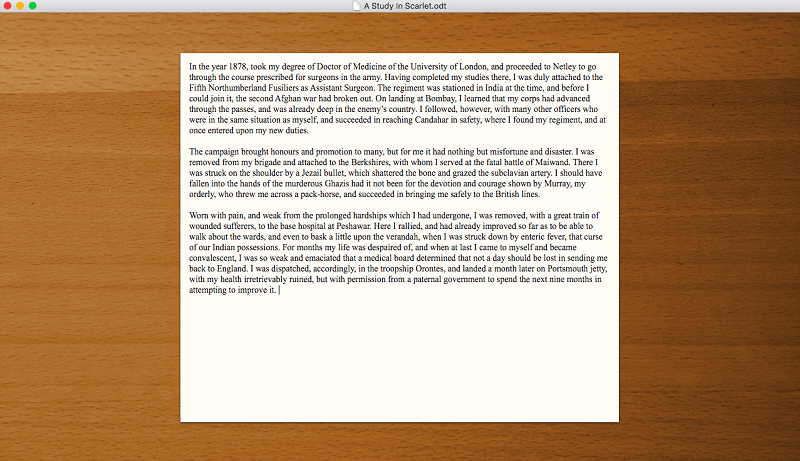 Do you often get distracted while writing? If yes, you should try FocusWriter. It is among the best word processors for its distraction-free writing environment. It shows no distracting toolbars or buttons on the screen. You can access the hidden controls by moving the cursor to the edges of your screen.
Additionally, portability, target and alarm setting, and the following are among the most likable features of this one of the best word processing software.
Key features of FocusWriter
Shows live statistics about your document
Supports ODT, RTF, and TXT formats
Customizable colors and layouts
Availability of sound effects
Basic formatting options like strikethrough, bold, and text aligning
Also Read: Best Free PDF Editing Software For Windows
---
5. Google Docs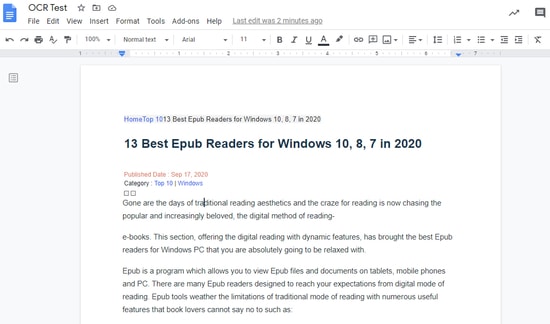 Do you know this article is composed on Google Docs? We write our articles on Google Docs as it is among the best free online word processors with support for hundreds of fonts and excellent collaboration options.
As far as features are concerned, it delights users with free templates, online document sharing via Google Drive, and many other offerings. Below are some key ones.
Key features of Google Docs
A Chrome extension for offline writing
Supports many third-party add-ons
Allows you to collaborate with team members in real-time
You can convert your Word documents to Google Docs
Lets you search Google for quotes, images, and text
---
6. WriteMonkey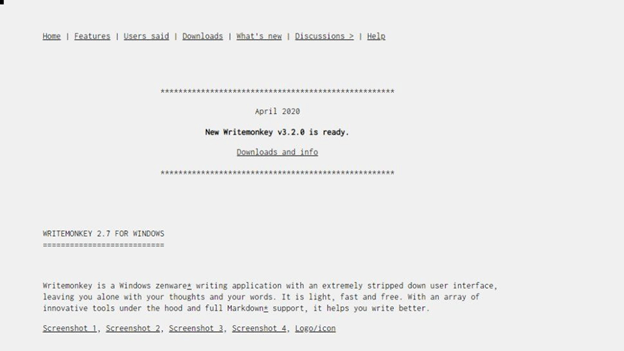 If you are looking for fewer distractions and more productivity during your writing sessions, you can choose WriteMonkey. This portable and one of the best word processing programs hides its set of tools to keep the environment distraction-free (similar to FocusWriter).
Moreover, simplicity and support for plugins are other reasons for including WriteMonkey on our list of the best word processors. Furthermore, below are some other noteworthy features of this software.
Key features of WriteMonkey
Customizable interface
Support for ANSI, Unicodes, and UTF-8
Availability of support for multiple languages
Markup and keyboard shortcuts support
---
7. Zoho Writer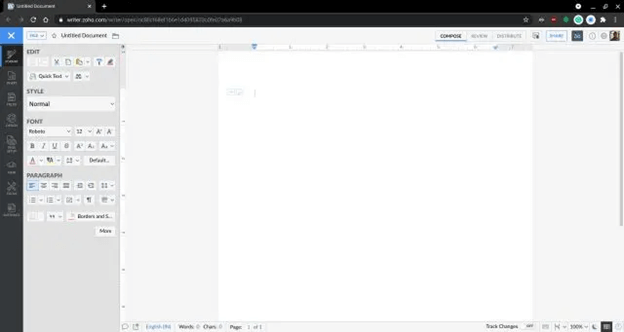 We would like to conclude the best free word processing software with Zoho Writer. We got fascinated by its clean yet feature-rich interface.
Moreover, it helps you write better with contextual grammar, style, and readability suggestions, feedback and change-tracking tools, and the following features.
Key features of Zoho Writer
Lets you insert images
You can change the indentation position and fonts
Allows you to choose a document creation template
Lets you convert DOCX/DOC documents without affecting the document formatting
Multiple users can collaborate on a document in real-time
Document automation and sign collection capabilities
Boasts WordPress integration
Also Read: Best PDF Search Engine Sites to Get Free PDF eBooks
---
Concluding the Best Free Word Processors
This write-up acquainted you with the best word processors you can use for free as a replacement for Microsoft Word. You can go through all the above-listed programs and their features to pick the one that fits your needs perfectly.
If you find any other offline or online word processor worth listing in this article or have any other suggestions/questions, kindly write us a comment. We will happily address all your concerns.
Niharika is a passionate soul who finds immense satisfaction in putting all her thoughts in writing. Being a technology enthusiast, she loves learning new things about tech and making everyone technologically literate through her articles. When not composing tech articles, you can find her bringing characters to life in her fictional stories, reading something intriguing, or spending time with her near and dear ones.
Subscribe to Our
Newsletter

and stay informed

Keep yourself updated with the latest technology and trends with TechPout.
Related Posts