If you are searching for the best free video editor for Mac in 2023, then you have come to the right place. Here, we are going to show you a list of the 10 most popular editing tools that you can use on Mac. Continue reading for more information!
There are a lot of people who are looking for free video editing software for Mac since they have a lot of films that they want to edit for better presentation or preservation purposes. Is there any Mac video editing software that's worth using? This is a common question in online forums. So, to assist you with this, we have brought up a comprehensive list of several excellent video editors for Mac.
In addition, we evaluated these video editing applications for Mac in terms of the supported video formats, as well as the benefits and drawbacks of the top 10 free video editors for Mac.
A List of Top 10 Free Video Editing Software in 2023
Although every single tool on the list of free video editors for Mac that we have provided below is excellent for the process of creating material for social networking platforms, it is important to keep in mind that any free tool will have restrictions, whether those restrictions take the form of limited capabilities, in-app advertisements or watermarks. However, we have done everything in our power to compile a comprehensive list of the tools that are the most useful and the least unpleasant for you.
1. iMovie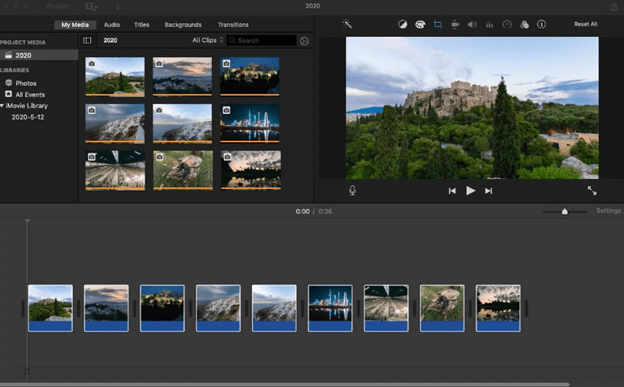 iMovie is a video editing program that is included at no additional cost with the purchase of a new Mac operating system. The most recent iMovie 11 version is an excellent & free video editor for Mac. It comes packed with many useful features, such as movie trailers, one-step effects, and audio editing, amongst others.
You may upload your videos to YouTube, and also export videos/ movies for use on your iPad, iPhone, or other mobile device in just a few simple steps. However, you won't have to pay for an iMovie if you purchase a new device. You will also find that it is difficult to get proficient with iMovie when you are first beginning to use it. iMovie is often considered to be among the top free video editing programs available for Mac and enjoys a solid reputation in this regard. You might study several iMovie video editing hacks and techniques in order to become more proficient with its use.
Also Read: Best Free Video Downloader for Mac 
---
2. DaVinci Resolve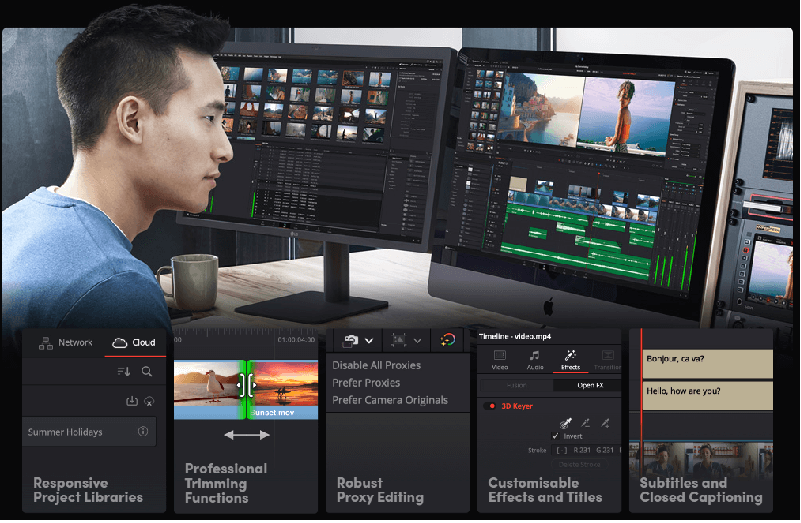 Do you want some "image technology that has won Emmy awards?" Who doesn't?! If this is the case, the free video editing program that you should use is most likely DaVinci Resolve. The cloud-based workflow systems that DaVinci offers make it an especially valuable platform for participating in remote collaborations.
The user interface design of DaVinci, which is organized into "Pages," allows users to approach each specific component of the editing process in a concentrated manner. Begin by trimming your image on the 'Cut' page, then navigate to the 'Color' option to adjust the tones and shadows in your image. On the 'Media and Delivery' page, there is support for a broad variety of formats; as a result, you can even publish directly to Twitter if you want to.
Make sure that your hardware is up to the task before you click the "download" button because this is a robust tool that requires an equally powerful computer.
---
3. Lightworks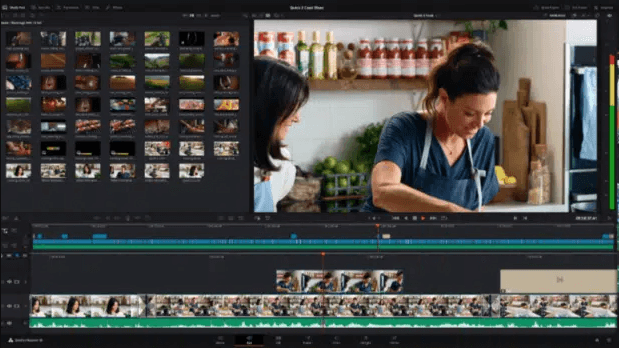 Lightworks is another free video editor for Mac that you can use. It has been operating for more than 30 years, so you can anticipate a high level of brilliance from it. The King's Speech was edited utilizing the Lightworks, in the event that the Colin Firth element is a deciding factor for you.
The cutting tools and keyboard controls in professional editing software are ideal for managing vast amounts of video, and professional editors find them very useful. The color-correcting options & built-in filters & effects are quite excellent, and you may use all of them even if you are using the free version of the program.
It features a robust timeline, background processing, and automatic autosaving, which together make it an extremely effective tool for finishing your film as quickly as feasible and sharing it with the rest of the world. When you use the free version, the only drawback is that your export choices are more restricted; you can only export up to 720p content, and it must be in a format that is preset for either YouTube, MP4, or Vimeo
Also Read: Best Free Video Stabilization Software for Mac
---
4. OpenShot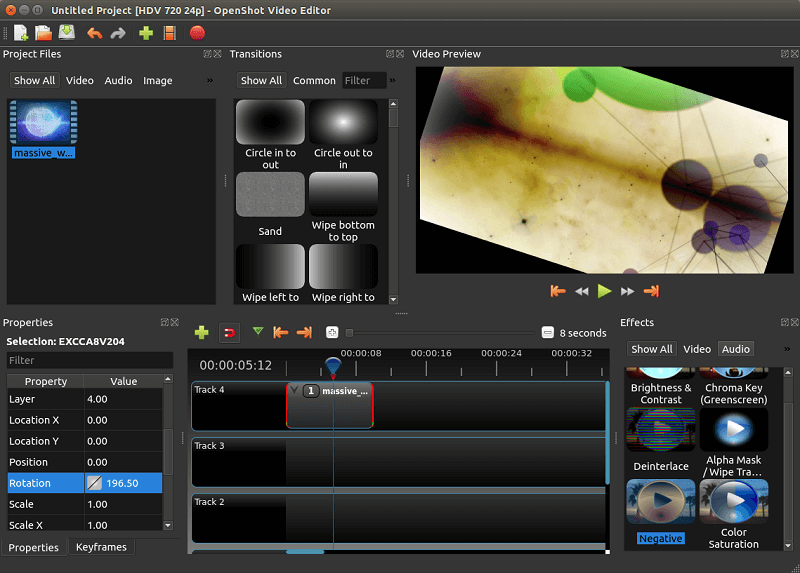 OpenShot is one of the best video editors that is available for Mac OS X, Linux, and Windows and is open-source and completely free to use. It is an excellent video editor for novices to use so that they may learn and practice video editing abilities. OpenShot is among the best options available to you if you wish to perform some fundamental video editing without even having to invest an excessive amount of effort.
You are able to produce 3D animation in addition to performing more fundamental video editing tasks. In addition, this best free video editor for Mac strongly supports over seventy different languages. You don't need to be concerned about a language barrier preventing you from editing movies/ videos. You have the ability to easily cut and slice videos, additionally, it displays waveforms while you are editing. What's more, it provides various templates so that you can quickly edit the titles.
---
5. Wondershare Filmora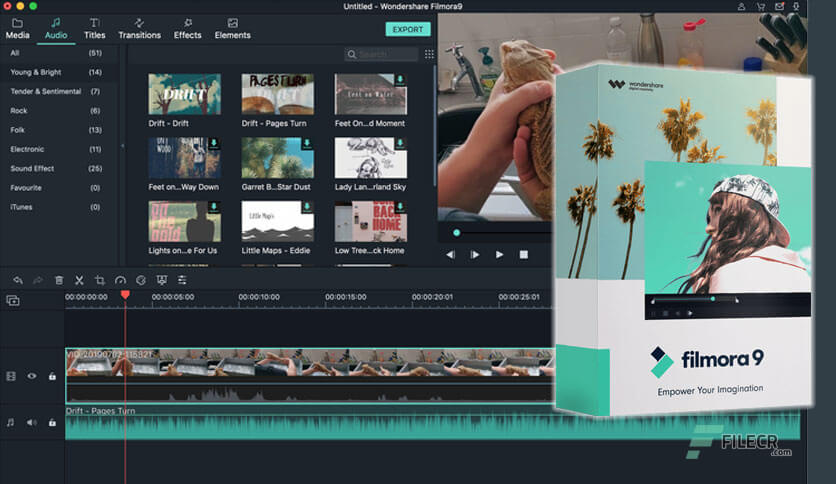 Next on this list of best Mac video editing software is Wondershare Filmora. It is an effective and user-friendly video editing program that comes packed with a wide variety of additional features. These include compositing, motion graphics, special effects, color correction tools, and many more. It is intended to provide you with increased control over the videos you upload.
Filmora is an excellent option to consider using if you are an experienced videographer who wants to do a color correction or grading to the film you have shot. Both Windows & Mac devices are compatible with Filmora. You have the ability to export your creations to virtually every prevalent video format. It is compatible with animation keyframing as well as motion tracking. It offers a wide variety of user-friendly professional tools in a plethora of categories.
Also Read: Best Video Repair Software for Mac
---
6. Avidemux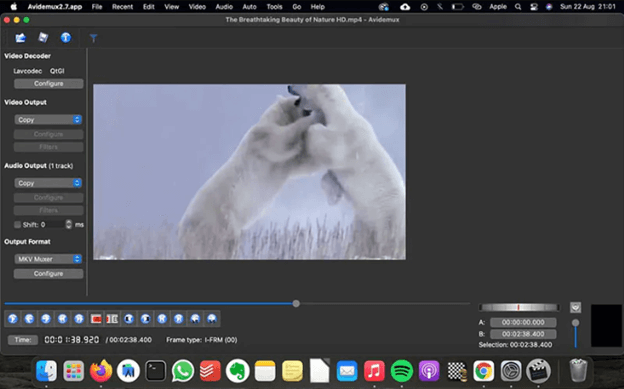 Avidemux is yet another fantastic free video editor for Mac that is tailored to perform straightforward operations such as trimming, filtering, and encoding. It is compatible with Mac OS X, Linux, and Microsoft Windows, under the license of GNU GPL, and it supports a wide number of video, audio, and image formats, such as AVI, MP4, MOV, MPEG files, ASF, JPG, AC3, AAC, and so on.
The fact that this free video editing program for Mac is highly compatible with a wide variety of video formats is the software's crowning achievement. You can also remove advertisements from a recorded TV show or just keep a portion of the footage. In addition to that, it gives you the option to utilize other filters, such as color correction. You can enhance the visual quality of your video by applying one of these filters to it.
---
7. HyperEngine-AV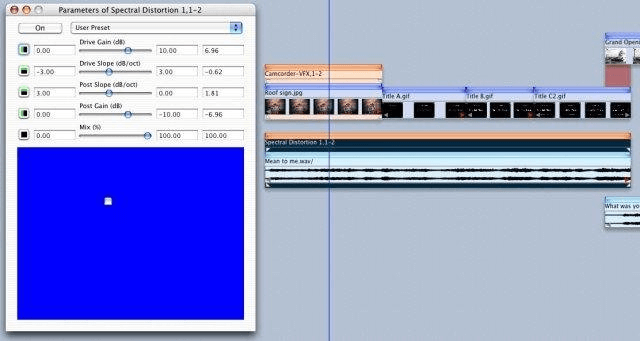 HyperEngine-AV is free video editing software for Mac that allows users to record, edit, export videos, and organize the editing process and adjust audio & texts in order to produce slide shows and movies in high-quality. The software also comes with 12 studio-quality amazing effects taken from the Hyperprism suite's audio processors developed by Arboretum.
In addition to that, it has text options that allow you to show section titles, credits, or karaoke lyrics with completely configurable font, type, size, color, and style as well as alignment & scroll direction. Users of Mac should definitely give HyperEngine-AV a try because it is an extremely brilliant free video editor for Mac.
Also Read: Best Video Compressors for Mac
---
8. HitFilm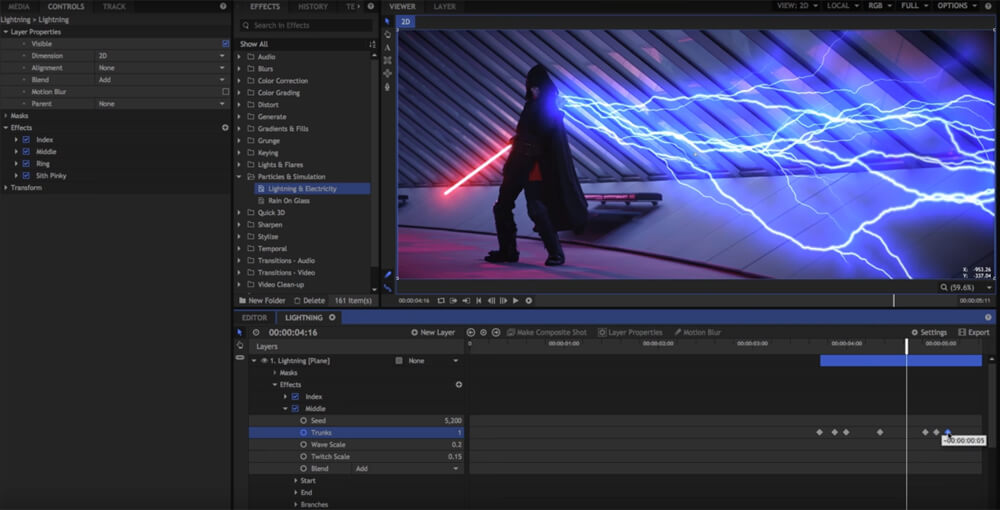 HitFilm is known for its lightning-fast processing times. The user-friendly interface allows you to cut, slice, copy, & sync with no lag; according to reports, it is twice as quick as its competitors when it comes to exporting, and 8X times faster at playback.
The in-built tools are really simple, but they are very powerful. You can generate content of professional quality in a matter of minutes by using ready-to-use presets and drag-and-drop transitions. The use of auto audio synchronization makes adjusting the sound a simple process.
If you wish to take your social video editing journey to the next level, adding lighting effects such as glows and light leaks will give your clip a more dramatic sense.
---
9. VideoPad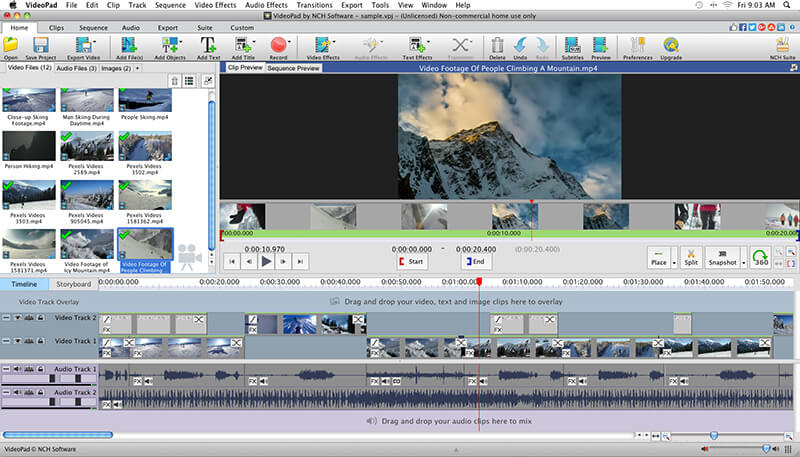 VideoPad is another best free video editor for Mac that you can consider. Although the website has an oddly dated appearance, it is impossible to deny that VideoPad is functioning. The user-friendliness of VideoPad was a primary design goal. In an ideal scenario, you'll be capable of jumping right in and starting working on your respective video in a matter of minutes.
Create title text animations using templates, record narrations directly in the app, or utilize professional-grade templates to whip up something exceptional in a snap using this software, which contains more than 50 effects and transitions and supports more than 60 kinds of video.
You may export your video in every conceivable resolution, quickly share it online, or instantly post it to YouTube; the app is available for use on desktop computers as well as iOS mobile devices.
---
10. Blender
Last but not least, Blender is an excellent video editing program that comes with a variety of much-needed features. It is the best 3D graphics tool that has also been recognized to be the greatest video editor for Mac. Modeling, texturing, rigging, UV unwrapping, animation, rendering,  skinning, water and particle simulations, smoke simulations, and other types of simulations are all possible with its utilization.
Blender is a piece of non-linear video editing tool that enables users to composite, also, build a variety of interactive 3D apps, animated films, video games, and additional visual effects. There are many complex features available in Blender, such as potent tools for character animation, modeling tools that are based on a material, modifiers & compositing system that is built on nodes, Python & many more.
Also Read: Best 4k Video Downloader Alternative for Windows & MAC
---
Final Words: Best Video Editor for Mac in 2023
Above you'll find a compilation of some of our best free video editing applications; none of them include a watermark. These free video editors for Mac will allow you to edit videos without restrictions.
When it comes to producing captivating material for social media, having the appropriate tools and the necessary abilities to edit videos is, of course, only one-half of the equation. Hopefully, you found the information shared in this article helpful. Please feel free to drop your comments in the section below. Additionally, for more technical tips & information, you can subscribe to our Newsletter.
Harshita Sharma is a technical writer with quite a distinct understanding of the tech realm. She is a tech enthusiast who believes that tech knowledge should reach one and all and tries to convert the sketchy knowledge into the simplest possible form for making people understand the tech world better. When not playing with words, she loves to travel and explore new places. And, is a coffee & cricket connoisseur.
Subscribe to Our
Newsletter

and stay informed

Keep yourself updated with the latest technology and trends with TechPout.
Related Posts