7 Best Free Software For Music Production in 2023

Record your first hit single using the best software for music production in 2023! The article contains the seven most deserving tools that you can consider. Read more. 
The rapid progression of technology has permeated various domains of human endeavor, encompassing the realms of music recording and innovation. The advent of music production programs has significantly streamlined the creative process for individuals involved in various forms of music production.
There is a wide range of applications available for music creation, catering to different user groups such as musicians, teachers, and educators. Additionally, it is essential to guide potential users in order to steer them toward the appropriate free music production software options.
A thorough analysis has been carried out on a selection of top-notch software for music production, aiming to provide you with the necessary insights to make an informed decision when you are prepared to acquire the application. Continue reading for better insights!
List of 7 Best Music Production Software For Windows/ Mac in 2023
Since there is a lot of software for music production available, it's a bit time-consuming as well as challenging to choose the right tool. So, to help you make better decisions, we have compiled a list of the most dedicated software that you can choose from. Without further ado, let's get started!
1. Audacity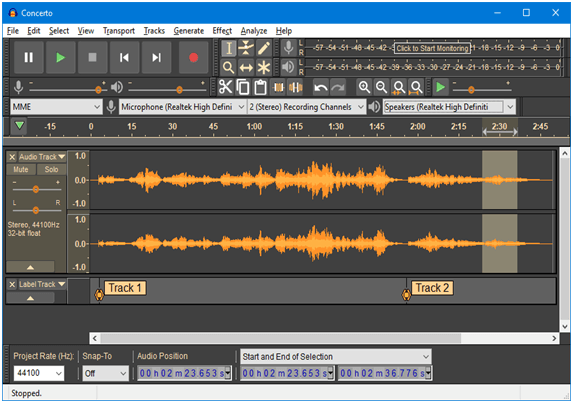 Audacity, a highly considered music production software, stands out as an exceptional choice for users seeking a free option. It is compatible with Windows, Mac, and Linux operating systems, ensuring accessibility across various platforms. Audacity's computer specification requirements are designed to be extremely minimal, allowing even older computers to run the software smoothly and without any significant issues.
The software is also a remarkable audio editing tool, which not only boasts an open-source nature but also comes completely free of cost. Despite its lack of monetary cost, this software rivals the capabilities and performance of several high-end paid applications available in the market.
One of the primary functions of Audacity is the ability to import audio tracks, mix them together, and combine them into a single output. It offers a wide range of tools that cater to different needs. It is designed to be user-friendly, making it accessible for beginners. Additionally, it boasts an extensive set of features that are robust enough to meet the demands of expert users. In advanced work, the utilization of noise reduction techniques and the extraction of vocal tracks can prove to be highly advantageous.
Also Read: Best Free Audio Sound Equalizer For Windows 10, 11
---
2. Tracktion T7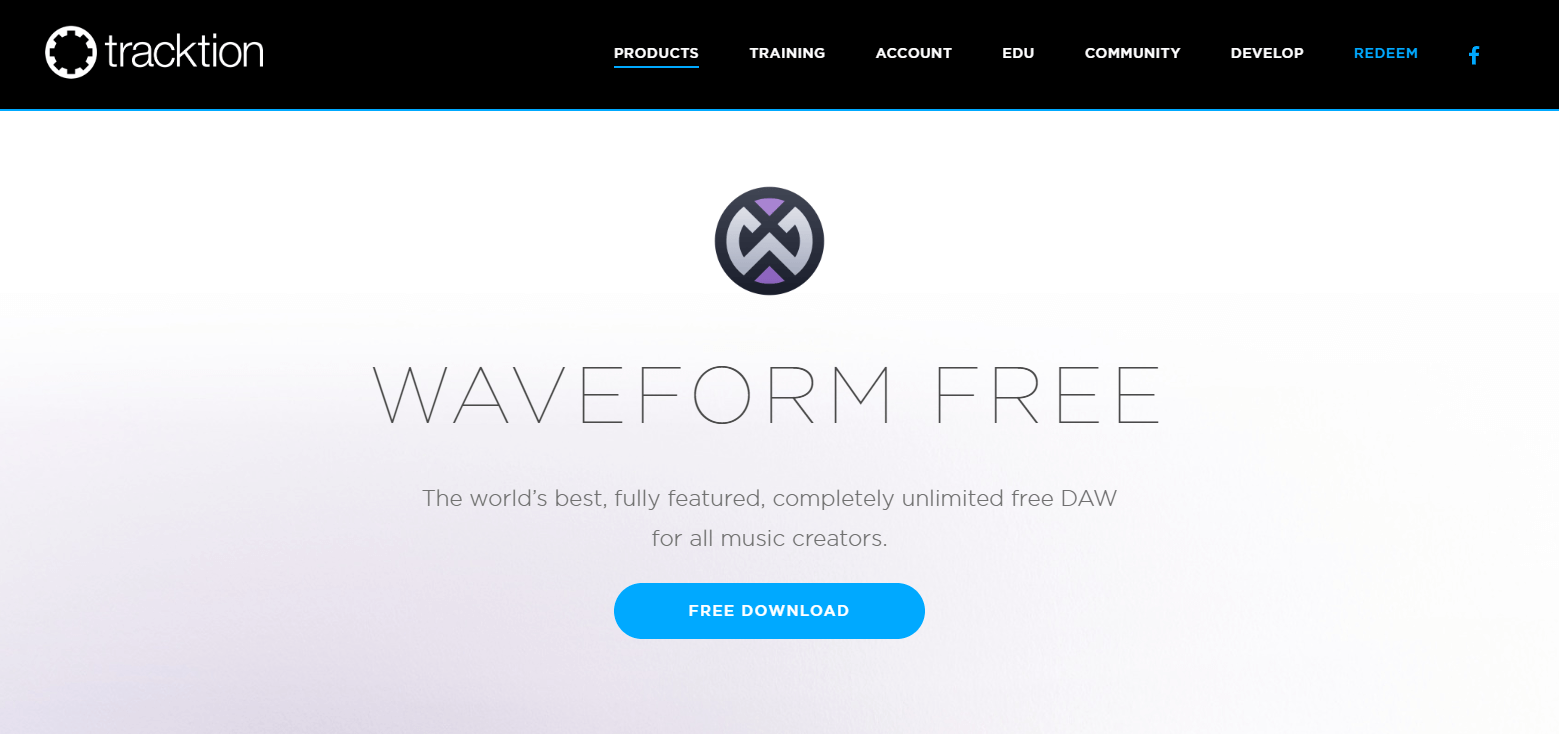 Another free software for music production is Tracktion T7 which offers a wide range of features and tools for best music creation. Tracktion T7 has implemented a shrewd business strategy by offering previous versions of their digital audio workstation (DAW) software at no cost while ensuring that no features or functionalities are compromised or removed.
The convention allows for free access to the two previous iterations before the release of the new edition. The user will receive regular updates whenever the company releases a new version of its flagship DAW, which typically occurs on an annual basis. However, it should be noted that not all new functionality will be provided with each update.
The adjustable growing section allows for seamless alignment with the workflow, while the bottom panel ensures optimal visibility of all parameters displayed on the screen, regardless of their location. Overall, this music production program is worth trying.
---
3. Magix Music Maker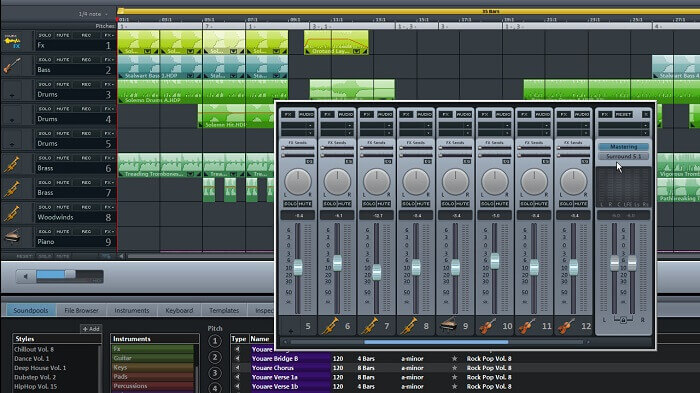 The Music Maker software, developed by Magix, is a powerful tool that allows users to create and produce their own music. The app is a meticulously crafted software designed exclusively for sound engineers, highly proficient musicians, and accomplished music producers. The platform provides a highly conducive environment for music production professionals to engage in creative music development.
This software for music production is well-known for its exceptional quality and performance. The software has made significant advancements in various aspects of music post-production, including music mastering, mixing and arrangement, recording, and more. The Magix Music Maker program empowers music producers to bring their ideas to life with exceptional quality, thanks to its innovative algorithms and impressive range of plugin effects. The groundbreaking success of the Magix Music Maker can be attributed to its seamless integration of a technical device and a highly flexible workflow.
Also Read: Best Audio Recording Software For Windows 10, 11
---
4. Soundtrap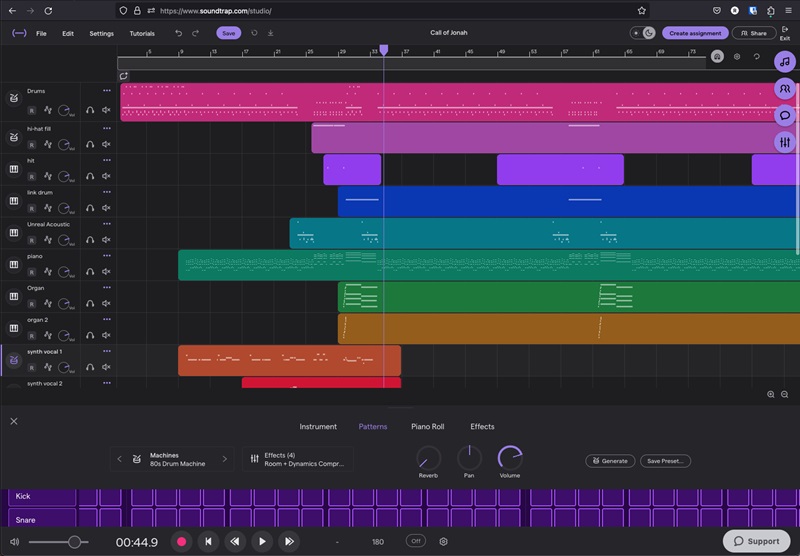 Soundtrap is an immersive online music studio that offers a comprehensive range of features and tools for both instructors and students, making it a versatile platform for musical training and education. The STEAM Curriculum is an immersive online learning resource that seamlessly integrates music and podcasts into its Web app, providing students with a dynamic and engaging educational experience. And, this online software for music production offers the convenience of accessibility across various devices, enabling users to seamlessly utilize its features.
The interface possesses a straightforward design, ensuring effortless navigation and comprehension for users. The instrument serves as a tool for fostering innovation, eliminating the need for users to acquire proficiency in utilizing VST or any other intricate technical components in the process of music production. Additionally, it is possible to capture the sound produced by your MIDI instruments by directly utilizing the microphone of your machine or device. Furthermore, it facilitates the effortless sharing of the application with other users, fostering collaboration and creativity in music-related projects. So, if you are looking for a web-based music production program, then Soundtrap is a perfect fit for you.
---
5. Ableton Live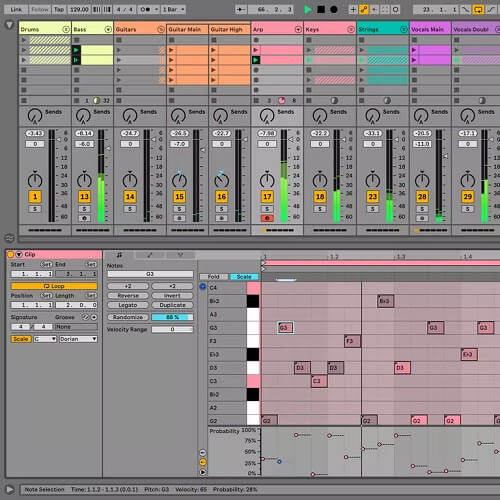 The next free software for music production on our list is Ableton Live. It is a digital audio workstation software that is widely used by musicians, producers, and DJs for creating, recording, and performing. The Ableton Live 10 Suite is a highly versatile and all-encompassing software that offers a wide range of tools and features for the purpose of creating and performing musical recordings.
One of the key aspects of this software is its ability to enable users to seamlessly engage with their time-based workflow without any disruption to the ongoing live session. The software offers a unique opportunity to seamlessly engage with the workflow while ensuring uninterrupted live performance.
The Multitrack Recording Technology (MRT) featured in Ableton Live10 Suite empowers music producers with the ability to finely tune and manipulate the speed and pacing of any audio material while it is being recorded. To make the necessary adjustments, there is no need to pause the ongoing recording.
Also Read: Best Free Audio Editing Software For Windows
---
6. Ardour
Ardour is another powerful and ideal software for music production that you can use. The program is a uniquely designed and seamlessly integrated software application for music production, offering users the ability to effortlessly record and meticulously edit their audio projects on a variety of operating systems including Mac, Linux, and Windows.
The program is built by technicians who possess extensive experience and demonstrate a collective commitment to putting forth diligent and meticulous efforts. Ardour stands out among music production programs for its advanced functionality. The program's high level of accessibility enables app developers to focus their efforts on creating consumer-centric functionality, rather than being burdened with the task of constructing captivating apps solely for advertising purposes.
---
7. Soundation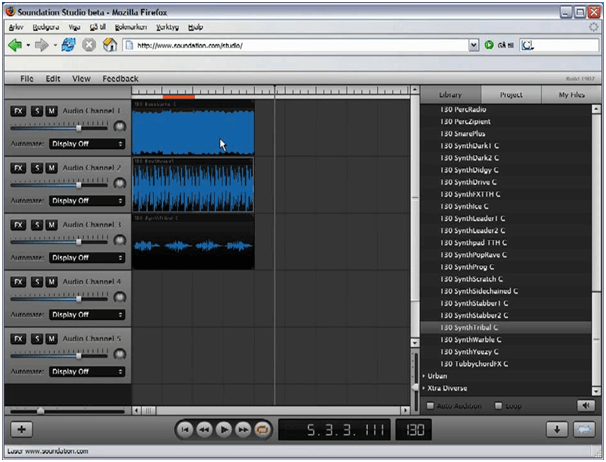 The last name on this list of best software for music production is Soundation. An online platform that exclusively offers several audio editing tools with a range of capabilities. There is a range of options available, including a free version as well as three different paid versions. If you are in need of a web-based music maker and editor, this tool can be utilized to construct your tracks.
In addition to this, it is important to first save the files to your hard drive. However, in order to access the premium and more advanced features provided by Soundation, you will need to subscribe to the pro version of the software. However, even after you have completed the process of creating your music, there is always the option to cancel the plan anytime whenever you want.
Also Read: Best Music & Audio sound Visualization Software for Windows 11/10
---
Final Words!
In summary, there exists a wide array of best music production software options available for individuals to select from. These software choices enable users to engage in the process of composing, mixing, and creating vibrant musical productions suitable for various occasions such as concerts, small venues, or personal endeavors.
Given that each program possesses a distinct interface, functionality, and set of limitations, you have the freedom to choose the one that most resonates with you. That's all! We hope you found the information shared in the article informative & helpful.
Do you have any questions or further recommendations regarding the same? If yes, then please share them with us in the comments section below. Additionally, for more tech-related information, you can subscribe to our Newsletter and follow us on Social Media (Facebook, Twitter, Instagram, Pinterest) so you never miss out on anything.
Harshita Sharma is a technical writer with quite a distinct understanding of the tech realm. She is a tech enthusiast who believes that tech knowledge should reach one and all and tries to convert the sketchy knowledge into the simplest possible form for making people understand the tech world better. When not playing with words, she loves to travel and explore new places. And, is a coffee & cricket connoisseur.
Subscribe to Our
Newsletter

and stay informed

Keep yourself updated with the latest technology and trends with TechPout.
Related Posts