Today, in this article, we talk about the 7 best free Android keyboard apps to elevate your typing experience and take it to another level.
While the stock keyboard suffices most of the requirements of a user, some users desire more accuracy, better speed, greater customization, and various other unique features in their keyboard. Since the in-built keyboard cannot cater to all the special user needs, the Play Store has many keyboard apps for Android.
However, if you wonder which keyboard app for Android is the best, you can focus all your attention on this article. This write-up brings forward a list of 7 apps with a plethora of customization options and other unique features, offering you a pleasant typing experience for free.
Let us begin with the best free keyboard apps for Android without wasting more of your precious time.
Top 7 Keyboard Apps for Android (Free)
Below is a carefully curated list of the best free keyboards for Android you can download in 2023.
1. Gboard

Gboard from Google is undoubtedly one of the best keyboard apps for Android you can find in 2023. This constantly updated keyboard offers buttery smooth typing, Google Translate and Google Assistant integration, neat gesture control for deletion and cursor, and the following delightful features.
Key features of Gboard
Great predictions using machine learning for fast typing
Emoji Kitchen with custom emoji mashups
Easily accessible sticker and GIF packs
Dictionary linked to your Google account
Allows you to create your own GIFs
Availability of decent keyboard themes
Supports 150+ languages
Also Read: Best Photo To Cartoon Picture Apps For Android & iOS
---
2. Chrooma Keyboard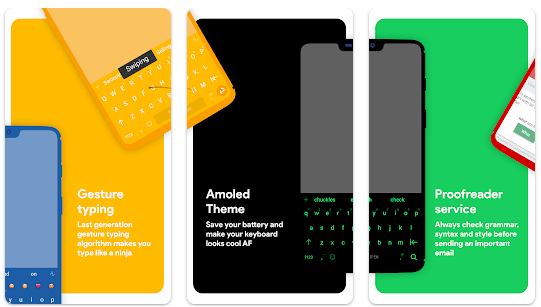 Chrooma Keyboard is a free keyboard app you can download to get the best visual customization on Android. We love how beautifully it changes the keyboard color to match the color of the on-screen application. For example, the keyboard color changes to green if you are using Spotify. Moreover, the following are its other noteworthy features.
Key features of Chrooma Keyboard
Night mode for a darker keyboard selection
Supports gesture typing
Contextual word predictions powered by AI
Split layout, one-hand mode, and many other fancy features
---
3. Microsoft SwiftKey

SwiftKey from Microsoft is yet another free keyboard app for Android you can download in 2023. It learns from your typing and picks the most frequently used nicknames and slang so that autocorrect does not bother you. Additionally, it boasts an in-built GIF search and the following fascinating features.
Key features of Microsoft SwiftKey
A wide range of themes to customize your keyboard
Supports more than 700 languages
Availability of a translation tool
User-friendly
Also Read: Best Free GPS Speedometer Apps for Android and iPhone
---
4. Grammarly
Next, we have Grammarly on our list of the best keyboard apps for Android to download for free. It is the perfect choice for people who prioritize grammatical correctness over features like a wide selection of emojis. Grammarly detects and corrects spelling, punctuation, and other grammatical errors in your texts, in addition to offering the following features.
Key features of Grammarly
Supports swipe typing
Shows predictive suggestions based on how you type
Explains why your grammar or phrasing is not correct
---
5. Fonts

If you like playing with fonts in your texts, Fonts is the best keyboard for Android you can download. It boasts a swipeable menu allowing you to change fonts with a snap of the fingers. Moreover, the following are its other interesting features.
Key features of Fonts
Supports multiple languages
Allows you to customize the keyboard with themes
Availability of text art
Also Read: Best Android Root Apps
---
6. Typewise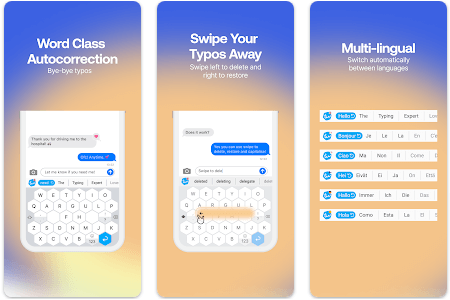 Typewise is yet another free keyboard app for Android that is quite different from the other apps on this list. An in-built game to help you learn how to use this keyboard, non-QWERTY layout, hexagonal keys, and the following features set it apart from the rest of the applications.
Key features of Typewise
A highly accurate autocorrect
Availability of a 100% offline mode to protect your privacy
A plethora of themes, fonts, and emojis for a customized experience
Improves your typing speed and helps you make fewer typos
Support for multiple languages
---
7. Fleksy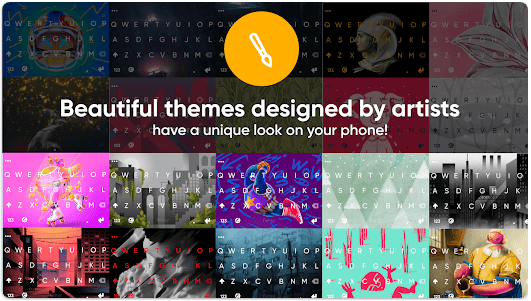 Let us conclude the best free keyboard apps for Android with Fleksy. It is well-known among users for its powerful autocorrection, clean design, availability of over 100+ beautiful themes (you can create your own as well), and the following wonderful features.
Key features of Fleksy
Millions of GIFs and stickers
Suggests perfect emojis for various situations
Many unique add-on features available as extensions
Allows you to add a row of most frequently used symbols, URLs, emojis, and more
Availability of many cool typing effects
Also Read: Best Benchmark Apps For Android
---
Summing Up
This article highlighted the best keyboard apps for Android available to download for free. You can go through their features and pick the one you like the most.
If you know any app that deserves to be a part of this list of the best free keyboard apps for Android or wish to suggest something about this article, please do not hesitate to drop us a comment.
Niharika is a passionate soul who finds immense satisfaction in putting all her thoughts in writing. Being a technology enthusiast, she loves learning new things about tech and making everyone technologically literate through her articles. When not composing tech articles, you can find her bringing characters to life in her fictional stories, reading something intriguing, or spending time with her near and dear ones.
Subscribe to Our
Newsletter

and stay informed

Keep yourself updated with the latest technology and trends with TechPout.
Related Posts