10 Best Expense Tracking Software | Expense Management Tools in 2022

This article introduces you to the best expense management software for easy expense monitoring, reporting, approval, and reimbursement.
Many organizations offer their employees reimbursement of expenses like utility bills, traveling expenditures incurred in connection with their job, etc. However, it often takes longer to process these repayments as accurately tracking the expenses is a wearying task. But now you do not have to worry, as the best expense tracking software are here to record and maintain better accounts of all business-related expenses.
So, without further ado, let us jump right into the well-researched list of the currently available best expense management solutions.
List of the Best Expense Tracking Software in 2022
Below we have listed the best expense management and tracking tools you can use.
1. QuickBooks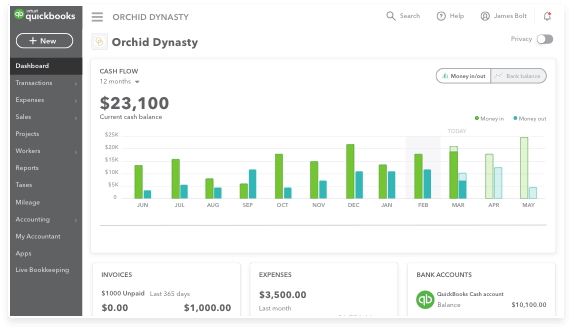 Let us first introduce you to QuickBooks. With this application, you can effortlessly track your finances irrespective of whether you work from home, the office, or anywhere else.
The best thing about QuickBooks is that it boasts a real-time dashboard, so you stay updated with all your transactions as and when they occur. Moreover, it automatically downloads the bank account information, saving you from the hassle of entering data into spreadsheets.
Furthermore, the following features add to the reasons we consider QuickBooks one of the best expense tracking software.
Key features of QuickBooks
Invoice tracking to ensure timely payment by clients
Availability of tax standard-compliant tracking of sales tax
Lets you record all receipts on the mobile device
Cost-effective expense management software for small businesses
Also Read: Best Cash Advance Apps Like Dave to Borrow Money
---
2. Expensify
Next, we have Expensify on this listicle of the best expense management system. It is an automated application that manages your spending in real-time.
What we liked the most about Expensify is that it analyzes the policies of your company to help you concentrate only on relevant expenses. Additionally, the following are other useful Expensify features.
Key features of Expensify
Smart integrations and reporting
Automated reimbursement system
Cloud-based application
---
3. Rydoo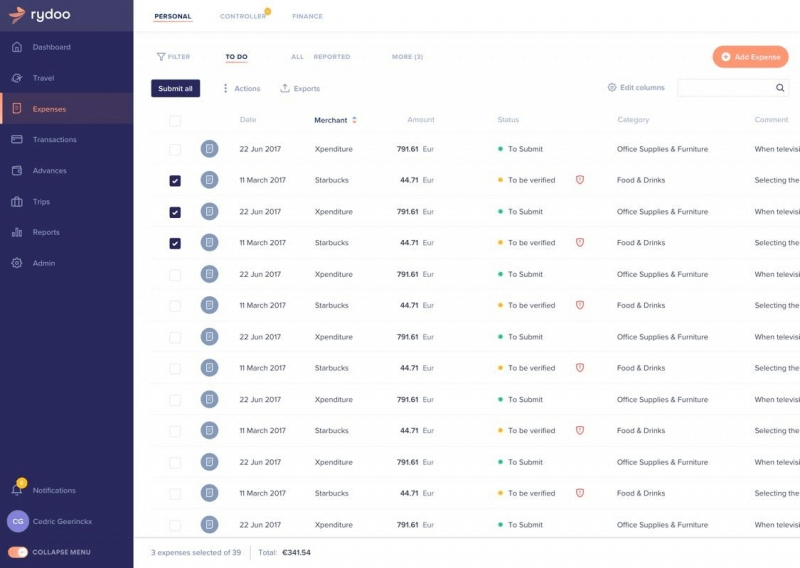 Here comes yet another great expense management system you may try. Rydoo is one of the simplest applications to track expenses.
It lets you upload receipts through the application or email, automatically extracts crucial data, and then orders the extracted data according to projects and categories.
Moreover, the following are some other notable things about Rydoo.
Key features of Rydoo
Allows you to log mileage and cash advances
You may set up offices, groups, and branches to organize the way you use Rydoo
Supports report generation in the form of XLS, XML, CSV, and PDF files
---
4. Abacus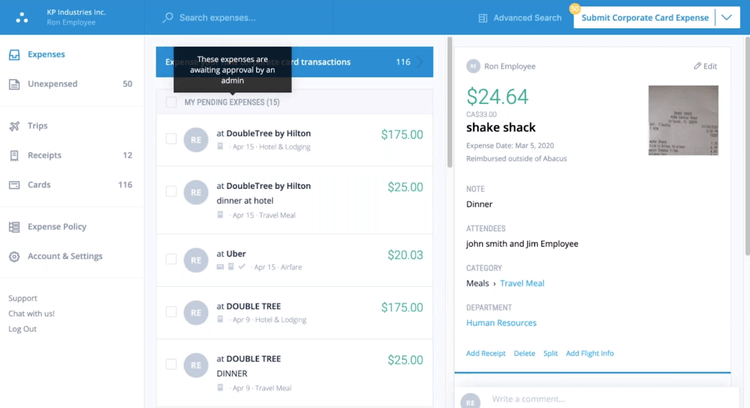 The next name on our list of the best expense management tools is Abacus. It is a program popular for its contemporary design and ease of use.
Besides being user-friendly, Abacus is also a great addition to this due to its wide spectrum of features. A few of the remarkable features of this software include a supporting application that allows employees to submit expenses when they occur and the ones shared below.
Key features of Abacus
In-built text feature to speed up the process of reporting and reimbursement
Option to connect personal or corporate cards to make expense tracking simple
Learns from your behavior and automatically suggests merchants and categories
Automatically forwards certain expenses to the concerned manager according to specific criteria
In-app chat option so that you can communicate with your team
---
5. ReceiptBank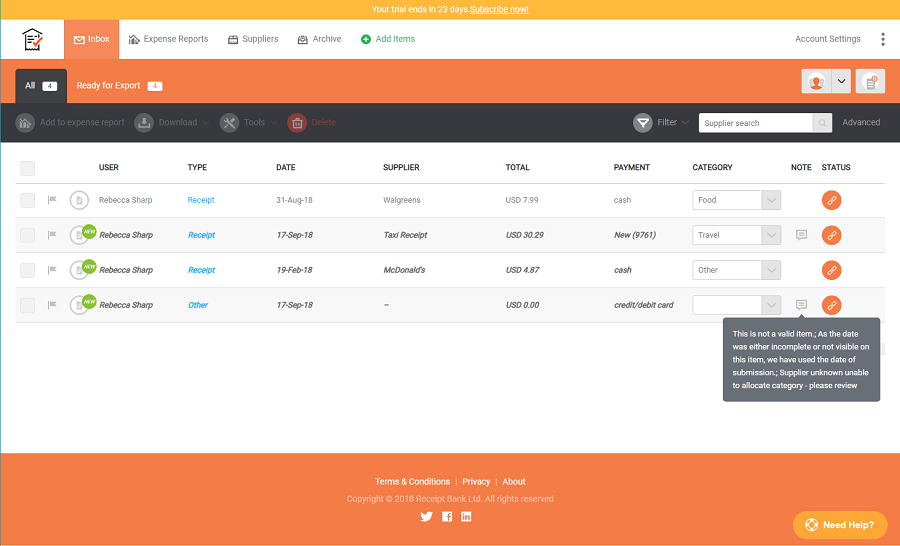 You may choose ReceiptBank if you are looking for the best expense tracking software that excellently integrates with third-party accounting applications. It minimizes the data entry requirements to simplify the process of expense tracking.
Additionally, features such as automatic Optical Character Recognition (OCR) justify ReceiptBank's position on this listicle sharing the best expense management software for small businesses. Furthermore, the following features also make it a desirable choice.
Key features of ReceiptBank
Highly secure with 256-bit SSL security
Allows data export through PDF or CSV files
ReceiptBank's high-end plans include features like item import from Dropbox and PayPal
Also Read: Accounting Software for Mac for Small Business and Enterprises
---
6. Zoho Expense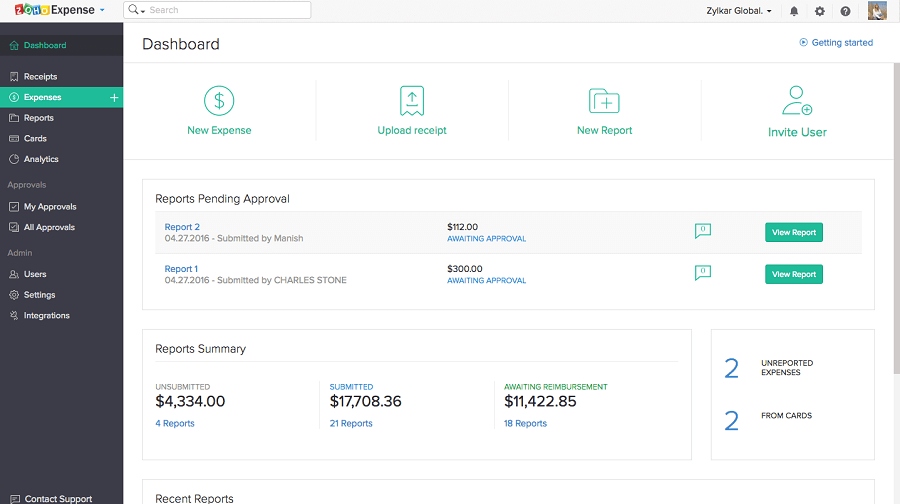 Talking about Zoho Expense, it is yet another budget-friendly yet feature-rich expense management system. The customization options are what attracted us the most to this software.
Along with high customizability, the following features are also a highlight of Zoho Expense.
Key features of Zoho Expense
Automatically turns receipts into expense entries
Groups expenses into a single report
Card transactions import option
Supports expense forwarding from the inbox
Stores receipts in the cloud
Organizations may set spending limits and monitor employee expenditure
---
7. ExpensePoint
Next, we would like to include ExpensePoint on our list of the best expense management solutions. Its affordable pricing makes it a great choice for small businesses.
Besides being affordably priced, ExpensePoint boasts the following useful features that make it one of the best expense tracking software.
Key features of ExpensePoint
Credit card integration
Multiple device access
Easy employee reimbursement through Automated Clearing House (ACH)
Receipt uploading via methods like email
Useful back-end administrator tools
Receipt imaging system
Multi-currency system
One-stop destination for expense submission, approval, and reporting
---
8. Concur Expense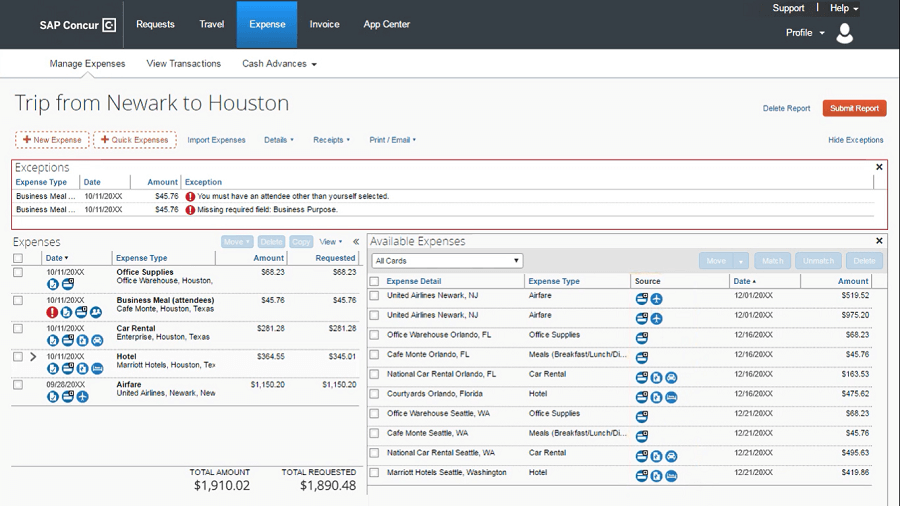 Here we have Concur Expense in the eighth position on this list of the best expense management software. It is a popular application for its ability to capture high-quality receipt pictures to submit them for expense claims.
Moreover, the addition of unlimited business cards and the following features make Concur Expense the best expense management tool.
Key features of Concur Expense
Enterprise Resource Planning (ERP) to give you a detailed picture of your forecasts and budgets
Analysis of data and ensuring its compliance with tax rules and regulations
Cloud-based environment allowing you to see all your expenses in a single location
Supports integration with other SAP applications
---
9. ExpensePath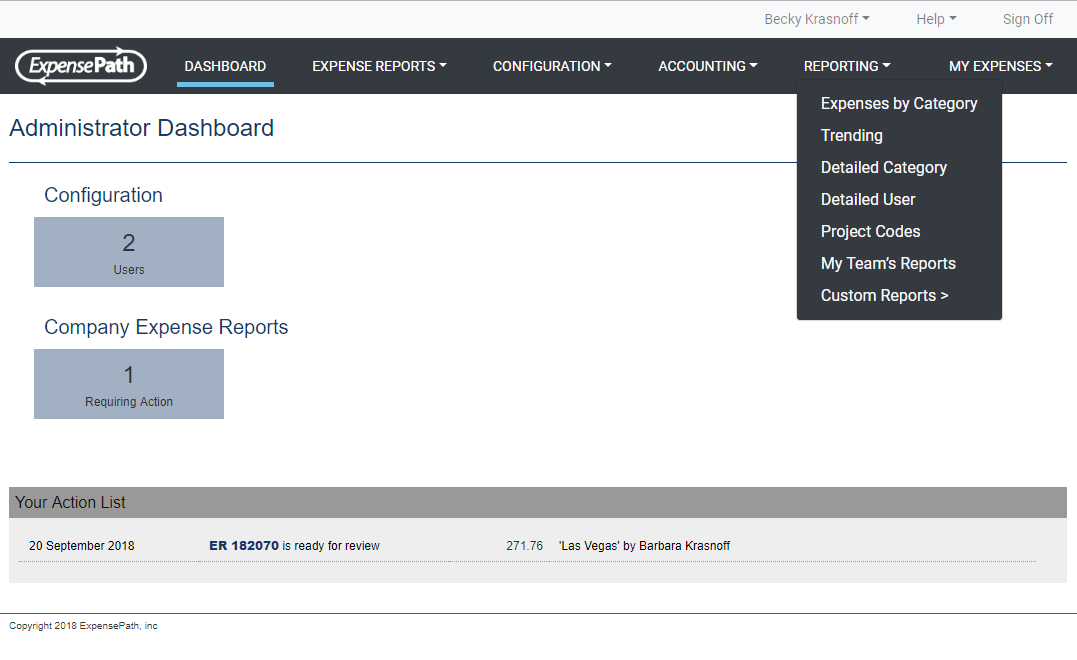 In the ninth position, we would like to place ExpensePath. It is a beginner-friendly expense management system having an intuitive interface.
In addition to it, ExpensePath boasts the required customization, admin manual, and the following features to justify its place on the list of the best expense tracking software.
Key features of ExpensePath
Policy violation flagging
Company card reconciliation and management
Speed analysis reporting and audit documentation
Accounting system integration
Mobile device support for the creation, submission, and reviewing of expense reports
Travel booking integration
---
10. Certify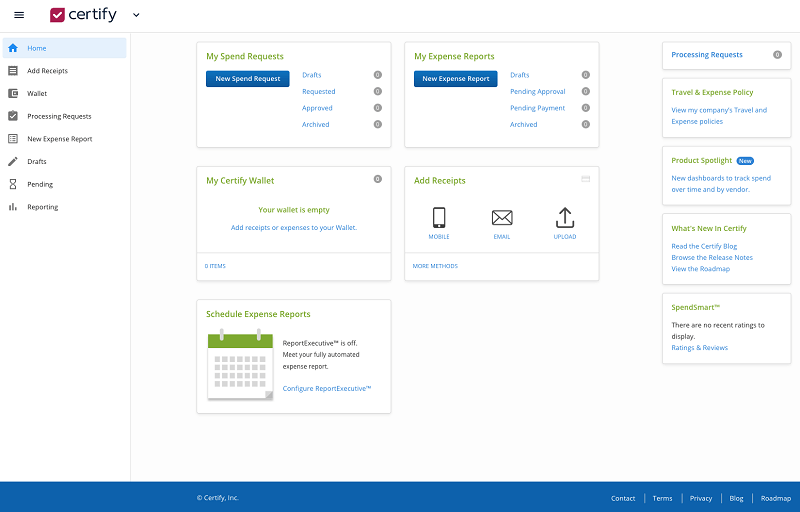 Finally, we have Certify to conclude our best expense management software. This easy-to-set-up software is loaded with excellent features.  Talking about the features, it boasts video tutorials to help you use the software. Moreover, below is what else you may like about Certify.
Key features of Certify
Quickbooks, Microsoft Dynamics, Uber, and other app integration
Allows you to book travel
You may upload  your receipts or click a picture
Automatic extraction of information like location, category, and date from the receipts
Audit support for your team's accounting
Also Read: Best Payroll Management Software
---
Summing Up
Above, we shared a list of the best expense-tracking software for small businesses and employees who don't have much time to track their expenses and wait for reimbursement. You may go through the unique features of all these programs to select the best one for your needs.
In case of any doubts or confusion regarding this write-up, you may contact us via the comments section.
Niharika is a passionate soul who finds immense satisfaction in putting all her thoughts in writing. Being a technology enthusiast, she loves learning new things about tech and making everyone technologically literate through her articles. When not composing tech articles, you can find her bringing characters to life in her fictional stories, reading something intriguing, or spending time with her near and dear ones.
Subscribe to Our
Newsletter

and stay informed

Keep yourself updated with the latest technology and trends with TechPout.
Related Posts