A clipboard manager is a feature that should be included in every operating system because it makes it easier to copy and paste text between applications. This was accomplished in a very effective manner by the clipboard manager that came packaged with Windows 10, which also gave users the ability to save up to 25 separate pieces of text for later use.
In Windows 11, Microsoft raised the bar by adding the capability for copying photos, emojis, and various other symbols in order to make clipboard more universal & versatile. This was done in order to make the clipboard more useful.
However, despite the addition of these features, the Windows native clipboard manager is still not as good as it should be; it is erratic and frequently fails or lags to copy important components. Not to mention the fact that the Windows default clipboard manager still makes it difficult to control the history of the clipboard.
In this post, we are going to explain the best free clipboard managers for Windows, and you should check them out if your job requires you to copy and paste unlimited text across different applications and you want to have more advanced capabilities such as autosave, plugins, hotkeys, cloud-syncing, and other similar features.
A List of 7 Best Free Clipboard Managers for Windows 10, 11
Listed below are the most powerful and popular clipboard managers for Windows 10, 11 that you can use for a better experience. Now, without further ado, let's get started!
1. ClipboardFusion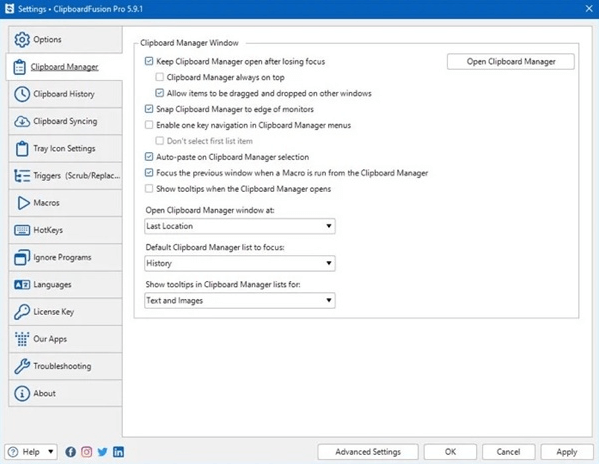 One of the most well-known clipboard managers available for Windows is ClipboardFusion. It is possible to use this software with ease while still taking advantage of its capabilities as an advanced clipboard manager, which includes features such as macros and triggers that may be customized.
With the help of ClipboardFusion, you are able to copy and paste a wide variety of items into your clipboard history, from which you can retrieve them later if necessary. Your whole collection of clips has been saved, and they have been organized in a way that makes it simple for you to retrieve any of them. In addition to this, you also have the option of using cloud synchronization to synchronize the text in your clipboard across all of your devices.
In terms of more complex operations, Clipboard Fusion enables you to make use of hotkeys, develop macros through the use of C# to carry out text transformations on the text samples that you have copied, and automatically configure triggers to carry out a variety of clipboard functions.
Also Read: Best Desktop Gadgets for Windows 11, 10,8,7
---
2. Ditto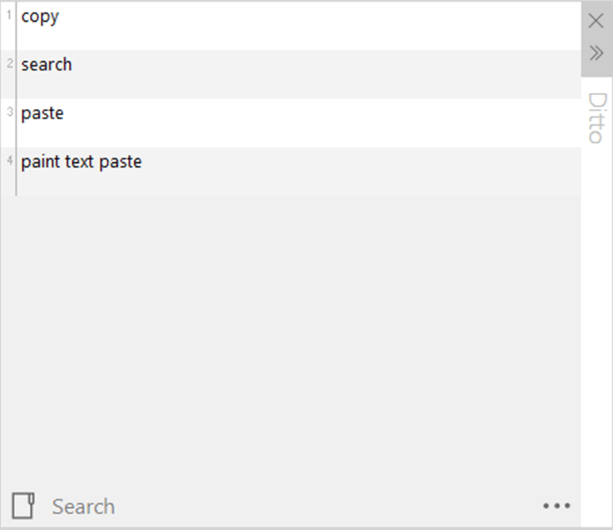 Ditto is not a replacement for a traditional clipboard manager. Rather, it is an addition to the normal clipboard manager that comes with Windows. This extension adds functions to the Windows clipboard manager that reduce the requirement for an advanced, specialized clipboard management program.
You can store virtually any kind of information using Ditto, including text, photos, HTML snippets, and just about anything else you can think of. Your whole collection of clippings is stored in a DB, which makes it much simpler for you to retrieve them at a later time. In addition, you may get to all your clippings by utilizing a straightforward shortcut on the keyboard.
Special Paste is yet another helpful tool offered by Ditto. With this option, you are able to copy and paste text in a variety of formats, including sentence case, inverted case, and many more. In addition, Ditto allows you to accomplish a variety of tasks within the application rapidly and effectively by making use of a large number of keyboard shortcuts.
Ditto gives you the option, among other things, to share your clipboard with your friends and peers, check statistics regarding copied & pasted texts, organize clippings into groups, and modify the order of clips.
---
3. The ClipMate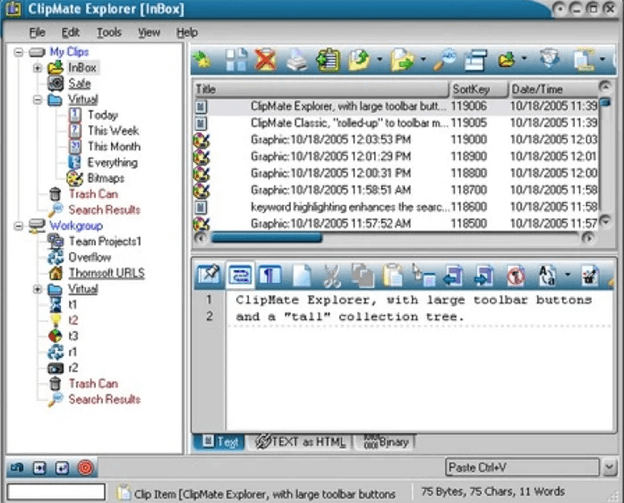 Similar to Ditto, ClipMate is an extension that may be added to the standard clipboard manager that comes with Windows. It enhances the capability of the built-in clipboard manager, allowing you to copy several text snippets onto it, manage them, and effectively employ them whenever it is required to do so.
It is also extremely simple to use ClipMate, and you can use it to store a variety of files on your clipboard and organize them into folders so that you can quickly access them when you need them. You have the option of choosing to synchronize your text clips with other users, and it can keep your text clips for up to 31 days at a time. In addition to that, the application is portable, which means, it may be launched from a USB flash drive if you so choose.
You may paste objects anyplace instantaneously with only a double click thanks to ClipMate's Universal QuickPaste, which is one of the program's distinctive features. In addition to that, it enables the drag-and-drop capability, which makes it much simpler to move copied snippets from one program to another.
In addition, since ClipMate includes a built-in screen capture tool, you may also use it to record what's happening on your computer screen. It even offers advanced capabilities such as support for hotkeys for various tasks, outbound filtering, macro pasting to substitute elements inside your clipboard clipping, and support for Unicode and templates, all of which let you do more with your text clippings. Overall, this is one of the best free clipboard managers for Windows 10, 11.
Also Read: Best Free Reminder Apps for Windows 10, 11
---
4. Clip Angel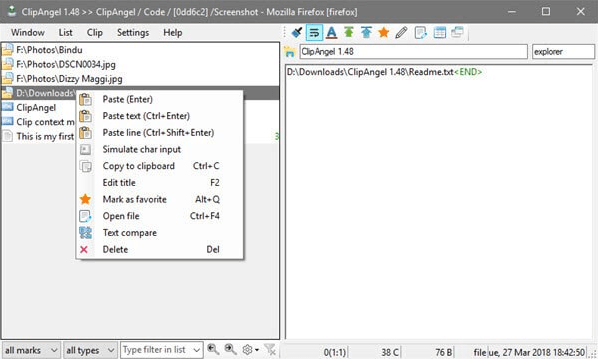 You will find that having Clip Angel installed on your Windows PC gives you access to one of the very best free clipboard managers available. The fact that Clip Angel saves everything you copy, including the files and directories, is by far the best feature of this application.
Additionally, it allows icons for each individual file type that you copy. As an illustration, it places a picture icon in front of image files, a text icon in front of every text file, and so on. In sum, it is an ideal clipboard management tool that you can consider.
---
5. Clipboard Magic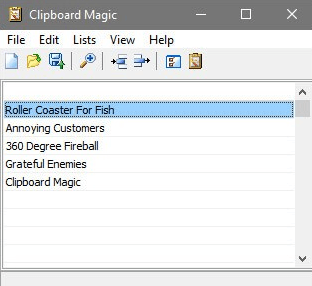 Clipboard Magic is another excellent and lightweight clipboard manager for your Windows 10, 11 PC if you are looking for such a solution. The application works quickly and provides practically all of the functionality that is required of a clipboard manager.
The clipboard manager for Windows is limited in that it can only copy text files, and it does not offer support for formatted text, video formats, image formats, or any other type of format.
Also Read: Best IPTV Players for Windows PC
---
6. ClipClip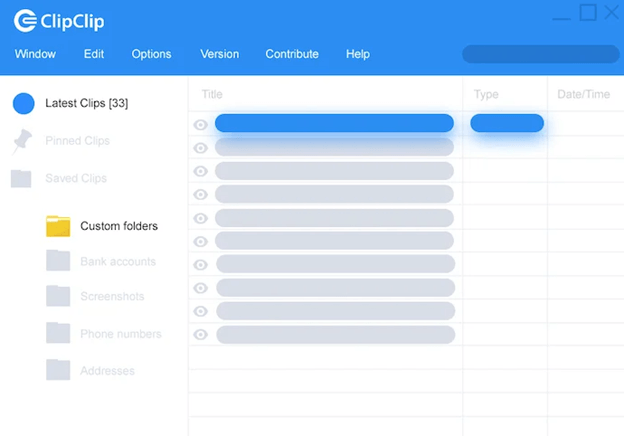 ClipClip stands out from other clipboard managers because of its one-of-a-kind design. To begin, it doesn't take up much space and is totally cost-free. The ability to edit texts as well as photos is what sets ClipClip apart from its competitors. It includes an editor that is already installed and is capable of formatting words, resizing images, and adding annotations to them.
ClipClip appears to be no different than any other Windows application from the outside. All of the clips that you have copied are going to be displayed in the main window. When you are ready to utilize the clip, right-click on it and select the option that says utilize Clip from the context menu. Simply double-click on the clip you want to edit, and then make the necessary changes to the clip. Some of the best features of ClipClip include, but are not limited to, the option to modify the kind of clip, the ability to save clips in text format, the ability to create custom groups, an in-built translator that can convert clips between various languages, the ability to customize hotkeys, and so on. Click on the link below to use this best Clipboard Manager for Windows 11, 10.
---
7. Echo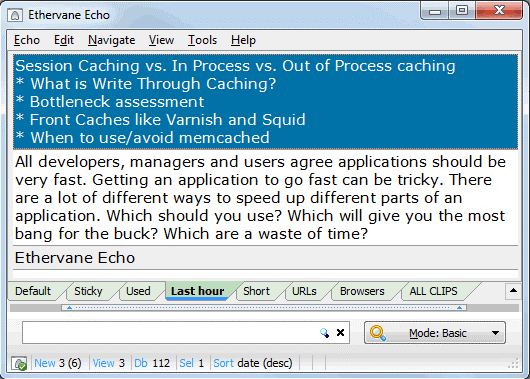 Last but not least, Echo is a full-fledged best clipboard manager for  Windows 10, 11 however in comparison to other tools, Echo offers a greater number of capabilities. The Clipboard Manager is entirely compatible with all versions of the Windows operating system, including Windows XP, Windows 7, and Windows 10.
It was developed to store every snippet of text that you copied while using the operating system. In addition to that, it provides other functionality, such as translating the copied texts and features geared at technical writers and programmers.
Also Read: Best Sticky Notes Alternatives
---
The Most Effective Clipboard Manager for Windows 10, 11: Closing Words
That was all about! Ditto and ClipClip are the two best free software that doesn't require any configuration before use. Additionally, both software will fulfill your requirements for a clipboard manager that is compatible with both your Mac and your Windows PC.
Lastly, Clipboard Magic is the superior option to go with if you like to only install a single software that fulfills all of your needs. The free version has a clipboard manager, as well as options to capture screenshots and enlarge text. It also has a text expander.
We hope you found the information shared in this post helpful. Please feel free to drop your queries or better suggestions in the comments section below. For more technical information, you can subscribe to our Newsletter and follow us on Social Media – Facebook, Instagram, Twitter, or Pinterest.
Harshita Sharma is a technical writer with quite a distinct understanding of the tech realm. She is a tech enthusiast who believes that tech knowledge should reach one and all and tries to convert the sketchy knowledge into the simplest possible form for making people understand the tech world better. When not playing with words, she loves to travel and explore new places. And, is a coffee & cricket connoisseur.
Subscribe to Our
Newsletter

and stay informed

Keep yourself updated with the latest technology and trends with TechPout.
Related Posts