Here, in this article, we bring to light the 7 best free audiobook apps for iPhone and Mac so that you can listen to the books you love anytime you want.
"Reading is essential for those who seek to rise above the ordinary." If you wish to expand your horizons, you should cultivate a habit of reading. However, some people find reading tedious, no matter how much they try. Hence, they have audiobooks to their rescue. If you are also one of them, you can simply use the best audiobook app to listen to your favorite books.
However, if you are confused about which free audiobook app works the best on iPhone and Mac, this article is here to help. We dived into the world of such applications to list the truly amazing ones for you. Let us get started with the list without wasting your extremely valuable time.
List of 7 Best Audiobook Apps (Free)
Below are our top choices for the best free audiobook apps for iPhone and Mac in 2023.
1. Audible

Let us first introduce you to Audible. An Amazon subsidiary, Audible is among the most well-known applications to listen to audiobooks, podcasts, audible originals, and more. It boasts stories and entertainment in almost every genre. Moreover, some of its extremely fascinating features include a gigantic catalog of audiobooks, offline listening, and the following.
Key features of Audible
Easy switch between reading on Kindle and listening on Audible using WhisperSync
Allows you to listen to audiobooks on the move via Apple Watch or CarPlay
SleepTimer stops playing the audio when you fall asleep
Widgets let you jump to the previous listen directly from the home screen of your device
Also Read: Best Free Audio Sound Equalizer For Windows 10, 11
---
2. Audiobooks.com
Next, we have Audiobook.com on our list of the best free apps for audiobooks. It is a popular choice among iPhone users to listen to audiobooks for its features, like an extensive library of 400,000+ audiobooks, playback speed adjustment for a customized listening experience, and the following helpful features.
Key features of Audiobooks.com
Sleep timers automatically pause the playback when you fall asleep
Custom notes allow bookmarking key moments of your audiobook
You can save listens to your wishlist for later
Supports easy listening via CarPlay, AirPlay, and Bluetooth
Intuitive playback controls for easy navigation
---
3. Spotify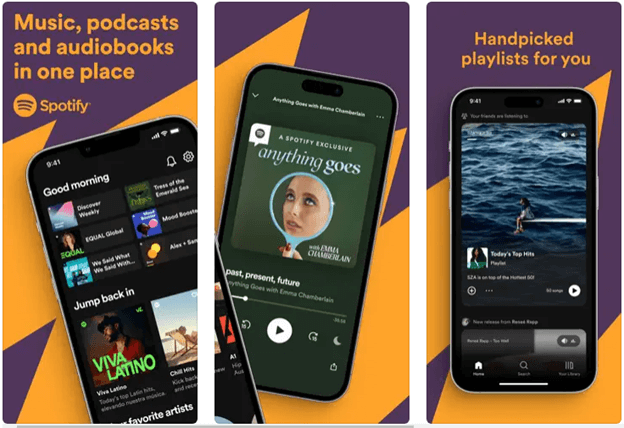 Spotify is yet another popular application and the best audiobook app for iPhone and Mac. It is not only one of the top apps for audiobooks but also hosts a wide variety of music and podcasts. Moreover, the following features contribute to its popularity and position on this list.
Key features of Spotify
You can your own playlist
Allows you to discover your favorite artist
Lets you read and share books from trending authors
Simple interface with easy audiobook search
Mood station with music playlists to suit your mood
Also Read: Best Free Spotify to mp3 Converter [Online & Offline]
---
4. Kuku FM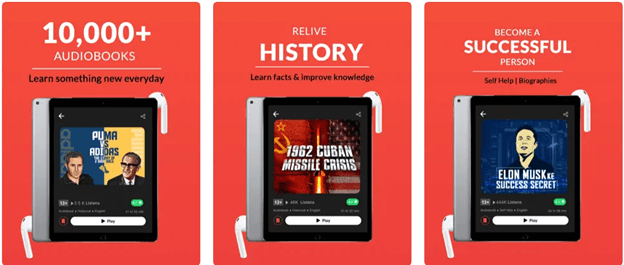 Let us now talk about Kuku FM. It helps you learn something new every day with 10000+ audiobooks, podcasts, stories, and a lot more. Moreover, it is a popular choice among users for its ad-free experience, personalized recommendations, tailored content, and the following features.
Key features of Kuku FM
New audiobooks are added every day
You can download your favorite books/stories for offline listening
Allows you to take notes
User-friendly interface
---
5. Kobo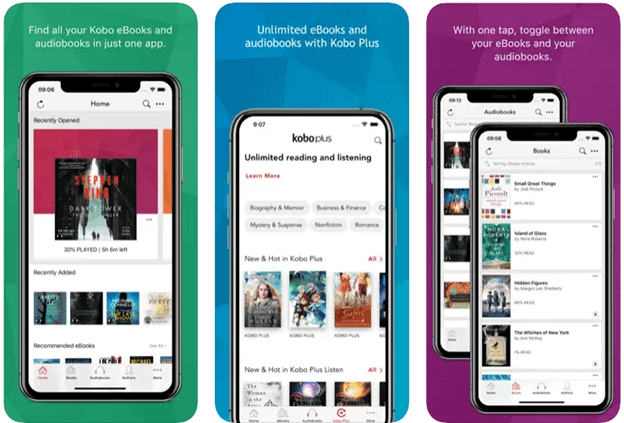 Kobo is the fifth-best audiobook app for iPhone and Mac, with over 6 million titles to choose from for every listener and reader. Additionally, it boasts many fascinating features, such as player scheduling to turn it off after a set duration, and the following.
Key features of Kobo
Supports a wide variety of languages like Spanish, Japanese, Portuguese, etc
You can start reading on a device and continue it on another device
Easily customizable, you can customize settings like the size of the text you read, style, etc.
Availability of a night mode for easy reading
Also Read: Best Free PC Sound/Volume Boosters For Windows 10
---
6. LibriVox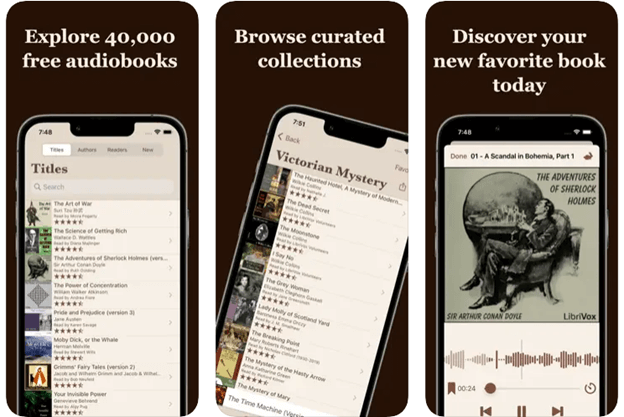 LibriVox is a free public domain for audiobooks. It is a non-commercial, ad-free, and non-profit project. Here, volunteers record, distribute, and edit books. Moreover, some fascinating LibriVox features include easy audiobook search by author, genre, keyword, title, etc., and the ones shared below.
Key features of LibriVox
Gigantic collection of 15000+ free audiobooks
The app remembers where you stopped reading and resumes from the same spot
Availability of a sleep timer and unlimited bookmarks
There is Bluetooth control as well
---
7. Loyal Books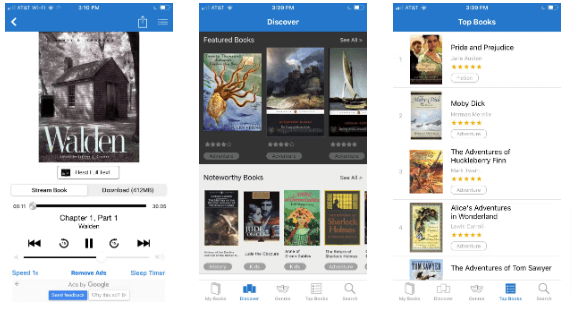 Lastly, let us introduce you to Loyal Books. It has a collection of 7000+ interesting ebooks and audiobooks in a variety of languages, such as French, Hindi, English, and a lot more. Additionally, below are some interesting features of this one of the best free audiobook apps for iPhone and Mac.
Key features of Loyal Books
Effortless audiobook search by author, keywords, or title
Offers a title preview
You can stream books online or download them for offline listening
Lets you adjust the playback speed, add a sleep timer, and skip backward and forward
Also Read: Best Music & Audio sound Visualization Software for Windows 11/10
---
Summing Up the Best Audiobook Apps
This article highlighted the best free audiobook applications for iPhone and Mac for everyone who loves books but has no time to read them. You can choose any of the apps from the above list to listen to the stories from your favorite books.
However, if you think some other audiobook apps for iPhone and Mac should also be on this list or if you have any questions about this article, please write us a comment.
Niharika is a passionate soul who finds immense satisfaction in putting all her thoughts in writing. Being a technology enthusiast, she loves learning new things about tech and making everyone technologically literate through her articles. When not composing tech articles, you can find her bringing characters to life in her fictional stories, reading something intriguing, or spending time with her near and dear ones.
Subscribe to Our
Newsletter

and stay informed

Keep yourself updated with the latest technology and trends with TechPout.
Related Posts