8 Best Cash Advance Apps Like Dave to Borrow Money [2022]

Are you searching for loan apps like Dave to borrow money hassle-freely? If yes, your search ends here as this article shares the top such applications.  
Cash advance applications have made life so much easier, right? You may use these apps to fund your desires or emergencies even when your payday is far away and you do not have much cash left (the crunch situation we often face at the month-end). When searching for such applications, Dave must have appeared on the web, or you might already be using it. But are there any better loan apps like Dave you may use to borrow money?
Well, there are many cash advance apps like Dave offering hassle-free borrowing. And this article focuses on the same. However, let us first discuss why you should use these apps instead of Dave, is Dave not good.
Dave is, no doubt, a good application. But some of its downsides overpower its pros and make other money-borrowing apps like Dave a better option. Let us look at the shortcomings that force users (including us) to use an alternative app.
Unavoidable Cons of Dave
Following are some tough-to-bear Dave shortcomings that make many users shift to other apps similar to (perhaps even better than) Dave.
Automatic recouping of advances after the due date
Monthly membership payments
The maximum advance of only $250
Needs bank account access
Above was what is unbearable with the Dave app. If you also find these downsides a bit too much to bear, you may go through the following well-researched list of the best cash apps like Dave.
Best Apps Like Dave for Money Borrowing in 2022
According to our research and analysis, these payday apps like Dave are better to get instant cash advances.
1. Chime
Let us kickstart the list of the top cash advance apps like Dave with Chime. The best thing about Chime is that it offers a high yield interest rate on your account balance. Moreover, the following key features make it a great choice to get loans.
Key features of Chime 
Access to the salary two days before the scheduled date of payment
Free, no charges like monthly maintenance fees, foreign transaction fees, or minimum balance fees
No transfer fee when you send money to anyone
You can access more than 38000 ATMs all over the US
SpotMe option for eligible users to overdraw the account up to $200
Automatic money rounding that rounds the change up to the closest $1
Also Read: Best Money Making Apps for Android & iOS
---
2. Earnin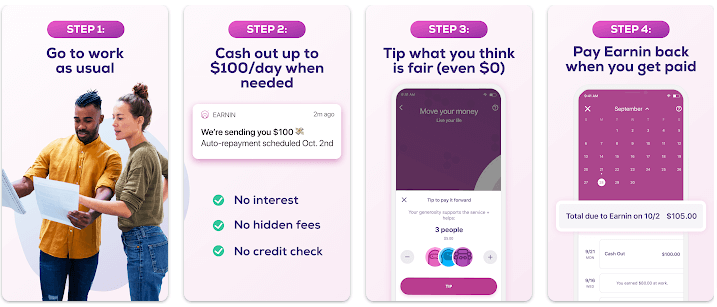 Earnin, formerly known as ActivHours, is among the most popular money apps like Dave. The best thing about Earnin is that it does not demand a recurring fee for membership. It only accepts a tip you deem fit for the app's service.
In addition to the above, features like cash out that deposits an amount up to $100 in your account to dodge overdraft fees make Earnin an attractive app. Below are all the fascinating features of Earnin.
Key features of Earnin
Paychecks up to $100/day that you have already earned up to a threshold limit of $500/period
Balance Shield Alerts that let you know when your account balance falls below a fixed limit
Two days early access to the paycheck
---
3. Varo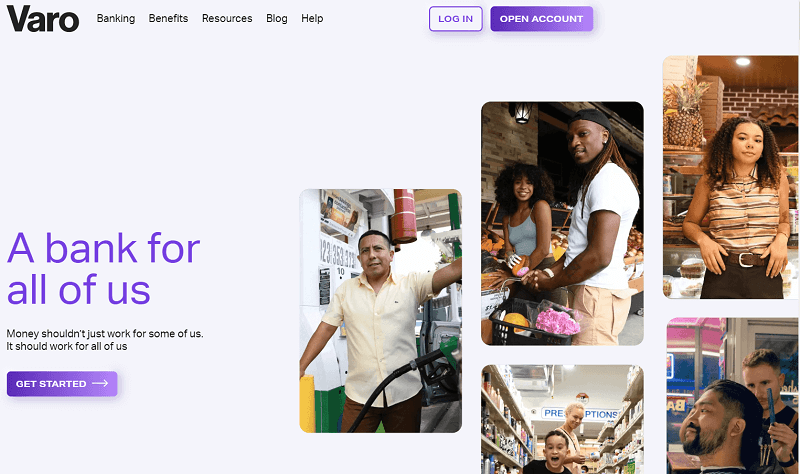 Next, we have Varo on this list of the best apps like Earning and Dave. With Varo, you may get an advance of up to $20 without any expense. Above $20, you need to pay a fee according to the amount borrowed. And the total advance you may take cannot exceed $100.
Though there are strict eligibility criteria like the account should be opened for 30 days or more, $1000 must have been deposited in the user's account directly in the last 30 days, and a Varo debit card (linked to the Varo bank account), the following features attract users.
Key features of Varo
No charges like foreign transaction fees or monthly fees
Over 55,000 free ATMs
Varo Believe credit card with no yearly fee, no requirements for a minimum security deposit, no APR, and no credit checking
---
4. Brigit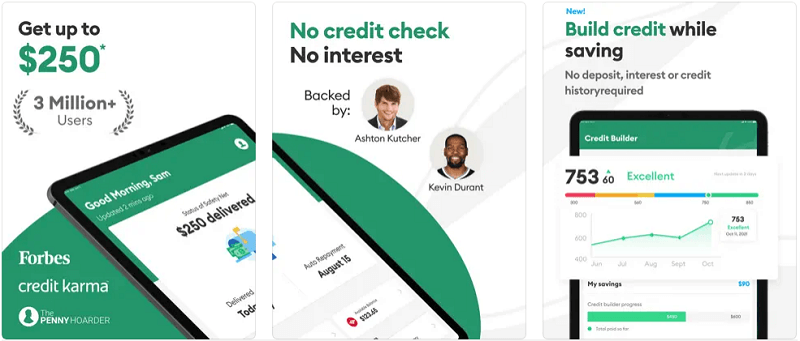 If you need a small paycheck advance of over $250, you may use Brigit. The features like free account monitoring with budgeting tools to track your earnings and spending make it one of the attention-worthy apps like Dave.
Though Brigit charges a somewhat hefty monthly fee of $9.99, the following features justify this fee.
Key features of Brigit 
Automatic cash deposits to prevent your account balance from going below zero and save you from overdraft fees
Options for early repayment and extension of the due date
256-bit encryption and no data sharing with any third party to keep your privacy intact
No interest on loans and no credit checks to make borrowing easy for you
Also Read: How Do Free Apps Make Money- Complete Guide
---
5. MoneyLion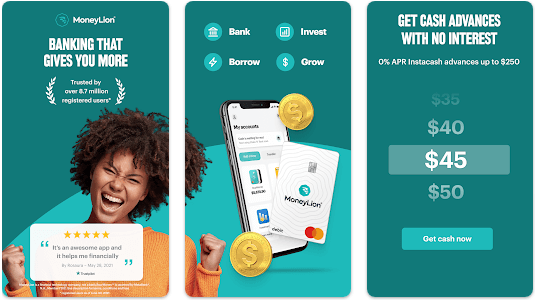 MoneyLion is not just one of the instant cash advance apps like Dave, it is a complete mobile banking app. With this application, you can earn money, invest your earnings, save money, and borrow money in your time of need.
Moreover, MoneyLion offers an Instacash option that lets you get up to $250 instantly at any time of the day or night. Furthermore, the below features make MoneyLion a desirable choice for money borrowing apps like Dave.
Key features of MoneyLion 
RoarMoney feature that allows you to access your salary up to two days early
No requirement to keep a minimum balance
MoneyLion does not charge anything for foreign transactions, card replacement, standard transfers, or mobile check deposits
Easy money transfer from your account to exchange-traded funds selected according to your needs and risk capacity
Reasonably priced at $1 per month for a basic subscription
---
6. Branch
Branch is another recommendation for the best cash advance apps like Dave for borrowing money (if your employer has a physical workplace, i.e., not for remote workers). It is an advanced application that offers an advance of up to $150/day or $500 of your salary.
Along with this, Branch offers free monthly credit scores, a debit card, and free access to ATMs at over 40,000 locations in the US. Moreover, the following features make Branch outshine the other apps like Dave on this list.
Key features of Branch 
Options to transfer money, receive money, and pay bills via the application
Instant advances to the user's debit card for a fee of $2.99 to $4.99
Free standard advances to the bank account within three business days
Presence in many countries like the US, India, Nigeria, Kenya, and more
---
7. Empower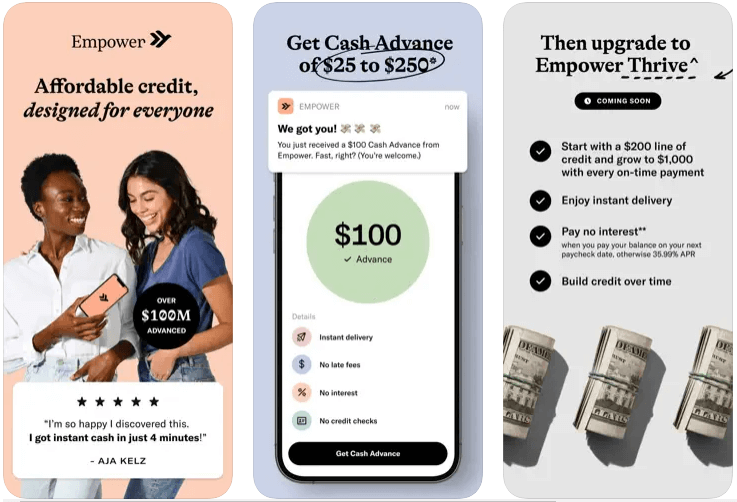 Empower truly empowers you with a cash advance up to $250 without interest charges. Moreover, the app does not charge any fee for late payments and does not perform any credit checks.
Furthermore, the following features are the reason we included Empower on this list of the best payday apps like Dave.
Key features of Empower 
Free money transfer to your Empower checking account and a bank account for a nominal fee of $3.
Early Paycheck Deposit to let you access your paycheck up to two days earlier
Cashback of 10% on all eligible purchases you make at grocery stores, gas stations, and a lot of restaurants
Budgeting tools to help you keep a balance between your income and expenses
Suggestions of an overall spending limit for all categories, and you get notified when your expenses exceed this limit
Monthly report of all your expenses
---
8. Even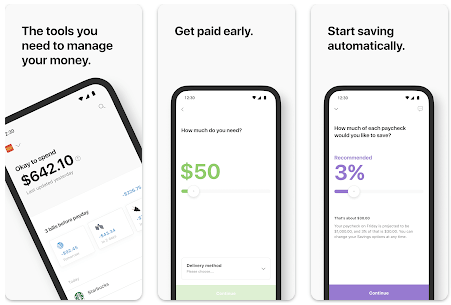 Even is also an attractive choice when selecting the best apps similar to Dave. It not only offers cash advances but also offers many tools for financial planning. Employees of companies partnered with Even can get up to 50% of their wages for a given period.
Moreover, you do not have to pay taxes or interest when borrowing money from Even. You only need to pay a monthly fee of $8 as membership charges. Furthermore, the following features are what makes this application even more attractive.
Key features of Even 
Notifications about due bill payments and the amount required to pay them
Partnership with over 18,000 banks to deposit funds to your bank account within a single business day
You can access the earned wages super quick
Also Read: How Does WhatsApp Make Money
---
Concluding the Best Apps Like Dave
This article answered the most frequently asked question, i.e., what apps let you borrow money like Dave. You may use any app from the above list to fund your needs and aspirations when your payday is some days away.
You may contact us through the comments section if you know other better apps like Dave, have any questions, or wish to share something about this article. We will be back super soon with another informative tech article. Meanwhile, you may continue TechPouting (reading our other articles) to get in-depth knowledge of technology.
Niharika is a passionate soul who finds immense satisfaction in putting all her thoughts in writing. Being a technology enthusiast, she loves learning new things about tech and making everyone technologically literate through her articles. When not composing tech articles, you can find her bringing characters to life in her fictional stories, reading something intriguing, or spending time with her near and dear ones.
Subscribe to Our
Newsletter

and stay informed

Keep yourself updated with the latest technology and trends with TechPout.
Related Posts