Best Color Picker Chrome Extension in 2023
Published Date :
Mar 24, 2023

Here is the list of the best color picker Chrome extension tools that you can try in 2023 and design accurately for your projects. 
Color picker add-on for Chrome can be quite useful for graphic designers that utilize Google Chrome. Digital creators are constantly looking for techniques to improve their work without sacrificing their ability to use original color palettes in their designs because choosing colors for design projects takes time.
The best color picker chrome extension tools make it simple to locate the RGB, HEX, & HSL value of the required color(s) on the internet, regardless of whether you're a graphic artist, web developer, or anyone who needs the matching of certain colors. So, for your ease, we will be listing some of the best color picker extensions for Google Chrome.
With the help of these color pickers, you can easily pick any color from any webpage, website, and various other sources. So, let's have a look at the list of extensions right away.
Top Best Color Picker Chrome Extension Tools
Below are some of the most loved and widely used best color picker chrome extension tools for all operating systems and devices for your ease. Go through the description of the tools first and then use any one or more as required.
1. Image Background Color Picker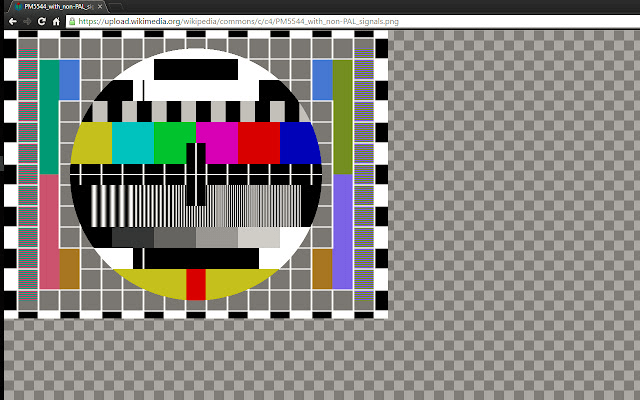 With this best color picker chrome extension, choose several backgrounds for simple images. You can select colors from all websites or use the checkerboard tool for finding the ideal color schemes. This option is also available for Firefox. Using the plugin, you may change the background colors & textures of transparent PNGs to make them easier to recognize on websites.
The Image Background Color Picker is included under the "Accessibility" tools, although several users have pointed out that it doesn't distinguish between different picture kinds for the UI accessibility. All direct image view tabs use the colors that you select using the color picker extension chrome. The Options page will launch automatically if any of the settings are forced to change. mphases
Also Read: Best Color Pickers for Windows 10, 11
---
2. Simple Material Design Palette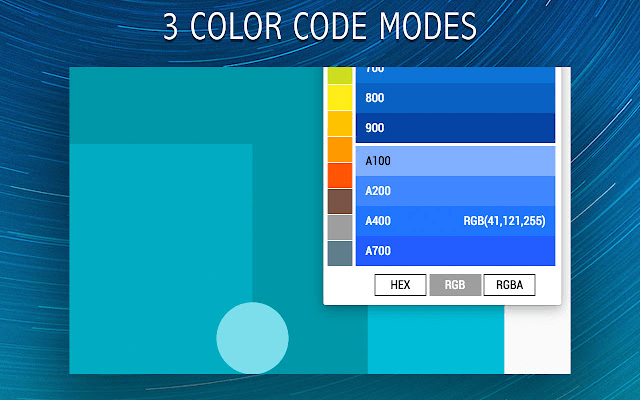 Next, Easy Material Design Palette is a useful and best color picker chrome extension for all the developers that require rapid access to Google's Material Design and supports HEX, RGB, and RGBA codes. Google suggests using its material design approach to improve the user interface (UI) of anyone who visits your website through one of its browsers.
Designers are aware that all color schemes should be aesthetically pleasing and approachable while still clearly defining various important UI elements & page surfaces. This is made simple with the Basic Material Design Palette. You don't need to close the tab or switch to another program to obtain the colors that you need because of the extension's streamlined palette presentation.
---
3. AWS Console Regions Color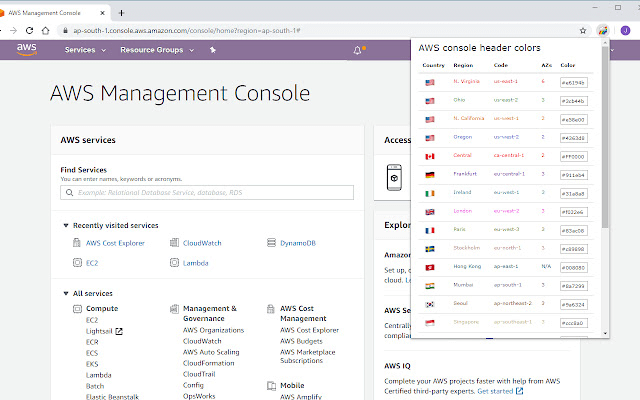 To integrate with AWS, Amazon's cloud computing infrastructure, this simple and best color picker chrome extension was created. Depending on the area you choose, the free addon will alter your AWS console header's color. This color shift acts as the visual cue to help you avoid placing resources in all the incorrect areas.
You can click the icon after adding AWS Console Regions Color to see the drop-down section with different regions & their corresponding color codes. The addon will append the region header's code without gathering any data. Also, each city or region has a flag. It's a quick upgrade and can prevent expensive unforeseen consequences when using your AWS.
---
4. Accessible Color Picker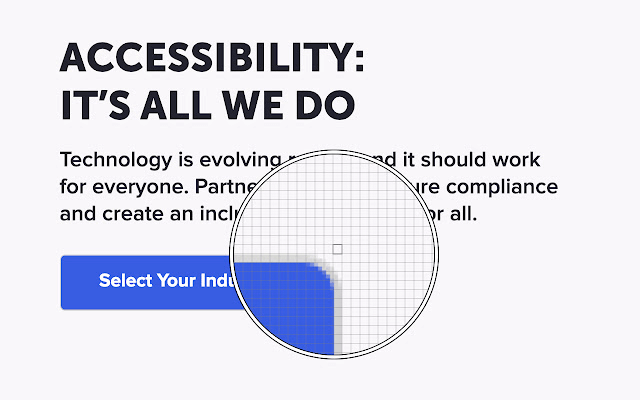 For individuals with various low vision & color deficits, the ideal and best color picker chrome extension is Accessible Color Picker. The background and foreground text & pictures on the website must have a distinct and increased contrast in order to follow best web designs. The Accessible Color Picker addon ensures that your page's content is readable even if users having monochrome devices or those having restricted color perception frequently access it.
This browser add-on is a useful tool for assessing your website's accessibility by looking at its color scheme. The extension aids you in choosing colors that are comparable and increase contrast, for instance, if your colors lack sufficient contrast. When you test several iterations, the interface allows you to effortlessly switch between the foreground and background. For any designer and developer whose websites must conform to particular internet standards, this color picker extension chrome is a useful tool.
Also Read: Best YouTube to Mp3 Chrome Extensions of All Time
---
5. Image Color Picker – HEX, RGB, CMYK Codes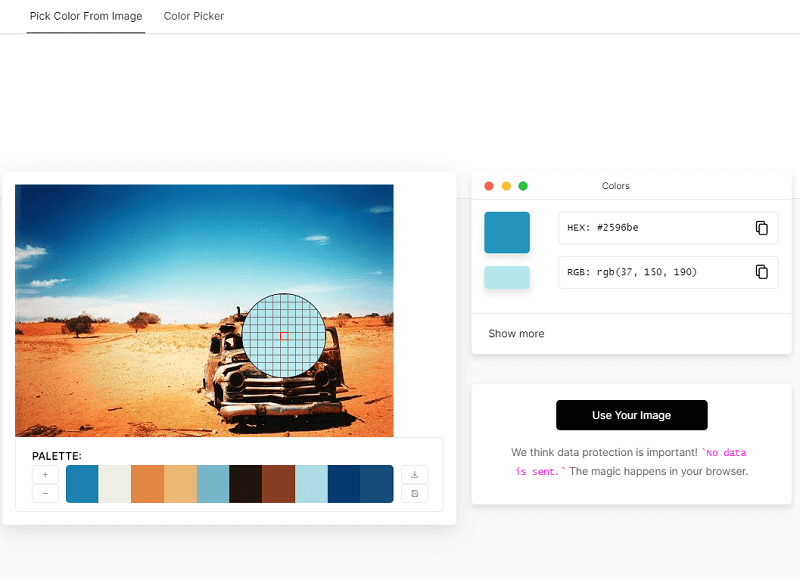 Any Developer and designer who only deals in the formats of RGB, HEX, HSL, & CMYK should use this Picture Color Picker Chrome addon as the best color picker chrome extension. Picture Color Picker assists you in finding your ideal color within a few simple clicks, just like the other color pickers mentioned above.
With the aid of Picture Color Picker, you can quickly and easily find specific color palettes that go with your design photos. It's easy to use the extension. Simply add the photo to this website or use the browse option to upload it using your device. Moreover, photos from a given Website can be included.
---
6. Easy Color Picker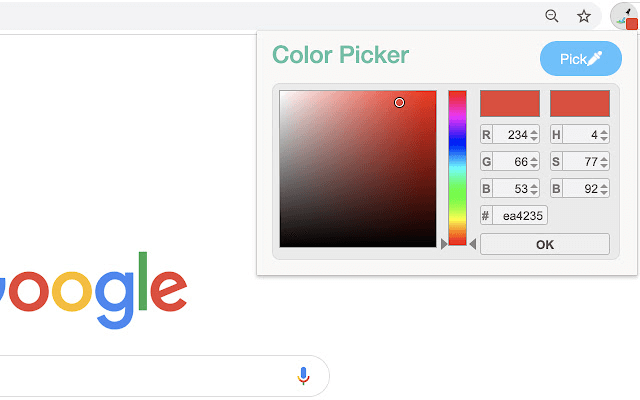 Because users can get color coding from any website or choose from the extension's color board, graphic designers, and developers like the Simple Color Picker for Chrome. This best color picker chrome extension saves the history of colors for future use and supports the value for RGB, HEX, & HSB.
Customers describe this addition as being portable, user-friendly, dependable, and packed with more functionality than you could possibly need in such an extension. The RGB colors & their defined intensities are used by the plugin to achieve any chromaticity. To get precise HEX or RGB values and maintain a history of your chosen colors, use this browser extension.
---
7. Image Color Picker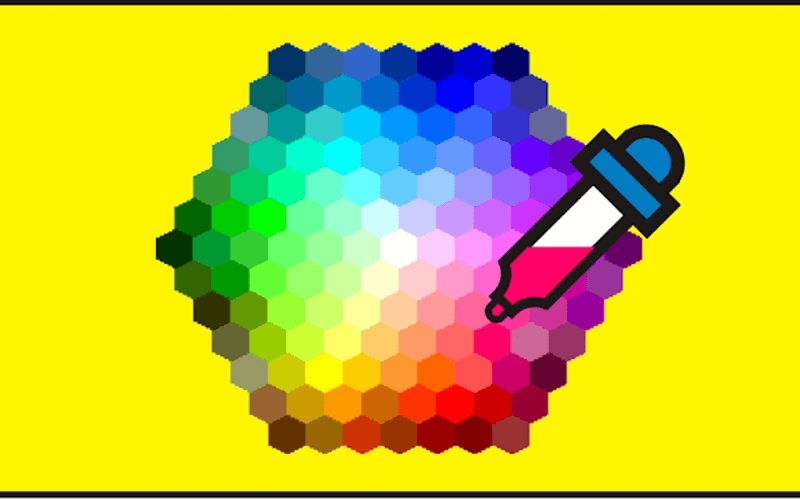 You can quickly obtain RGB, CMYK, & HTML color coding easily. Just upload an image and drag your mouse in order to get the required color with the best color picker chrome extension. Under the upload button, the extension displays the correct color codes & a color preview.
Both web designers and graphic artists use the Chrome color picker plugin. Users don't need other standalone products, like Illustrator, in order to quickly detect color coding on the image(s) and logo(s). The extension's key benefits are its quick upload times and straightforward user interface.
Also Read: Best Google Chrome Extensions | Chrome Security Plugins
---
8. Linang Data Color Picker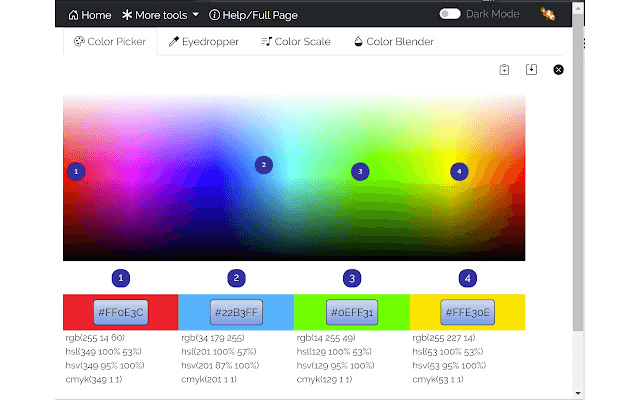 The Linang Data Color Picker plugin would be appreciated by designers looking for a stylish and best color picker chrome extension. This straightforward Chrome extension allows you to search using a tidy and aesthetically pleasing popup window, making it easy to find your favorite colors. Click on a toolbar icon present on the extension to view the interface before using the Color Picker by Liang Data.
You'll see the popup shows four different areas when you look at the display. The color palette logo is in the middle, while the toolbar & button controls are at the top. To activate the built-in color picker Interface, use the color palette logo. Keep in mind that the original color picker user interface differs greatly based on your OS and browser preference. The right section of this color picker extension chrome displays color values with a max of six distinct formats when you select a color.
---
9. Color Picker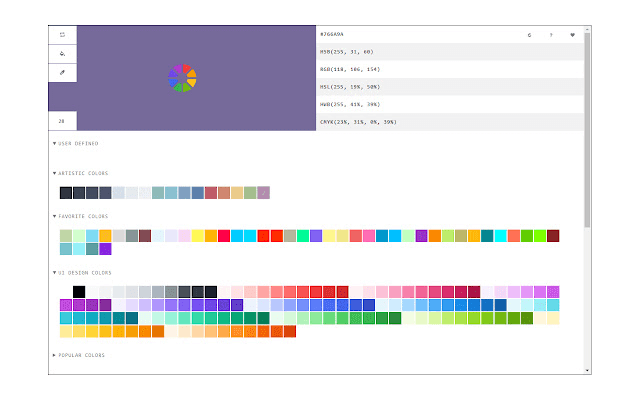 Chrome Color Picker is the best color picker chrome extension if you want to locate colors anywhere on your browser. You can use it to locate and source RGB & HEX codes throughout the website. Visit a webpage after you install this plugin, then look for the color you want.
You can tap on the color points you've chosen by activating the cursor of Color Picker by clicking the extension icon. The color coding in HEX & RGB will appear once you click on the color. Simply copy the code and paste it, then repeat the previous steps as necessary.
---
10. ColorPick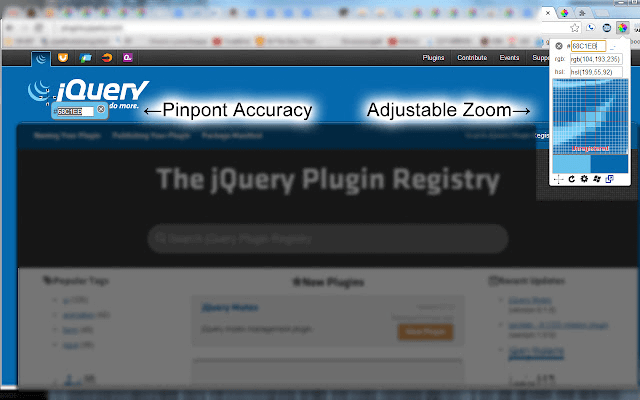 The last name on this list of the best color picker chrome extension tools is ColorPick Eyedropper. This is indeed the best tool. It is seamless and simple to use the ColorPick Eyedropper for Chrome addon. The Eyedropper is different and it doesn't have any cutting-edge features or settings. For choosing colors from websites and other sources, it provides a straightforward color-choosing tool & zoomed eyedropper.
Once the extension is enabled, you can select any color you want & get the HEX & RGB value. There are some choices available with this color picker extension chrome. You have the one-of-a-kind power to alter the web page choice behavior and user interface.
Also Read: Best Equalizer Extensions for Chrome
---
Final Words: Best Color Picker Chrome Extension
So, here we are concluding the entire list of the best extensions to pick any color. We hope that all the tools provided above were able to help you get things done perfectly. If you have any questions related to the article, then write the same to us in the comments below. We will get back to you with everything we have to offer quickly.
For more such guides, follow us on Facebook, Twitter, Instagram, Pinterest, and Tumblr. If you found the best color picker chrome extension here, then do let us know.
Devesh, being a technical writer, likes to research and write technology articles and solutions to help others. Having great knowledge about the tech world and its working, he likes to pour the same into his write-ups. Before starting any write-up, he likes to pen down his thoughts and flaunt a creative edge in the same. Apart from being a writer, his primary interests include reading books and poems, cooking, and playing video games.
Subscribe to Our
Newsletter

and stay informed

Keep yourself updated with the latest technology and trends with TechPout.
Related Posts